When you see most of the plain sarees in your wardrobe then you must get a feeling that what to do with them now?? But hold on that thought as you can get a very stylish look even with the plain saree also. Want to know how?? Well, only thing that you need to do is pair them with the trendy blouse designs. Make sure to choose such blouse designs that have more work or prints so that the blouse become the center of attraction rather than the saree. With the floral blouses being so much in trend these days, the Indian celebs wear them most of the times and here we are mentioning a few of them who really rocked the floral blouses trend:
Sri Divya
Check out this baby pink crepe saree worn by the South Indian actress Sri Divya, the saree looks quite plain. But see how beautiful look have been created from this plain saree by pairing it up with a pastel shades floral print blouse having a black lace work around the neck. We really loved the way Sri Divya have drape her pallu, it's quite looking like gown style saree.
Shilpi Sharma
If you just check the saree, you will find nothing special in it. It's just an off white saree with a golden border. You can't imagine wearing this type of saree to any event. But check how Shilpi Sharma created a lovely look from this saree by pairing it with a red floral print blouse, golden circular clutch and traditional jewellery. You can easily wear this look to any wedding or party as it' not looking simple or plain anymore.
 Anasuya
It's a pink saree with golden border which would look so boring if you would have paired it up with a matching pink blouse. But check out the stunning look that's created with this pink chiffon saree by pairing it with contrast floral saree blouse. This is a lovely sleeveless floral blouse pattern having string and latkans at the back.
Priyamani
Forget the blouse, just have one look at the saree. What did you find? A plain reddish maroon saree and that's it!! Can you think of wearing it to any function, may be you won't even like to wear it casually at your home. But now check the entire look, along with the blouse, did you find any fault in the saree? Well, that's the magic of floral blouses and Priyamani have certainly made the best use of the floral saree blouse.
Karishma Kapoor
How beautifully Karishma Kapoor has added life to this so simple looking white saree having a sleek green border. She has paired this saree with a lovely white floral embroidered blouse having close neck and a broad green border on the sleeves.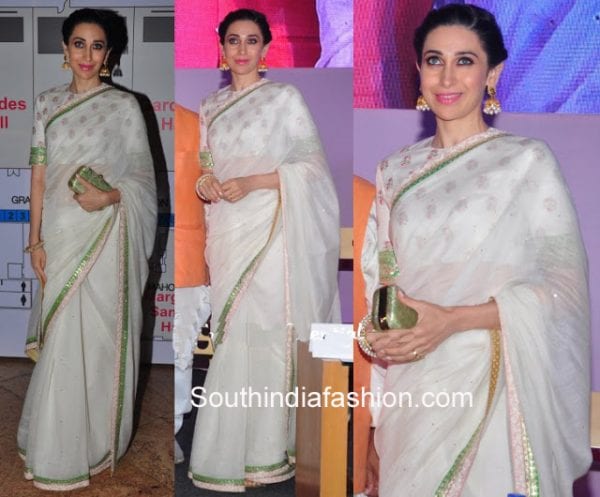 You can also take some fashion inspiration from these celebs and make good use of your plain sarees that are hanging in your closet. Just pair the plain sarees with the floral print blouses, add some accessories like clutch, pair up nice jewellery and you are all set ready with a whole new party look.