Women always want to look their best and there is one Indian outfit which every woman loves to flaunt in style. Well, yes it's anarkali suits that are huge hit among the ladies. Women prefer wearing it for any occasion ranging from wedding, festive or party.
7 Must have Anarkali Suit Designs in your Wardrobe
Here we are suggesting you 7 different types of Anarkali Suits that you must have in your fashion wardrobe. This is so that even in anarkalis you can flaunt a different fashion every time.
Floor Length Anarkali Suits
The style of this type of anarkali suit is very clear from the name itself that it goes till the bottom, touching the floor, hiding your ankles as well as your pants or churidars. Floor Length anarkali suits are perfect for occasions like wedding.
Trail Anarkali Suits
The trail looks amazing in the back, however these days side trail anarkali suits are also a huge hit. You must at least have one anarkali dress of this type in your fashion wardrobe.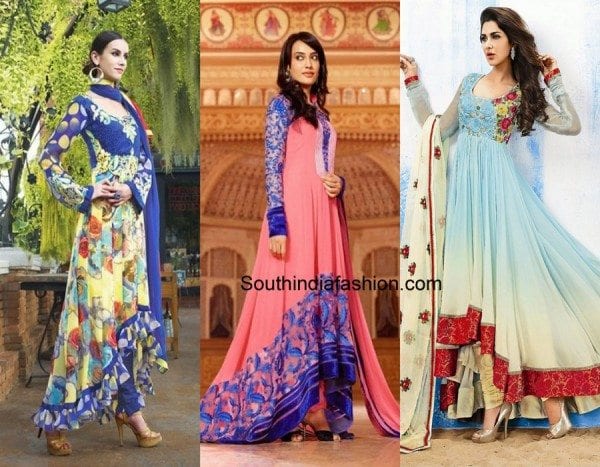 Bollywood Anarkali Dresses
Well these days you can easily find so many bollywood anarkali dresses online, you can buy your favorite one for your wardrobe. Here are some of the designs that you can buy: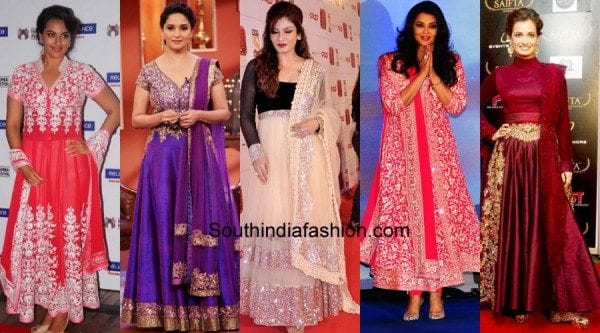 Designer Anarkali Suits
Yes, when it's a designer one it has to be expensive but you will also get the fine fabric with stunning work on it with great patterns. For any extra special occasion in your life, you can think of having at least one designer anarkali suit in your closet.
Angrakha Style Anarkali Suit
This design is inspired from the Mughal Era where in this anarkali dress the neckline of the anarkali is not in middle, rather its either on the left side or right side. Even though this is a traditional design, our modern fashion designers through their various modifications have made Angrakha Style Anarkali Suits the best selling outfits in India.
Jacket Anarkali
You can wear any type of ethnic jacket over an anarkali suit, whether it's heavily embroidered or plain. Also the jacket could be long till ankle, or just below the bust or also could be till the knees. It's not necessary to buy anarkali dresses having the jacket, you can also buy a separate ethnic jacket and coordinate it with any of your regular anarkali dress.
Bridal Anarkali
For those new brides who find it difficult and feels uncomfortable in sarees during her initial few days after marriage, for them bridal anarkali suits are a boon.These suits are generally heavier than a regular anarkali suits and comes in colors like red, orange, pink, usually those color which signifies a Suhagan.
So, above are our suggested 7 anarkali suit designs that you must have in your fashion closet. If you are missing any one of them then start shopping for them right now.