Dhoti, is a traditional Indian Outfit for Men but these days its high in women fashion and everyone is just loving the different variations of dhoti and the dhoti trend. The top Indian Fashion Designers like Masaba Gupta, payal SInghal to name a few have their hands in reinventing this traditional Indian outfit. You must be thinking hard how many fashion variations can be made with this traditional Indian outfit dhoti and that too for women? Well, have some patience as here we will reveal some different dhoti styles for women.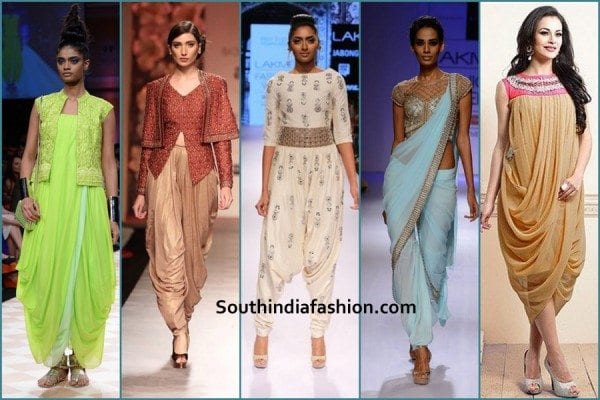 5 Different Ways to Flaunt the Dhoti Trend
Here we will tell you how you can remain fashion updated by wearing the dhoti trend in different ways.
Dhoti Pants
Well, the first thing that you can do is wear a dhoti pants which looks similar to the traditional dhoti, the only difference being that its pre-stitched and you can wear them like pants. Dhoti Pants are perfect choice for summers as they are loose and comfortable to wear.  Depending on the occasion, you can wear the simple or embellished dhoti pants. You can get casual dhoti pants as well as embellished one also which you can wear at  parties and weddings. You can team up dhoti pants with crop tops, capes, denim shirts, ethnic jackets, kurta/kurtis etc.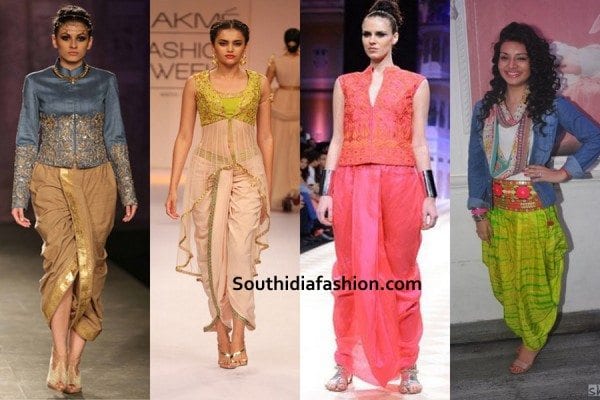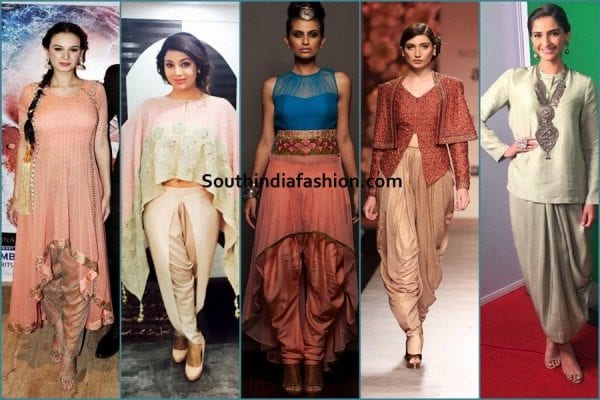 Dhoti Sarees
All thanks to the bollywood fashionista, Sonam Kapoor, who flaunted Dhoti Sarees so many times that she made them popular in every Indian household. She even dared to wear the saree in dhoti style at the prestigious Cannes Film Festival and was praised a lot for the outfit. You can create a unique look in dhoti sarees by accessorizing it with designer blouses and modern belt in the waist. Don't forget to wear high heels with your trendy dhoti saree.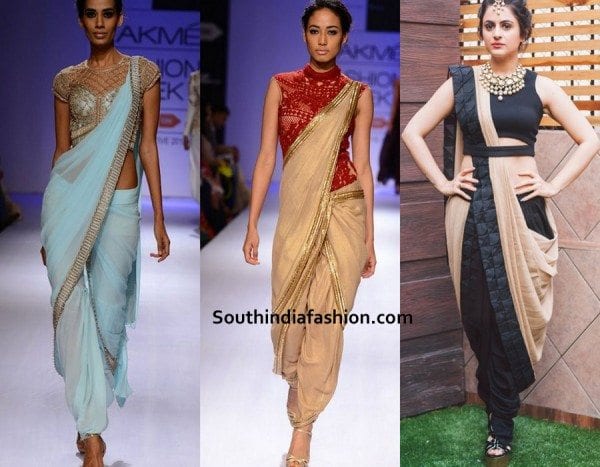 Dhoti Kurti or  Drape Kurtas
Dhoti Kurti or Kurta is also popular as drape kurta and ever since this style has come in fashion, every bollywood actress seems to be like following the trend.  You can also wear an ethnic jacket with drape kurta. It's upto you whether you just want to wear a dhoti kurti and flaunt this style or whether you want to team it up with the leggings. Anyways, this drape kurta always looks cool.
Dhoti Jumpsuit
Jumpsuits are totally in this season and that's why our talented Indian Fashion Designers have invented these stylish Dhoti Jumpsuits. This one is kind of fusion of Indian and western style. If you want something very comfortable to wear in summers then Dhoti Jumpsuit is the right choice for you.
Dhoti Dresses
Again a wonderful fusion of Indian and western style, Dhoti dresses are the best way in which you can flaunt the dhoti trend.
So, what are you waiting for? We have already told you the best five ways in which you can flaunt the ongoing dhoti trends and set a benchmark for others. Don't forget to share in the comment which style did you like the most from all the above mentioned styles.