With all the whims and fancies of the Indian brides lately, choosing a wedding outfit and further completing it with the right accessories is a huge task. Every Indian bride wants to dress her best on her wedding day and jewellery play a very crucial role in completing a bride's look. Some brides like to keep it trendy with contemporary designs, some like to experiment with statement jewelry where as some like to stick to the traditional gold jewelry or dazzle in classic diamonds. But, with endless varieties to choose from it's definitely hard to decide on what kind of jewelry to wear with what exactly. Our today's guide is sure to help every bride to look ravishing on her big day with the latest trending accessories. Here we have rounded off top 5 bridal accessory trends which are definitely going to help you rock on your big day.
1. Diamond Jewelry
Diamonds are every girls best friend and who wouldn't want to flaunt them on their special day too. Be it on your wedding muhurtham or your wedding reception, if your outfit demands for some bling then diamonds are the best option. Or, even if it doesn't you can still never go wrong in diamonds. These timeless classic pieces never go out of style and will make you look and feel no less than a queen.
2. Kundan Jewelry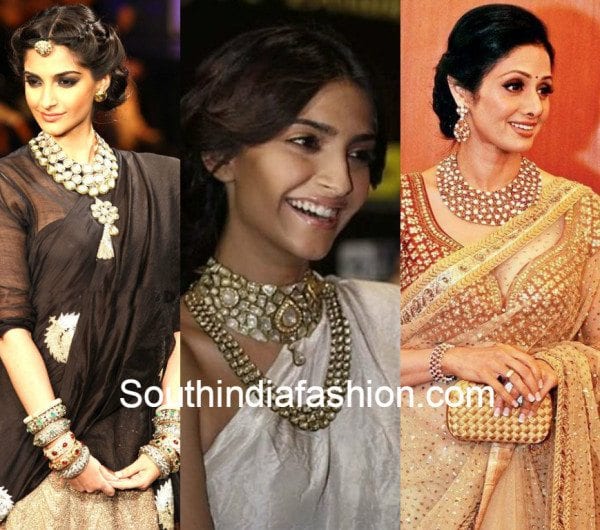 Kundan jewelry is a huge trend and most loved by everyone for the fine luster it radiates. It is a perfect option for contemporary brides and what's best is that it can be easily mix and matched and worn with most of your outfits even after your wedding. So don't hesitate in investing in classic kundan jewelry pieces especially if you want something versatile.
3. Antique Gold Jewelry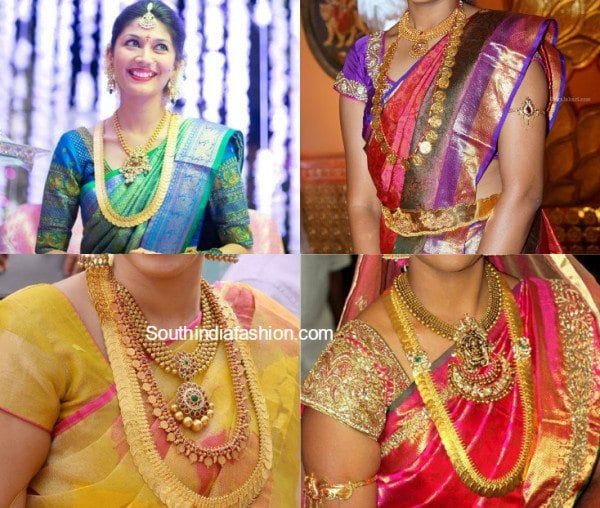 The rise of the antique gold jewelry has left every bride awestruck. Not that it ever went out of style; the classic gold jewelry has been trending for years together and currently it has only grown bigger. Be it a modern bride or a traditional bride the antique gold jewelry is most loved by everyone. You can also embed your antique gold ornaments with precious stones matching to your wedding outfit and make a lasting statement.
4. Temple Jewelry
The antique temple jewelry is one of the timeless styles adding a very vintage feel to your traditional look. Flaunt your vintage temple jewelry with your wedding outfit as they are also considered very auspicious. You needn't necessarily wear a kanchipuram saree to team up your antique temple jewelry as they look equally good with fusion outfits as well. You only need to ensure that it matches well with your outfit as it is a statement piece.
5. Layered Fusion
If you are bold enough to experiment with your accessories you can create your own style by layering necklaces of the same base or even mix it up with 2 or 3 other different varieties. Delicate pearls are best options for layering as they also element a very vintage feel or even gold beaded necklaces can be layered with statement chokers. But while you layer, make sure you do it the best possible way because as a bride you wouldn't want to take any chances.
Head gears, hair accessories and statement nose rings are very much in vogue but are not very easy to pull off. And if you manage to style them well, you are sure to make a lasting statement. Just be comfortable enough and try your accessories before your big day to avoid surprises. With the right amount of bling and styling you are sure to be a stunner on your big day 🙂