Belting up is not an entirely new thing when it comes to desi wear. Belting up with jewellery such as the 'Vaddanam' has in fact been an age-old tradition. However, even when you'd like to keep your desi wear simple, you can still belt them up – this time with less pretentious leather and metallic belts! Let us show you how you can do that…
1.Belting up your saree
Of all the experiments that were done on the saree attire since the past few years, belting them up was one – and we've come to love the results. Embellished belts that were mad especially for the saree or with just any leather belt can work really well.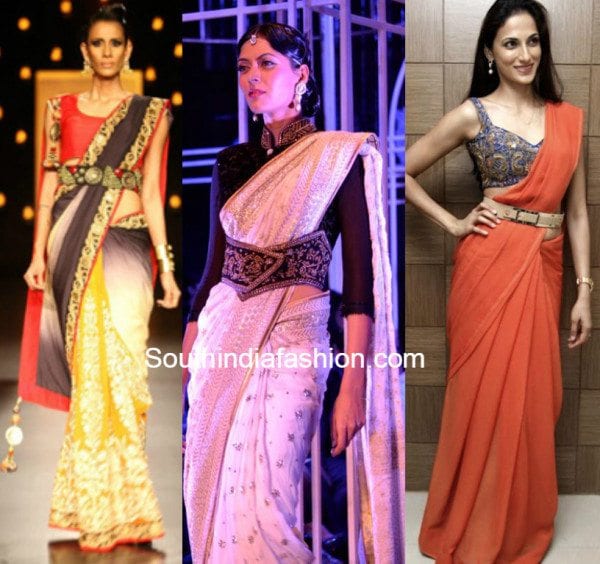 2. Belting up your lehengas
A simple gold or embellished belt that is tied around your lehenga attire can add a whole lot of oomph to your outfit. What's more, it also helps hold your dupatta in place!

3.Belting up your salwar suits
Be it salwar patialas, salwar leggings or salwar  palazzos, belting them up at your waist can make them look great. Cloth belts which are beautifully embellished work really well for this purpose.
4. Belting up your anarkalis
Much like belting your salwars, belting up your anarkalis with a thin embellished belt can add plenty of grace to them. Gold belts look great to go with anarkali suits especially if there's gold else where on your suit.
5.Belting up your kaftan tops
The loose and flowy kaftan tops and kurtis can look great when they're belted up at the waist. Belting them up can even make them look much more dressier and work-ready. Simple belts made out of leather can work well for the kaftan tops.