Masaba Gupta – The queen of print. Her outfits are all about quirky prints, vibrant hues and a modern contemporary twist to traditional Indian outfits. In her statement sarees, dhoti pants, skirts, crop tops, jackets, tunics and just about any outfit, she makes sure to add the "MASABA PRINT" in her designs. Palm prints, lipstick motifs, water taps, cows, tape recorders, knifes, and all such inspired from anything and everything around. Her experiments on prints literally wowed the Indian fashion industry.
From celebrities to girls next door, everyone made sure to add some quirk to their wardrobe. While, Indian women love to flaunt some quirk on sarees.
Here we present you 5 best Masaba Gupta sarees:
1. The Digital Print
This is one saree which any woman would love to sport. How gorgeous does Madhuri look in this quirky saree by Masaba. We absolutely how the stark colors blend together.
2. The Polka Dots

A perfect blend of quirk and tradition. This polka dotted half and half saree by Shilpa Shetty was absolutely drool worthy. The ravishing Shilpa Shetty did justice to the outfit by carrying it with panache and grace.
3. The Lipstick Print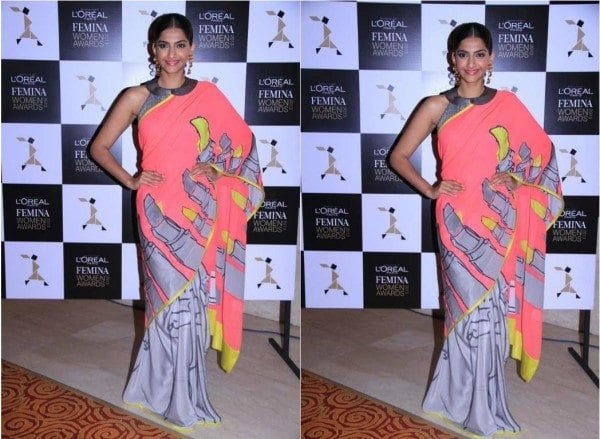 Like always, Sonam Kapoor experimented with the bold and daring. This fabulous lipstick motif saree added an edgy look to Sonam's Indian look. And who can carry it better than the fashionista herself.
4. The Stripes

Trend report says stripes are back in vogue!!! But hey, when did they even go? Stripes have never gone out of style and flaunting them on a saree..? Well, It would flow like a dream!!! How beautifully does the charming Mandira Bedi carry the nautical stripes. We heart it! Do you too?
5. The Tamil Scripts
This innovative print is a huge rage and can be spotted everywhere. How effortlessly actress Vidya Balan carries this Masaba saree. These elegant and flawless quirky sarees look gorgeous and can brighten up any occasion.
What are you waiting for? Go ahead, set your own trend add some fun to your wardrobe!!!