The bedazzling show that was the ICW 2015 (Indian Couture Week 2015) came to an end a couple of days ago and as a fitting end to it, Manish Malhotra's 'Empress Story' was displayed a couple of days ago. With long and flowy gowns of rich and dark colours like marsala, olive green, navy blue and magenta weaved upon with shiny sequins and motifs – mostly floral, the collection really did seem like it was meant for royalty.
Who else but Aishwarya Rai, the queen herself to play the show stopper? She sure looked like a million bucks in the maroon gown with the oh-so-gorgeous jacket to go with.
Most of the collection was made of long and flowy dresses, skirts and lehengas. A rich shade of green was yet another dominating hue that was picked by Manish Malhotra. These richly embroidered green gowns with shades of silver to go along with it are completely drool worthy.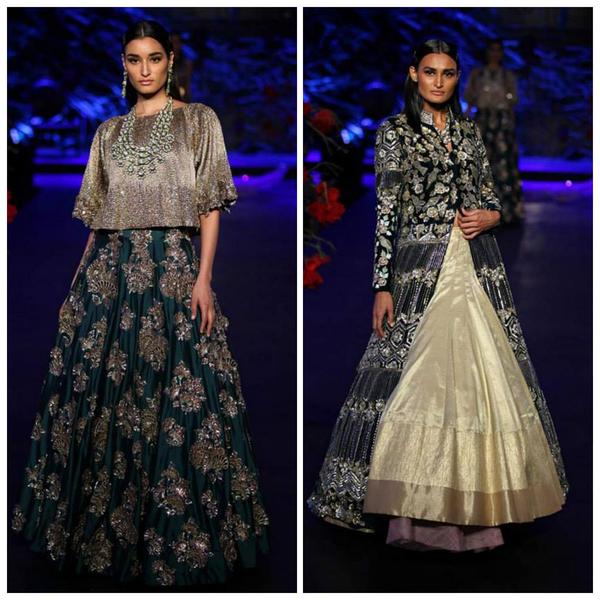 Regal-looking evening gowns in a bright shade of red also with gorgeous silver floral motifs were a part of the collection. While some of these red gowns were made with laces, most were made out of a fine silk.
Shiny and sparkly silver was another hue that dominated the collection. Flowers weaved into a delicate and gorgeous silvery hue stole the show.
Embellished crop tops with lehengas and long brown gowns which were spectacularly beautiful were a part of the ICW 2015 collection of Manish Malhotra.
Beautiful models with glistening silvery gowns with heavy embellishments set the ramp on fire.
It wasn't all about lehengas and gowns however. There was some fabulous contemporary clothing that was on display, like these kurtas and palazzo pants made out of lace.
Like always, Manish Malhotra left everyone spellbound with his stunningly royal collection. We can even go on to say that this probably was one of his most fit-for-royal collection!