Every season, there are a whole lot of new trends that are born, but it's only a few such trends that go on to win everyone's hearts. Drape kurtas or dhoti style kurtas are surely one such trend that has become a hot-favourite lately, especially with the ones who' d like to experiment with their clothes.
For those of you who haven't heard of drape kurtas, this is what a typical drape kurta looks like….much like a typical kurta which turns dhoti-like from the belly through to the legs. It is usually teamed up with skin tight leggings of the same color.
These longer, prettier drape kurtas are by Gaurav Gupta that comes with some beautiful embroidery on the upper half of the kurta. This one's got a different dhoti style in that the pleats are united at the side instead of at the center. (BUY HERE)
Team your drape kurta up with a gorgeously embroidered jacket and the layering makes the attire look stunning. Here's how to layer up your drape kurta.
Blue drape kurta with embroidered jacket.(BUY HERE) ; Navy drape dress with embroidered waistcoat (BUY HERE)
Yet another way that drape kurta goes is where the pleats and the detailing are done at the neck. This one does not come with the dhoti pants however. They are simpler and not nearly as flamboyant as the regular drape kurtas which come in dhoti style. Here are a few drape kurtas of this pattern.
Bollywood Divas Donning The Drape Kurtas / Dhoti Style Kurtas:
Ever since the drape kurta got popular, a whole lot of Bollywood celebs have been flaunting the style, each in their own unique way and we got to love how they're donning them.
Kareena Kapoor looks all spruced up and gorgeous in a black drape kurta with a colorful vest by Payal Pratap.

Here's when Priyanka Chopra donned a gorgeous black dhoti style kurta by Tisha Saksena and shone on like a diva.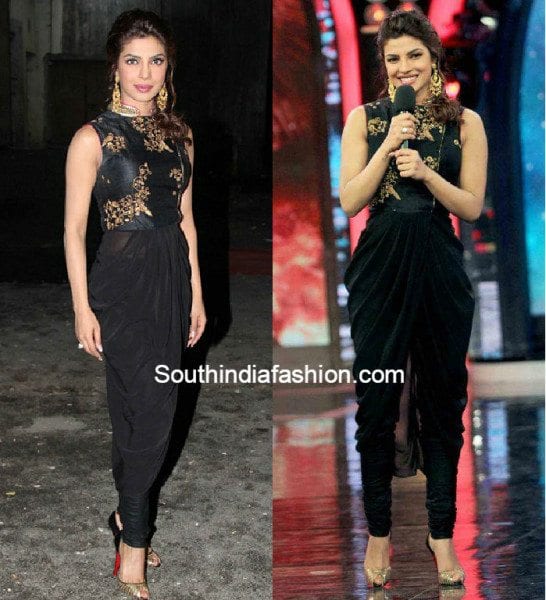 Karisma Kapoor is yet another one of our divas who donned a white drape kurta with a classy high neck and gold embroidery to look absolutely stunning. This ensemble was created by Tisha Saxena.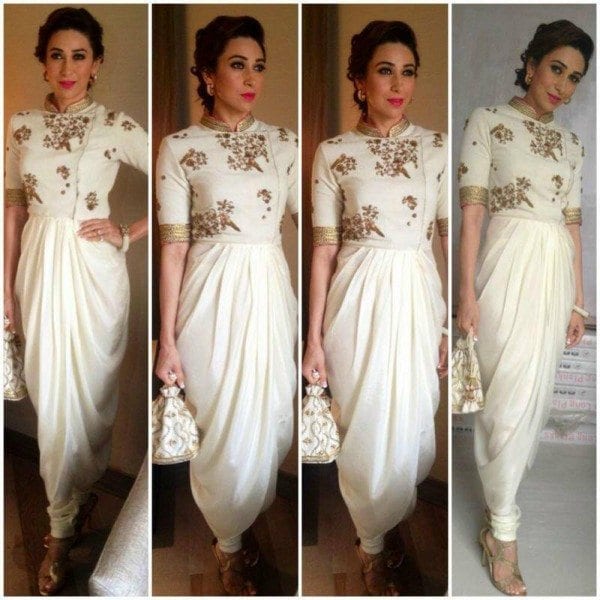 Get this regal look – Buy elegant white drape kurtas HERE!!
Sonam Kapoor does the drape kurta in her own style and we totally love how Bollywood's fashionista brought in her own very desi charm to the dress.
Amala Paul dons a Tisha Saksena creation as well and she chooses mint green – a color in which she oozed a certain oomph.
Mint embroidered drape kurta set by Tisha Saksena (BUY HERE)
So far, drape kurtas have only been a red carpet attire. But slowly, this sartorial masterpiece is making its impact within the crowds and is sure to rise to the fame that it deserves within no time. It is about time to get yourself a drape kurta this festive season before the trend rises and fades away!
Shop Beautiful Drape Kurtas / Dhoti Style Salwars Online: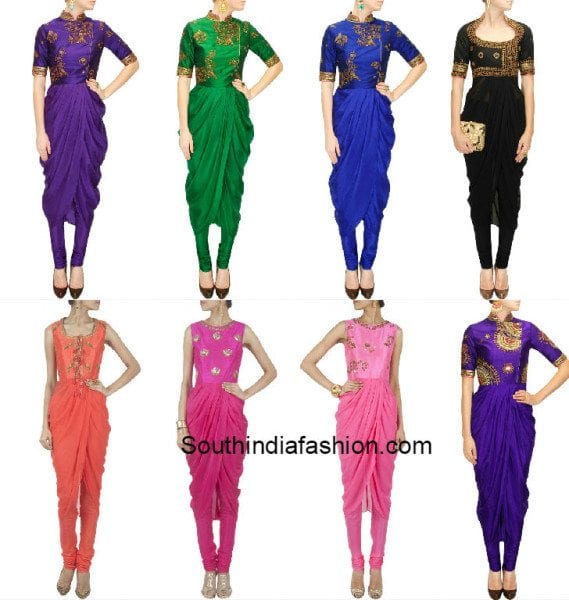 Zardosi work drape kurtis / dhoti style dresses in beautiful colors by Tisha Saksena. (BUY HERE)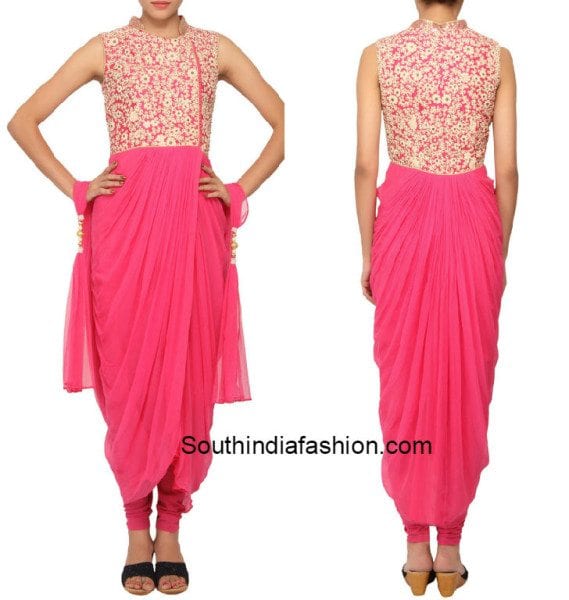 Pink embroidered dhoti style salwar (BUY HERE)
Mirror work dhoti salwar (BUY HERE)
Tags: drape kurtas, dhoti style salwars, dhoti salwars, dhoti style kurtis, dhoti tunic, dhoti salwars fashion, drape kurtis fashion trend, dhoti style kurtis, tisha saksena drape kurtas