Neha Shetty, the rising star of the Telugu film industry, has been making waves not only with her acting but also with her impeccable fashion sense. Recently, during the promotional tour for her latest movie "Gangs of Godavari," Neha graced us with her elegant and eye-catching saree looks. She chose to don three exquisite organza sarees by the renowned label Deep Thee, and each appearance was a masterpiece of style. Let's dive into the details of these stunning ensembles that left everyone in awe.
Teal Blue Organza Saree
Neha Shetty's first look was a sight to behold in a mesmerizing teal blue organza saree paired with a matching sleeveless blouse. The saree's intricate detailing and vibrant color made her stand out effortlessly. She accessorized her look with matching bangles, silver earrings that added a touch of elegance, and her side-swept curls added a hint of glamour. The simplicity of this ensemble only enhanced her natural beauty, making it a perfect choice for a promotional event.
Rani Pink Organza Saree
Neha's second appearance was equally enchanting, as she graced the event in a stunning rani pink organza saree. The saree featured subtle embellishments that added a touch of glamour, perfectly complementing her minimalistic approach to the rest of her look. She let the saree take center stage, allowing its vibrant hue to shine through. Neha's decision to keep the rest of her look understated showcased her confidence and style.
Mustard Yellow Organza Saree
For her third and final look, Neha Shetty opted for a bold and vibrant mustard yellow organza saree, which she paired with a striking contrast black sleeveless blouse. This combination was a striking choice that showcased her fashion-forward thinking. Neha adorned herself with a stack of black and yellow bangles, silver earrings, anklets, and a silver nose ring, adding a touch of bohemian flair to her ensemble. Her side-swept curls completed the look with an air of sophistication.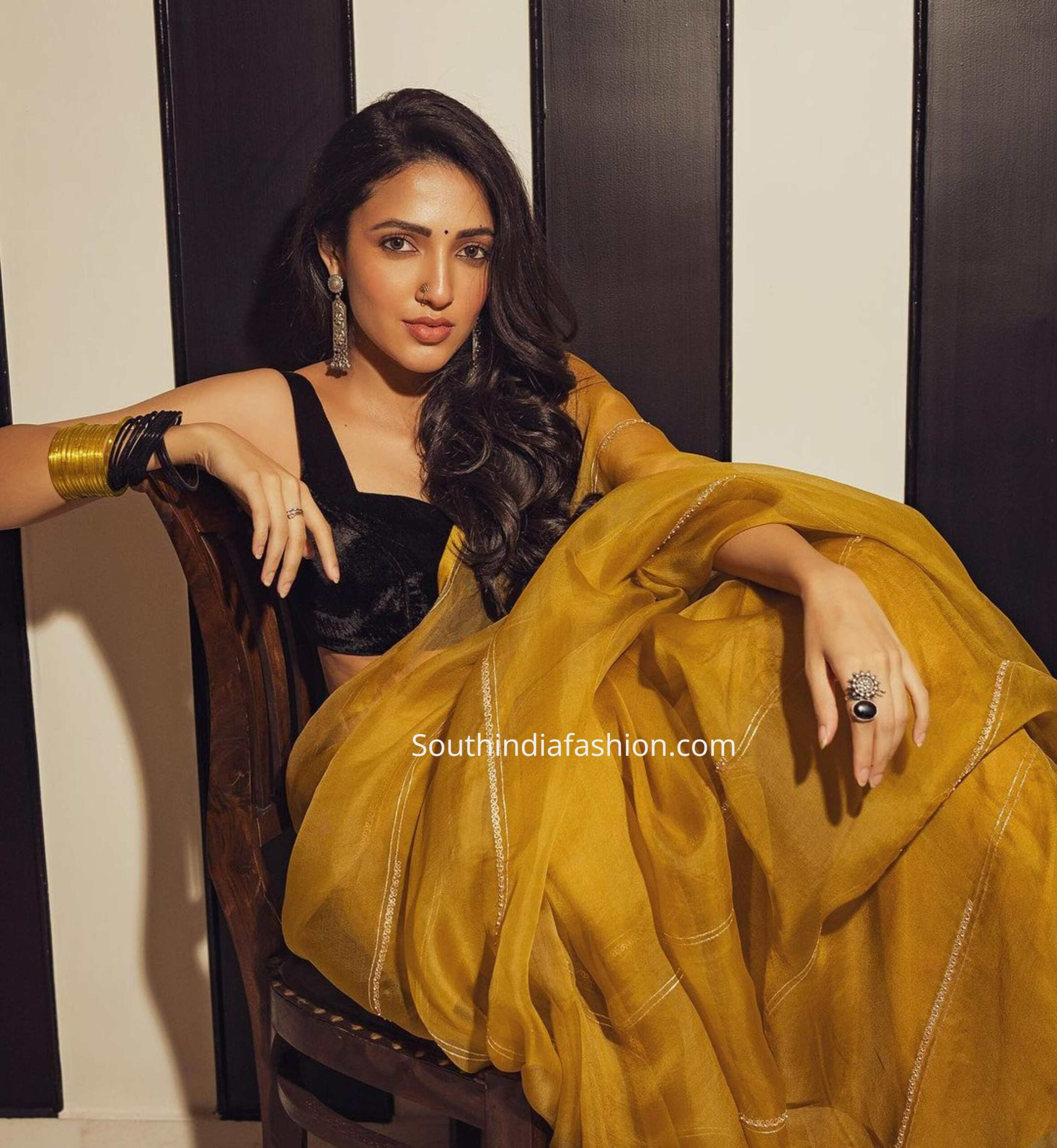 Neha Shetty's fashion choices during the promotions of "Gangs of Godavari" were nothing short of spectacular. Her selection of organza sarees by Label Deep Thee showcased her versatility and impeccable taste in fashion. Whether it was the teal blue, rani pink, or mustard yellow saree, each look was a testament to her beauty and style. Neha Shetty's fashion choices continue to inspire and leave a lasting impression, making her a true fashion icon in the making.