The recent Antha Manchi Sakunamule Thanks Meet was graced by the stunning presence of Malvika Nair, who captivated everyone with her impeccable fashion choices. Malvika's ensemble for the event, consisting of a red anarkali kurta and leggings paired with a contrast pink organza dupatta, showcased her ability to effortlessly combine elegance and contrast. Complemented by black metallic earrings, clear platform heels, and neutral makeup, Malvika's outfit left a lasting impression on the attendees. Let's delve deeper into the details and explore how she created this remarkable look.
Malvika Nair chose a vibrant red anarkali kurta and leggings as the foundation of her outfit. The rich red hue not only accentuated her complexion but also added a touch of regality to her appearance. The flowing silhouette of the anarkali kurta exuded grace and elegance, while the fitted leggings provided a modern and streamlined look. To introduce a captivating contrast to her ensemble, Malvika opted for a contrasting pink organza dupatta. The ethereal fabric and vibrant pink shade of the dupatta created a striking visual appeal against the red kurta. The sheer texture of the organza added an element of delicacy and grace to the overall outfit.
Adding a touch of sophistication and a hint of glamour, Malvika accessorized her ensemble with black metallic earrings. These intricately designed earrings effortlessly elevated her look, drawing attention to her face and enhancing her natural beauty. The black hue of the earrings created a beautiful contrast against the vibrant red and pink tones of her outfit.
For footwear, Malvika Nair opted for clear platform heels, which complemented her outfit perfectly. The transparent nature of the heels added a contemporary and trendy touch, allowing the focus to remain on her attire. The platform design provided both style and comfort, allowing her to confidently move throughout the event.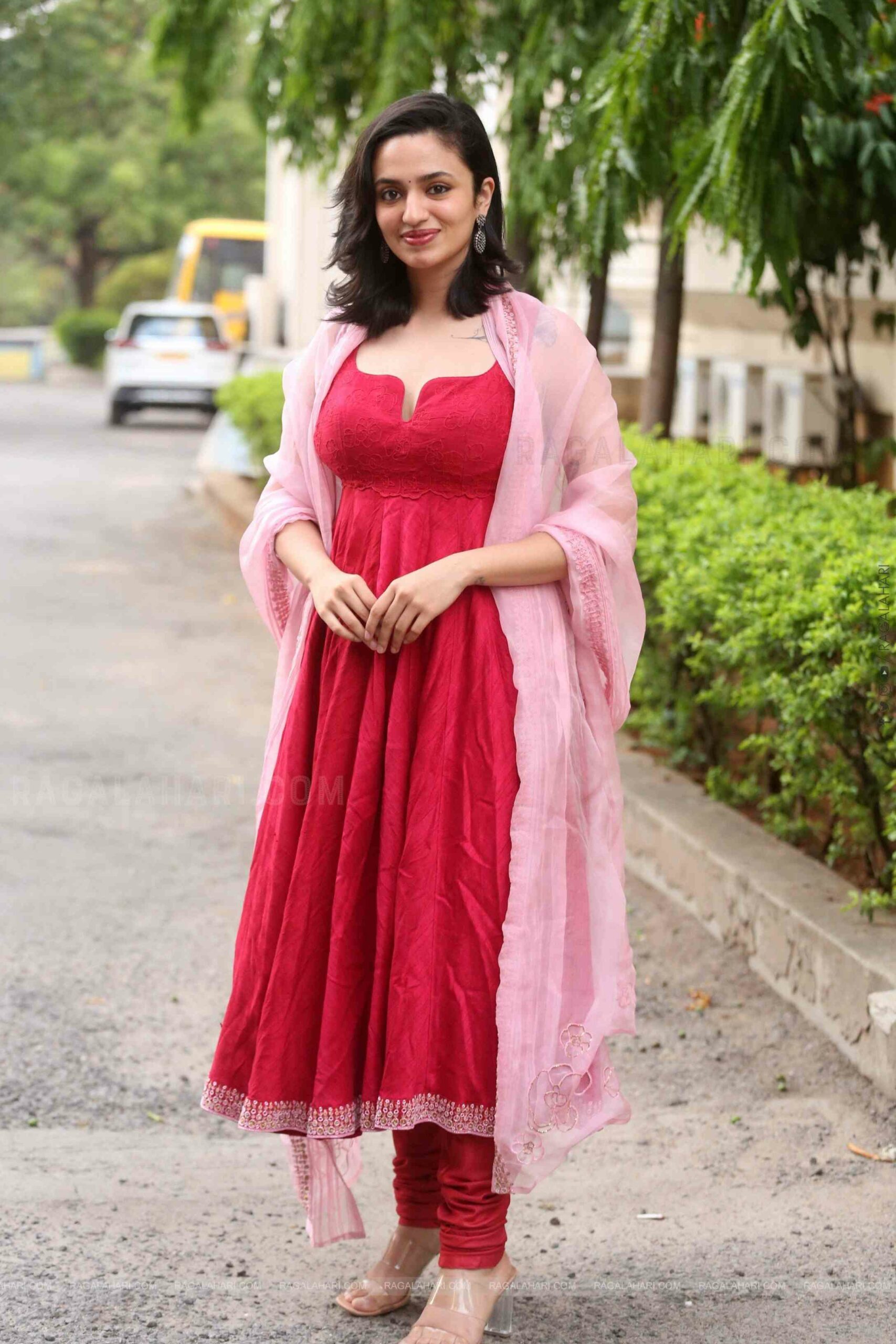 Malvika's makeup choice for the Antha Manchi Sakunamule Thanks Meet was a testament to her understated elegance. She opted for a neutral makeup look, focusing on enhancing her natural features. Subtle earthy tones on her eyes, a soft blush on her cheeks, and a nude lip shade created a harmonious balance, ensuring that her outfit remained the center of attention!