Featuring bridal Kasavu collection by Ektava:
Bridal Mundum Neriyathum ( setmundu)
 The optimal choice for a traditional Malayali bride is 'Mundum Neriyathum'. Ekatva unfolds an exquisite collection of bridal Mundum Neriyathum in jewel tones embellished with fine crystals and beads.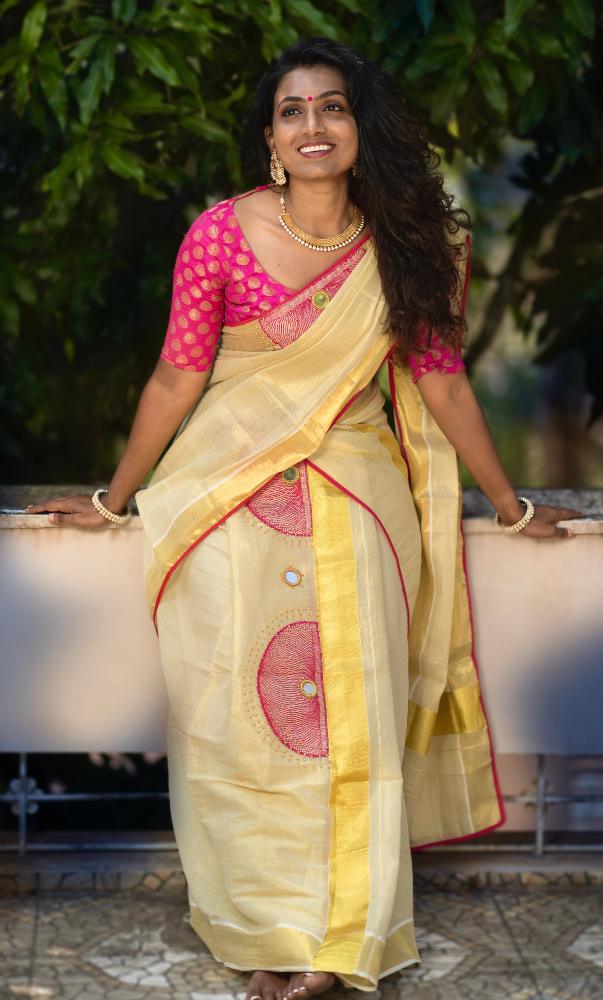 Bridal Kasavu saree
Kasavu sarees and brocade blouses are a match made out of the world.. Embroidered with exquisite beads and sequins the elegant kerala kasavu saree is paired with the divine shades of red and green. The sheen touch of gold and the crystal sprinkle on the embroidery gives a traditional elegance. Ekatva's bridal wear are marked with highly skilled craftsmanship and artisanal excellence.
Bridal Kasavu lehenga
The latest Indian bridal davanis are very innovative in their appeal while being traditional in their aesthetic.
The universal bridal lehenga, which was traditionally always red or maroon and heavily embroidered has changed to extremely traditional ivory white or pearl white kasavu fabrics with fine and intricate embellishments. Though this davani creates a monotonous look,  exquisite zardozi / Maggam embroidery with heritage designs makes it a mesmerizing wedding attire.
Muhurtham wear for Men
Men prefer customised Kurtas ornamented with mural arts or exquisite zardozi embroidery paired with Kasavu mundu. You can shop for handloom kasavu dhotis which are weaved by weavers in Kerala.
About Ektava:
Ekatva Collections strives to bring you the best in Kerala traditional and handloom wear. Their collections include Kasavu sarees, Set Mundu, Dhavani, Pattupavadai, Salwars, men's kurta and dhotis and kids ethnic wear. Ekatva is deeply committed to enshrining Kerala Kasavu with a confluence of variant cultural and traditional craft forms of India. You can shop Ekatva products from our website www.ekatvacollections.com.
Along with the latest collection available on their website, they also accept custom orders.
Shop now at www.ekatvacollections.com