Whenever we think of Shilpa Shetty Kundra, we think of fitness, dance, and of course fashion. Whether it's on-screen or off-screen, she manages to pull off that perfect candid look. She stepped out in the city recently, and her looks surely need to be bookmarked.
Scroll down to get some casual yet stylish fashion inpso.
In the first look, she was seen wearing a fusion combination. She opted to wear a basic plain white t-shirt and did some smart layering by topping it with a light-colored denim jacket. The oversized jacket had a baggy fitting and had full-sleeves that she folded along the wrist for that chic finish. For the bottom, she chose to wear tightly fitted multi-colored jagging that went perfectly with the basic white-colored top.
Also, how can we forget spotting a must-have dark blue backpack she carried for all her essentials. For the footwear, she kept it cool and comfy by choosing white sneakers that had some pop of color at the edges. To beat the heat, she wore big transparent shades and adhered to the new normal by wearing a white mask.
For the second look, Shilpa Shetty took her style statement further. Like her previous look, she wore a plain white colored t-shirt and teamed it up with a red checkered jacket that had a stylish knot at the front. The full-sleeved jacket had its sleeves rolled over around the elbows for that glam breezy look. alongside, she wore a white loose bottom that had long red stripes running along the sides.
She proved herself a true sneakerhead by again opting for plain white shoes. However, this time she wore a cap along with her big colorful shades to manage the scorching summers. For that extra style, she carried Goyard tote to incorporate her travel needs.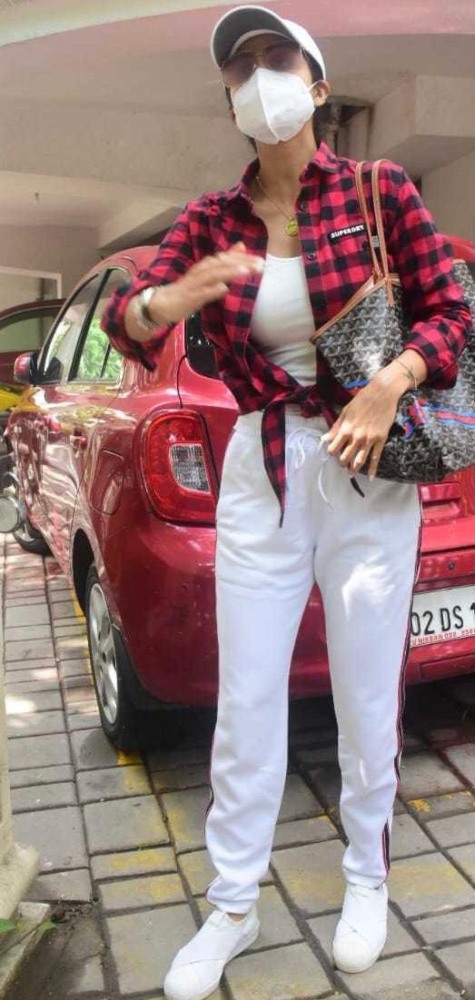 We could also spot some sleek accessories, like some layered bracelets and watches and also a pendant chain. Lastly, one cannot step out without a mask these days, so Shilpa Shetty wore a white mask for her safety and minding the norms.
She knows how to carry herself in style even if it's a simple clinic visit. There is a lot of fashion tips we can borrow from her even in her simplest of outfits.