Cutwork sarees are a wonderful creation of pure tradition yet they give a modern look. Be it a casual evening party or a wedding reception your cutwork saree is sure to make heads turn. Cutwork embroidery looks best on sarees where the handwork is on full display. It is done on many fabrics. Now-a-days cutwork embroidery is done even on Kanchipuram silk sarees, Tussars etc., to give it a totally different look. Do check out The S Studio's cutwork collection HERE!
The Sophistication and elegance of the pure kanchipuram silk is matched by the finesse and contemporary look of the cutwork in these kanchipuram sarees. The cutwork which runs all along the border and pallu makes them an obvious choice for the woman who likes a different look. Featured here are two complimentary colours – a Dark Rose and an orange cutwork kanchipuram silk sarees.
Elegantly draped in a rust and magenta pure kanchipuram silk with paisley cutwork, you are sure to make many heads turn. Choose this for a wedding or an evening occasion to make it royal. Featured here is a pure kanchipuram silk in half and half design with cutwork and contrast mandhulir green blouse and pallu.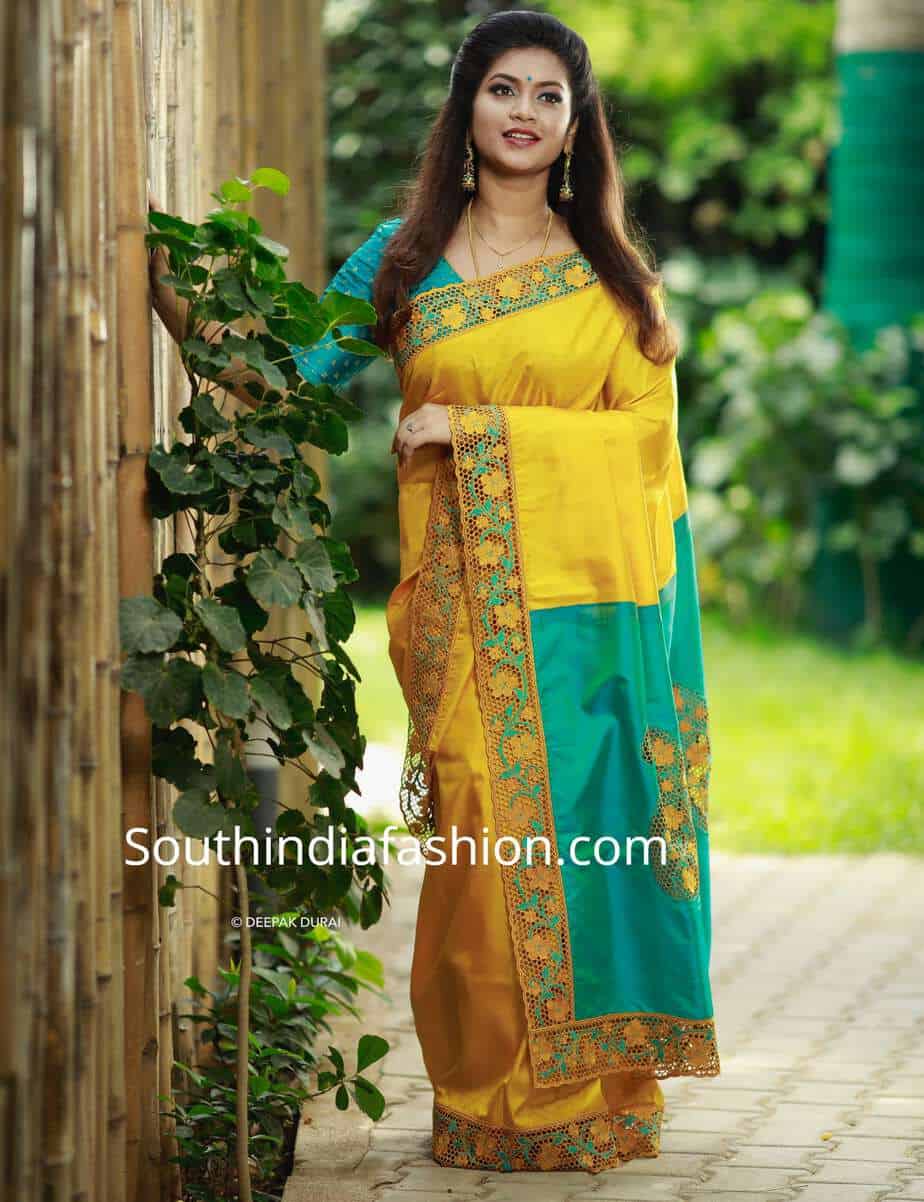 It's all about shades and hues. Those who love sarees will tell you exactly why certain colours are much preferred. Here is that soothing yellow kanchipuram silk saree with a light blue pallu. The saree is highlighted with a self cutwork border and paisley cutwork motifs on the pallu.
Shop Online: www.thesstudioonline.com
Address: 10/12, 6th Cross Street, CIT Colony, Mylapore, Chennai – 600004
For Enquiries: 044-48589944
WhatsApp No: +91 9840476171
E-mail: [email protected]
Facebook: https://www.facebook.com/theSstudioClothing
Instagram: https://www.instagram.com/thesstudioclothing