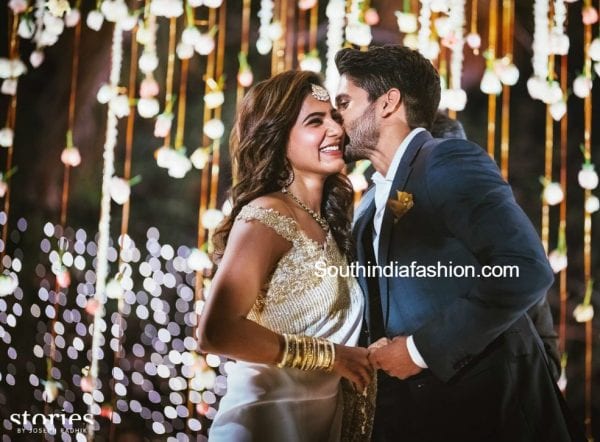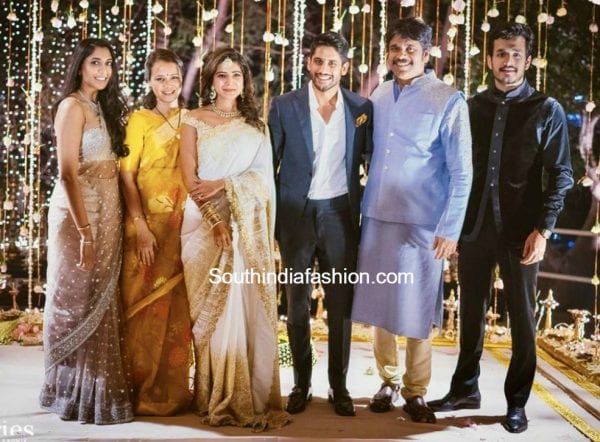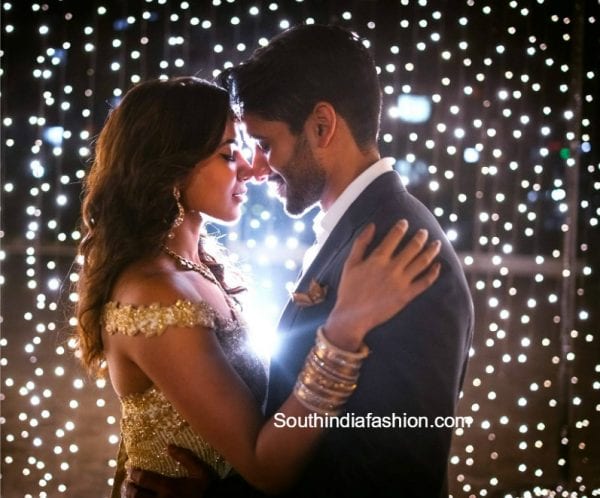 Tollywood's most loved couple Naga Chaitanya and Samantha Ruth Prabhu got engaged today in a private ceremony held at N-Convention in Hyderabad.
Samantha looked gorgeous in an off-white and gold custom made ornate saree that featured embroidery of their love story paired with an off shoulder blouse designed by Koecsh. Chaitanya looked handsome in a two piece suit.
Congratulations to the lovely couple!
Here's a closer look at Samantha Prabhu's engagement saree:
http://blockquote%20class=instagram-media%20data-instgrm-captioned%20data-instgrm-version=7%20style=%20background:#FFF;%20border:0;%20border-radius:3px;%20box-shadow:0%200%201px%200%20rgba(0,0,0,0.5),0%201px%2010px%200%20rgba(0,0,0,0.15);%20margin:%201px;%20max-width:658px;%20padding:0;%20width:99.375%;%20width:-webkit-calc(100%%20-%202px);%20width:calc(100%%20-%202px);div%20style=padding:8px;%20div%20style=%20background:#F8F8F8;%20line-height:0;%20margin-top:40px;%20padding:28.104575163398692%%200;%20text-align:center;%20width:100%;%20div%20style=%20background:url(data:image/png;base64,iVBORw0KGgoAAAANSUhEUgAAACwAAAAsCAMAAAApWqozAAAABGdBTUEAALGPC/xhBQAAAAFzUkdCAK7OHOkAAAAMUExURczMzPf399fX1+bm5mzY9AMAAADiSURBVDjLvZXbEsMgCES5/P8/t9FuRVCRmU73JWlzosgSIIZURCjo/ad+EQJJB4Hv8BFt+IDpQoCx1wjOSBFhh2XssxEIYn3ulI/6MNReE07UIWJEv8UEOWDS88LY97kqyTliJKKtuYBbruAyVh5wOHiXmpi5we58Ek028czwyuQdLKPG1Bkb4NnM+VeAnfHqn1k4+GPT6uGQcvu2h2OVuIf/gWUFyy8OWEpdyZSa3aVCqpVoVvzZZ2VTnn2wU8qzVjDDetO90GSy9mVLqtgYSy231MxrY6I2gGqjrTY0L8fxCxfCBbhWrsYYAAAAAElFTkSuQmCC);%20display:block;%20height:44px;%20margin:0%20auto%20-44px;%20position:relative;%20top:-22px;%20width:44px;/div/div%20p%20style=%20margin:8px%200%200%200;%20padding:0%204px;%20a%20href=https://www.instagram.com/p/BP-LXF_jXpI/%20style=%20color:#000;%20font-family:Arial,sans-serif;%20font-size:14px;%20font-style:normal;%20font-weight:normal;%20line-height:17px;%20text-decoration:none;%20word-wrap:break-word;%20target=_blankThe%20last%20of%20this%20😊%20❤️/a/p%20p%20style=%20color:#c9c8cd;%20font-family:Arial,sans-serif;%20font-size:14px;%20line-height:17px;%20margin-bottom:0;%20margin-top:8px;%20overflow:hidden;%20padding:8px%200%207px;%20text-align:center;%20text-overflow:ellipsis;%20white-space:nowrap;A%20video%20posted%20by%20Samantha%20Ruth%20Prabhu%20(@samantharuthprabhuoffl)%20on%20time%20style=%20font-family:Arial,sans-serif;%20font-size:14px;%20line-height:17px;%20datetime=2017-02-01T13:59:21+00:00Feb%201,%202017%20at%205:59am%20PST/time/p/div/blockquote%20script%20async%20defer%20src=//platform.instagram.com/en_US/embeds.js/script
http://blockquote%20class=instagram-media%20data-instgrm-captioned%20data-instgrm-version=7%20style=%20background:#FFF;%20border:0;%20border-radius:3px;%20box-shadow:0%200%201px%200%20rgba(0,0,0,0.5),0%201px%2010px%200%20rgba(0,0,0,0.15);%20margin:%201px;%20max-width:658px;%20padding:0;%20width:99.375%;%20width:-webkit-calc(100%%20-%202px);%20width:calc(100%%20-%202px);div%20style=padding:8px;%20div%20style=%20background:#F8F8F8;%20line-height:0;%20margin-top:40px;%20padding:28.104575163398692%%200;%20text-align:center;%20width:100%;%20div%20style=%20background:url(data:image/png;base64,iVBORw0KGgoAAAANSUhEUgAAACwAAAAsCAMAAAApWqozAAAABGdBTUEAALGPC/xhBQAAAAFzUkdCAK7OHOkAAAAMUExURczMzPf399fX1+bm5mzY9AMAAADiSURBVDjLvZXbEsMgCES5/P8/t9FuRVCRmU73JWlzosgSIIZURCjo/ad+EQJJB4Hv8BFt+IDpQoCx1wjOSBFhh2XssxEIYn3ulI/6MNReE07UIWJEv8UEOWDS88LY97kqyTliJKKtuYBbruAyVh5wOHiXmpi5we58Ek028czwyuQdLKPG1Bkb4NnM+VeAnfHqn1k4+GPT6uGQcvu2h2OVuIf/gWUFyy8OWEpdyZSa3aVCqpVoVvzZZ2VTnn2wU8qzVjDDetO90GSy9mVLqtgYSy231MxrY6I2gGqjrTY0L8fxCxfCBbhWrsYYAAAAAElFTkSuQmCC);%20display:block;%20height:44px;%20margin:0%20auto%20-44px;%20position:relative;%20top:-22px;%20width:44px;/div/div%20p%20style=%20margin:8px%200%200%200;%20padding:0%204px;%20a%20href=https://www.instagram.com/p/BP-LXF_jXpI/%20style=%20color:#000;%20font-family:Arial,sans-serif;%20font-size:14px;%20font-style:normal;%20font-weight:normal;%20line-height:17px;%20text-decoration:none;%20word-wrap:break-word;%20target=_blankThe%20last%20of%20this%20😊%20❤️/a/p%20p%20style=%20color:#c9c8cd;%20font-family:Arial,sans-serif;%20font-size:14px;%20line-height:17px;%20margin-bottom:0;%20margin-top:8px;%20overflow:hidden;%20padding:8px%200%207px;%20text-align:center;%20text-overflow:ellipsis;%20white-space:nowrap;A%20video%20posted%20by%20Samantha%20Ruth%20Prabhu%20(@samantharuthprabhuoffl)%20on%20time%20style=%20font-family:Arial,sans-serif;%20font-size:14px;%20line-height:17px;%20datetime=2017-02-01T13:59:21+00:00Feb%201,%202017%20at%205:59am%20PST/time/p/div/blockquote%20script%20async%20defer%20src=//platform.instagram.com/en_US/embeds.js/script
http://blockquote%20class=instagram-media%20data-instgrm-captioned%20data-instgrm-version=7%20style=%20background:#FFF;%20border:0;%20border-radius:3px;%20box-shadow:0%200%201px%200%20rgba(0,0,0,0.5),0%201px%2010px%200%20rgba(0,0,0,0.15);%20margin:%201px;%20max-width:658px;%20padding:0;%20width:99.375%;%20width:-webkit-calc(100%%20-%202px);%20width:calc(100%%20-%202px);div%20style=padding:8px;%20div%20style=%20background:#F8F8F8;%20line-height:0;%20margin-top:40px;%20padding:28.104575163398692%%200;%20text-align:center;%20width:100%;%20div%20style=%20background:url(data:image/png;base64,iVBORw0KGgoAAAANSUhEUgAAACwAAAAsCAMAAAApWqozAAAABGdBTUEAALGPC/xhBQAAAAFzUkdCAK7OHOkAAAAMUExURczMzPf399fX1+bm5mzY9AMAAADiSURBVDjLvZXbEsMgCES5/P8/t9FuRVCRmU73JWlzosgSIIZURCjo/ad+EQJJB4Hv8BFt+IDpQoCx1wjOSBFhh2XssxEIYn3ulI/6MNReE07UIWJEv8UEOWDS88LY97kqyTliJKKtuYBbruAyVh5wOHiXmpi5we58Ek028czwyuQdLKPG1Bkb4NnM+VeAnfHqn1k4+GPT6uGQcvu2h2OVuIf/gWUFyy8OWEpdyZSa3aVCqpVoVvzZZ2VTnn2wU8qzVjDDetO90GSy9mVLqtgYSy231MxrY6I2gGqjrTY0L8fxCxfCBbhWrsYYAAAAAElFTkSuQmCC);%20display:block;%20height:44px;%20margin:0%20auto%20-44px;%20position:relative;%20top:-22px;%20width:44px;/div/div%20p%20style=%20margin:8px%200%200%200;%20padding:0%204px;%20a%20href=https://www.instagram.com/p/BP-LXF_jXpI/%20style=%20color:#000;%20font-family:Arial,sans-serif;%20font-size:14px;%20font-style:normal;%20font-weight:normal;%20line-height:17px;%20text-decoration:none;%20word-wrap:break-word;%20target=_blankThe%20last%20of%20this%20😊%20❤️/a/p%20p%20style=%20color:#c9c8cd;%20font-family:Arial,sans-serif;%20font-size:14px;%20line-height:17px;%20margin-bottom:0;%20margin-top:8px;%20overflow:hidden;%20padding:8px%200%207px;%20text-align:center;%20text-overflow:ellipsis;%20white-space:nowrap;A%20video%20posted%20by%20Samantha%20Ruth%20Prabhu%20(@samantharuthprabhuoffl)%20on%20time%20style=%20font-family:Arial,sans-serif;%20font-size:14px;%20line-height:17px;%20datetime=2017-02-01T13:59:21+00:00Feb%201,%202017%20at%205:59am%20PST/time/p/div/blockquote%20script%20async%20defer%20src=//platform.instagram.com/en_US/embeds.js/script