This was one of the weddings that was quite anticipated right from the day the LCD invite was released to media. Gali Janardhan Reddy's daughter Brahmani's marriage was A BIGGG FAATT WEDDING!!! Though India is always known for its big fat weddings this one has not gone down well with many due to the timing!!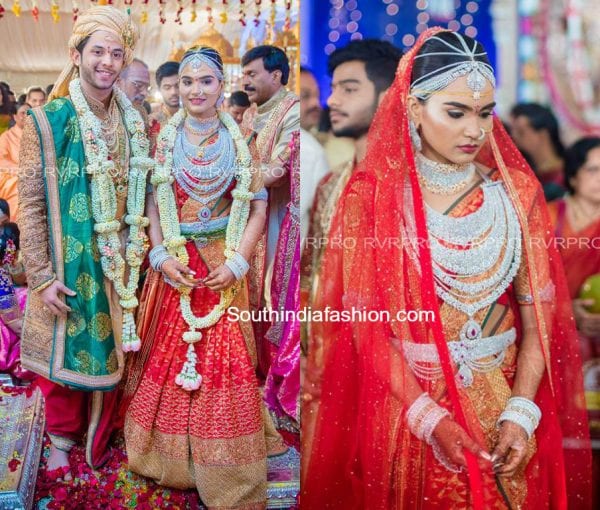 The bride Brahmani Reddy dazzled in each of her appearances. Her bridal half saree which was a red Kanjeevaram is tipped to be around INR 17 crores.  She being the new age bride, went for an all diamond look which matched the saree beautifully. Her accessories were said to cost around INR 90 crores!!!
The bride's mother Aruna Lakshmi was seen in a pink Neeta Lulla kanjeevaram saree which she paired with diamond jewellery.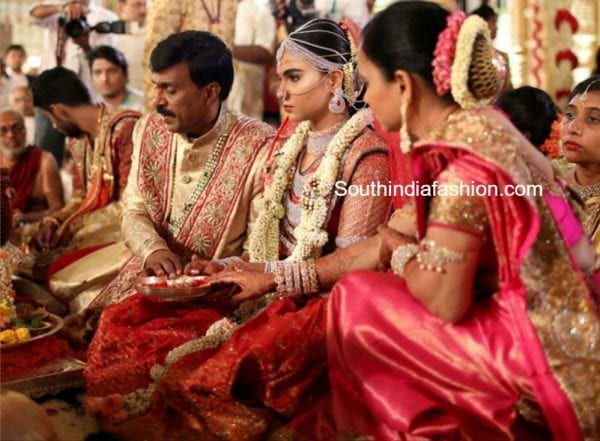 Brahmani's sangeet look was equally opulent where she wore a very heavy embellished golden color Neeta Lulla lehenga which blended well with the location of Palace Grounds, Bengaluru. She accessorized it with a heavy diamond choker set and simple curls completed her look. The groom chose very muted and classy attire for every festivity of the elaborate wedding.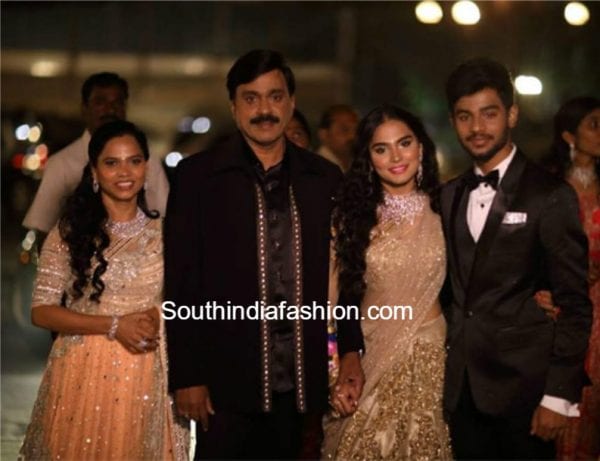 For another function, team Reddy decided to go out and out western classical with the bride choosing a ball gown and the groom, a suit to match. 
It is said that there were more than 50,000 guests who took part in this extravagant wedding and all arrangements were made for their comfort including over 2000 taxis to ferry them, helipads for the jet set pack and so on. The guests were entertained with performances by some of the who and who of Bollywood and Tollywood. There were samba dancers as well who were a part of the entertainment troupe.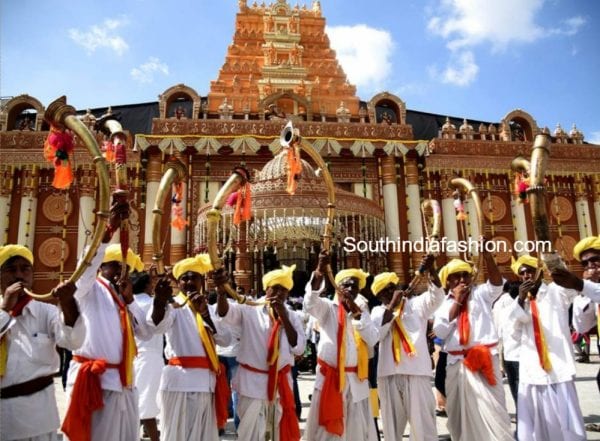 Wedding Decoration:  Though the wedding was held in palace grounds, the place did not look anything like its original self after the decorators did their job. The venue was transformed to look like ancient Vijayanagara and had replicas of the Tirumala temple, King Krishnadevaraya's palace, Lotus Mahal, Mahanavami Dibba, Vijaya Vittala Temple. Famous spots of Bellary  like the Cowl Bazaar, Dhanappa Beedi street, the village in Bellary and the house and school of Mr. Reddy had been re created for the same. Giant screens to watch the wedding, bouncers in thousands, elephants and horses here and there were all a part of this huge wedding.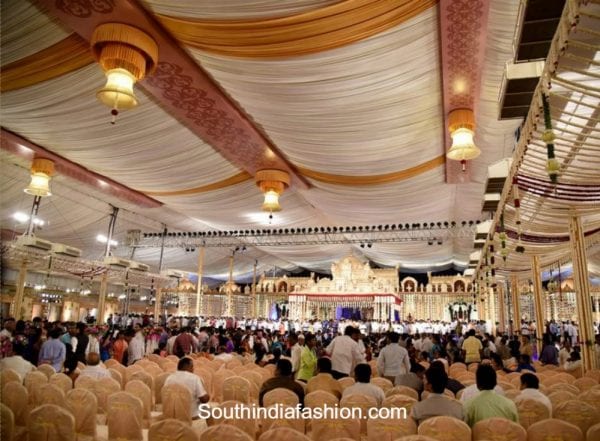 Though this was one the most lavish weddings in the recent times people were not very happy with it as it was done in tested times. Mr. Reddy says that all the payments were done months ago and is accounted for as the entire wedding cost him more than INR 500 crore. He smiles and says that he has done this all for his daughter!!
When many Indians have been hit by cash crisis, this extravagant wedding of Gali Janardhan Reddy's daughter has shocked everyone. What do you think about Mr. Reddy's sheer display of wealth?
Pic Credits: RVR PRO