The festive season has already started in India with the navratris, many more festivals like Dusherra, Karvachauth, Diwali and Bhaiya Dooj are yet to come. All these festivals are of great importance in Indian culture. During these festivals we worship god and goddesses and also meet our friends and relatives. The whole atmosphere is very joyous especially for the women and young girls as they get to dress up in their ethnic outfits. Here we are suggesting some of the traditional sarees for the ongoing and upcoming festive season:
Banarasi Sarees for Diwali
While doing the Diwali Pooja you can don a Banarasi Saree. The banarasi fabric is among one of the oldest fabrics of India which dates back to the Mughal era.These sarees are made in Varanasi, earlier Banaras and hence they are called as Banarasi sarees. These sarees are heavy as the silk fabric in itself is a heavy fabric and then further it is embroidered with brocade or zari work, making the sarees even heavier. In daily wear it's not possible to carry such a heavy sarees, hence banarasi traditional sarees are mostly worn during festive and wedding season.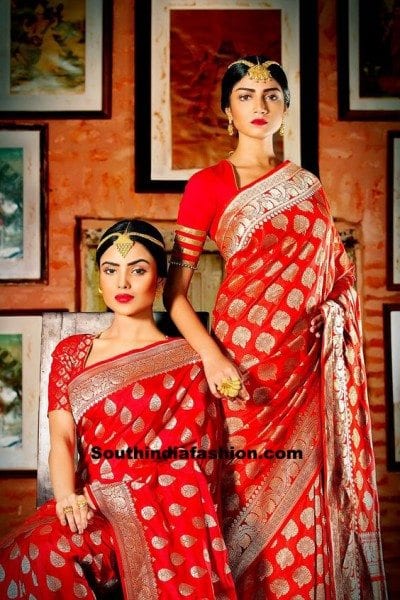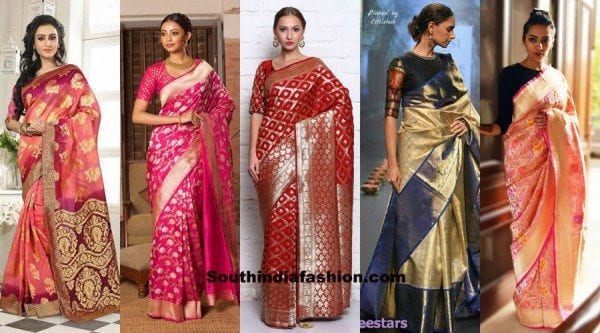 Bandhani Sarees for Navratris
Bandhani sarees are the specialty of Gujarat and Rajasthan. These sarees are made from the age old process of tieing and dyeing. The sarees are further decorated with mirror work, gota and beads. Usually these bandhani sarees are made of very bright colors which makes them perfect for the festive occasion of Navratri.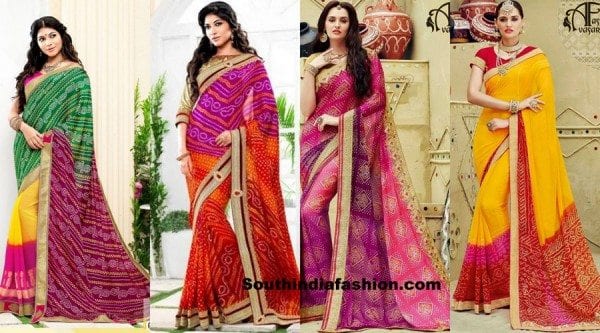 Red and White Bengali Sarees for Durga Pooja
These sarees are known as Garad Silk Sarees which are worn by the Bengali married women during Durga Pooja. These saree are totally white with red border worn in a specially Bengali drape style.
Ikkat Sarees
Ikkat or Ikat is a dying process which is done with cotton or silk fabrics. Different colorful patterns are received in the cloth after the dying process. Then these ikkat patterns are binded into thread before weaving the cloth. This technique is followed mainly in Orissa, Andhra Pradesh and in few places in Gujarat also. You can wear these Ikkat sarees on Bhai Dooj.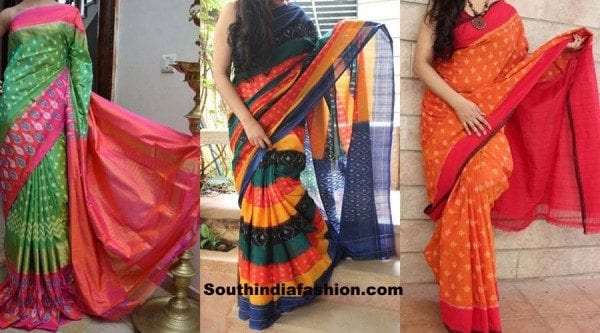 Kanjivaram Sarees for Karwa Chauth
Known for their richness, Kanjivaram sarees are the creation of the weavers of Kanchipuram, which is a city in Tamil Nadu, South India. Usually these sarees are very costly as the silver and gold in the motifs are actually embossed in the sarees are made by dipping the silk or zari threads in the melted silver and gold. Kanjivaram Sarees are traditional outfit for the South Indian Brides.
The Bollywood Style
We know that no matter what there are some lovely women who still loves to follow the bollywood trend even during the festive season also. Whether its for Dusherra, Diwali, Bhaiyadooj or Karwa Chauth. Below are some pics of bollywood actresses in traditional sarees, you can also take some inspiration from them for the upcoming festive seasons.
So, above are our suggestions for you about the 6 traditional sarees that you can wear this festive season.