When it comes to desi couture, there can be nothing that can exude more regality and splendor than Sabyasachi Mukherjee's designs. We love everything the master-weaver creates, his gorgeous sarees being the best of them all. In this wedding and festive season, here's a collage of 15 of the best Sabyasachi sarees of the recent times. Scroll on to reminisce and relish these wonderful masterpieces!
With regal collared and full-sleeved blouses, all of his sarees, including the net ones and the perky, floral ones are exquisitely elegant. He also happens to be of the first designers of the country who showed us how we can belt up sarees and look graceful while doing that.
When Sabyasachi uses gold and silver as his play colors, like with these sarees below, they can be nothing less than stunning.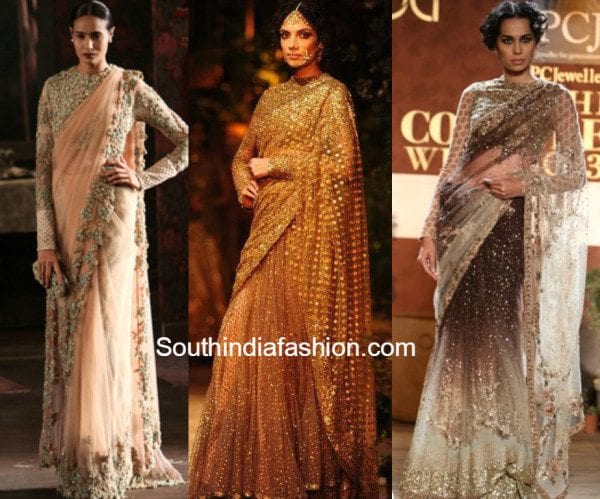 The frilly saree on the right, the enchantingly ethnic half and half saree in the centre and the velvet saree are our most loved Sabyasachi sarees and it's easy to see why..!
Lace, velvet, silks or net…just about any material that Sabyasachi weaves can look wonderful as his sarees and these sarees are proof of just that.
Inspired? Do let us know which one of these Sabyasachi sarees stole you heart the most!