When it comes to designing and weaving out some stunning festive lehengas, Manish Malhotra is the best our country's got. For years now, our celebs have been flaunting his scrumptiously beautiful lehengas over and over again on the red carpet and the ramp.
Here are ten of the best Manish Malhotra's lehengas our divas have donned.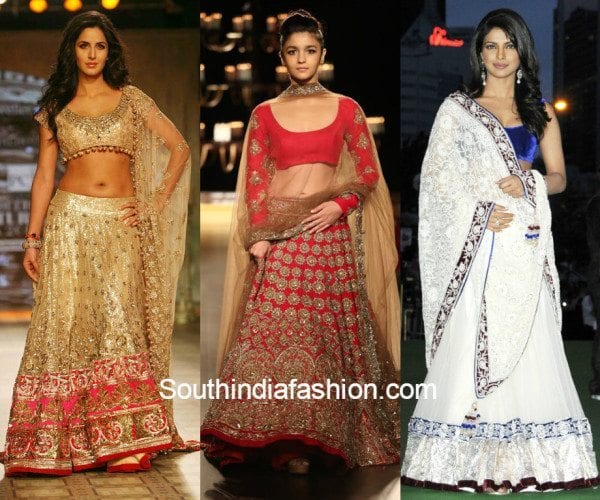 1. Alia Bhatt's Red Bridal Lehanga
The gorgeous gold and red lehenga with gold embellishments all over it that Alia Bhatt has donned on the ramp was one of Manish Malhotra's best creations.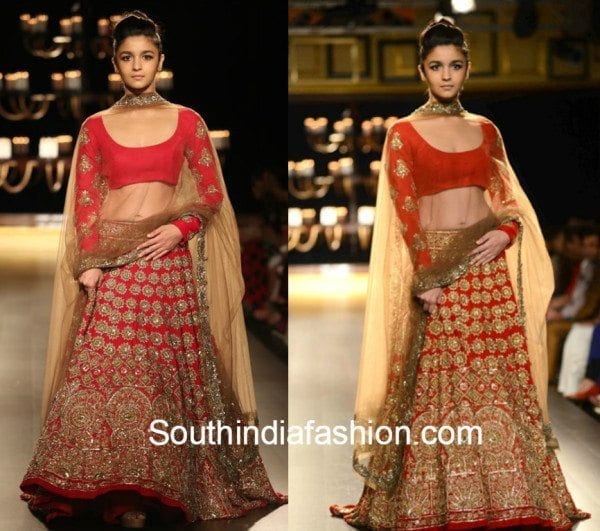 2. Anushka's Bejewelled Lehenga
In one of Anushka's first events, she chose this cream coloured lehenga by Manish and surely, it got her noticed!
3. Deepika In a Blue Lehenga
Deepika donned a blue Manish Malhotra for one of her ramp appearances and this one's a stunner like no other.

4. Kareena Kapoor In A Purple Lehenga
Kareena, Manish Malhotra's favourite muse walked the ramp in his creation – a gorgeous, purple, mirror-work lehenga with silver overtones on it.

5. Katrina In An Off-white Bridal Lehenga
Kat looked more like a diva than she already was in an off-white Manish Malhotra's bridal lehenga that she walked the ramp at a fashion show.

6. Parineeti In A Black And Silver Lehenga
In one of her red-carpet appearances, Paineeti Chopra picked a black and silver lehenga. With a high collar blouse and beautiful silver work all over it, she looked like a work of art.

7. Priyanka In Lacy White Lehenga
Among all of Manish Malhotra's lehengas that actresses have donned, we'll never forget this white lacy and blue velvety lehenga that Priyanka Chopra wore to a Filmfares for all its beauty!

8. Shriya Saran In A Pink Lehenga
Shriya Saran chose a pink lehenga by Manish Malhotra for the TIFF of an year and we loved everything about this gorgoeus lehenga.

9. Sonam Kapoor In A Red Bridal Lehenga
In one of Manish's bridal shows, he picked Sonam for his show-stopper when she donned this gorgeous red lehenga.

10. Alia Bhatt In Black And Silver Lehenga
In one of the very first Filmfares that Alia attended, she wore a black, pink and silver Manish Malhotra's lehenga which made her look like the diva that she was!