Anarkali is one of the most regal outfits we've got that not everyone can really pull off – you've got to be made of royal stuff. Which is perhaps why Anushka Shetty, the reigning queen (on and off screen) has a lot of times chosen anarkalis to fit her majestic stature. And each of these anarkalis that she picked had something very special and beautiful about them.
Here are nine of our picks from all the anarkalis that Anushka Shetty chose to appear in…
1.In a blue anarkali at Baahubali event
Anushka chose a dark blue anarkali made out of fine silk for the trailer launch of Baahubali. With the white in the dupatta and the shimmery gold along the borders all adding a certain regal-ness to the outfit, Anushka looked like a princess (offscreen, we mean)!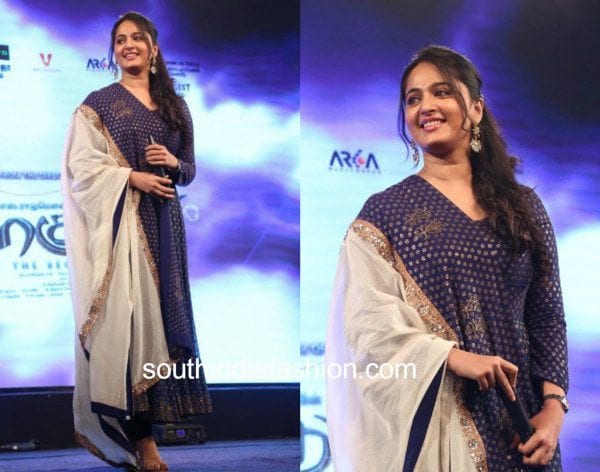 2. In a kalamkari anarkali
At another trailer launch of Baahubali, Anushka picked a very ethnic, kalamkari handloom anarkali. We loved how the outfit was simple and yet full of rich Indian artistry.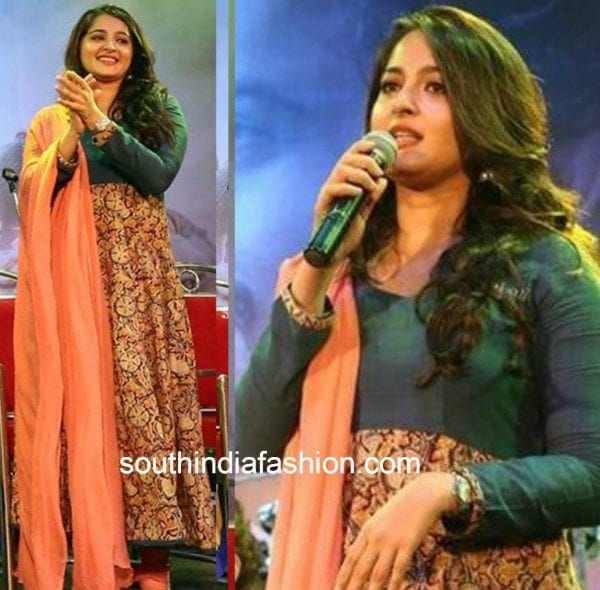 3. In a black anarkali teamed with a worked-upon dupatta
Anushka chose a plain black anarkali to team it with a heavily worked upon multi-colored dupatta at the audio release of Lingaa. And with that, she proved yet again that she can make even the simplest of the anarkalis look fit-for-the-queens.
4. In a pretty purple anarkali
For the audio launch of Vaanam, Anushka picked an anarkali which was made out of the loveliest shade of purple there is. There was plenty of usage of sheer fabric that made it look all pretty and flowy.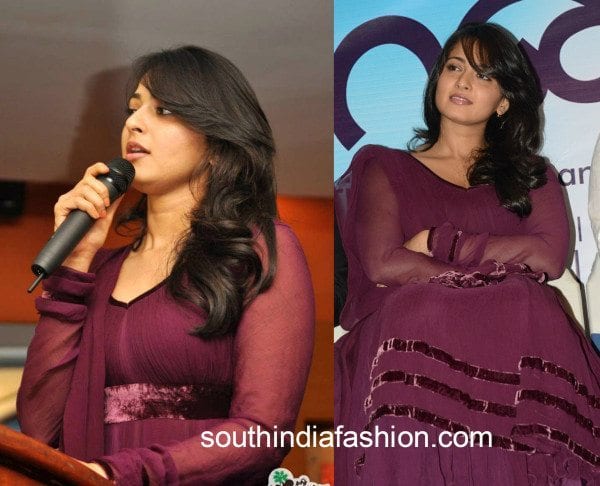 5. In a bottle-green anarkali at Singam audio launch
With a lovely shade of green and metallic work all along the borders of the dress, Anushka's anarkali that she picked for Singam audio launch was definitely one of the best anarkalis that she's ever picked.
6. In a white anarkali paired with mirror-work dupatta
A lengthy white anarkali teamed and a multi-colored dupatta with mirrors weaved all over it, Anushka's attire at the audio launch of Mogudu was stunning!
7. In a lacy pastel pink anarkali for ANR's Platinum Jubilee event
This really had got to be the best of Anushka's anarkalis yet! The pastel pink lacy anarkali that she wore to ANR's platinum jubilee event is what we're talking about. The subtle gold work that was done on the anarkali only made it more beautiful.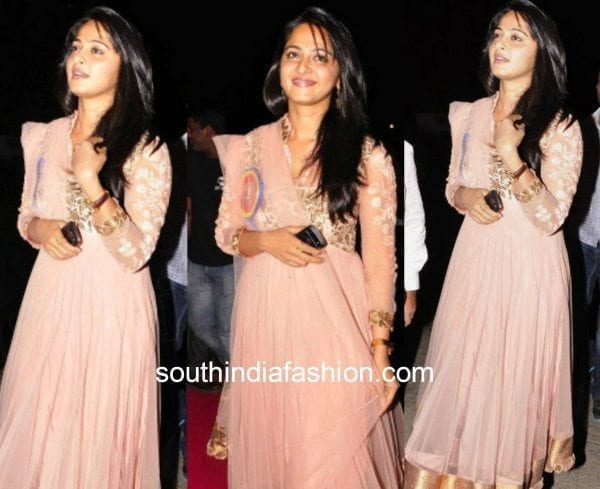 8. In a beautiful blue anarkali
In what was one of the most beautiful anarkalis Anushka was seen in, the anarkali that she chose for an eventin Vijayawada was made out of the prettiest shade of blue there is. There was some gorgeous gold floral work that was done on the anarkali.
9. In a red anarkali at Rudrama Devi event
Red is one of the colours that makes Anushka look her best…and that's probably why we loved the red anarkali that Anushka picked for the trailer launch of Rudrama Devi which she teamed with a net dupatta.