This Durga Puja, are you looking for ways to step up your fashion game? Then make way for gorgeous statement blouses to pair up with your traditional Bengali sarees. Sure, an ethnic laal-paad saree with the right accessories can glam up your Durga Puja look. But add to that a statement blouse that shows off the rituals of Durga Puja, and you are all set to go Pandal hopping. The latest collection of "Durga Puja" special blouses from Sayanti Ghosh Designer Studio can help you achieve just that. Inspired by the traditions revolving around the rituals performed during Durga Puja, the collection features hand-embroidered Goddess Durga blouses, Madhubani handpainted Durga blouses, handwoven cotton jamdani, etc. These blouses not only tell a story of the traditions associated with the festival but also create a stunning style statement.
Check out the Durga Puja blouse collection below:
Sayanti Ghosh's Devi Aradhana series
This series represents the 5 days of celebrations where various rituals are performed in Durga Puja.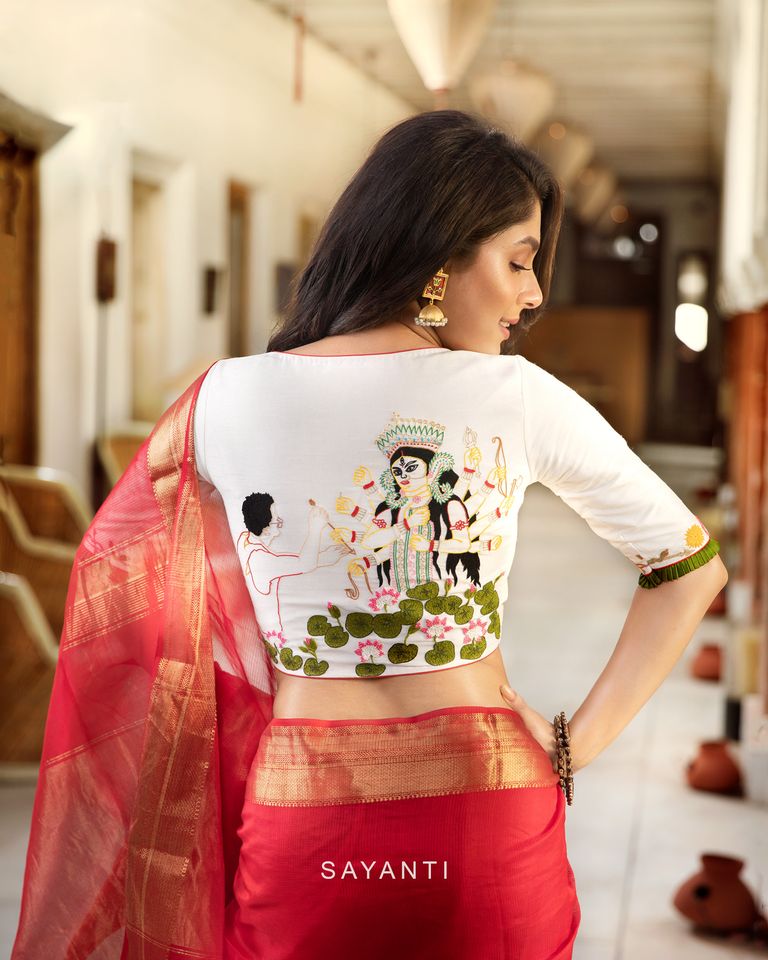 Shoshti blouse – representing Mahashasthi, the sixth day of Debipaksha, when the idols of the Goddess are set up in the pandals.
Saptami – Representing the day on which the ritual Pran Pratishtan and Kala Bou Snan take place wherein a banana tree dressed in a saree is bathed in a river.
Ashtamir Saaj – The day of ashtami is for calling and reaching out to Goddess
Nabami Blouse – Representing the dhunuchi dance holding earthen pots billowing a fragrant smoke.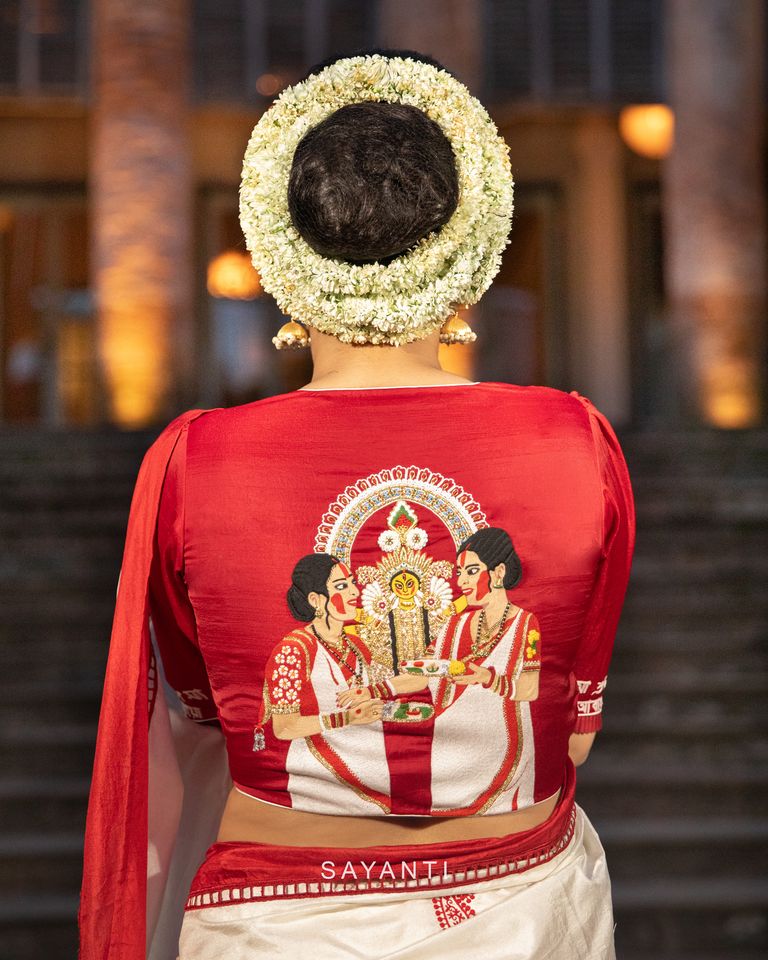 Vijaya Dashami Blouse: Representing the last day of the festival when the Goddess bids adieu for a year and the end of the puja ritual happens.
Wear a piece of art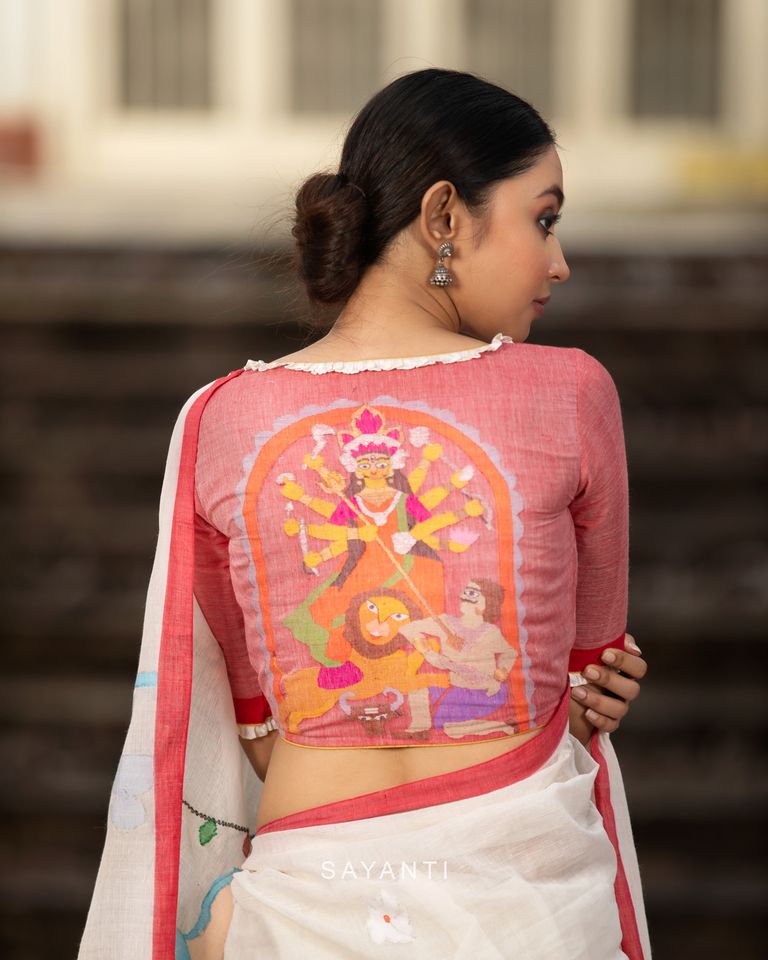 Handwoven cotton Jamdani blouse -The Durga dalan and the sheuli flowers strewn allover compliment the puja look.
Madhubani handpainted art work : This handpainted Madhubani Maa Durga blouse combined with a simple saree creates a gorgeous puja look.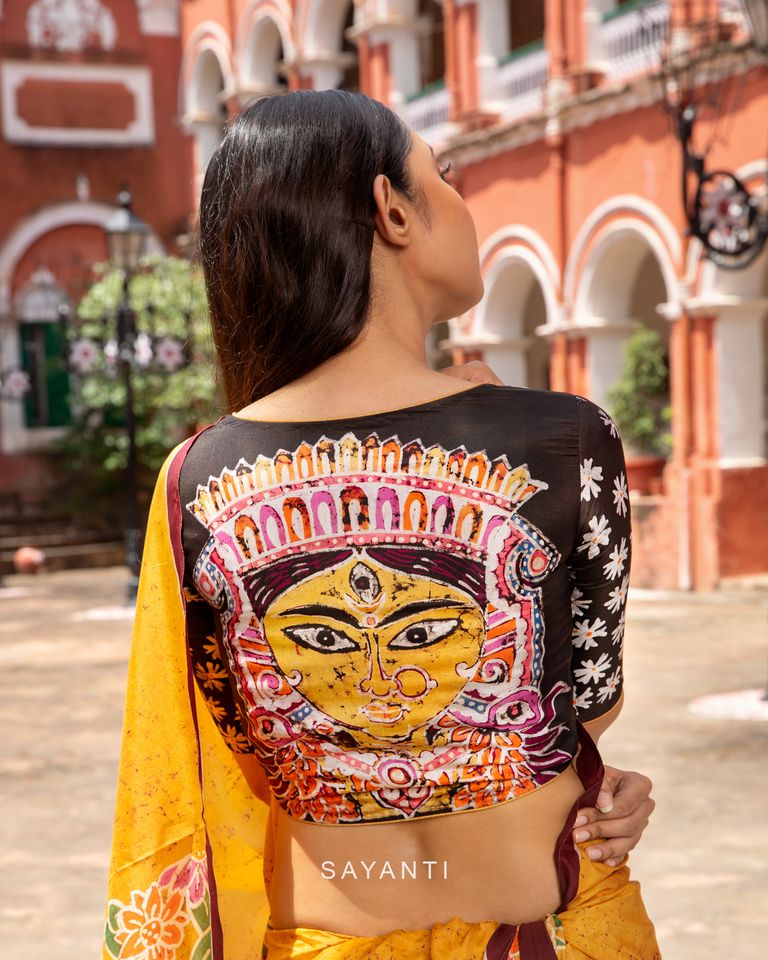 Hand-painted Batik art : This Maa Durga batik blouse which beautifully unleashes the festive spirit is a perfect addition to your festive wardrobe.
Hand-embroidered Durga Maa Blouses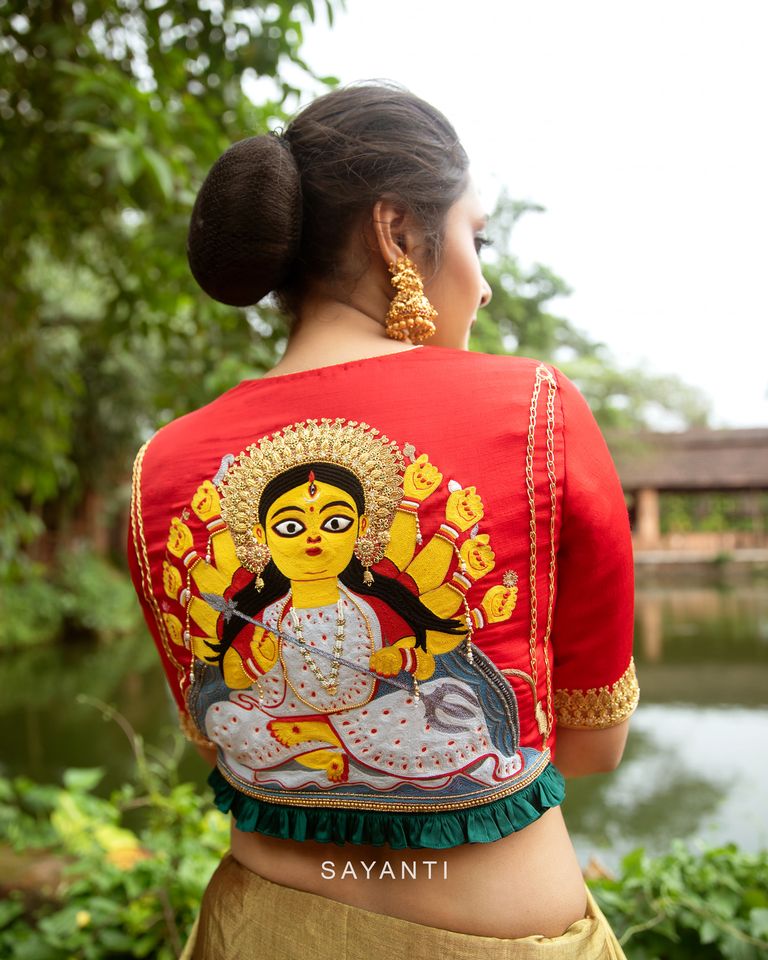 The Durga artwork in this hand-embroidered blouse is a very special representation of Goddess Durga and looks extremely festive.
Ready to stand out from the crowd with these statement blouses? Bring home this festive collection to spruce up your Durga puja wardrobe!
For inquiries and orders contact: 
Phone: +91 98040 10349
Facebook: https://www.facebook.com/Sayanti-Ghosh-Designer-Studio