Kanjivaram silk sarees are synonymous with all South Indian weddings. They are bridal wear staples and every south-Indian bride is on the lookout for these beautiful sarees. Moreover, who can resist these beauties? Elaborate borders with tasteful temple motifs, some old-fashioned mini checkered sarees, delicate zari borders  and many more exquisite designs. Kalpavruksh, is one such brand that has an extensive variety of these stunning kanchipuram sarees. They have these pretty silks in an array of colors ranging from dusky pastels, vibrant hues, muted tones and classic solids. You can find an assortment of unique designs and color combinations, with predominant temple motifs.
Kalpavruksh Sarees
A quick look at Kalpavruksh's official page is enough to give us details about their alluring collection. We have sorted these beautiful Kalpavruksh saree drapes into categories of what you might like having in your closets!
Divine Borders
Huge borders with delicate golden zari work and artistic temple borders with animal and floral motifs make these Kalpavruksh sarees stand out. As the borders have extravagant designs, a simple contrast blouse with minimal jewelry like a pair of Jhumkas and choker will compliment it perfectly.
Enticing color combinations
Kalpavruksh sarees collection has quite some unusual color combinations, that would make for a very interesting attire. You can find dull pastel paired with deep shades, or lighter tones paired with neon borders and many more. It's always exciting to have these colors in your wardrobe.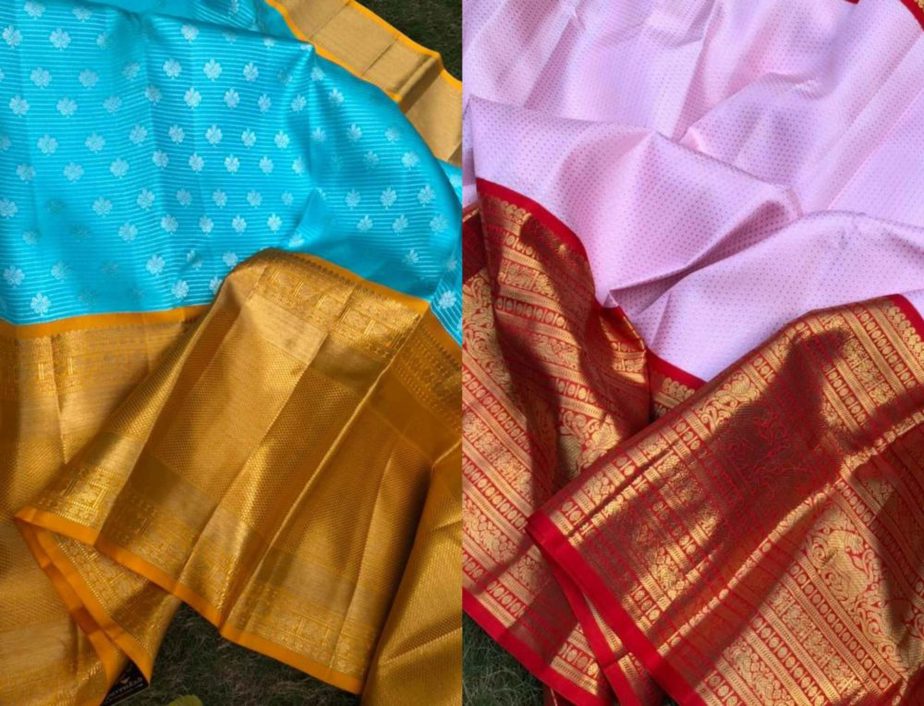 Delicate silver zari work
The new age Kalpavruksh kanjivaram sarees are being woven with a combination of silver and gold silk thread work. These have now become cult favourites among our current generation brides. Silver zari work keeps the look delicate while also makes it edgy. Since most of these silver thread is woven along with golden zari , it can be paired with blouses in both these metallic shades.
Kalpavruksh Sarees with old fashioned classic checks
Remember your mother's delicate checked wedding saree? It still remains an age old classic. Checkered kanchipuram sarees bring a formal freshness that stands unbeaten. These checks come in varied sizes and some come with tiny motifs in those boxes, which makes it all the more elegant.
Kanjivaram sarees are like one time investments, these precious pieces are even passed on to the next generations.
Contact Details:
Facebook: https://www.facebook.com/Kalpavruksh
Phone: +91 81425 44441
Kalpavruksh boutique address:
Mohiddin estate, near railway reservation counter, Bandar road.
Vijayawada, India 520010