Mehndi or henna is an age old art, popular among Indian girls for weddings, functions and family events. Earlier, only brides would apply henna on their hands. Nowadays, it has become a social ritual where girls sit together and apply mehndi designs on each other's hands before every family function. It's such a fun and engaging activity for everyone. Scroll down for some beautiful latest Mehendi designs to try in 2020!!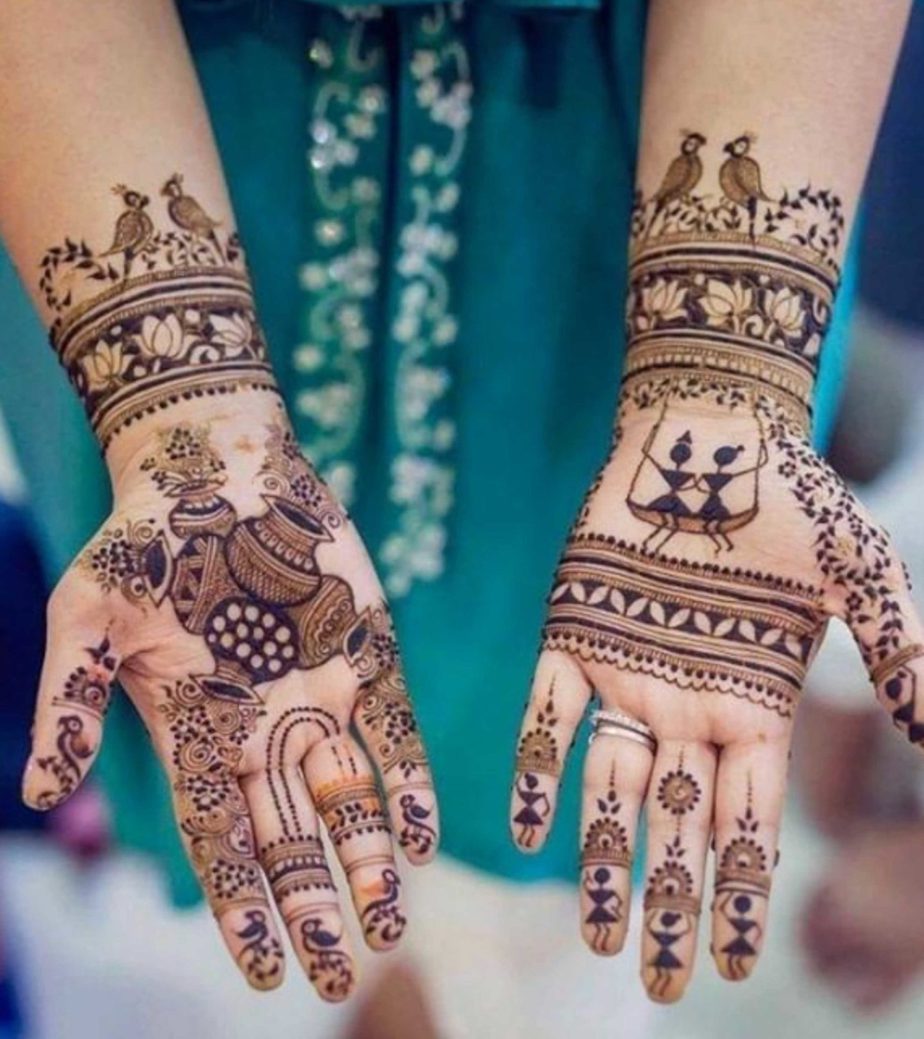 Tips to apply latest mehndi designs in 2020: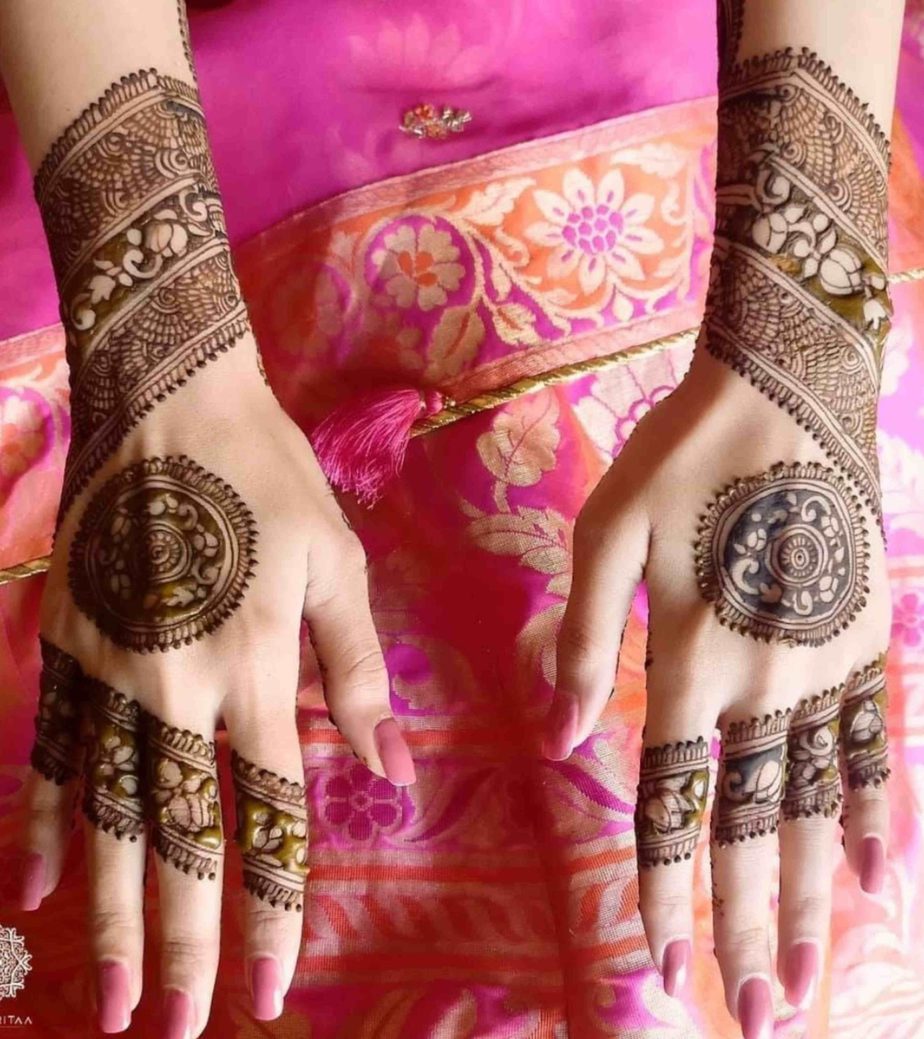 Holding the cone properly and keeping a steady hand is the most important element in mastering henna designs.
Whether you're a beginner or experienced in mehndi, practice is key! Practice Practice Practice. Practice basic designs like mandalas, floral patterns, peacock designs, meshwork designs etc. You can practice on paper first and as you grow more confident, you can catch hold of your younger cousins and use their hands as canvas!
Be aware of latest mehndi formulations in the market. Nowadays, "instant henna" has become quite a hit as it gives a very deep red colour within just few minutes of application!
Browse Instagram and Google for latest mehndi designs and get inspiration from them. Don't be afraid to try your hands at it. You'll only get better with practice. We promise!
Simple Mehndi Designs 2020
You can start off simple with these designs. Its extremely easy and looks beautiful once the color sets in.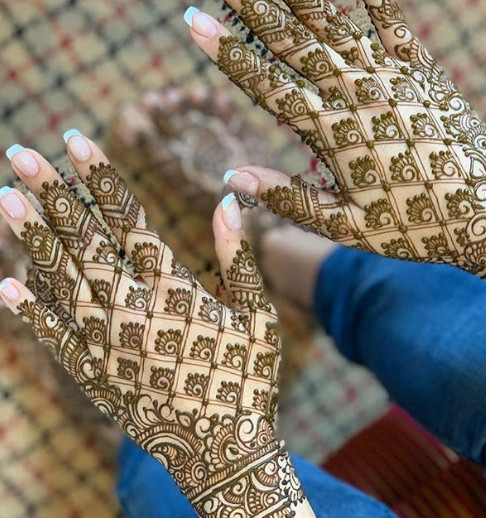 Henna designs with Mandalas
Mandala mehndi designs are the easiest to make and fill your hands with. Practice making circles on paper with the henna cone and fill them with intricate designs for a youthful look.
This new type of mandala design incorporates floral and leaf arrangements for a unique design. Be sure to try it!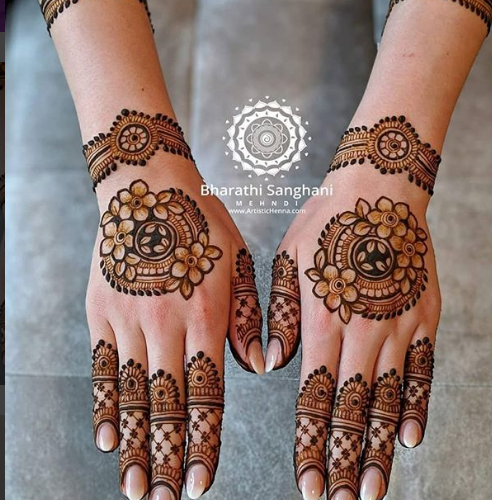 Meshwork mandalas are super easy to make! Take inspiration from this design for an elegant look.
This intricate floral mandala mehndi design looks absolutely gorgeous. Doesn't it? We're totally loving it.
Leaf Mehndi designs Latest 2020
Leaf designs are life savers for beginners because of their simplicity. But fret not, even leaf designs can look beautiful! We've compiled some latest leaf mehndi designs trending in 2020 for you.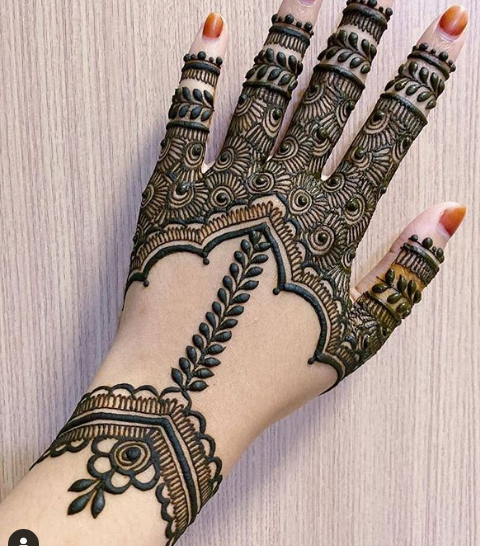 Symmetrical Mehndi design full hand
These symmetrical full hand mehndi designs are perfect for a bride to be! Be it your sangeet, shaadi or reception, its sure to make everyone complement your henna.

Unique Mehndi design ideas 2020
This unique design of a bride holding her shaadi lehenga and walking is such a cool and brilliant idea! You'll have everyone asking appreciating the thought and ingenuity behind this.
The story of your wedding day unfolds in this design, complete with a bride and groom and some elephants to sit on and take you to your mandap!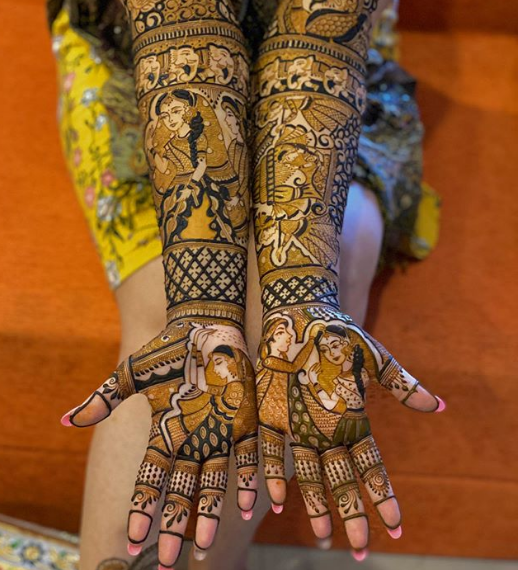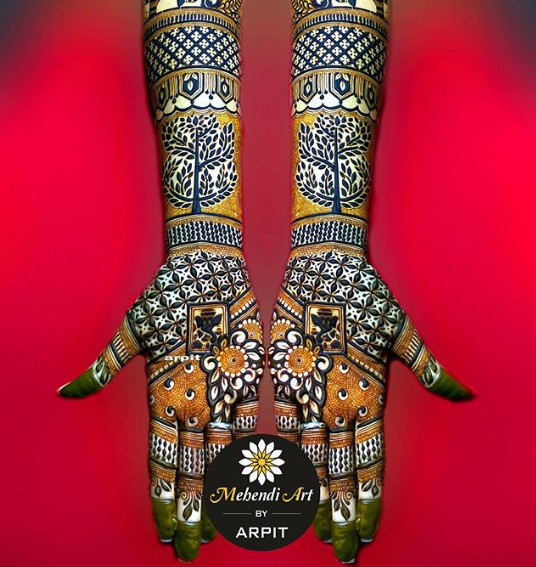 This design of a bride arriving for her wedding with her brothers in tow is so cute! Make sure to take inspiration and incorporate this into your next henna session. It's not that tough!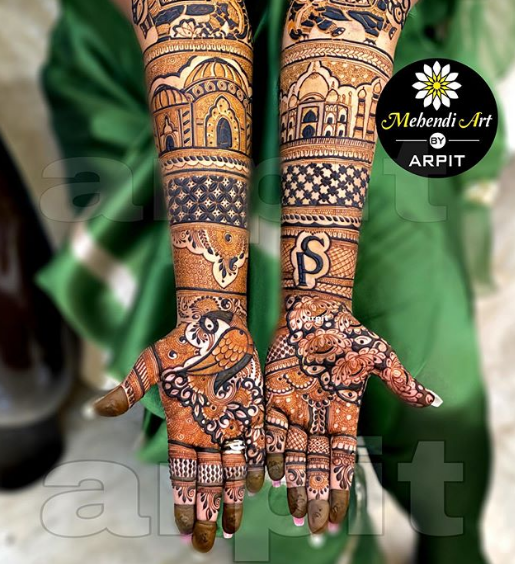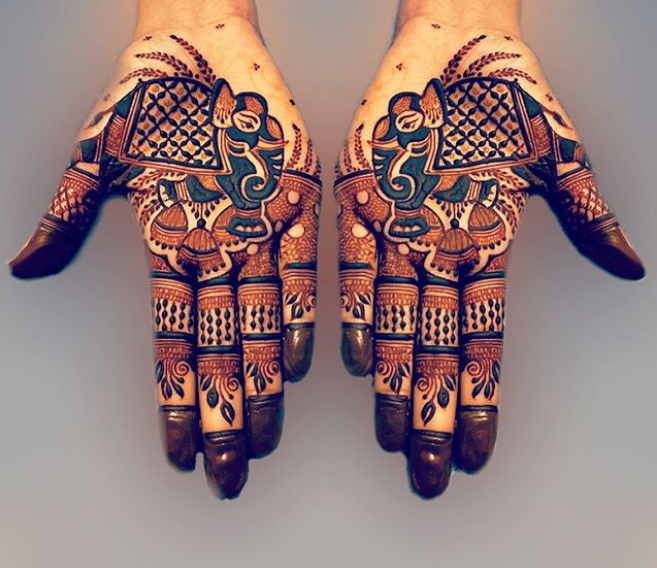 This Jhumka Style design with birds sitting atop is one that we haven't seen anywhere yet. We can't wait to try it!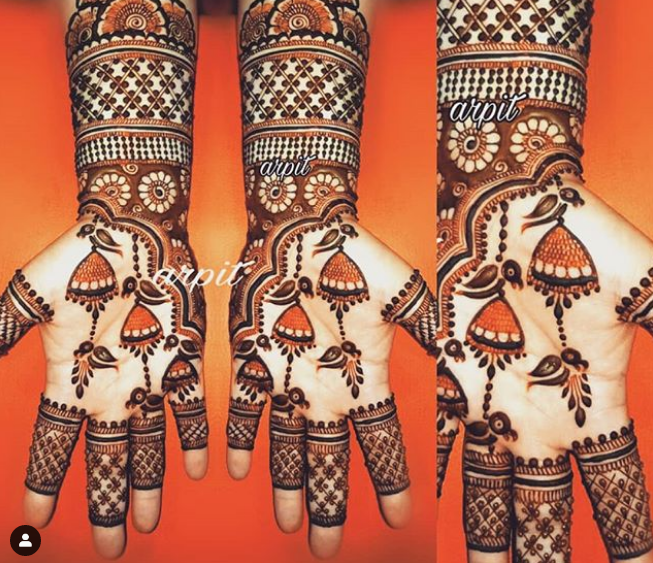 One side Henna designs for back hands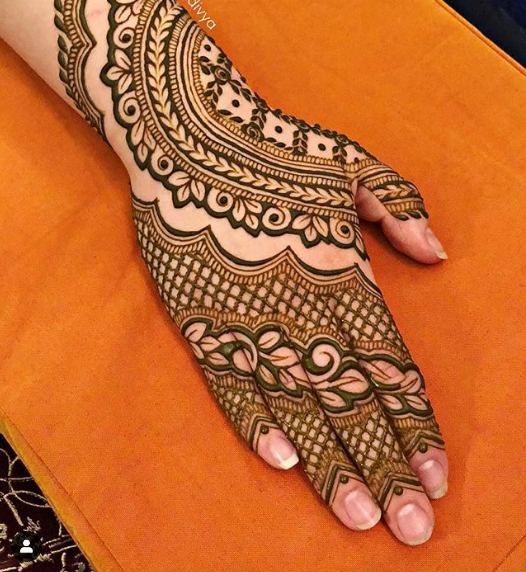 Love this one side design with bunches of leafs surrounded by a meshwork of henna. Suitable for all ages and festivities!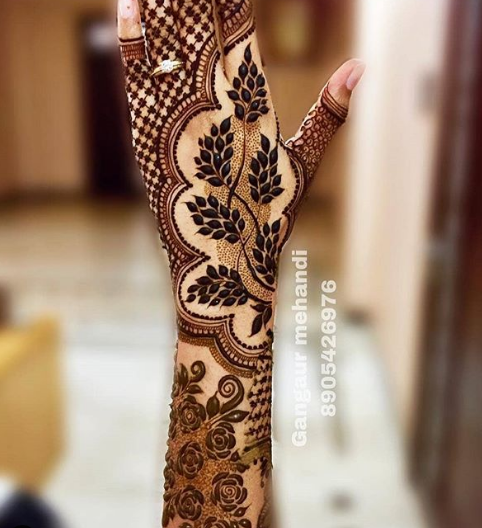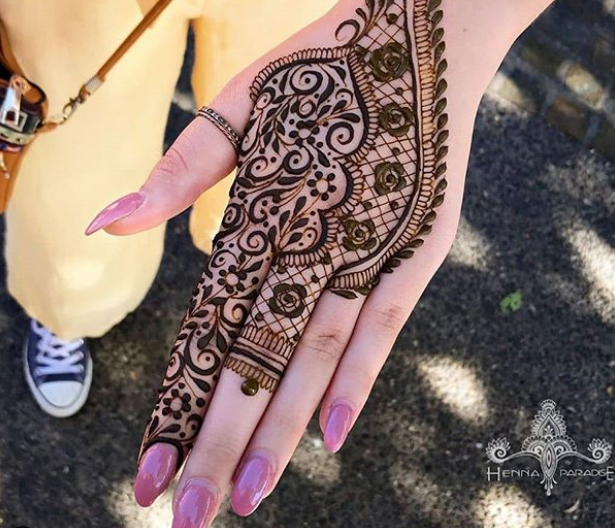 One side Mehndi design for front hands
New Heart shape Mehndi Design
For girls looking to incorporate their favourite shape- "heart"- into their designs, we've chosen some latest ones for you!


Easy Henna Designs in square shape
These box or square shaped designs are extremely easy to follow. Make them on the backs or front of your hands for a totally hatke look.
Peacock style Mehndi designs 2020
Peacocks are a sign of beauty everywhere and are an evergreen part of henna. They look so gorgeous and elegant on our hands! We've compiled some peacock inspired designs for you below.


Beautiful floral mehndi design
Floral designs can never go out of style. They look so beautiful, be it delicate small flowers or large ones.
Wrist mehndi designs for bride


Full hand mehndi design for bride 2020
For brides to be, these full hand designs will definitely have everyone's attention. Save these to use for your bff getting married next year!
More latest Henna Designs 2020