Pairing your jewellery with your outfits can be a confusing job and especially when you have sarees and lehengas with trendy blouses consisting of different types of necklines like boat, off-shoulder, etc. Therefore, here is a quick cheat sheet consisting of few common necklines and the types of jewellery that goes with them.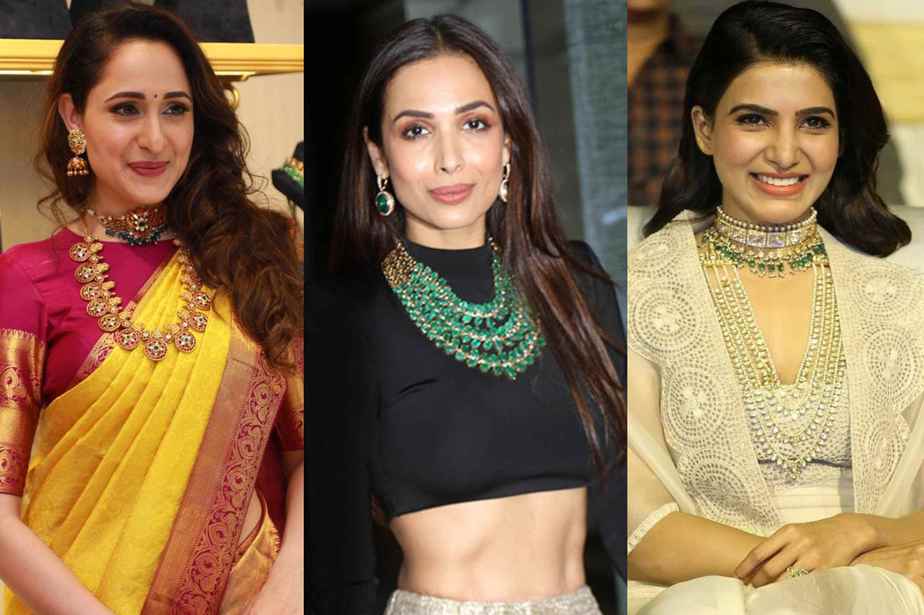 1. High-round neckline or crew-neckline 
 While wearing a blouse that has a round neck covering your collar bones, heavy jewellery may kill the look of your outfit. For such blouses, especially when they are made out of materials like brocade, it is best to not wear any necklace. Nevertheless, big studs or heavy long earrings (for example, Jhumkas or Chandbali's) can be worn to look classy and sophisticated. However, for bigger occasions, necklaces in the exact shape of the neckline, like a collar or bib would add to the grandeur of your overall look. If your blouse is in plain colour then long chains will add to their to their simplicity.
2. Deep round or square neck / boat neck
For deep necklines or even boat neck, chokers are the best jewellery option. They emphasise on your collar bone, which results making you look taller and angular. While wearing chokers, studs or small hanging earrings work perfectly. Whilst wearing a boat neck, jhumkis and heavy earring make you look gorgeous and at times a thin choker works miraculously too.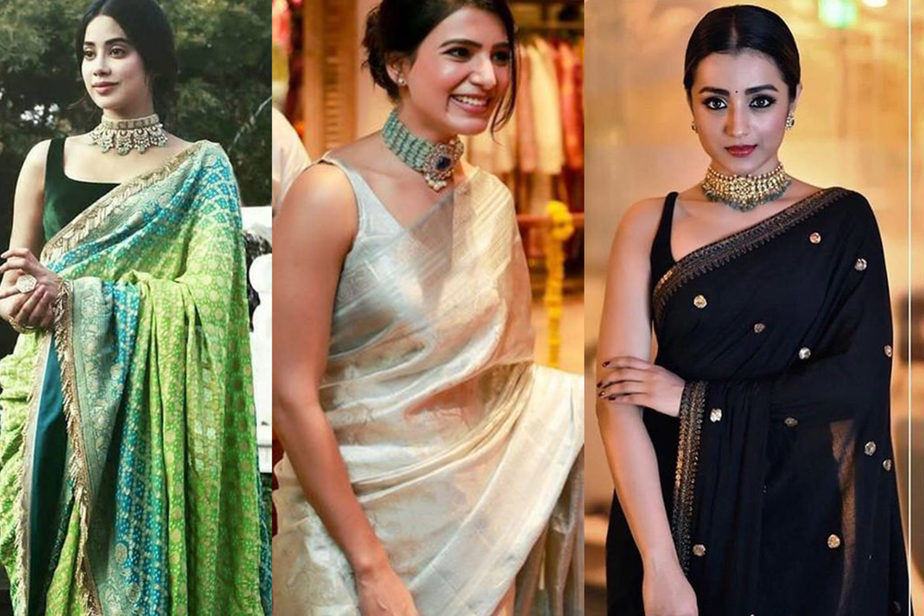 3. Collar neck
Collar neckline  blouses have been in trend since the last couple of years. Jewellery does not work well with textured or brocade fabric collar blouses. Plain collared blouses can be paired up with long chains to add that oomph effect to your ensemble.
4.

 

Deep V- neckline
For deep V necklines, shorter, fuller necklaces or statement jewellery make the perfect pair. They sculpt you neckline, therefore making you look more flattering. Also,  a little longer angular pendants do the talking for V-neck saree blouses too!