Gone are the days, when women had to struggle with restricted options on ethnic wear. Fast forward it to today, there are humongous varieties of ethnic apparel in comfy yet intricate designs and style, made up of superlative fabrics.
Compartmentalization of ethnic wear leads to distinctive identification of each clothing item and its popularity among the masses. Saree has always been a timeless classic, an heirloom passed down through generations, an ultimate wear in the closet and almost every woman's favourite. After scrutinizing the demand for this evergreen elegant apparel wear; many fashion designers have brought about a wide array of exquisite saree designs under their own couture label. Now, a blouse is the main constituent of a saree. With so many trendy designer sarees being made available on an online and offline platform; blouses are not far behind in showcasing their multifarious designs that are in vogue.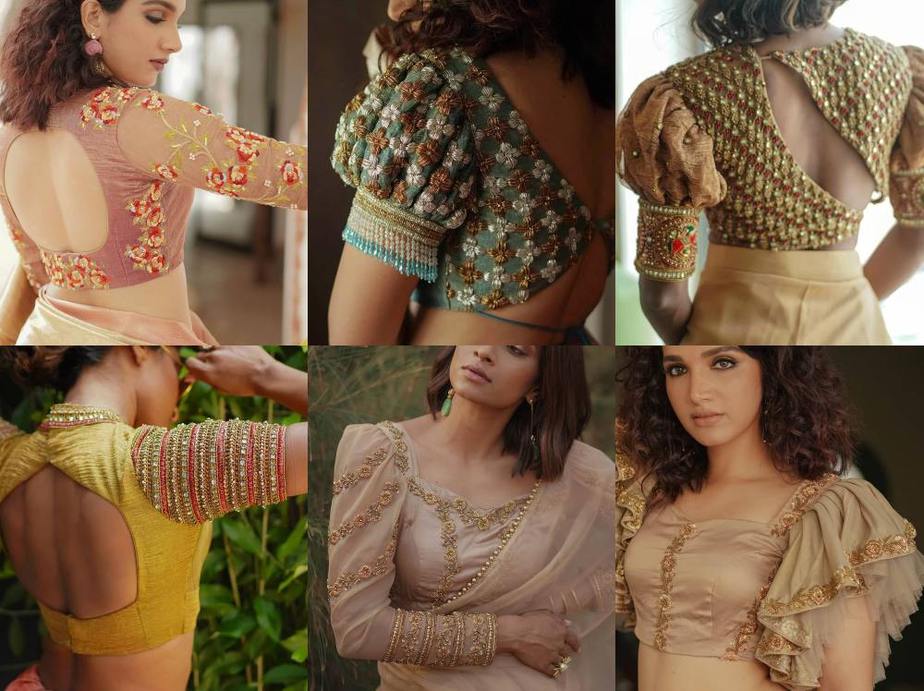 Latest and trendy designer blouses 2021 by Sruthi Kannath:
Enlisted below is a compiled version of some of the latest designer blouses 2021 from Sruthi Kannath's designer couture label. If there is any wedding, event or a cocktail party happening any time soon then make sure to check out these latest fashionable designs to get the best of ideas to spruce up your look for the big day.
Floral embroidered full sleeves blouse: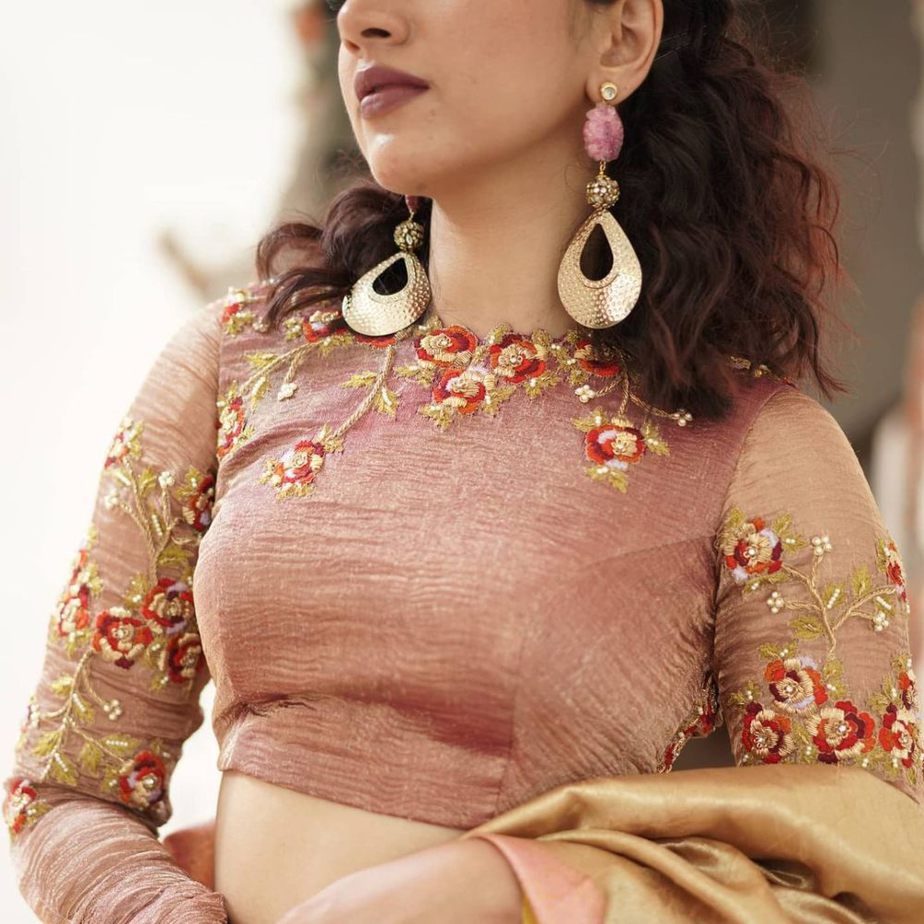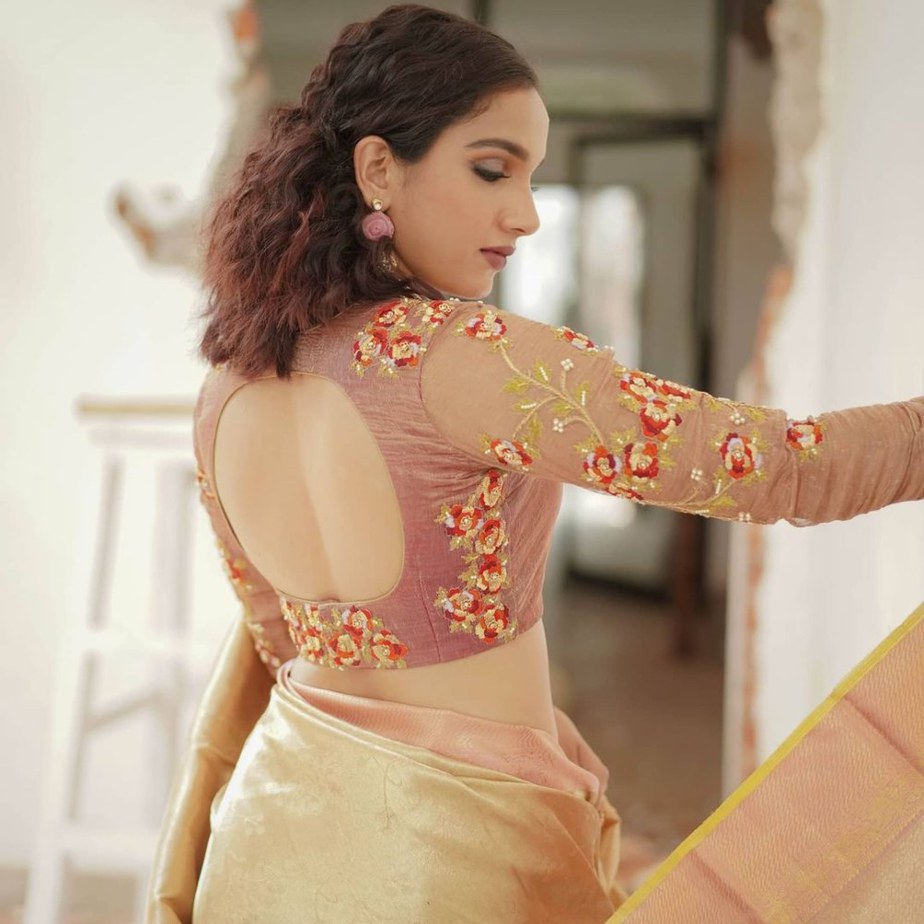 Incredible high neckline designer blouse which is hand embroidered red roses in silk threads and beads using zardosi technique on pure silk fabric with gathers at the cuff.  Further, the blouse has a round back cut opening that exudes sheer elegance and charm. The beige saree complemented well with the designer blouse; thus, making it an exemplary ethnic outfit to watch out for.
Tie back blouse with a gathered sleeve detailing –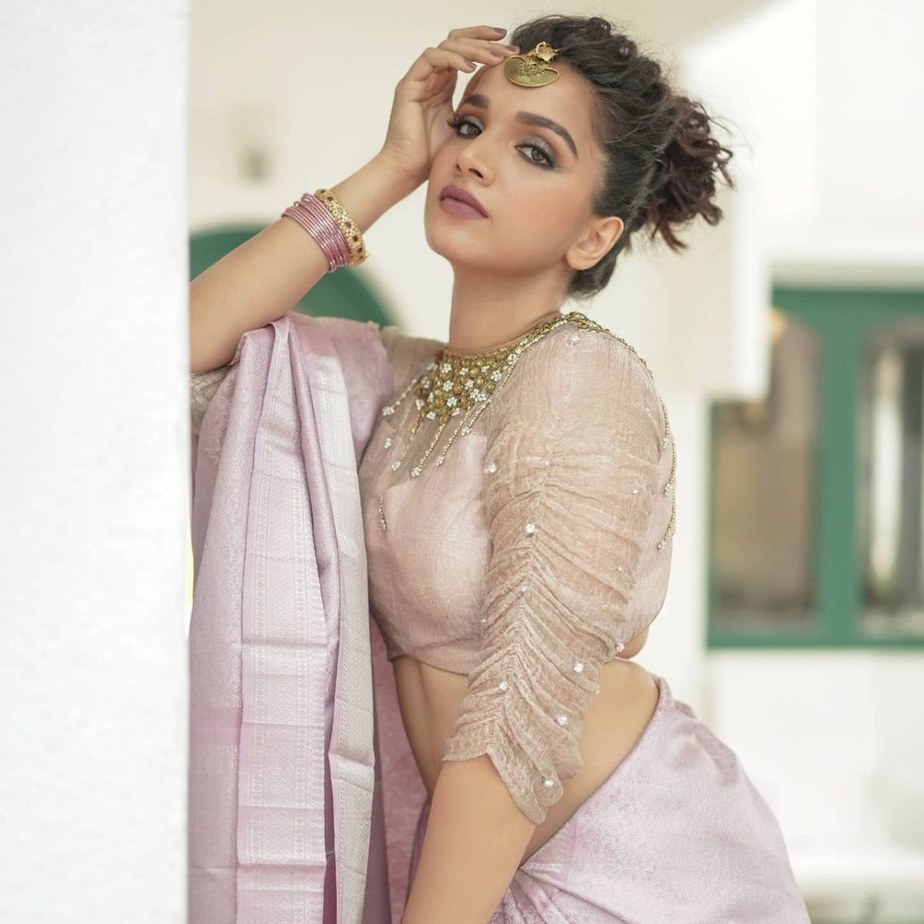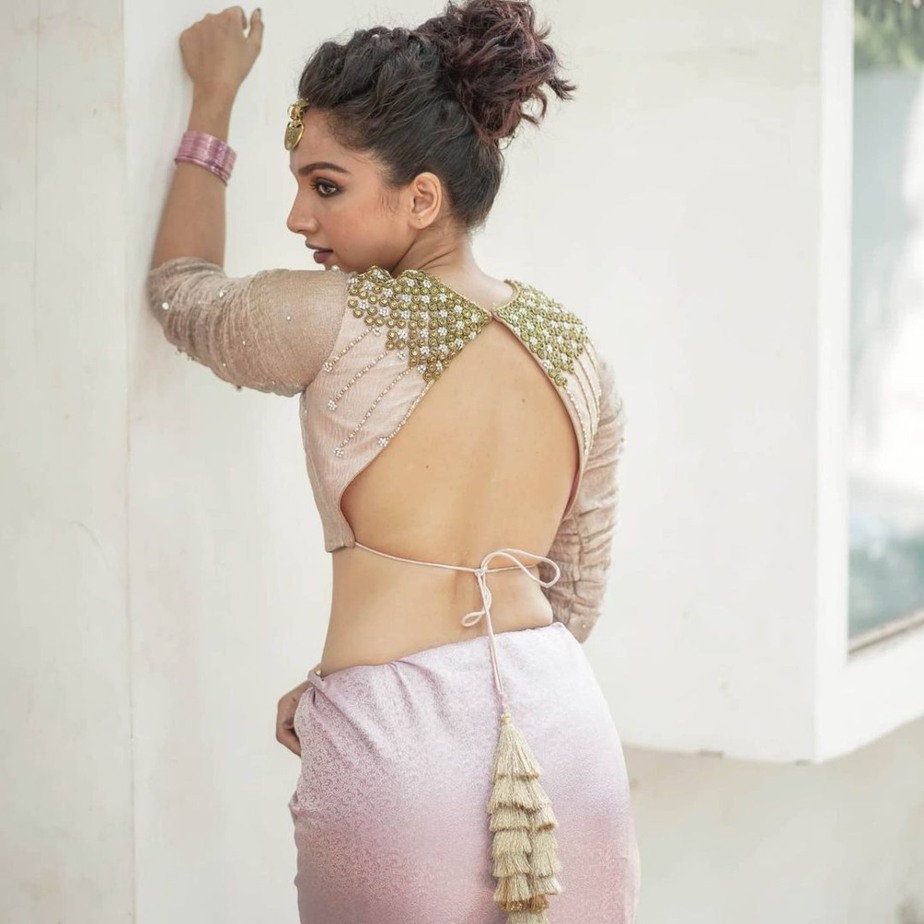 This particular blouse design from Sruthi Kannnath's label is a work of masterpiece. The tie back blouse on the soft pink silk saree, has a statement cut opening at the back with fine silk thread tassels; leaving little room for imagination. On a whole, the blouse is embellished with stones and pearls forming a choker around the neck with a gathered sleeve detailing that is embedded with pearls.
Embroidered V neck back cut blouse with puff sleeves –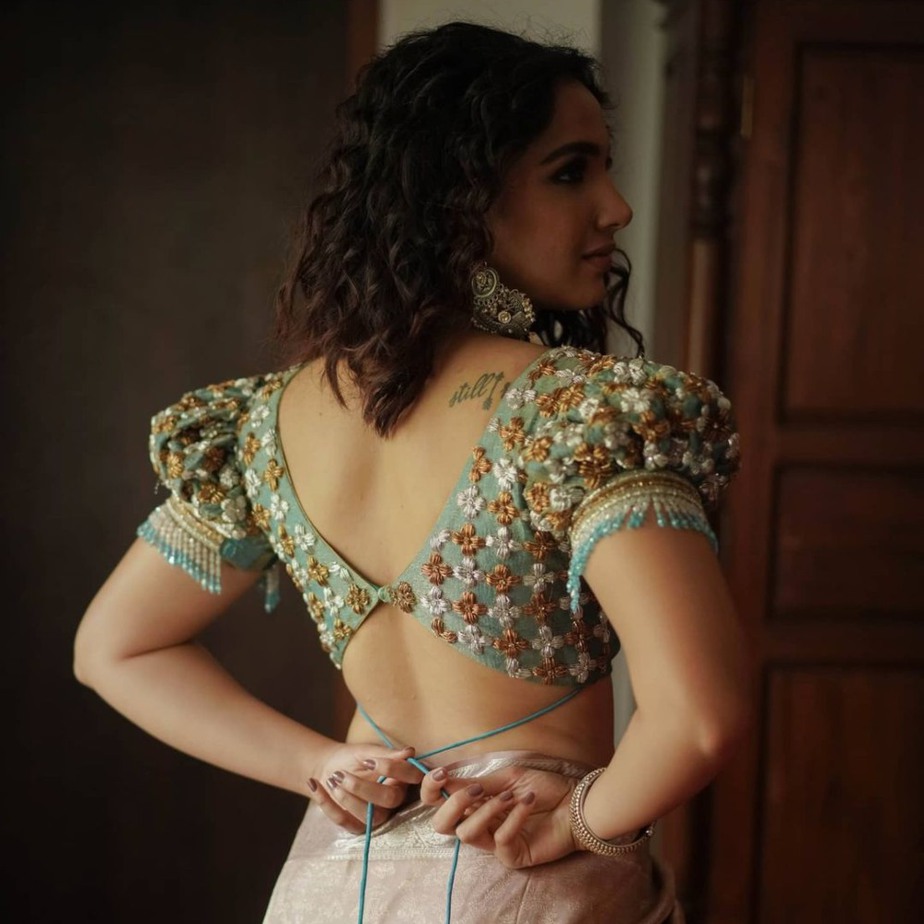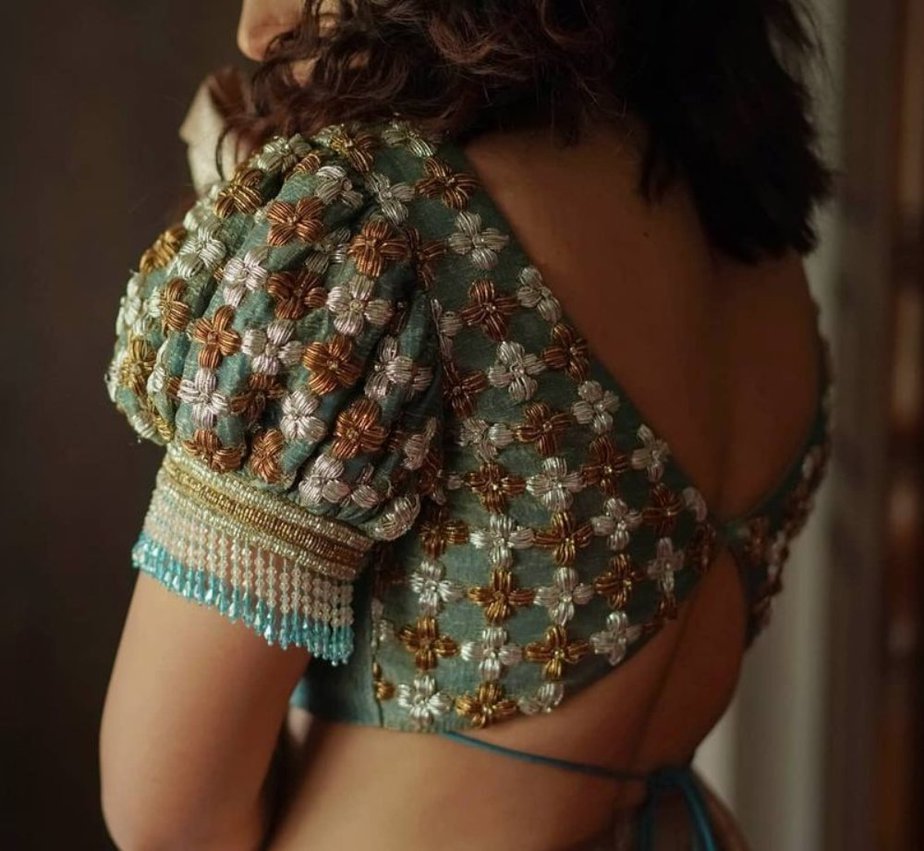 This spectacular blouse design from the designer couture label is bedecked in zardosi work with a crystal bead border, all stitched on pure silk with beautiful latkans serving as a tie back feature of the blouse. It has a V neck cut opening at the back with puff sleeves. This remarkable blouse piece along with the saree which has a brown undertone is a whole mood. You are definitely, going to make heads turn as you strut along the way.
Low back cut blouse with hand-embroidered ruffle sleeves –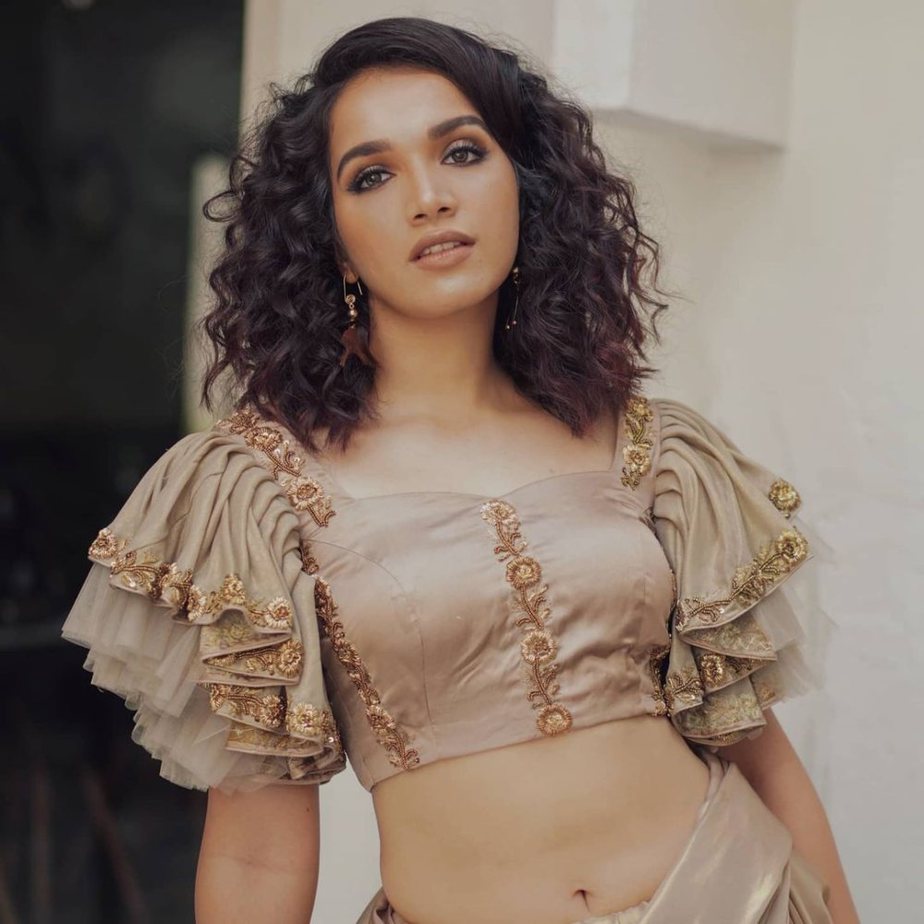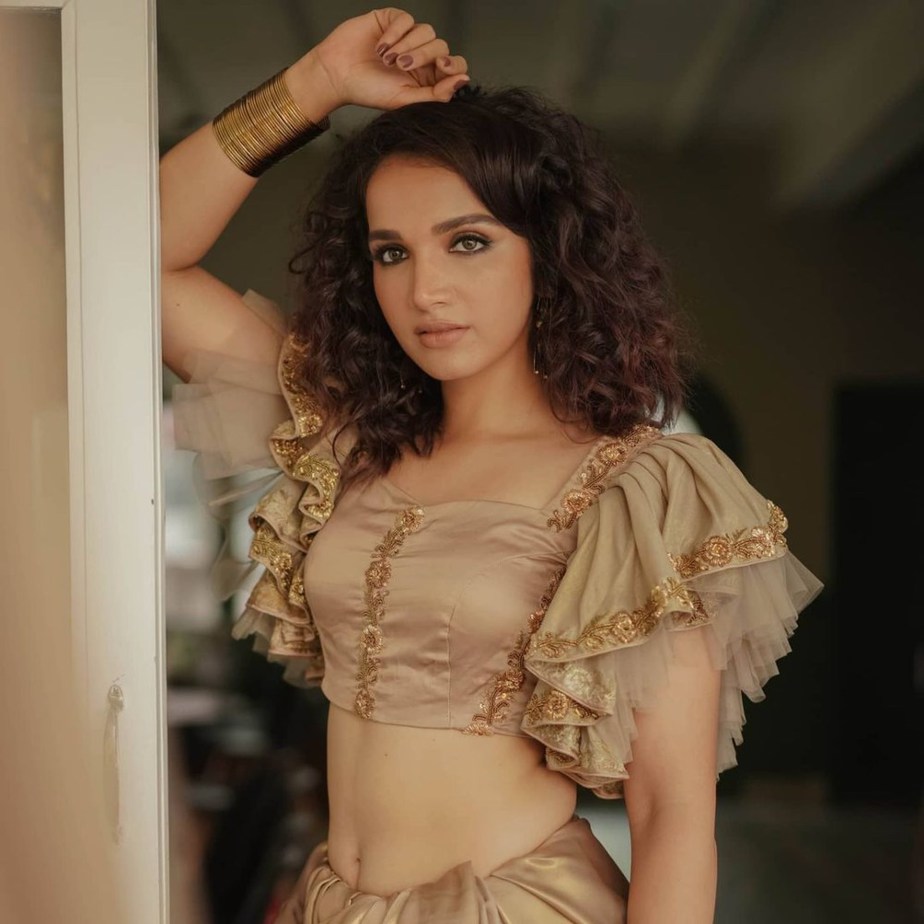 Sruthi's next is a well-crafted pure gold satin saree with hand embroidered heavily ruffled sleeve beige designer blouse that has a broad neckline and low back for that extra oomph factor. Now, if you are a bold person who really likes to experiment with different varieties of apparel wear, then this attire would definitely make it to your closet.
Asymmetrical back cut heavily embellished blouse with puff sleeves –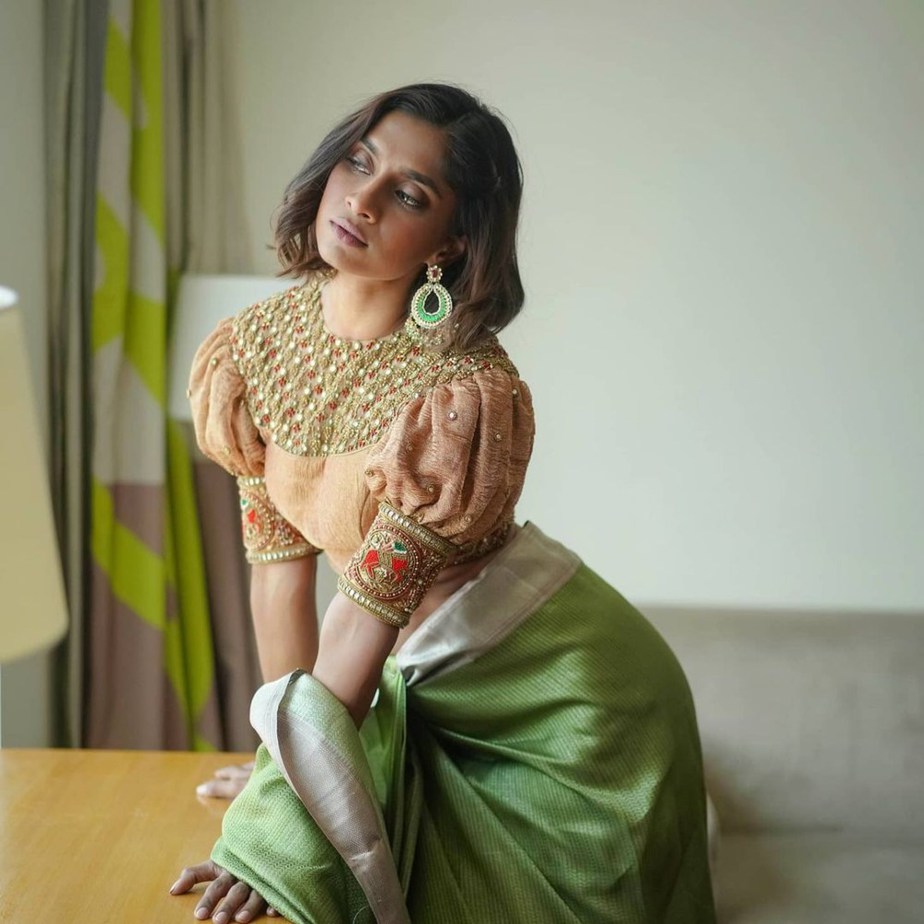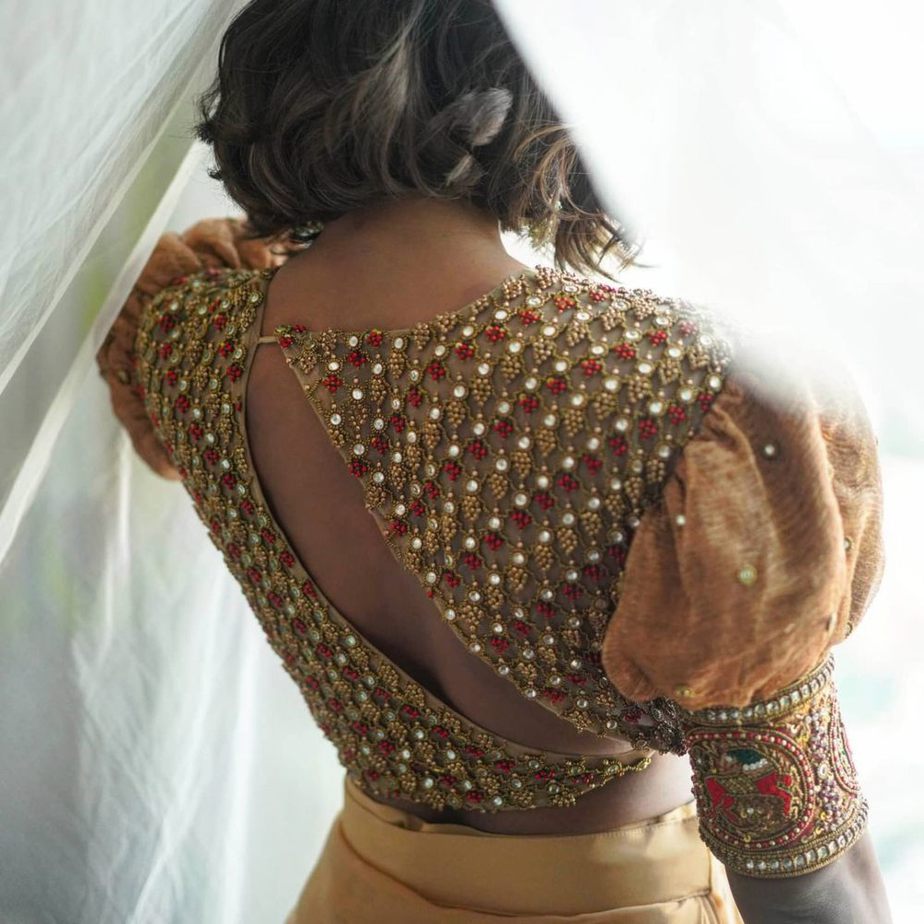 Designer blouse that has a clustered pearl embroidery work done in detail on tulle fabric with puff sleeves. The puff sleeves have intricate designs on its borders. The unique asymmetrical back cut design of the blouse along with the pairing of the fine green silk saree is what truly makes this piece quintessential wear!
Mandarin collar with hexagon cut back design blouse 
The blouse is a classic mandarin collar with bangle stone embroidery in pure silk fabric and a hexagon cut back design to add an element of class and grandeur.
Heavily embellished cape blouse –
This blouse has been made keeping in mind the preferences of today's women. It is given a contemporary touch in the form of a cape with a boat neckline and is embellished with glass beads and stones. Most importantly, it is worn over a raw silk bustier and the soft purple silk saree truly adds to the sophistication. Hence, this blouse from the designer's label clearly embodies a fusion touch of modern and ethnic apparel wear.
Floral embroidered puff sleeves blouse-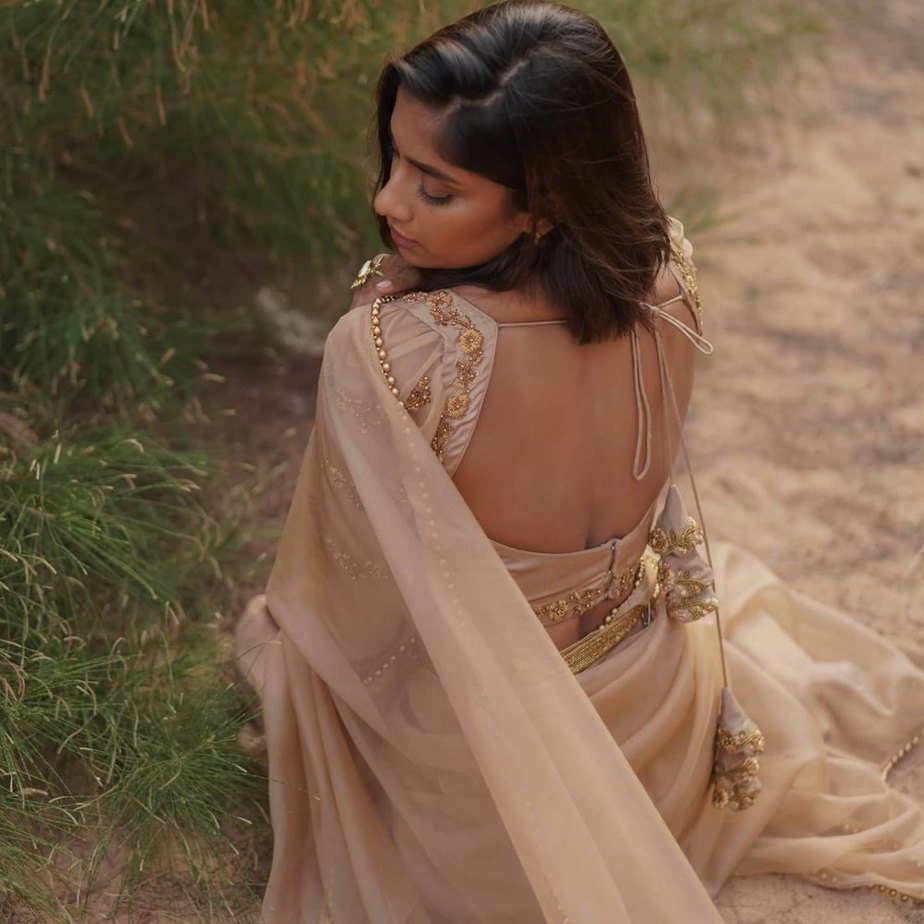 A sweetheart neckline, cautiously embroidered golden floral motifs and extended puff sleeves with a deep cut tie back feature to accommodate the elaborately designed latkans are the hallmark features of this blouse design. This stunning designer blouse is worn with a lovely nude organza saree which has a pearl border to exude magnificence!
Pleated organza wrap blouse with exaggerated sleeves –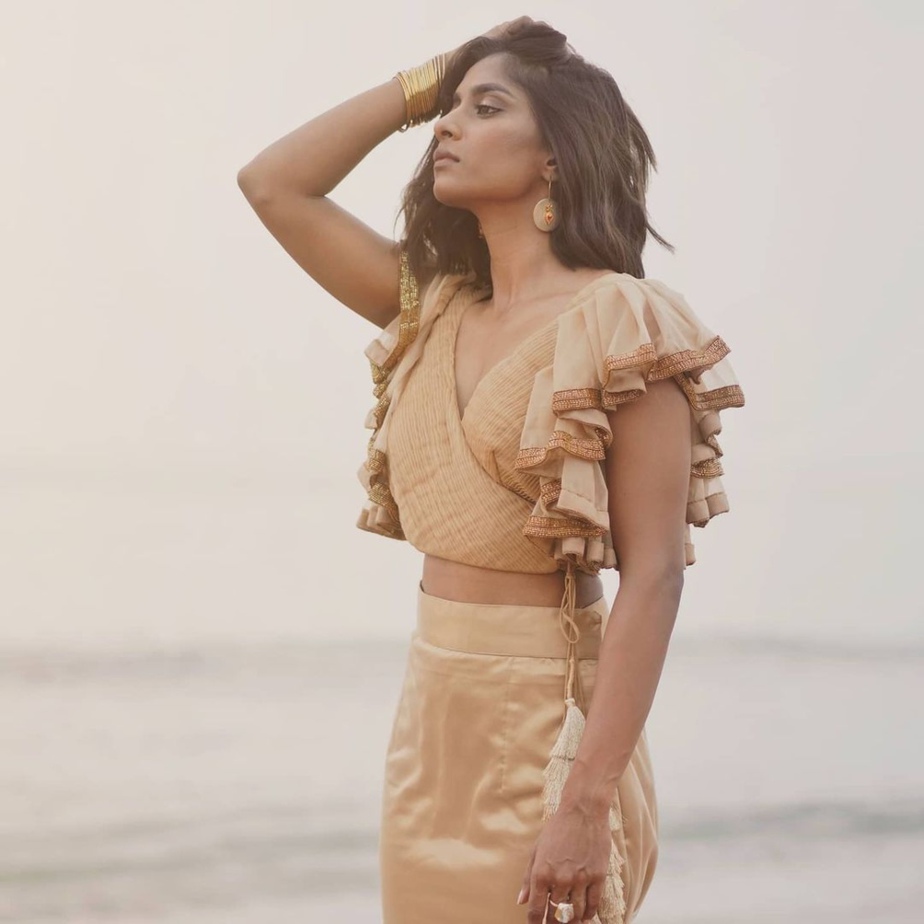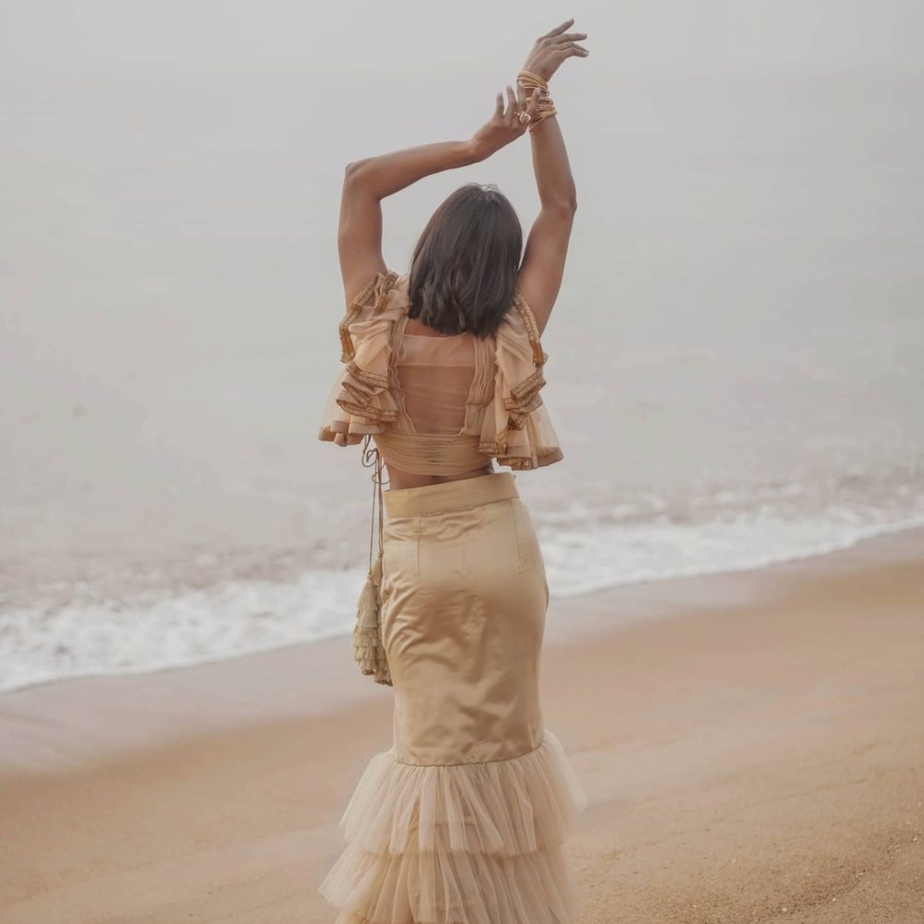 Here is an exclusive pictorial description on how to rock a cocktail evening party, sans the saree; i.e wearing a pleated organza wrap blouse that has exaggerated bell sleeves with delicate designs in gold at the borders, while pairing it with a tulle ruffle tiered skirt in shades of brown! You are surely going to have a lot of compliments showered upon you, owing to the innovative idea and quirky finish.
Stay tuned to this space for more updates on the latest trendy blouse designs!
Browse for more blouse designs by Sruthi Kannath HERE!