Saree is one of the most cherished and donned heritage. And out of all, some South Indian silk sarees have a piece of our heart. These South Indian sarees are deemed for their sheer elegance and grace. We rounded up 7 varieties of South Indian silk sarees that should make their way into your wardrobes – no matter what!
Check out these stunning beauties and their seer elegance –
Kanjeevaram Silk Sarees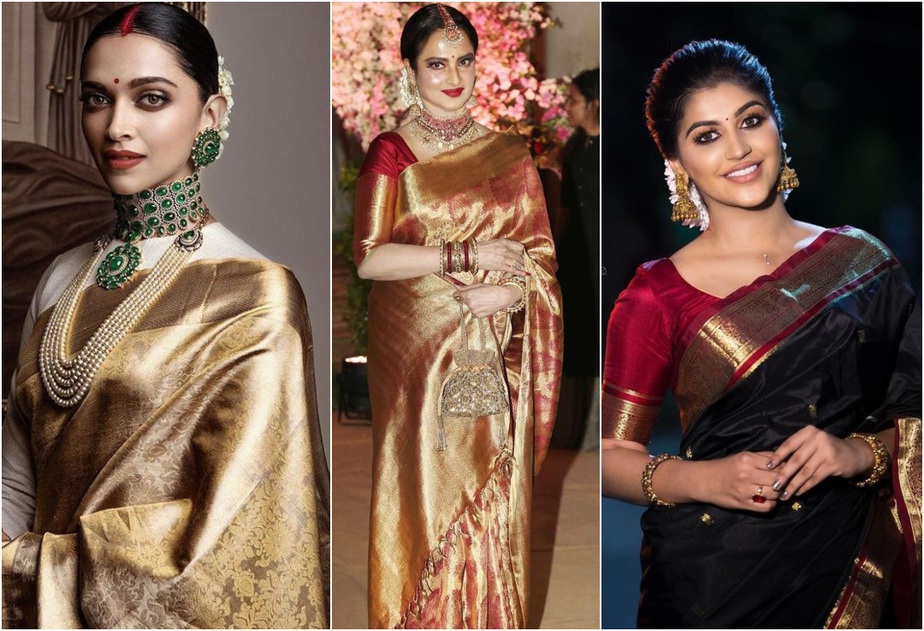 The top of the list has to be nothing else but the regal Kanjeevaram silk sarees. These beauties come straight from Tamil Nadu's Kanchipuram and rule all over the globe for their finesse and richness. In fact, trust us the Kanjeevaram sarees are no less than an investment without regrets! It is made from the highest quality of silk and never goes out of style.
Mysore Silk Sarees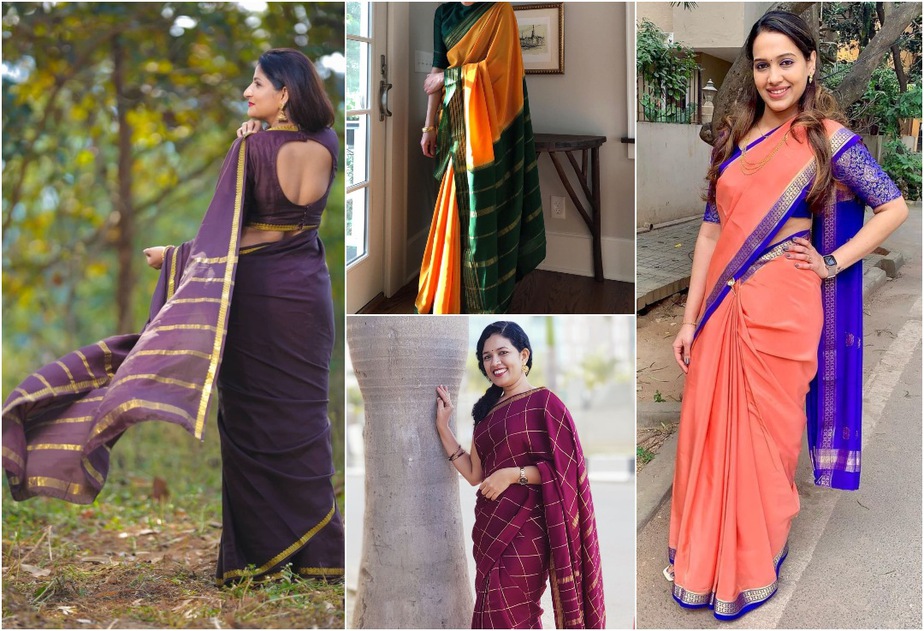 Cherish the royalty of Mysore with this lustrous Mysore silk saree. This South Indian silk saree is lightweight and is extremely easy to handle, drape, and wear all day long. They come in various unique color combinations and solid colors with a simple golden and contrast-colored border to enhance their beauty.
Chettinad Sarees
Another gift from Tamil Nadu is the gorgeous Chettinad sarees that are made in silk as well as cotton. These handloom sarees have flamboyant vertical and checks pattern all over them with vibrant colors. The borders usually remain contrast-colored or dull-golden. So, if you love some vibrancy in your wardrobe, you are sure to fall in love with these sarees instantly.
Kasavu Sarees
The traditional drape from Kerala is one of the simplest yet the most elegant of the lot. This South Indian saree comes in breathable cotton as well as silk and endorse a not so heavy golden border. The Kasavu sarees have a subtle grace to them while the golden embroidery on the pallu and border take the limelight.
Gadwal Sarees
Wedged between Andhra Pradesh and Karnataka, the town of Gadwal weave the famous Gadwal sarees. The rich border of the saree is made in pure mulberry silk while the simple body of the saree highlights it. These sarees are highly unique as they are still made by hands completely as no machines have been developed to weave them. And, this technique is passed on from one generation to another.
Pochampally Sarees
Pochampally sarees come from a small town Bhoodan Pochampally, in the Telangana district. You may often find these sarees in cotton, silk, or silk-cotton. It is also famously known as Pochampally Ikkat for the dyeing style used to make geometrical patterns on these sarees. And this South Indian silk saree has motifs of elephants, peacocks, diamonds, and flowers apart from geometrical patterns.
Dharamavaram Sarees
Dharamavaram sarees are named after the place where they are weaved in Andhra Pradesh. These stunning sarees are handwoven and depict a rich golden elaborate border which makes it an ideal pick for brides. Moreover, with temple patterns and all-over rich patterns, this saree is worth every penny!
 Weren't all these South Indian sarees simply marvelous and tempt you enough to add one to your wardrobe? And, let us know how many of these do you already own.