Parama is a Kolkata based clothing brand that celebrates women's fashion by combining traditional elements with modern doodles and embroidery. Moreover, the collection of embroidered saree blouse designs is not only minimalistic but also the perfect mix of ethnic and contemporary.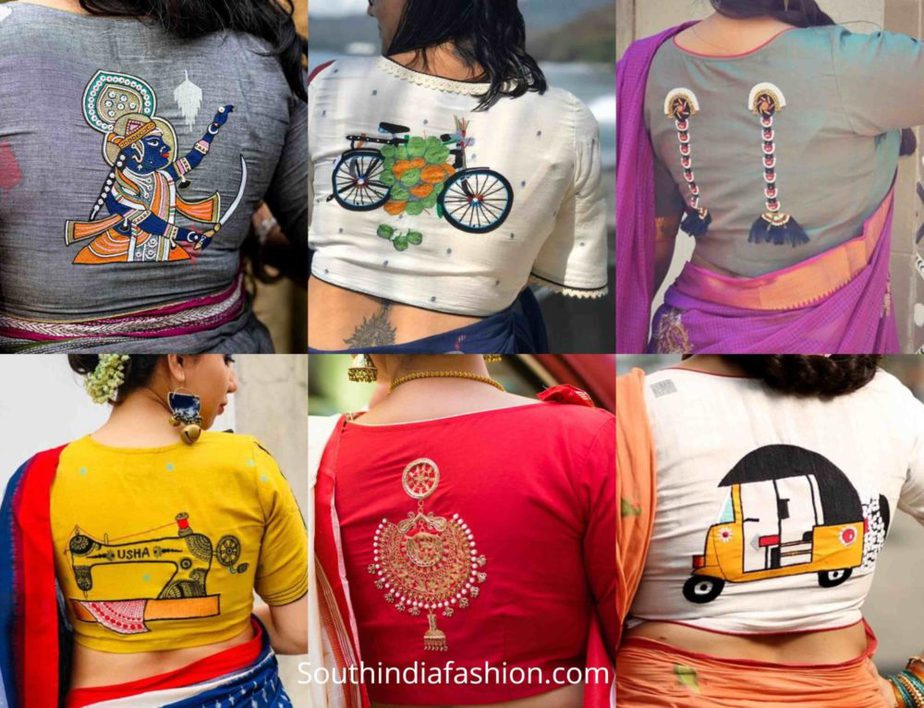 Saree Blouses With Quirky Embroidery by Parama
The specialty of these hand embroidered saree blouses is that each embroidery design represents some emotion or memories that the designer- Parama Ghosh- has so lovingly infused into her work. Let's go ahead and look at some of the latest bestselling designs by the label!
1. Calendar design hand embroidered blouse
Poila Bosakh or the Bengali New year is a time for new clothes, scrumptious food and great celebrations. Without a doubt, this blouse with its embroidery of the 'Bengali Calendar' reminds you of Poila Baisakh -and all the good things that come with it. New year, new beginnings. Grab this boat neck off-white blouse with red sleeve hems that showcases hand embroidery as well as hand applique work to make a statement this New Year!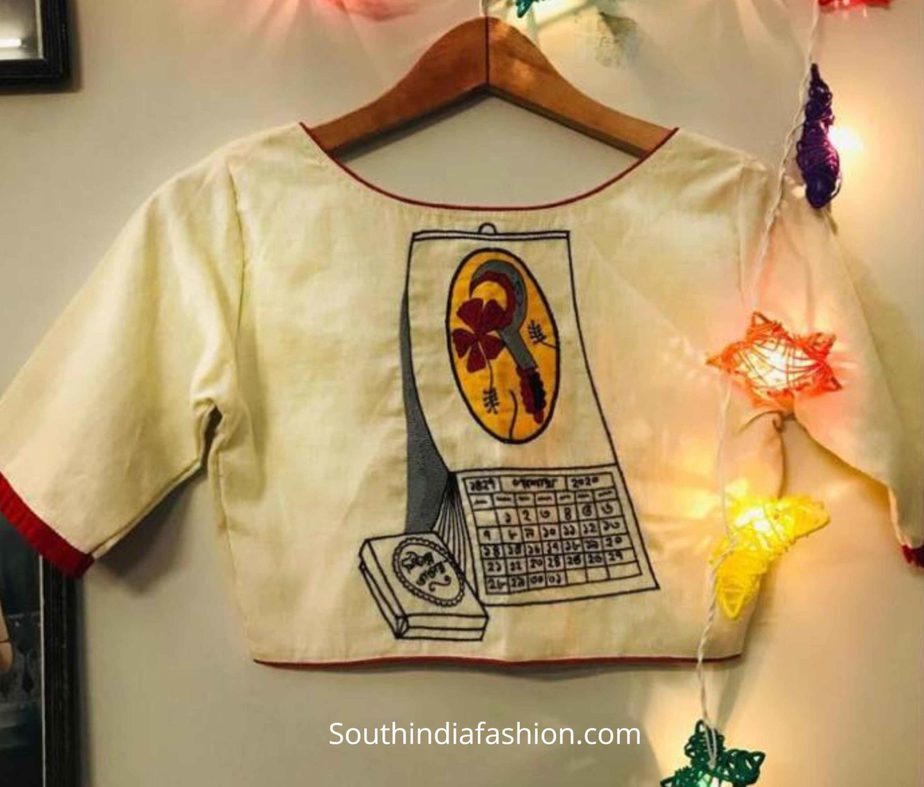 2. Hand embroidered saree blouse with frock design
Another great memory of the Bengali New Year is the new clothes one would get to wear. The designer narrates the memory of new 'tape frocks and red ribbons' that her Ma would buy for her, through this unique blouse piece. Furthermore, the blouse features hand embroidery and hand applique work on hand-woven jamdani that would fit any occasion. The sleeve hems also feature a contrasting off white lace for a more feminine touch to the design.
3. Grey braids embroidery blouse design
This grey hued blouse with traditional kemp or temple jewellery motifs adorning two hair braids celebrates ancient Indian customs. For example, Temple jewellery originates from Indian royalty who would donate these pieces to temples; these would in turn be worn later by temple dancers. Doesn't the blouse look fantastic?
4. Floral circle embroidery Parama blouse design
Elegant and sophisticated, this hand embroidered blouse with pink floral work is surely a favorite among everybody! Not only can you wear it for festive occasions but you can also don it as workwear or for an outing with your girls!

5. Autumn leaf hand embroidery blouse
This checkered white blouse with vibrant autumn leaf embroidery is part of a collection titled "Wild flowers". Also, the bold use of color and simplistic design in this blouse is what sets it apart! Remember how much joy you would get when the leaves turned bright orange in autumn? Oh what a beautiful sight indeed!
6. Hand embroidery blouse with bicycle design
This Jamdani bicycle embroidery blouse from the 'Beach Holiday' collection is just quirky enough to get you noticed by everyone.  The bright green and mustard coconuts look quite appealing whereas the flared sleeves with lace detailing on them add a hint of drama to the blouse. The neck also features some lace detailing.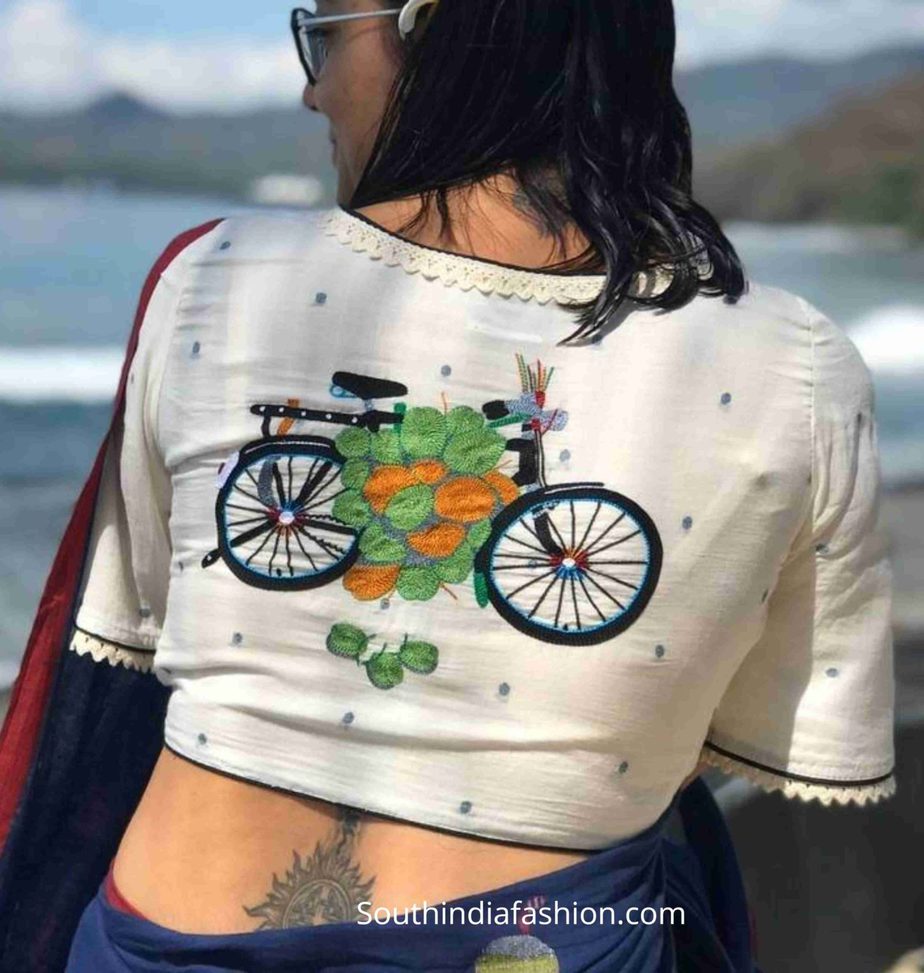 7. Red bow braids embroidery blouse
This quirky design by Parama especially honors the innocence of childhood with these braided pigtails tied with red ribbons. The red ribbons are iconic in this design and are giving us major nostalgia! Grab your piece now!
8. Sky blue floral embroidery blouse
Loving this elegant sky blue blouse design with multicolored floral hand embroidery on the sleeves and the back. Besides, the pink, blue and white flowers are in perfect harmony with each other and look extremely flirty and cheerful!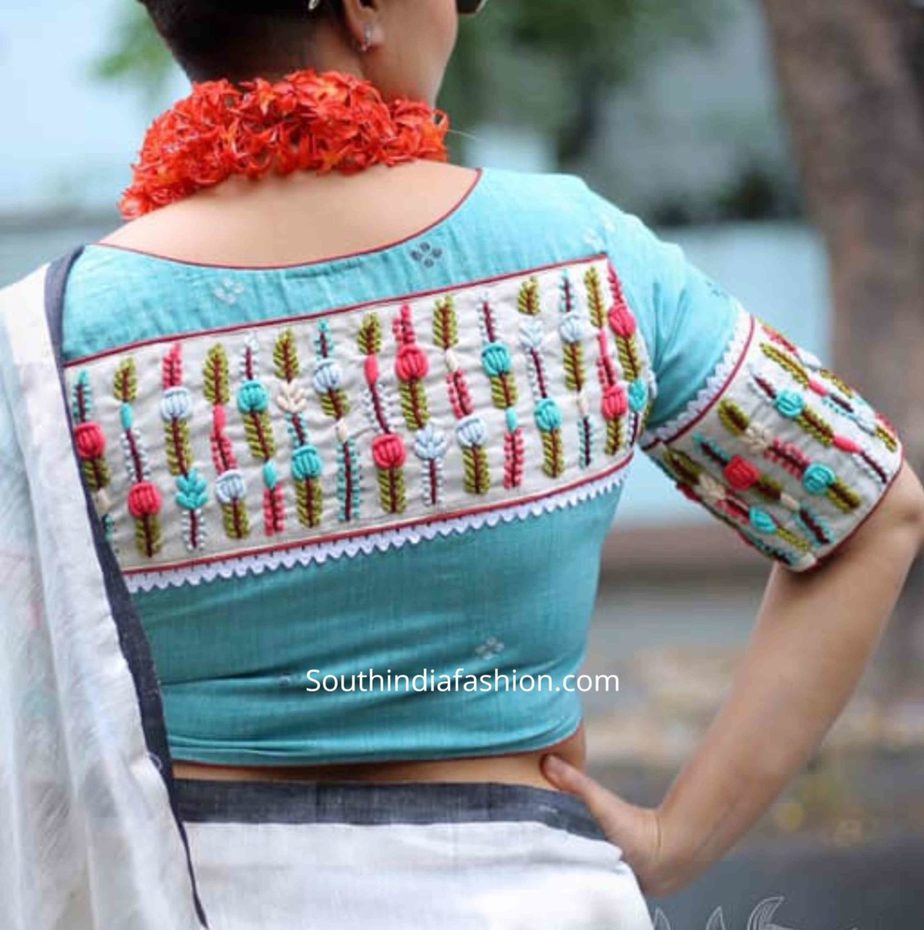 9. Checkered orange 'Kadali Bala' embroidery blouse
Part of the Madras collection that pays homage to the city, the "Kadali Bala" or plantain flower embroidery blouse comes in a bright orange checkered pattern. Along with three large banana leaves for wings, the Madrasi 'bala' also sports a Kanjeevaram saree in vibrant hues! Isn't this blouse design super cool?
10. Blouse designs with Jewellery Motifs
These jewellery motif pink and red hued Parama blouses are just perfect for those who don't want to go too overboard with their quirkiness whilst also trying to shed the traditional embroidery designs. Feminine, pretty and modernistic, what more could you ask for?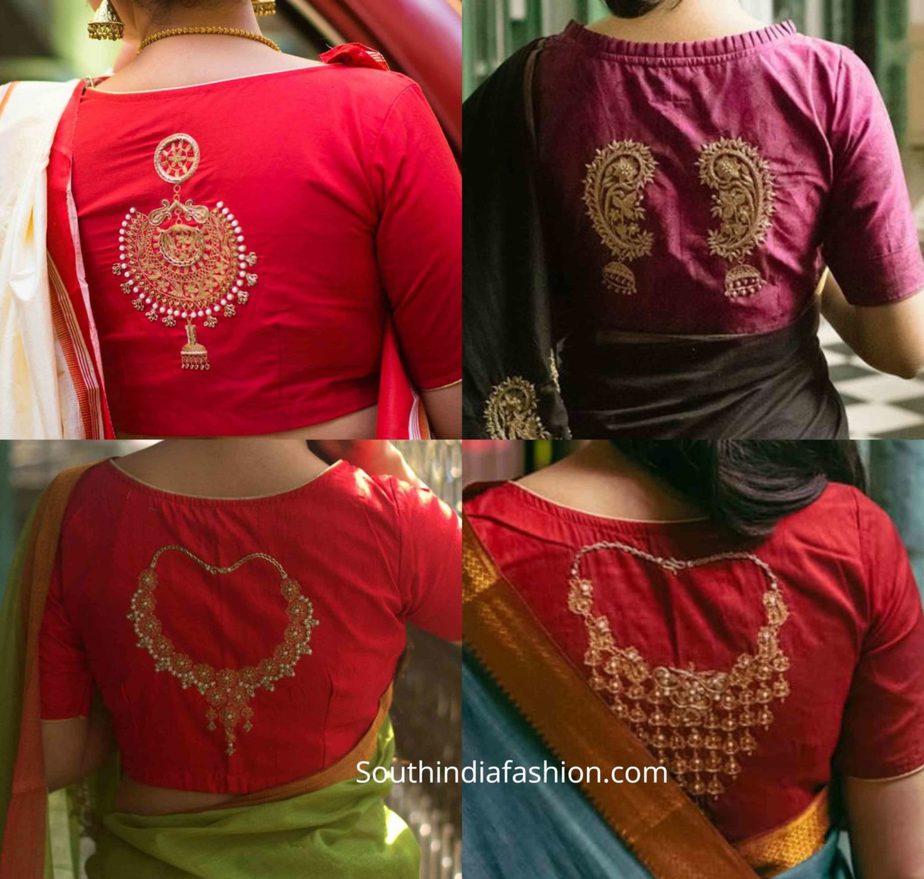 11. Latest quirky radio embroidery blouse
This "radio" embroidery jamdani blouse is Puja and Mahalaya themed. For most Bengalis, Durga Puja every year means welcoming the festival with the soulful voices of iconic Bengali singers on the radio. Furthermore, Shuili flowers, lotuses and the dhunuchi- an earthern pot for burning incense- are classic elements of Puja included in this design.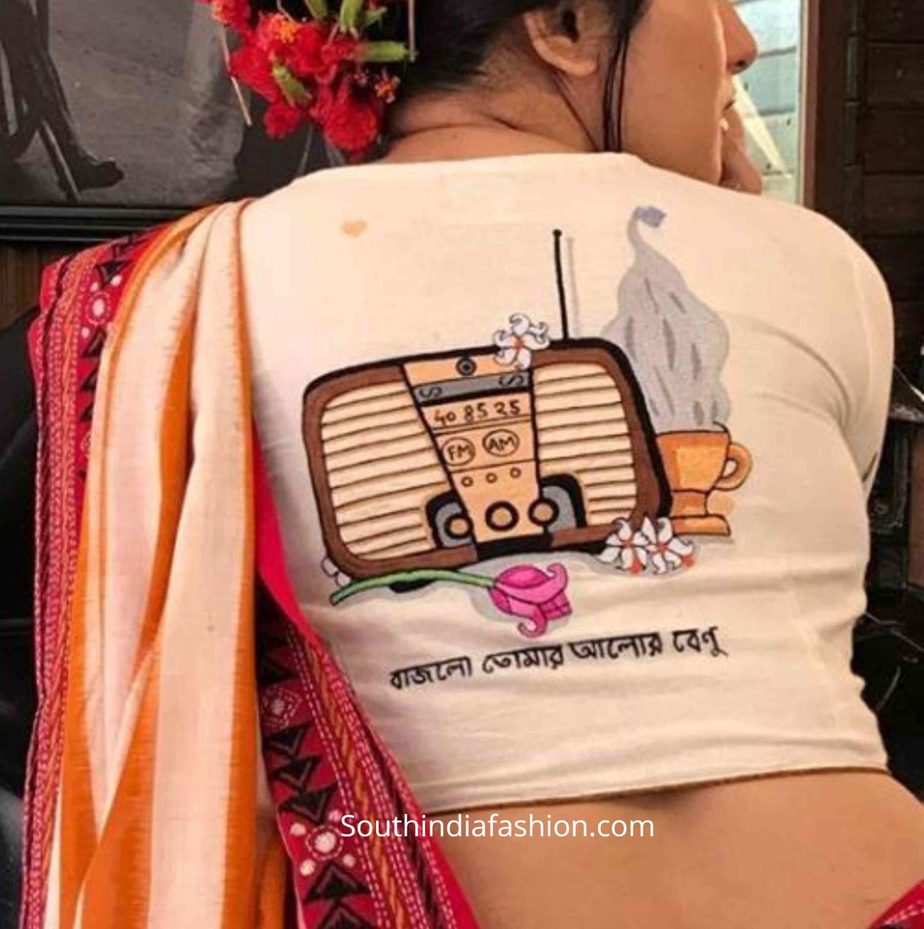 12. Rangoli Design Blouse
Also part of Parama's Madras collection, this Kolam Art or Rangoli art embroidery blouse reminds you of all the festivities and joyous occasions you have been a part of. Kolam art is believed to be a form of painted prayer in South Indian culture. Hurry up and get one of these today!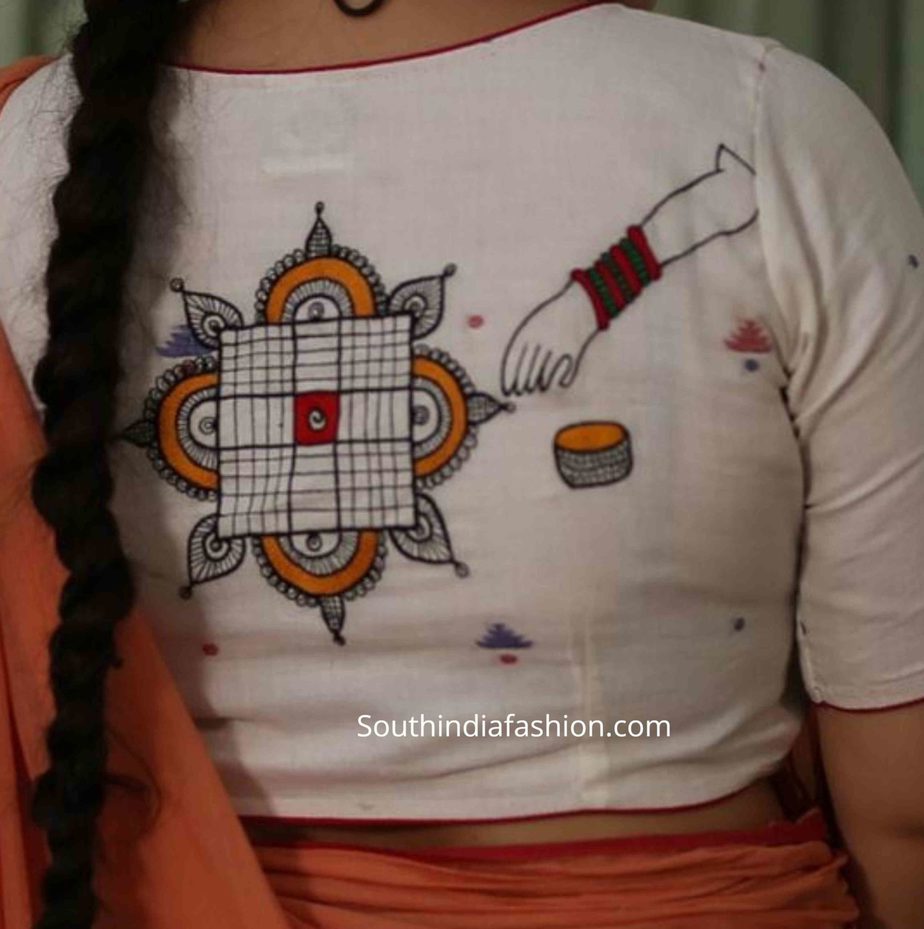 13. Navy blue embroidery blouse with gulmohar floral design
This blouse embroidery has been inspired by the "krishnachura" or Gulmohar flowers which display a fiery orange-red color during the summers. Set against a contrasting backdrop of black, this blouse is truly a piece of art.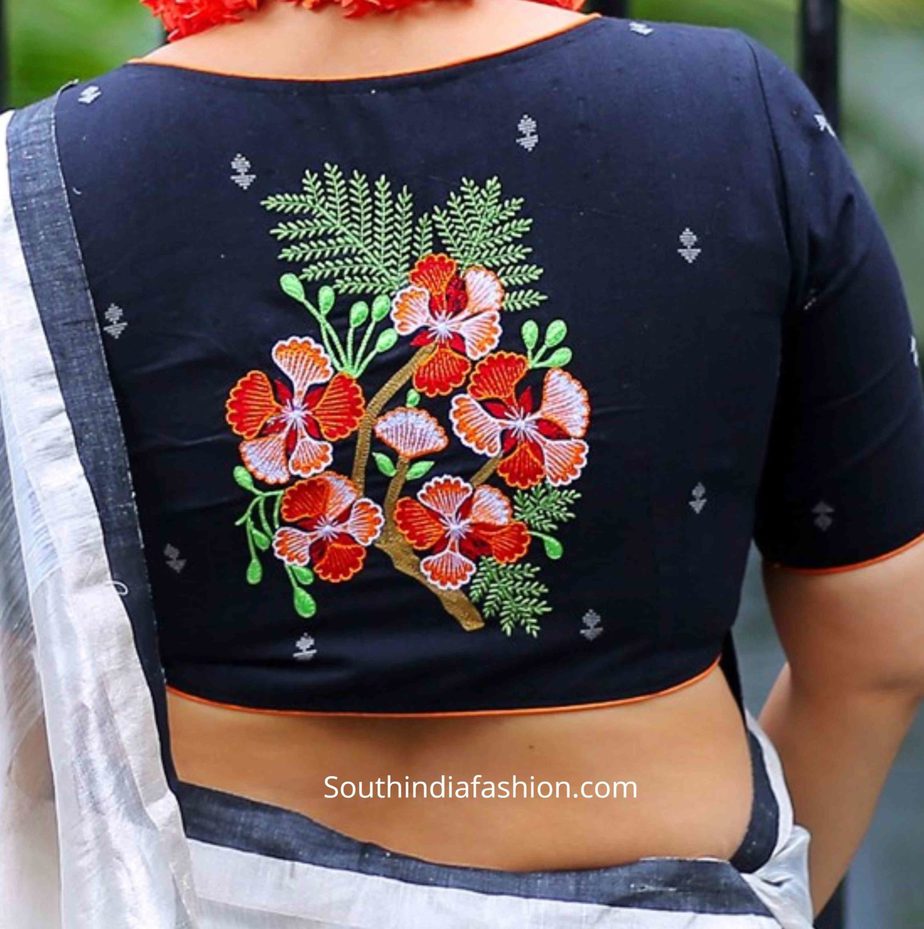 14. Gopuram design embroidery blouse by Parama
A gopuram in simple words is a tower located at the entrance of a Hindu Temple. The ornate architecture of the tower depicted in this blouse design makes it a perfect option to wear for traditional pujas and festivals!
15. Blue embroidery blouse with taxi design
This striking cobalt blue blouse with a yellow taxi embroidery motif saying "NO", captures the essence of Old Calcutta city perfectly! Reminisce the good old days you spent roaming around the city in these cute yellow taxis with this blouse.
16. Cactus design hand embroidery blouse
This handwoven Jamdani blouse with cactus motifs on the back features colorful embroidery and is sure to brighten up your dull day!
17. Designer embroidered blouse by Parama
What can we say about this embroidery blouse on a jamdani lavender grey base? The colors are fantastic and the intricate embroidery with such details and finesse in the whole design is just too good to be true!
18. Kathakali motif embroidery blouse by Parama
How about this vibrant kathakali embroidery blouse with intricate lace details and colorful threadwork? The black blouse with red borders just adds more depth to the design.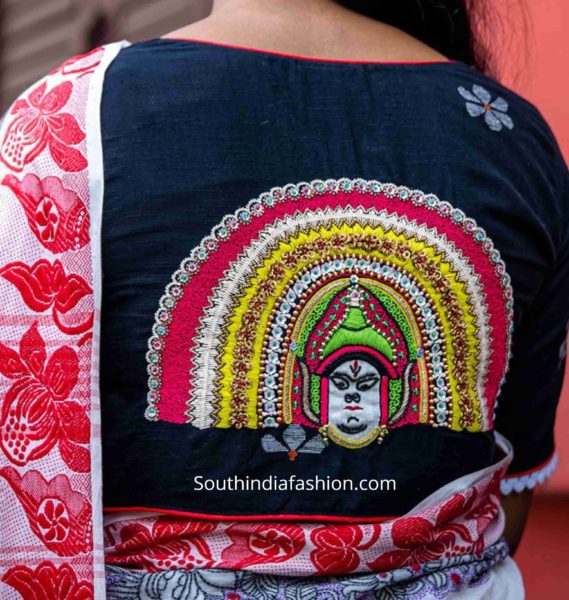 19. Usha Sewing machine embroidery blouse
The quirkiest of them all! We've seen plenty of blouses ON a sewing machine but have you ever seen a sewing machine on top of a blouse? Parama narrates a special story with this eye catching yellow blouse,  revolving around the most humble piece of tailoring equipment that almost every Indian woman owns.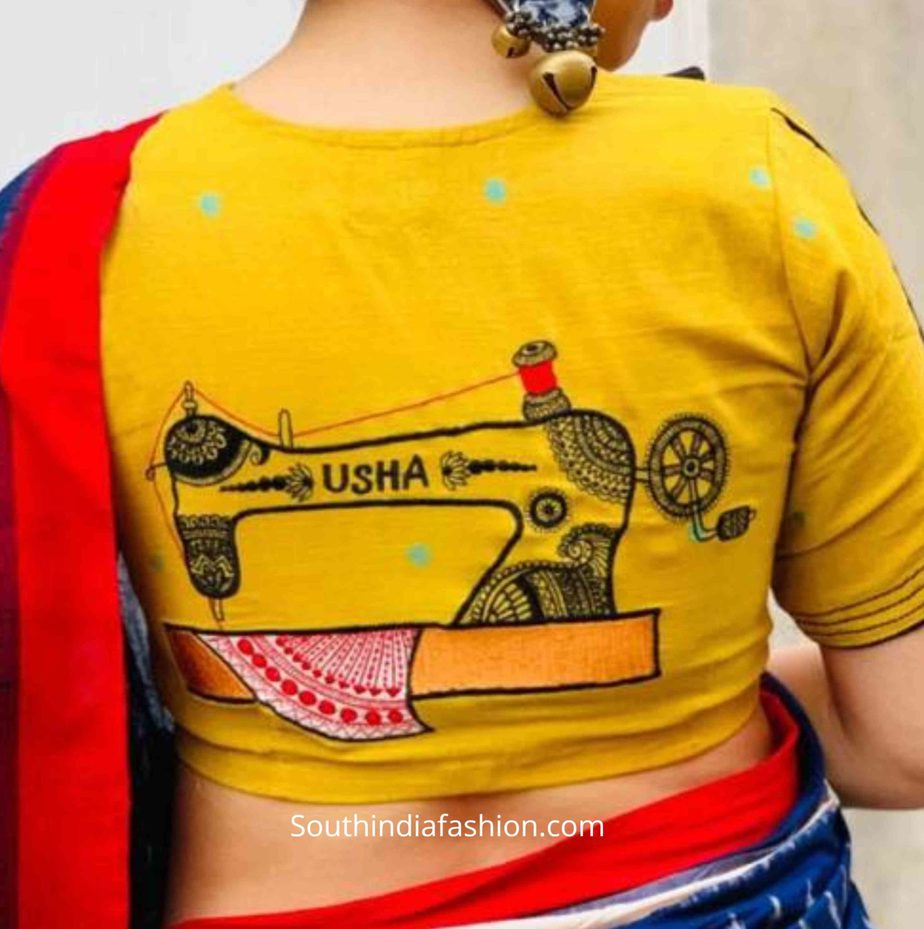 20. Wallflower embroidery blouse design
This wallflower patterned hand embroidered saree blouse is one of the most happening designs we've seen in this collection! Bold, vibrant and diverse, the floral embroidery work we see on this emerald colored blouse is far from ordinary. The baby pink lace on the sleeve hems are giving us major girly vibes.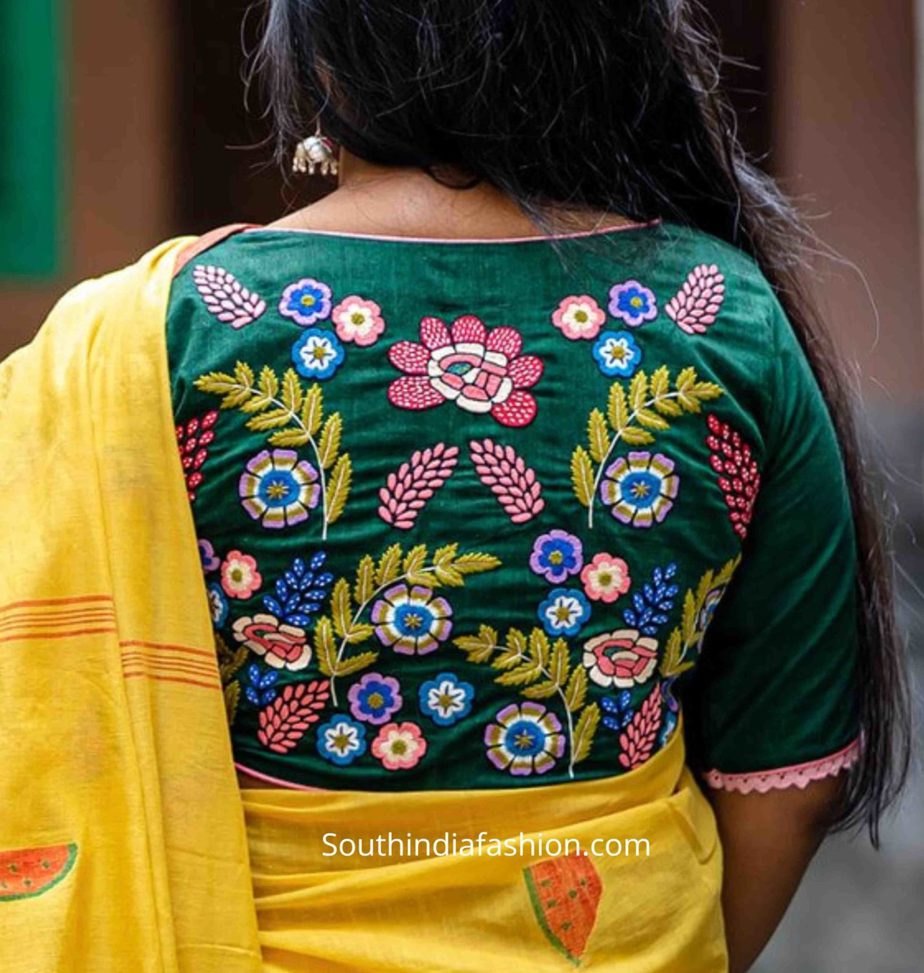 Contact details:
Facebook: https://www.facebook.com/parama2016/
Phone: +91 98304 59687