Aari is a type of age-old Indian embroidery technique which involves stretching fabric and stitching designs using a long needle with a hook at the end. The needle is named Aari, which is where the embroidery work derives its name. Chennai based boutique, Vanitha Couture designed some beautiful Aari work blouse designs. A combination of bold and intricate zardozi work, French knots, kundan embroidery and so much more; the blouse designs are completely unique and out of this world! We definitely think you should try them out. We've selected some of the best looking blouse designs to make things easier for you for your next big family function or event!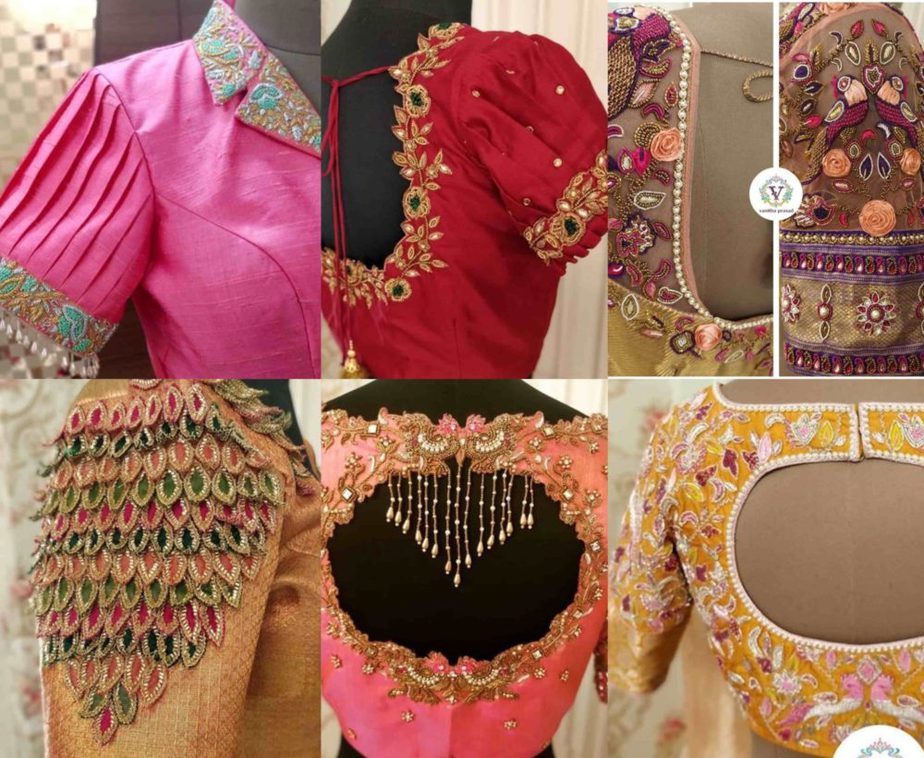 Aari Work Blouse Designs 2020:
Transparent net embroidered silk saree blouse
This beautiful transparent blouse features a mix of zari and silk thread work along with kundan and bead work in floral patters along the sleeve borders. The rosette ribbon work also adds depth to the design and makes it more pleasing to the eye. Pair it with plain silk or cotton saree for a timeless look!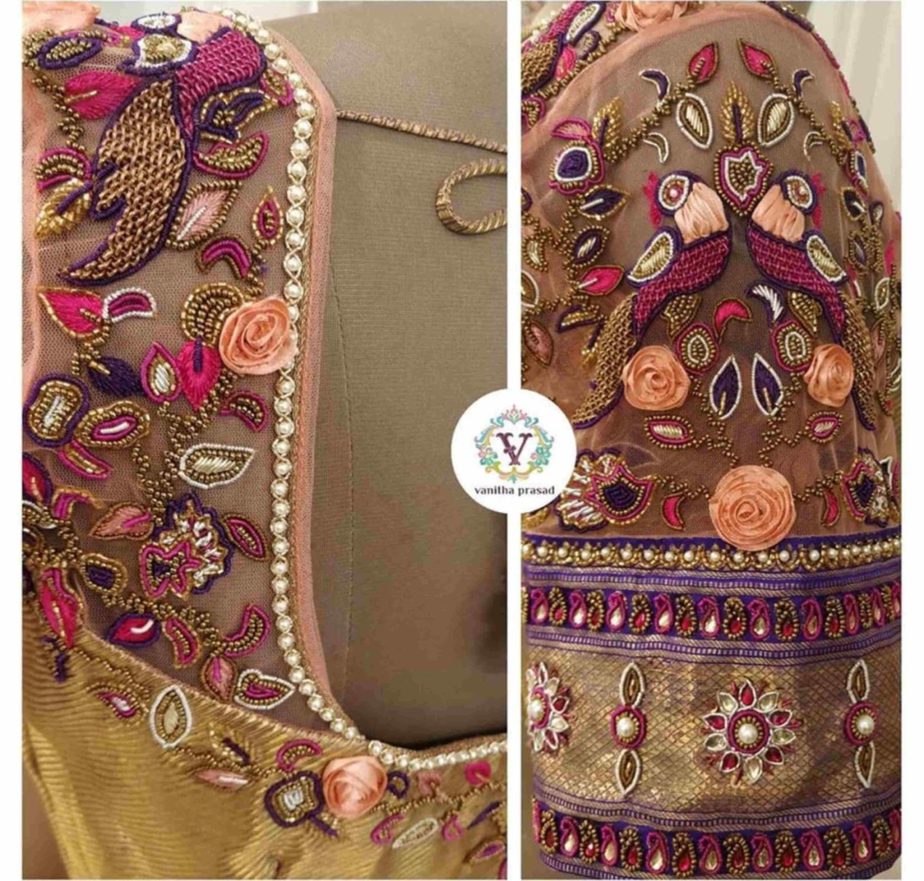 Layered Applique Work Pattu Saree Blouse
Featuring layered leaf applique work, this rust colored blouse is one of a kind. The multicolored applique leaflets traced with zari borders gives it an uber cool and ultra modern character. Flaunt it at one of your house parties to turn heads!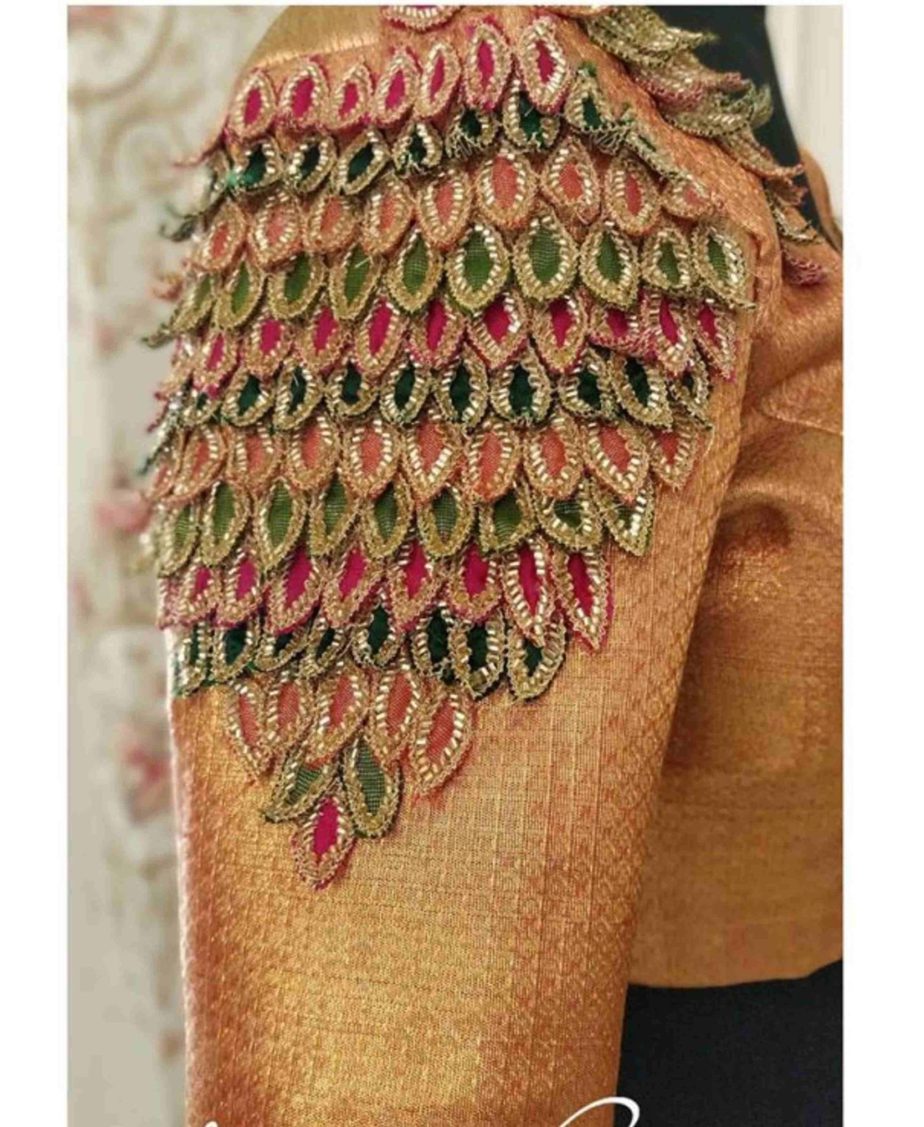 Elephant and Peacock design Aari work blouse
Floral silver zari work  is as lovely as gold zari. This royal blue blouse with a round cut out at the back looks especially trendy. It has elephant and peacock motifs intricately arranged to form beautiful embroidery on the sleeves giving it a timeless look. Ready to turn everybody green with envy?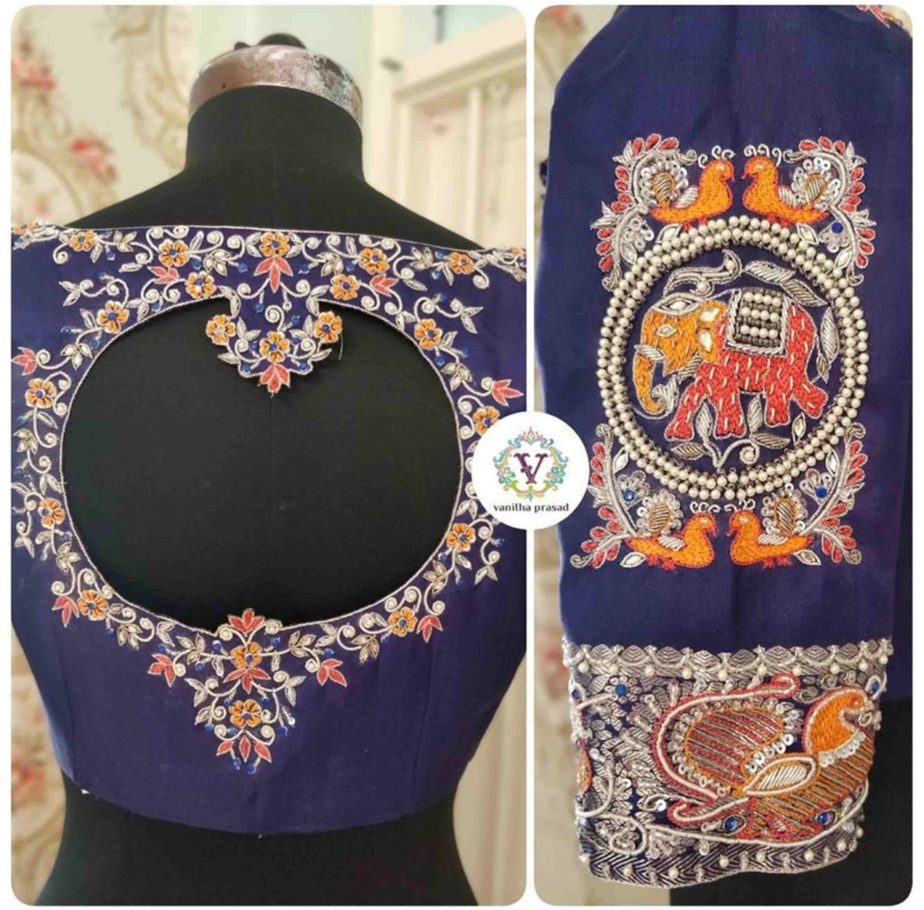 Beautiful Peach Aari Work Blouse design
This lovely peach aari work blouse with back oval cutout design features intricate floral arrangements along with applique work on the sleeves. The kundan and bead work on the blouse is simply too gorgeous! We're loving the hanging stringed beads design on the back of the blouse.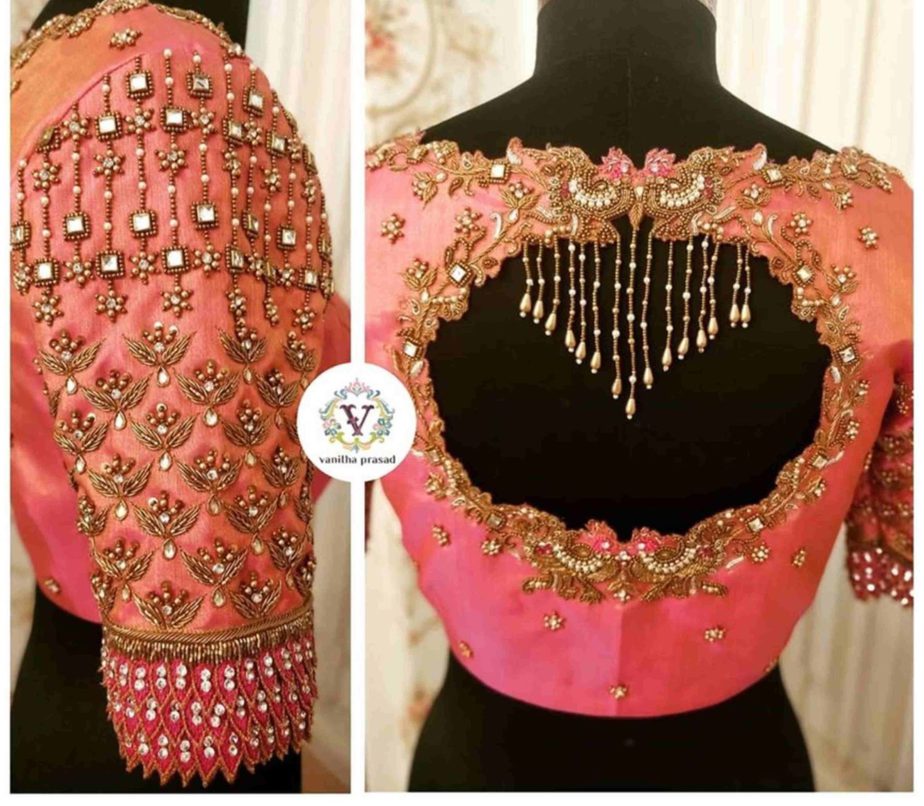 Puff Sleeves Aari Work Blouse Designs 2020
Puff sleeved blouses will totally revamp your style and add a feminine touch to your ensemble. These blouse pieces will make you feel more connected to the woman inside you while also fetching you tons of compliments!
Zardosi Work Blouse
The criss cross leafy pattern made with zardozi work all over this magenta blouse makes it a perfect option to wear for big functions and events. You can team it either with a plain silk saree if you don't want to go too overboard. Or you could go for a net saree to raise the sultriness to another level!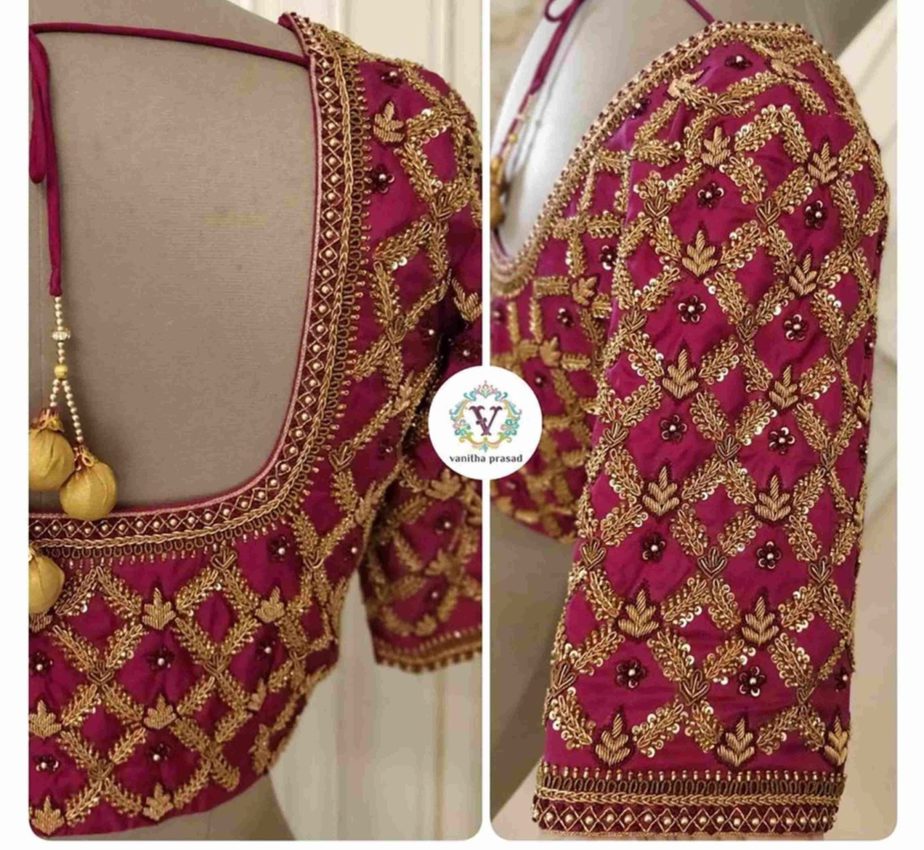 Mustard Yellow Full Work Blouse
A fresh blouse design in yellow, featuring a combination of silk thread work, french knots as well as zari designs; we think its a must have for women who do not like a lot of bling in their outfits. Ultra chic yet simple at the same time!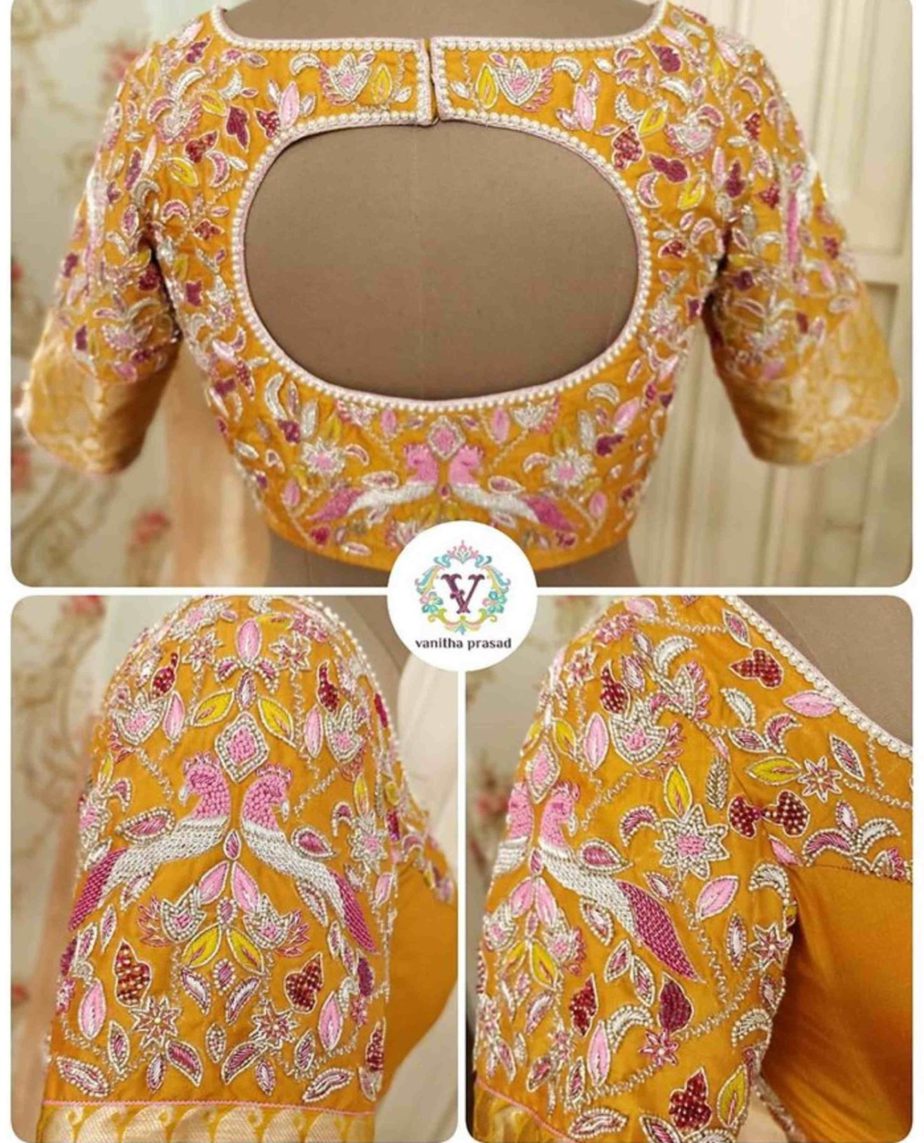 Collared Aari Work Blouse Designs
Collared maggam blouses are a great way to ditch the typical and go for something more in vogue! Be it collars adorned with kundan stone work or thread work designs, they're sure to look magnificent with your silk sarees!
Gold Color Aari Work Blouse Design
Off-whites and creams never go out of style. This type of beige color blouse with gold aari work is a must have for everyone looking to include pastels into their wardrobe. Furthermore, the cut out patterns on the back teamed with stringed beads detailing makes it all the more edgy yet classic!
Multicolored Aari work blouse with French knots
This coral hued brocade blouse with beautiful maggam work and multicolored french knots is giving us major FOMO. Loving all the colors seamlessly balancing and complementing each other in the design! Also loving the loud vibrant latkans hanging at the back. Ultra chic and ultra modern; we're completely bowled over!
Gold zari blouse with bead work
Go old school with this mustard pattu saree blouse with contrasting gold and maroon bead work in criss cross pattern which is perfect for a traditional event. Featuring some peacock and floral motifs on the sleeves which gives it a time honored look.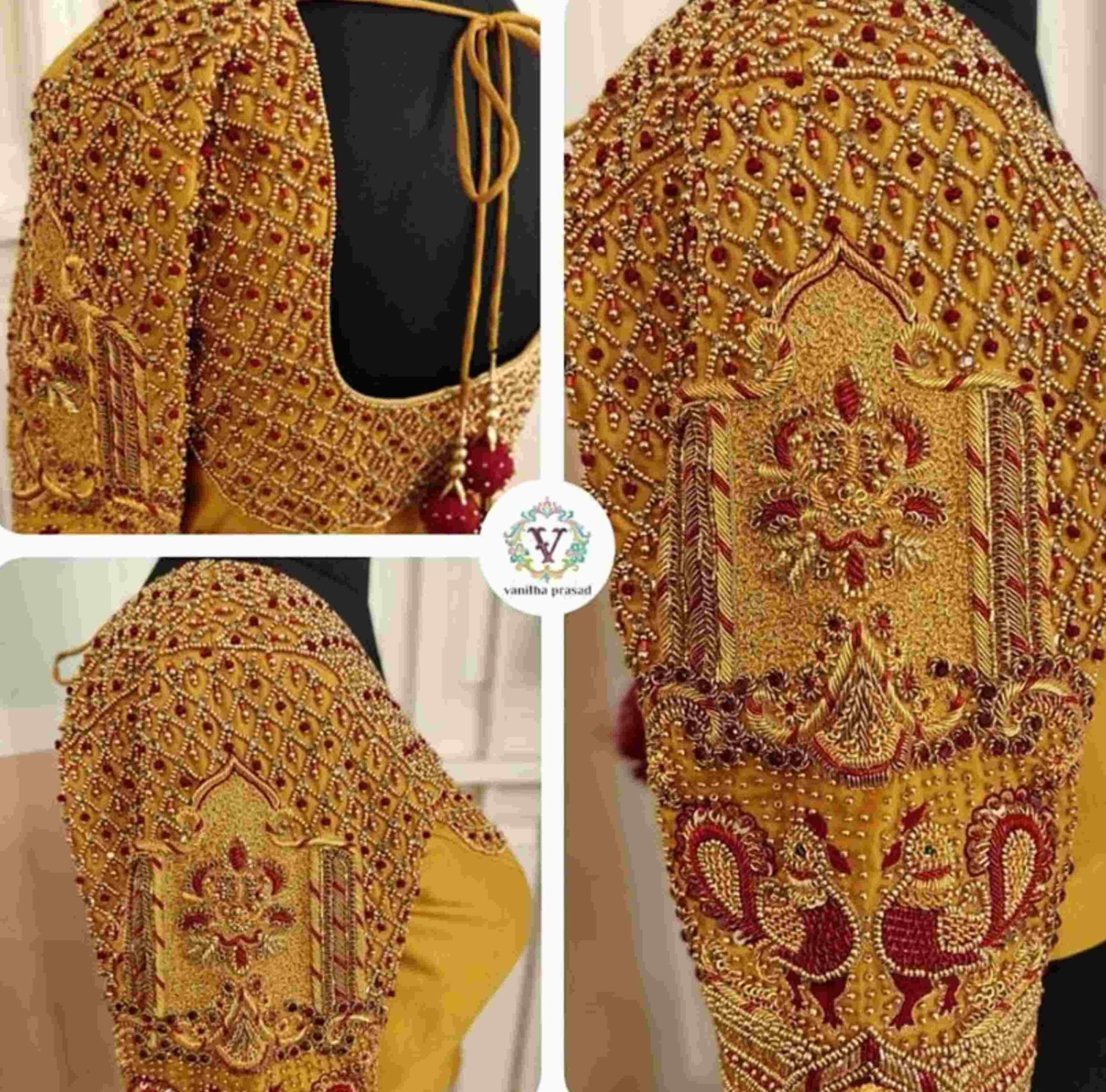 Baby pink maggam blouse design
This baby pink maggam blouse with drop shaped zardozi work on the sleeves is simply a stunner. The pink and white thread work around the neckline adds just the right amount of class to this number. Go ahead, get your summer lehenga ready with this timeless piece.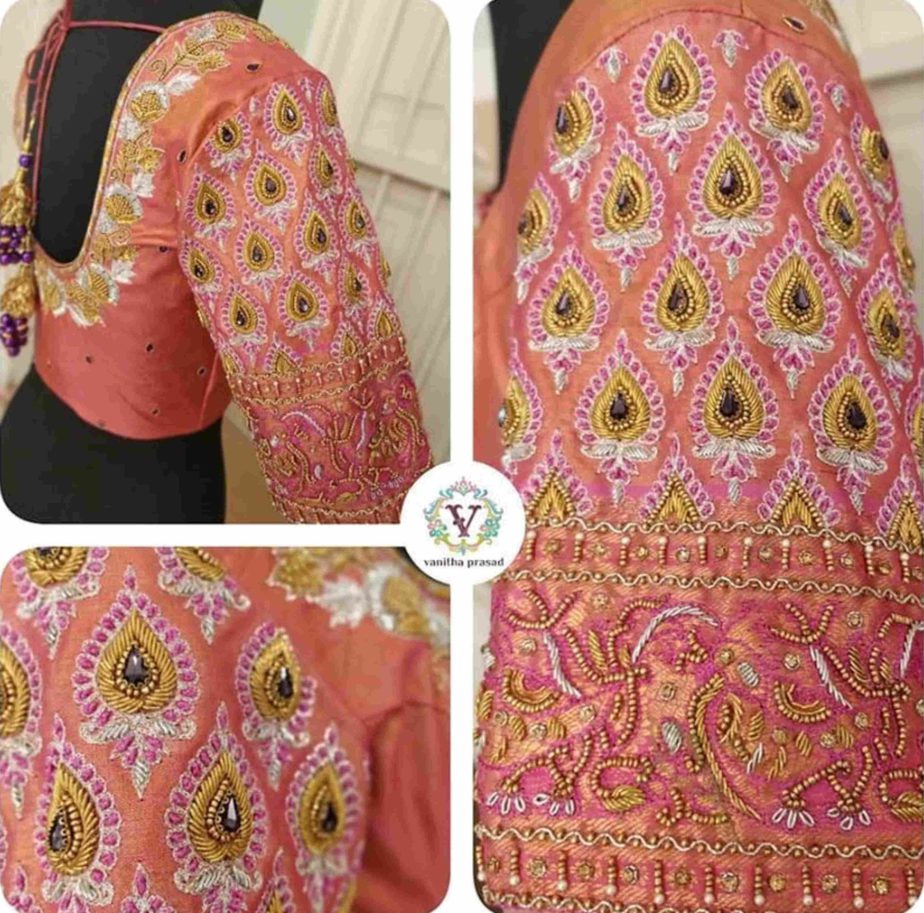 Purple cold shoulder zardozi work blouse
Make everyone's jaws drop with this gorgeous purple cold shoulder zardozi work blouse. The delicate floral embroidery along with dangling threads along the cold shoulder is enough to keep all eyes on you throughout the evening!
Beautiful navy blue maggam work blouse
Applique work is so on trend right now! This navy blue maggam blouse features applique all around the neckline and on the sleeve ends. Beautiful kundan stone and bead work along with zari elevates this piece to another level. Pair with a contrast color saree for a scintillating look!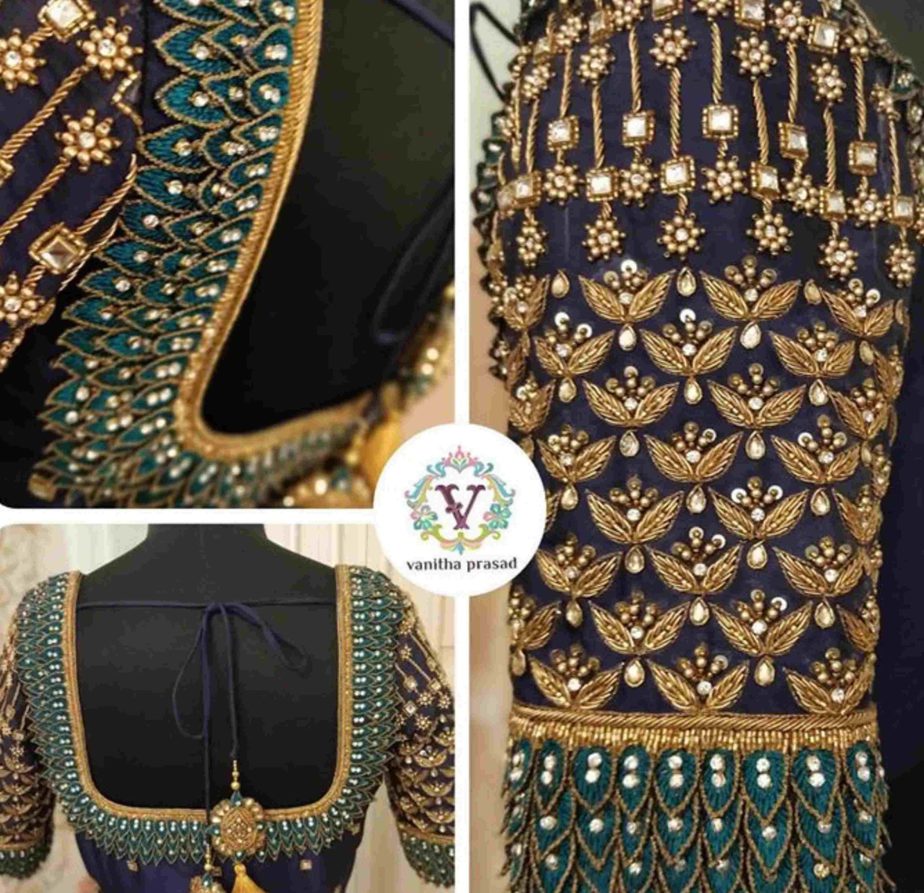 Rose pink zari work blouse
Who said you can't create a piece incorporating every single type of embroidery under the sun? This rose pink blouse features not only zari, thread work and micro bead embroidery but also mirror work and kundan stones on the sleeves. Truly a magnificent piece of art!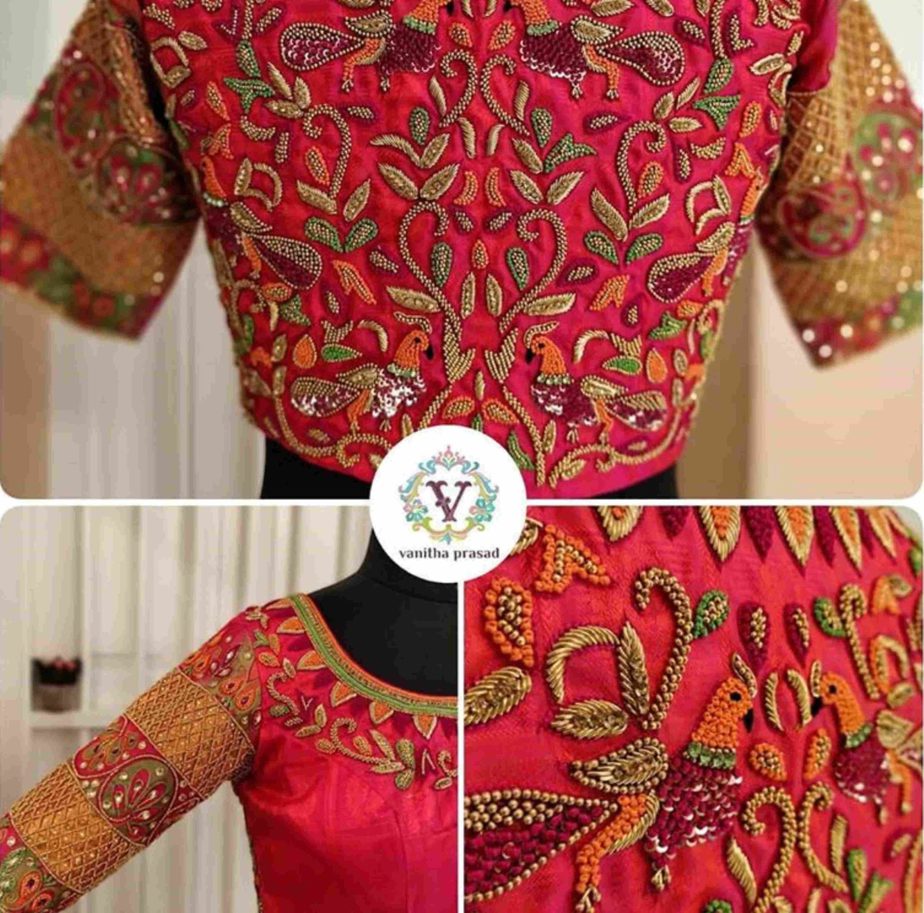 Pink jhumkaa motif magga work blouse
This fuscia color maggam work blouse boasts a charming jhumkaa style zardozi design on the sleeves, complete with ring knots and micro beads. Traditionalists and modernists both, take note; it looks pretty as a picture!
Purple full back work zardozi design blouse
Peacock motifs are forever embedded in Indian ethnic styling. Zardozi, thread work and micro beading has cleverly been layed out on this purple blouse to take shape of our beloved bird. What a knockout piece this is!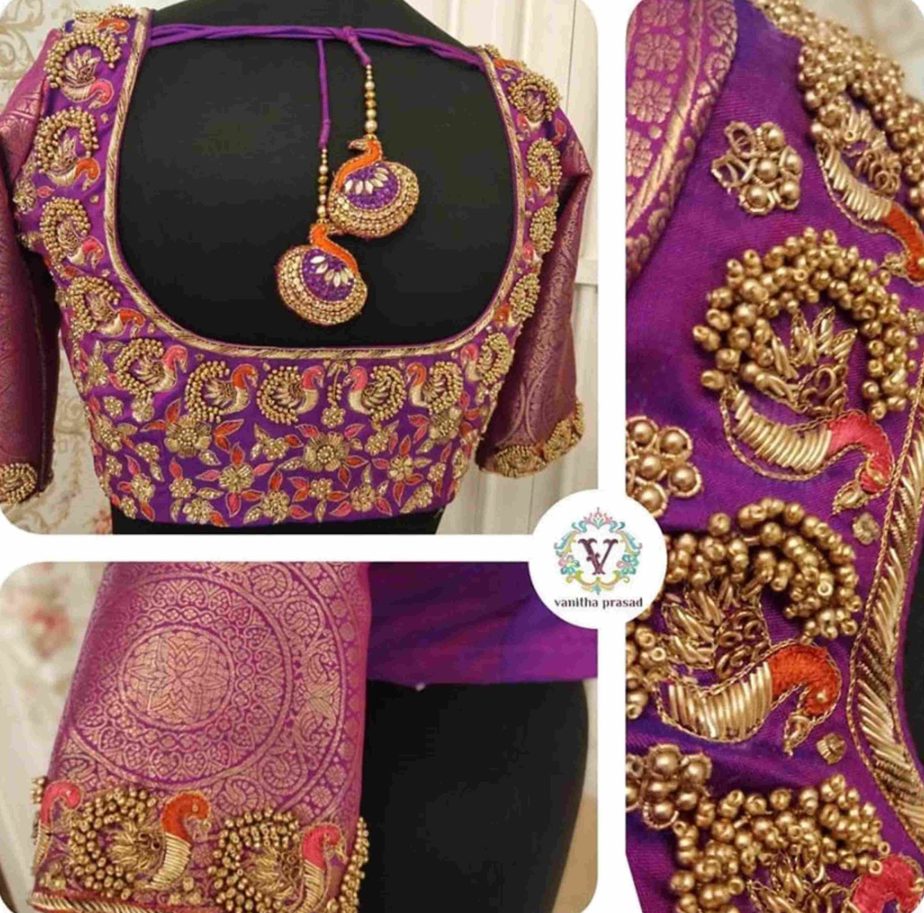 Teal Blue square cut out maggam work blouse
This unique blouse in teak blue color features 3-D floral designs made with french knots and zari work. It has a distinctive square cutout at the back that further elevates the blouse. Contrasting pink thread embroidery adds more drama to the piece.
Off white beautiful zardozi work blouse design
The classic white and gold combination is our perpetual favorite. This dreamy zardozi work blouse looks nothing sort of heavenly with its contemporary floral designs and floral latkans! We're completely mesmerized. Looks like we've walked straight into an Indian fairy tale.
Gold on black maggam work blouse with cap sleeves
What better color to show off gold maggam designs than the darkest of them all-black-? This beautiful contrasting zari & thread work blouse will look quite fetching for evening looks. The cap sleeves along with tassel latkans further add a more ladylike vibe to this piece.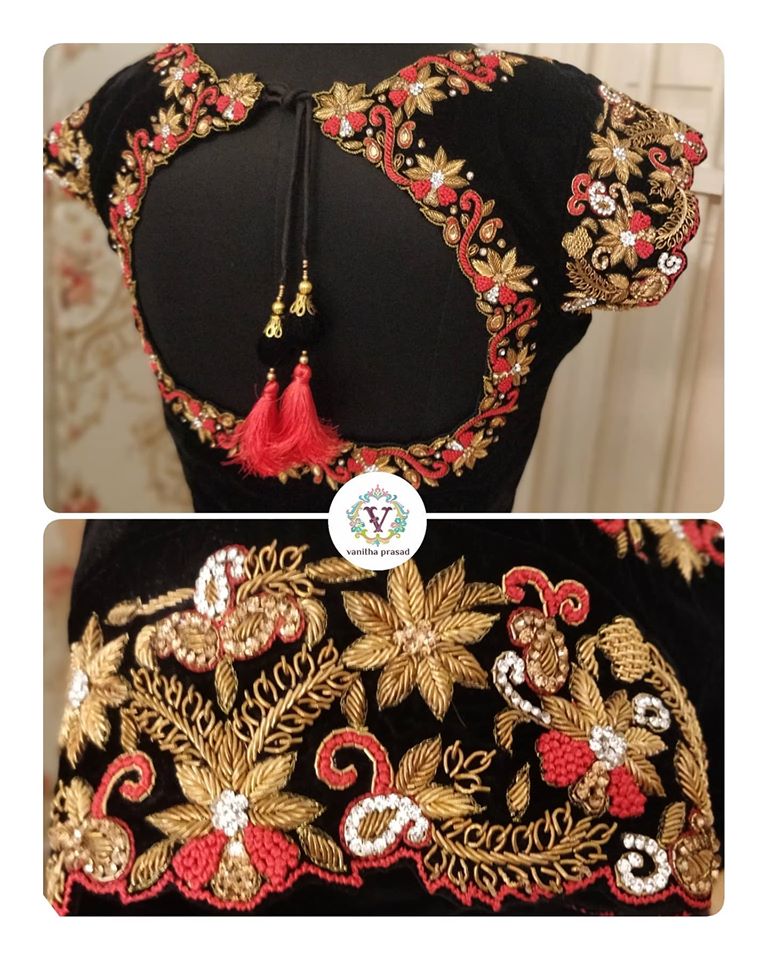 Multicolored 3-D floral zari work blouse
This ash grey blouse with contrasting zari and floral 3-D work is just too irresistible. The highlight of this blouse is the colorful ribbon work and rosettes which are arranged strategically to look just hypnotizing! Kundan stone work also features in this piece along with slender leaf motifs in zardozi.
Peach maggam work blouse design
Shine bright like the sun with this ultra-modern pink and orange maggam work blouse with a sun ray shaped cut out at the back! The linear zardozi and bead work designs adds just the right amount of sophistication and poise to this ethnic blouse.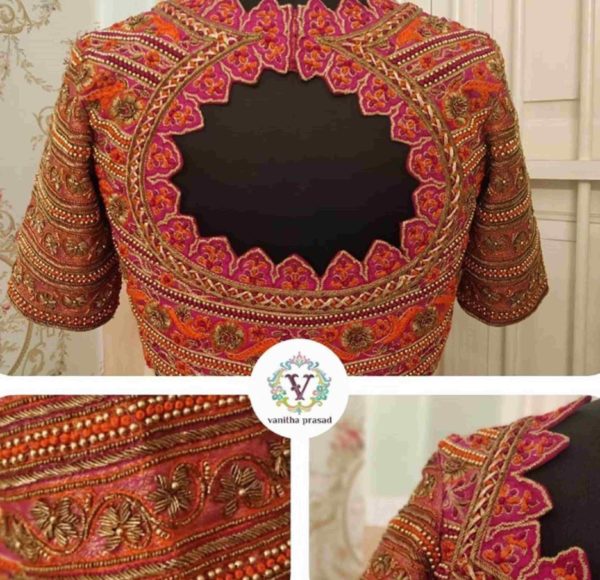 Contact details:
Facebook: https://www.facebook.com/vanithacouture/
Phone – +91 98412 31366