Silk saree are so popular in south India that we are constantly looking for new blouse designs to pair with our favorite Kanjeevaram sarees! Without a doubt, the rich gold and coppery embroidery seen on work blouses paired with vibrant colors gives a royal feel to all. Lets check out this collection of beautiful work blouse designs by Aadambharaa.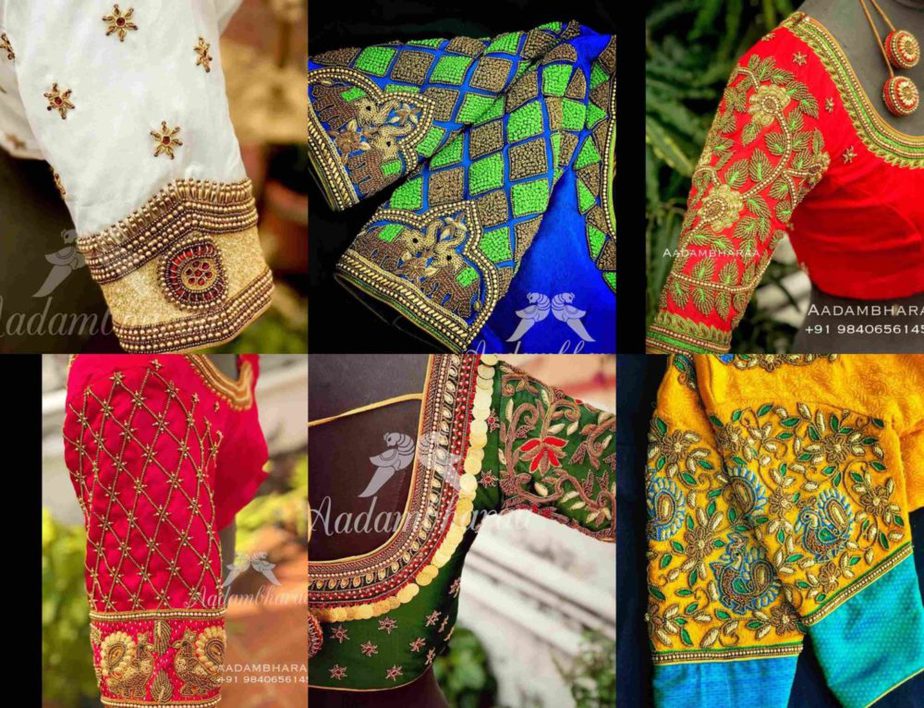 Magenta zari and sequin work blouse
This magenta hued blouse has a variety of embroidery designs. One is the zari work while the other prominent one is the sequin embroidery in various floral designs and motifs. The sleeve hems are also lined with layers of zari, thread and sequin work.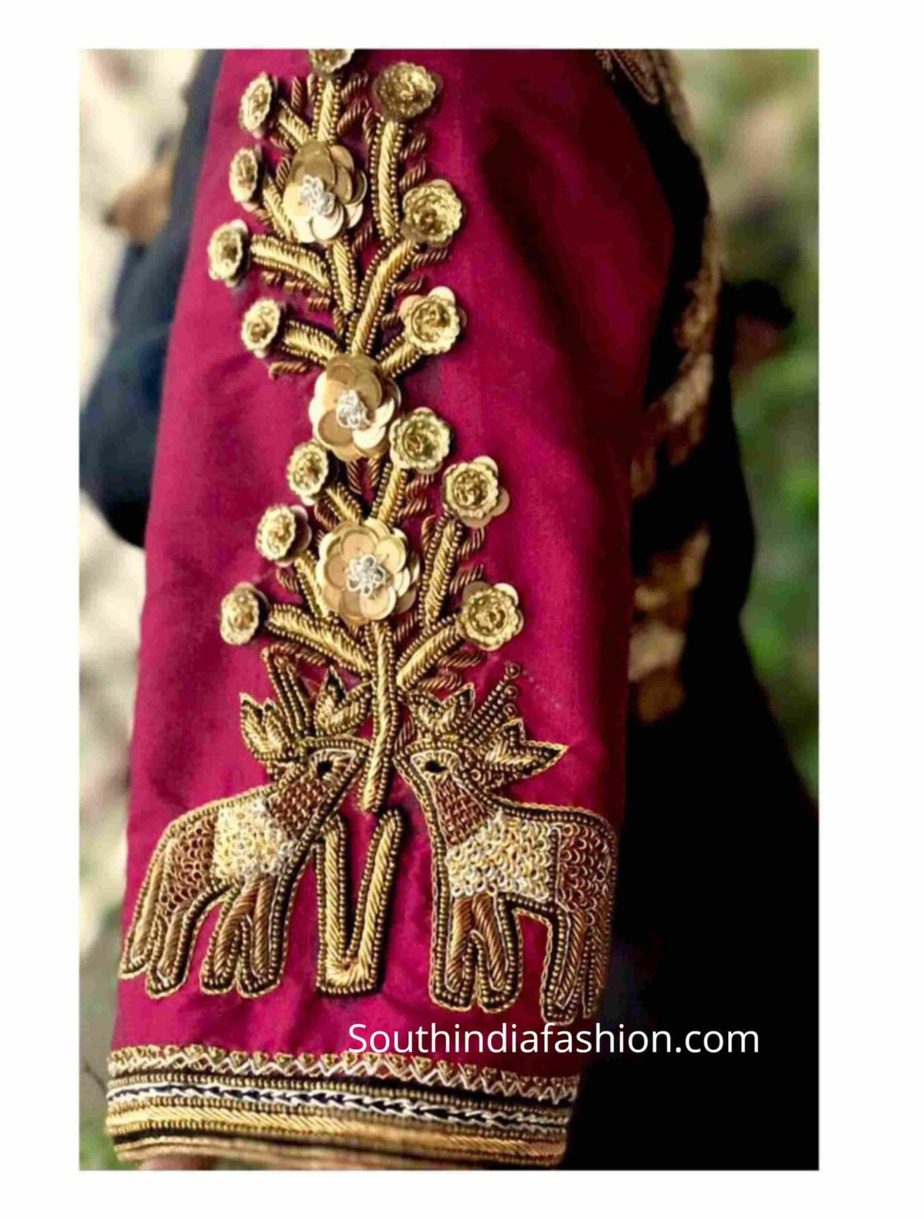 White Bead work blouse design
A strong feature of this white blouse is the bold bead work arrangements on the sleeves. Further, pink and green silk threads and zari fill the spaces in the design.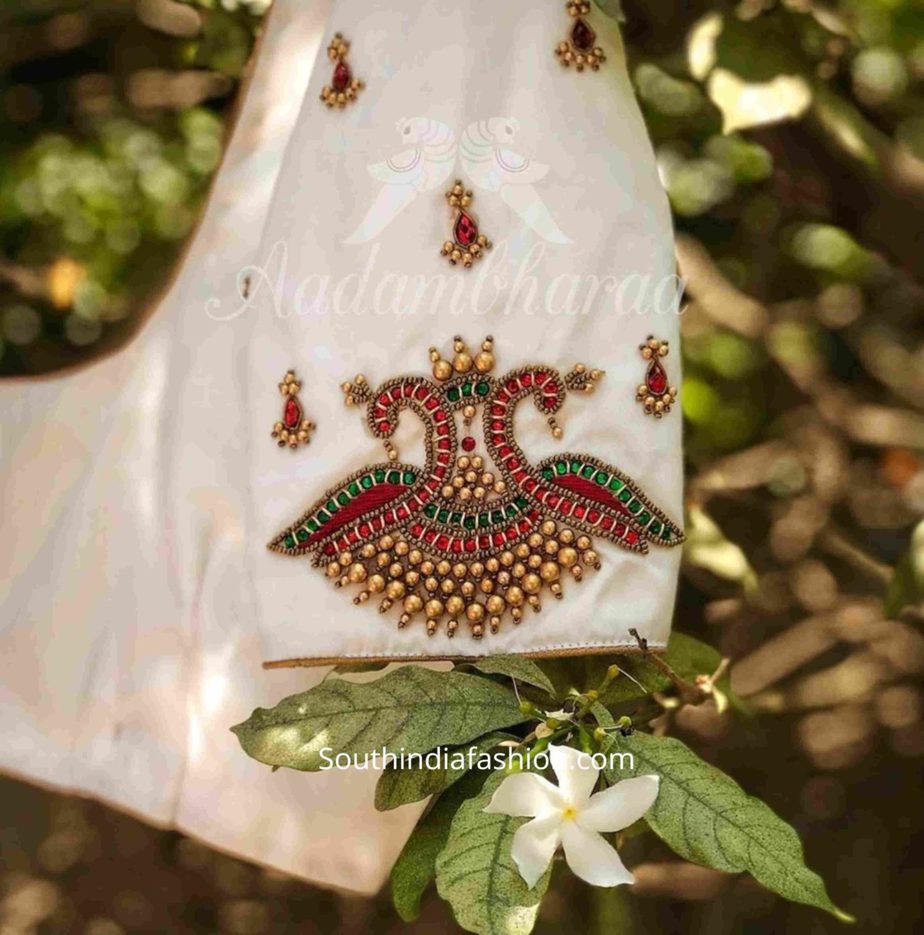 Vibrant blue blouse with green and copper bead work
This cobalt blue blouse features statement diamond shapes on the sleeves and along the neckline which have been decorated with French knots, beads and zari work. Beautiful elephant motifs stitched with zari also adorn the sleeve hems.
Black blouse with simple beaded motifs
This simple black blouse features chaandbali motifs made with gold beads, zari and silk thread work. Doesn't it remind you of classic beauty?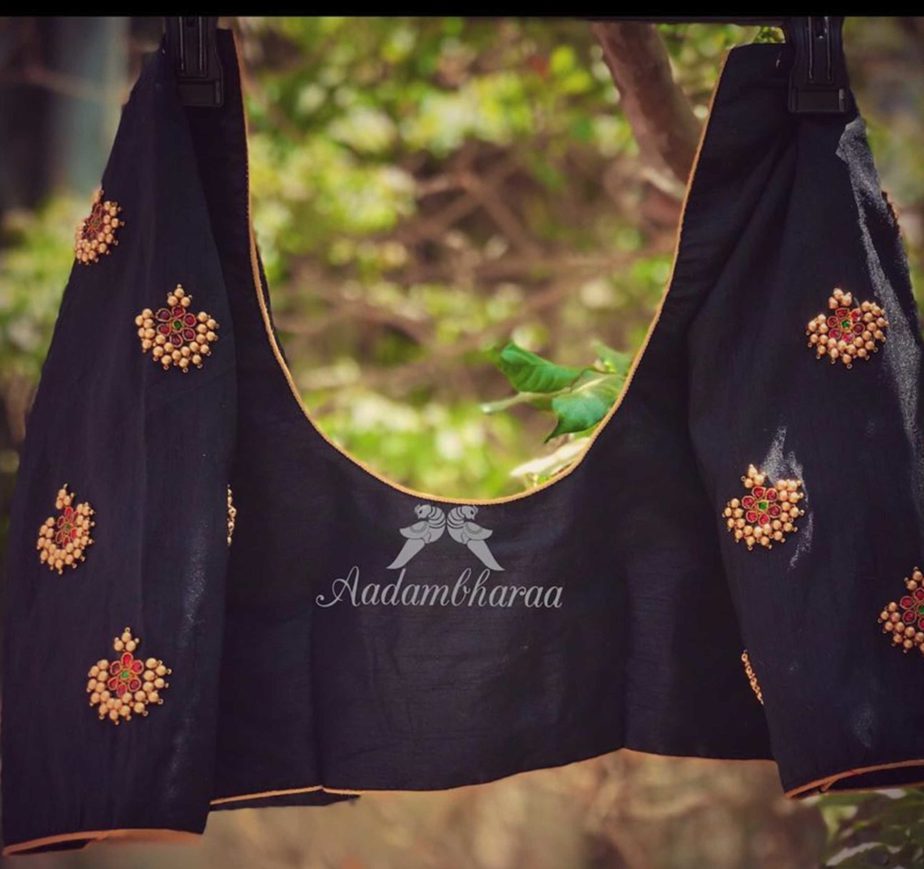 Pink Peacock embroidery pattern blouse
Dazzle your way through your bff's wedding party with this gorgeous pink peacock motif zari and beadwork embroidery blouse!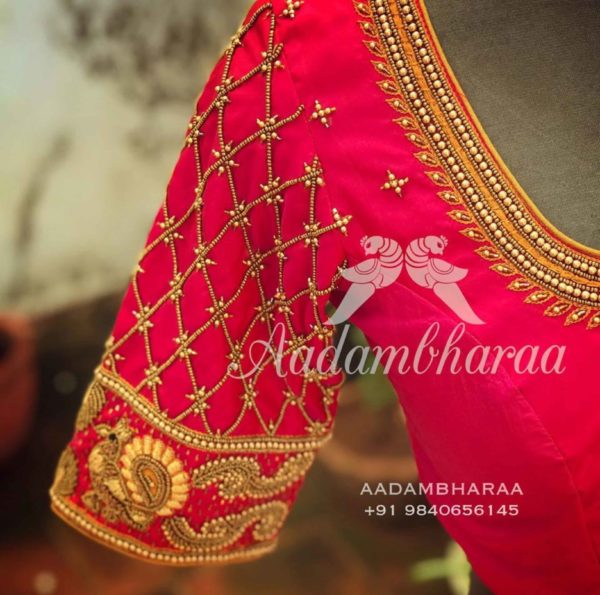 Bottle green coin and thread work embroidery
This bottle green bridal blouse design features intricate rows of embroidery on the neckline consisting of zari, beads, stone work and kasu(coin) work. The bold leafy designs on the sleeves handwoven with zari add dimension to the blouse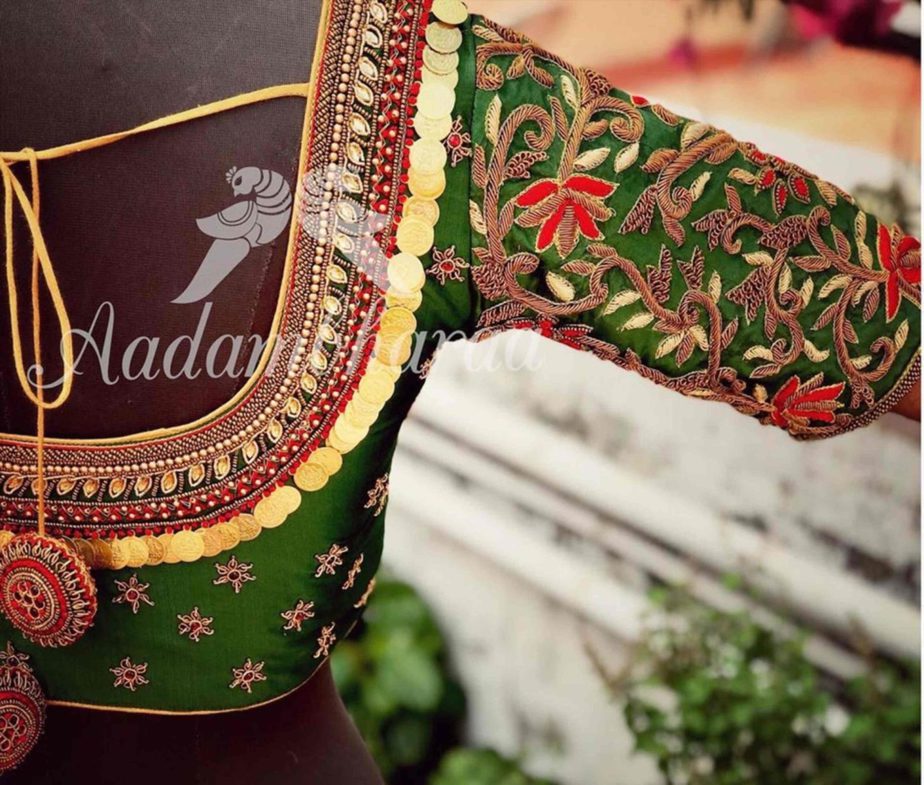 Gold on black leaf embroidery blouse
Go for this classic gold on black zardozi threadwork blouse design in leaf motifs and redefine black beauty!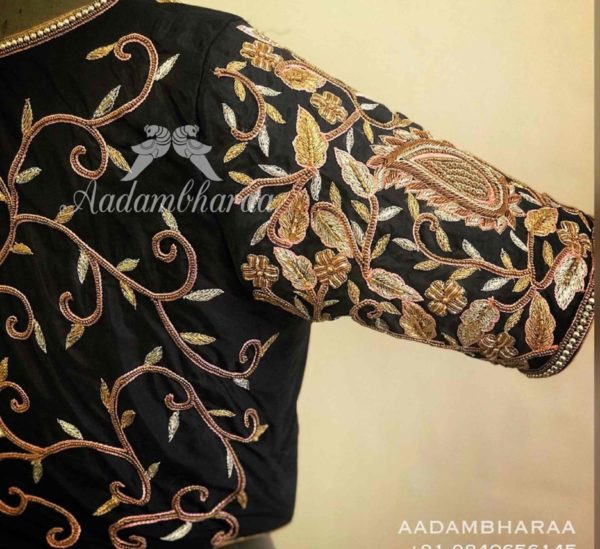 Emerald green paisley motif blouse
You can never go wrong with green! The pasiley motifs adorning this emerald green blouse is a great option if you want to stick to traditional designs and patterns.
White floral bead work blouse
A simple white blouse with floral motifs all over and heavy bead work embroidery on the sleeve hems. Look completely angelic in this blouse paired with a contrasting gold, copper, or nude saree!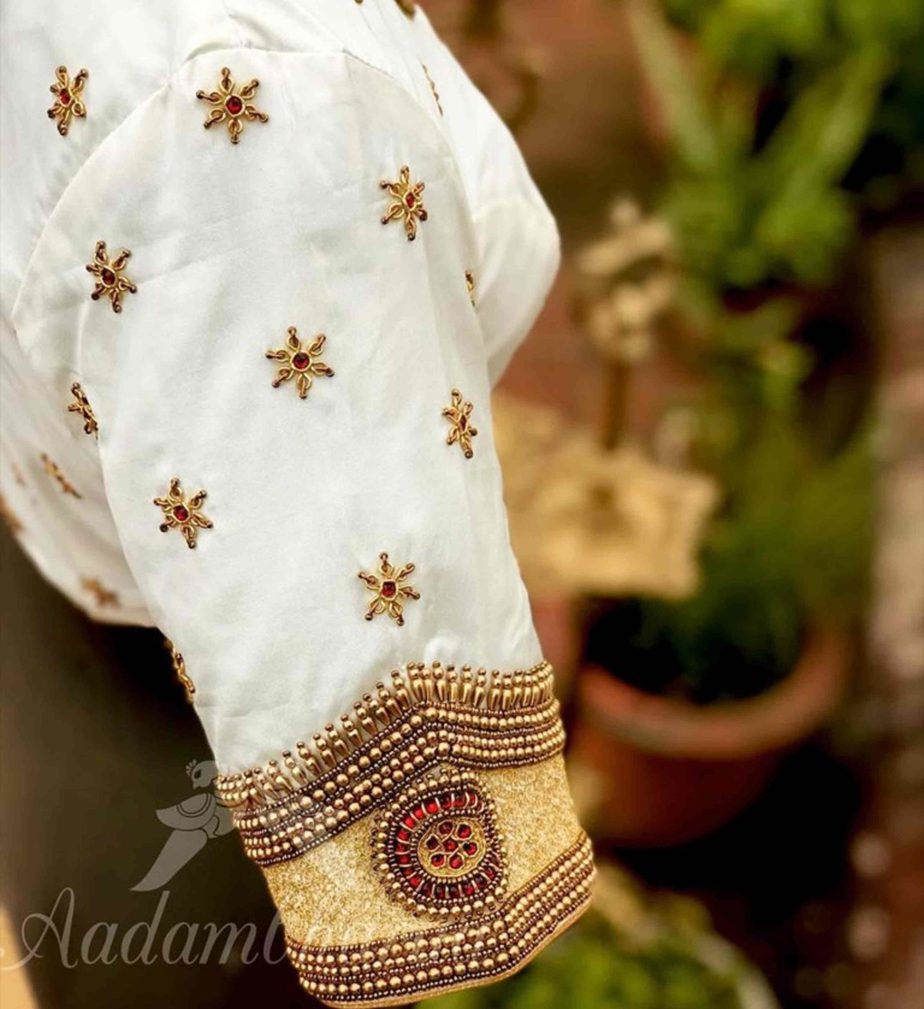 Green criss cross pattern bead blouse
Absolutely adoring this distinctive criss cross sleeve pattern blouse with floral beadwork in between the patterns.
Purple stone work blouse design
This vibrant purple blouse with with stone work on the sleeve hems and neckline is sure to sprite up your dull day!
Pink criss cross design with deer motifs
Why not add this pink traditional deer motif blouse with long bead embroidery designs to your wardrobe? You'll fetch tons of compliments for this.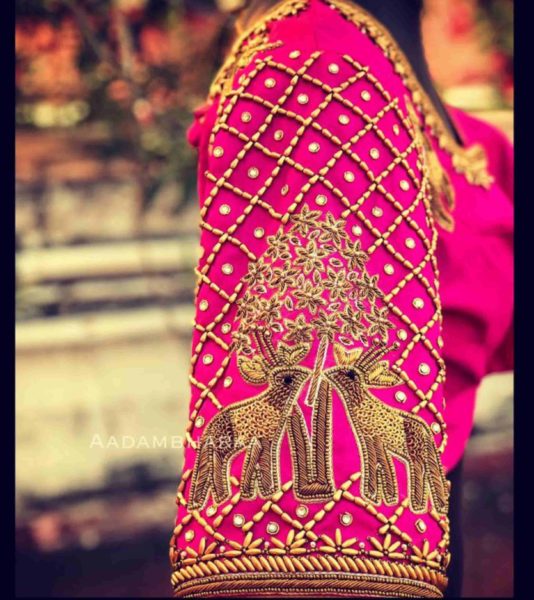 Criss cross design with peacock motif
Similar in design to the above blouse but featuring a peacock motif instead, this one's a great option to don for your family pujas and festive gatherings!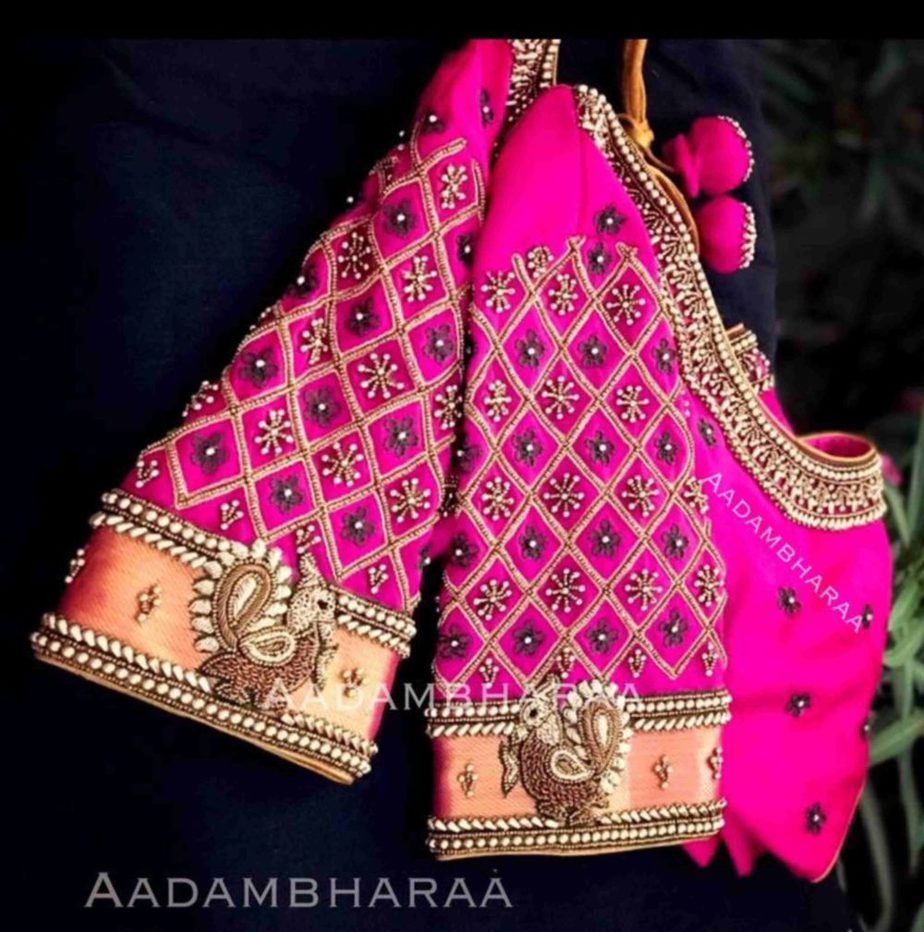 Layered bead and stone work embroidery design
We love this horizontally layered bead and stone work embroidery design in the shape of diyas and florets. Would go perfectly with your bridal sarees!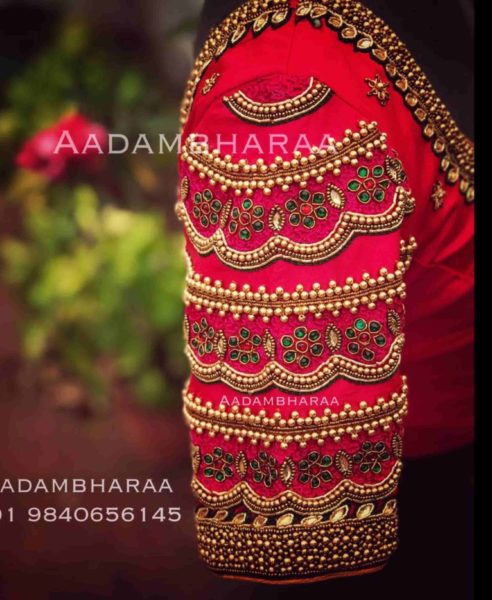 Orange- red heavy maggam work blouse
This orange and green leaf design embroidery crafted using gold beads and zari threads looks spectacular indeed! What can we say? We are speechless.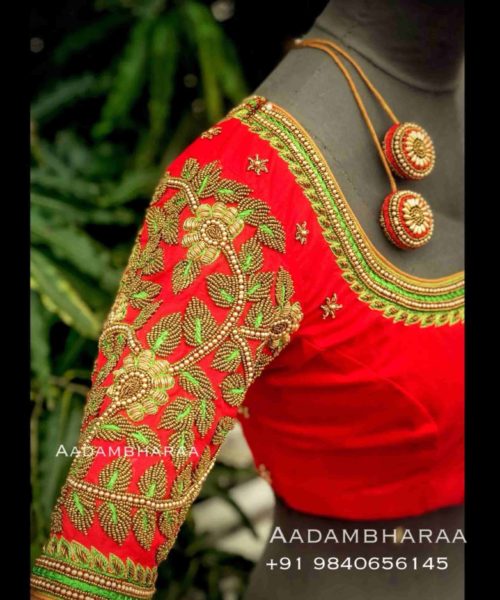 Purple and yellow stone and thread work blouse
Don this alternating purple and yellow diamond patterned blouse with kundan stone work and beads adorning the neckline for a classic chic appearance!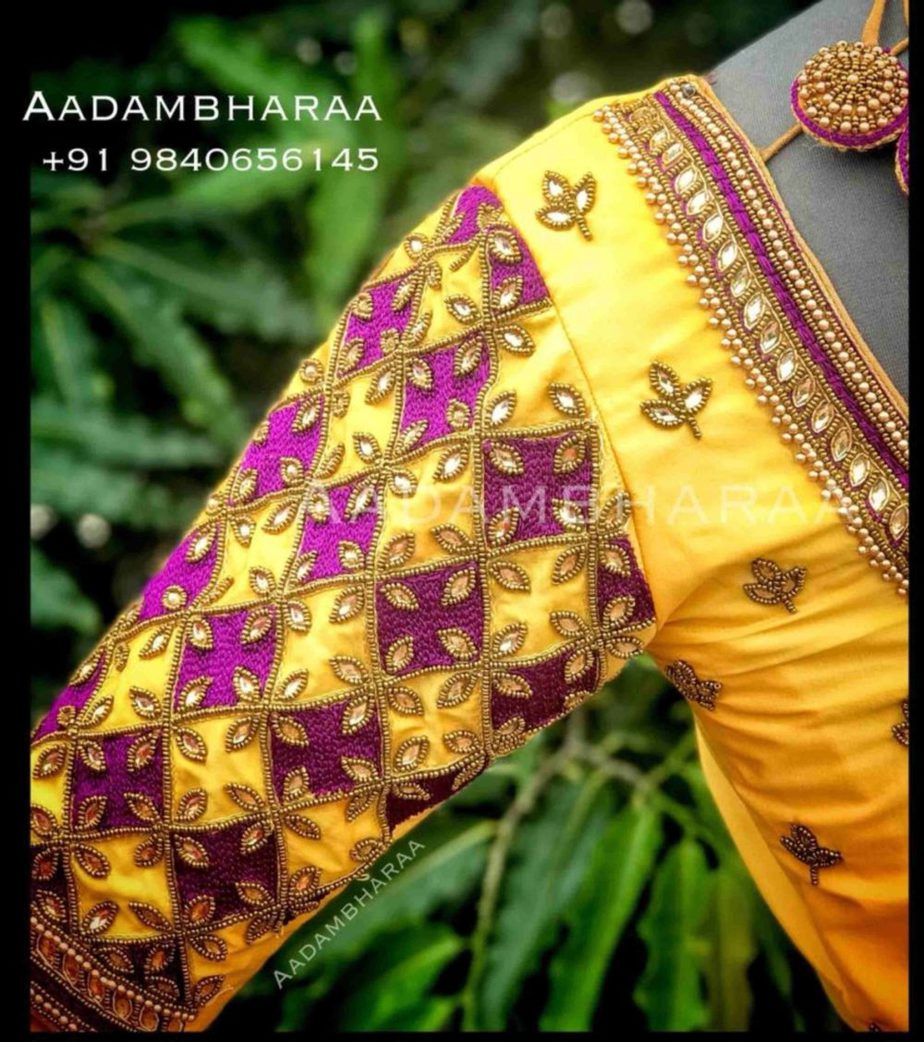 Pink bridal maggam embroidery blouse
The striking mango motif embroidery on this hot pink blouse sure looks fantastic. Furthermore,the chaandbaali motifs and the floral petals design on the sleeves made with beadwork and zardozi threads makes it look all the more magnificent. Perfect for a summer bride!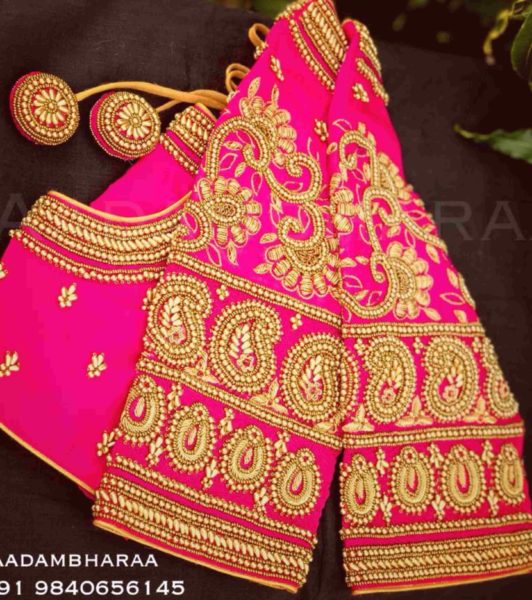 Latest criss cross maggam work blouse design
Pink is the color to be seen in this spring! Why not try this half and half blouse design? It has a criss cross pattern embroidery crafted with beads on half of the sleeve while the other half features leaf zardozi thread designs.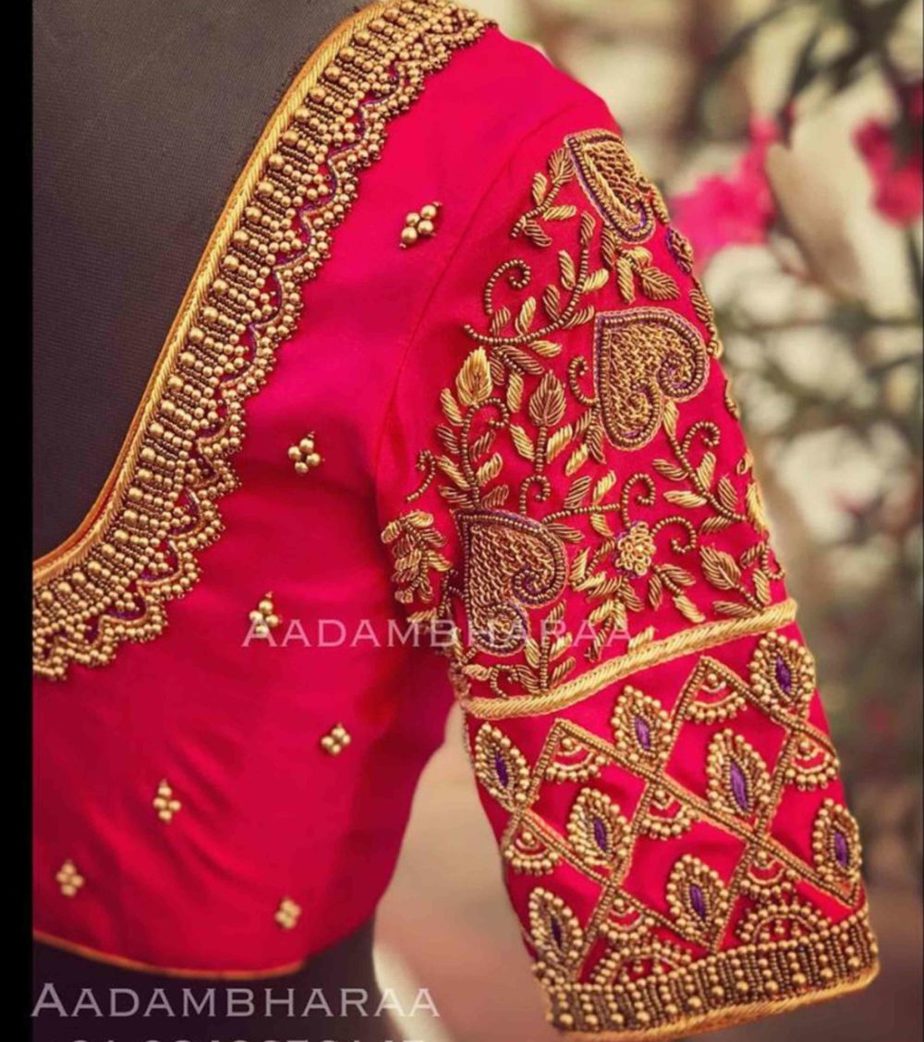 Pink sequined floral embroidery design
Surely this magenta aari work blouse – with beads arranged at the sleeve hems and neckline – will look fabulous on anybody. It has these eye catching floral sequin arrangements that are sure to make you stand out!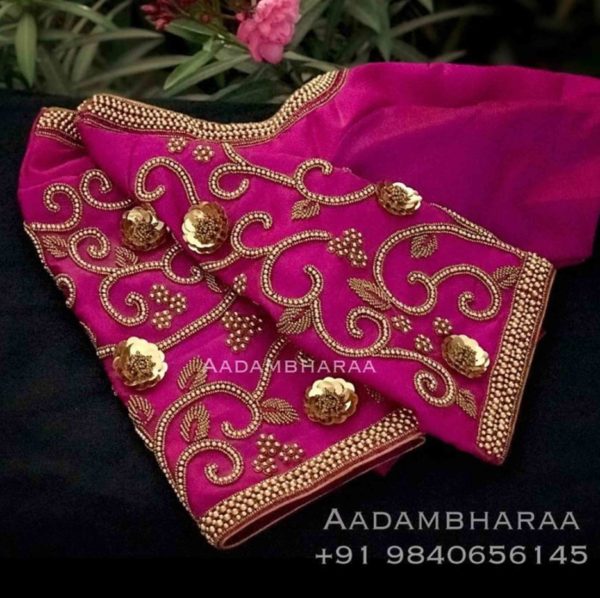 Yellow and blue maggam work blouse
Loving this fun combo of sunny yellow and sky blue colors for a day time saree look. Let the golden rays bask on this intricate maggam embroidery work blouse with peacock motifs on the sleeves and dazzle everyone!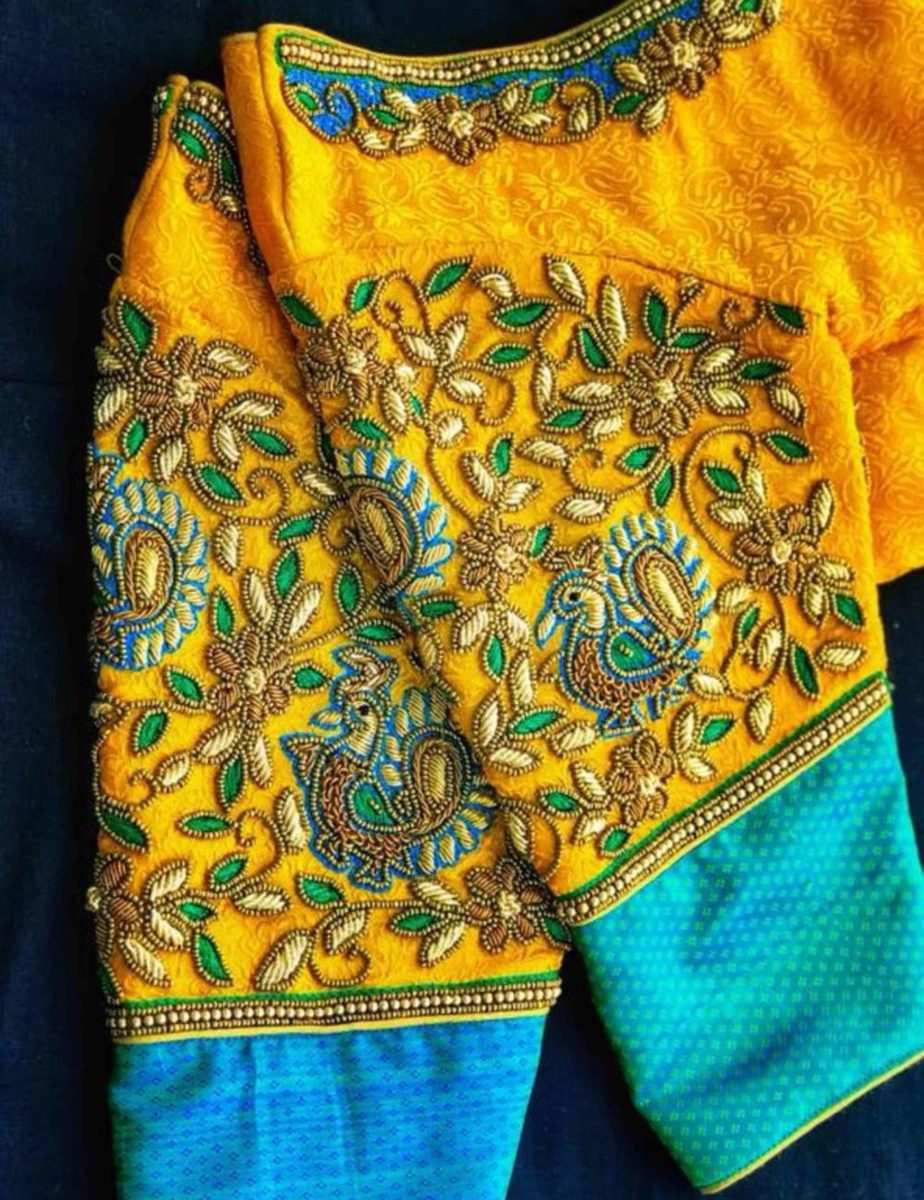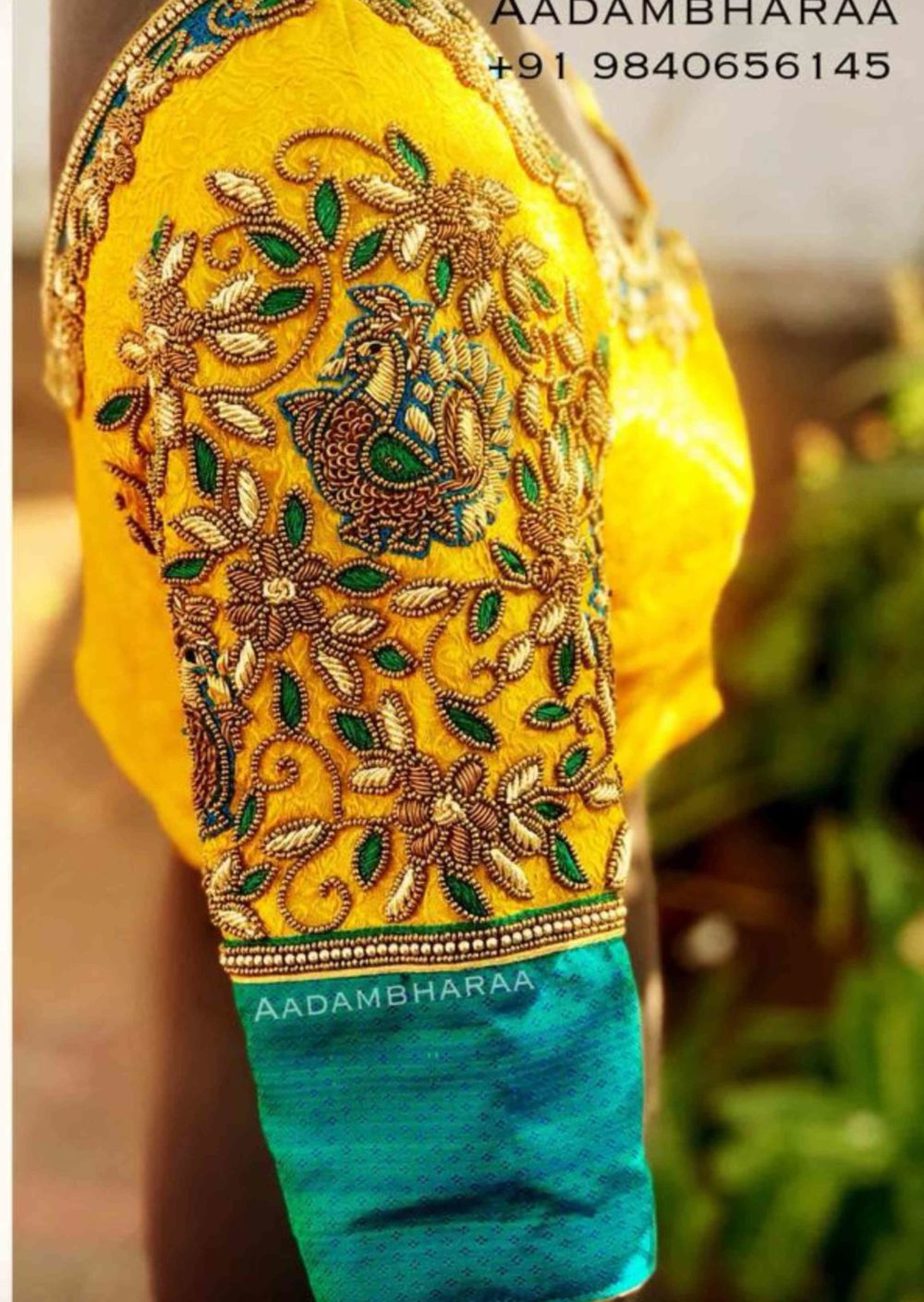 Velvet maggam design high neck blouse
Velvet is synonymous with luxury and regalty. Rock this velvet green three-quarter sleeve blouse with a high neck decorated with intricate aari work design that looks as royal as it gets.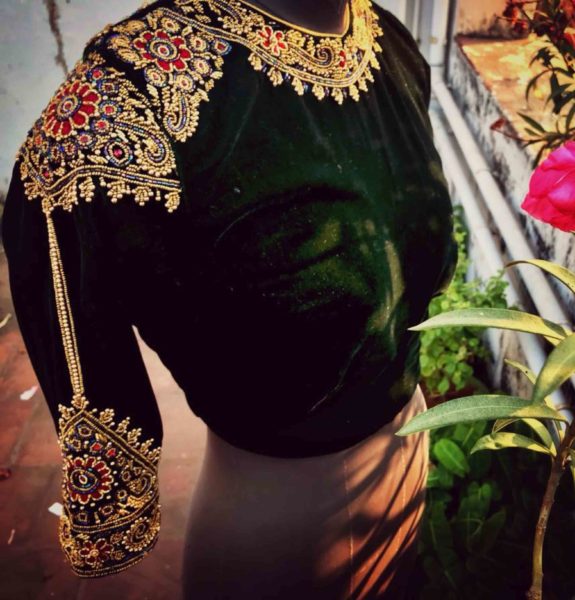 Contact Details:
Facebook: https://www.facebook.com/aadambharaa/
Phone: +91 98406 56145