Wearing a blouse that is matching or similar to a silk saree is no longer interesting. These days, women love to experiment and wear something different. Mismatched or contrast blouses are a craze these days. We see every other lady opting to wear mismatched blouses than matching ones. Such is the demand for contrast blouses. But, when you are choosing a contrast blouse, you can't wear any color with any saree. Certain sarees go well with only particular colored blouses. So, let us look at the different colored silk sarees and the contrast blouses which go well with them.
Here are some saree colors and the contrast blouses for them –
Orange Saree
Orange is one bright color that you can certainly experiment with. So, if you have an orange colored silk saree, you can wear many colors with it.  A cream colored blouse, blue blouse, yellow blouse, red blouse or a golden blouse. You could play with many colors. An orange saree looks good with any bright colored blouse.
Pink Saree
Pink is a subtle and light color. So, as a contrast you can wear bright and dark colors with it. colors like black, blue, green and white will go well with a pink colored saree. If the saree is plain, let the blouse have some design or motifs on it and likewise if the saree has patterns on it, opt for a plain blouse.
Golden Saree
Gold sarees are apt for contrast blouses. The color gold will go well with any colored blouse. You can pick a red blouse, pink blouse, black blouse, blue or green blouse. If the blouse has some golden thread work on it, no matter what color it is, it will look very good.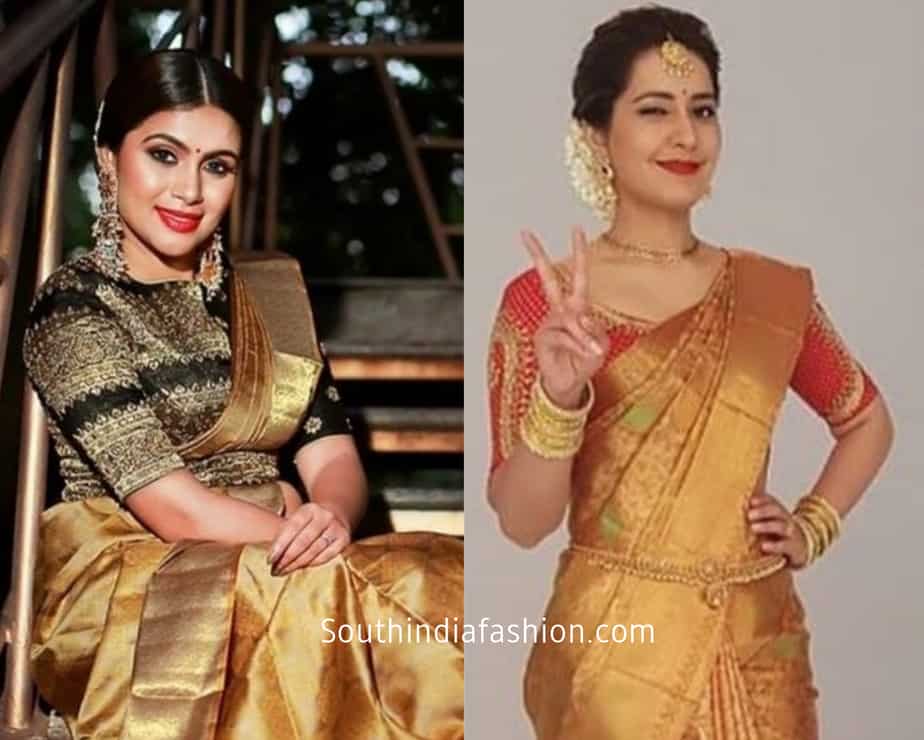 Blue Saree
For a lively color like blue, you must choose a bright blouse that is yellow, light green, silver, white or nude shades. As blue itself is very attractive, you can keep the contrast blouse subtle, yet classy.
Green Saree
Green comes in many shades. So, when you are picking a contrast blouse, you must check what shade of green your saree is. If it is a lighter shade, you can opt for pink, white or silver colored blouses. If it is in darker shades, then you can go for dark colors like purple, blue, black, red or maroon.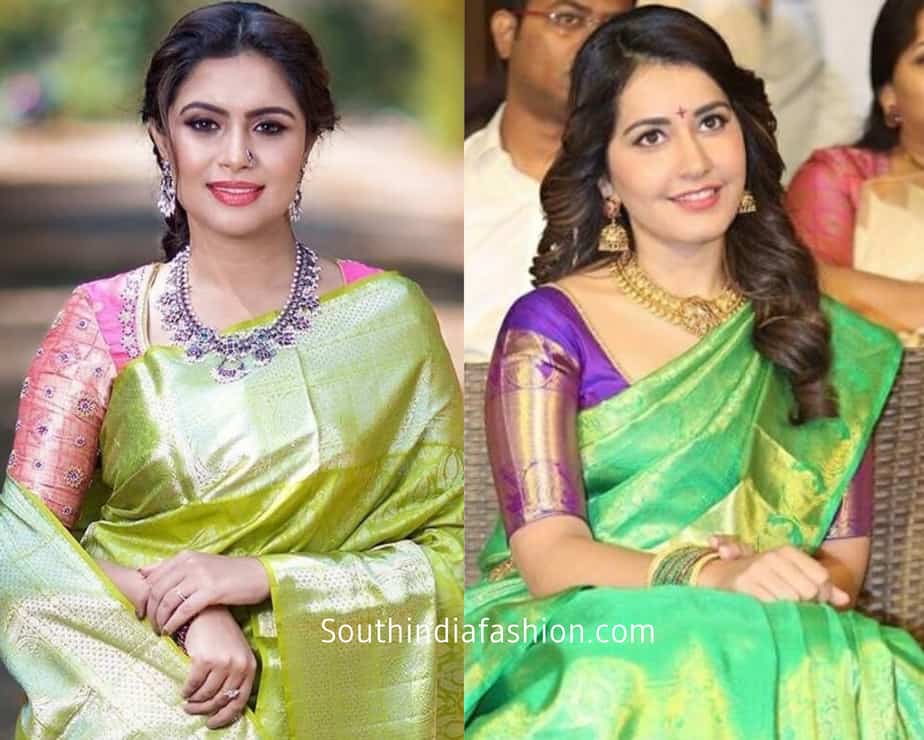 These are some ways in which you can wear your saree with contrast blouses or mismatched blouses.