You must check out these Offbeat Blouse Designs from अबnoरmal (Abnormal)
Every woman is concerned about her outfit as the wedding season approaches. Be it a simple puja at home, a festival, a family function or a wedding. Your ethnic wear game must be on point. Be it a lehenga or a saree that you are planning to wear, a blouse is the most important aspect of the outfit. If you want something different and quirky, we have brought some of the most creative blouse designs for you at one place.
We found this really cool brand called अबnoरmal from where you can get super stunning blouses for your next event.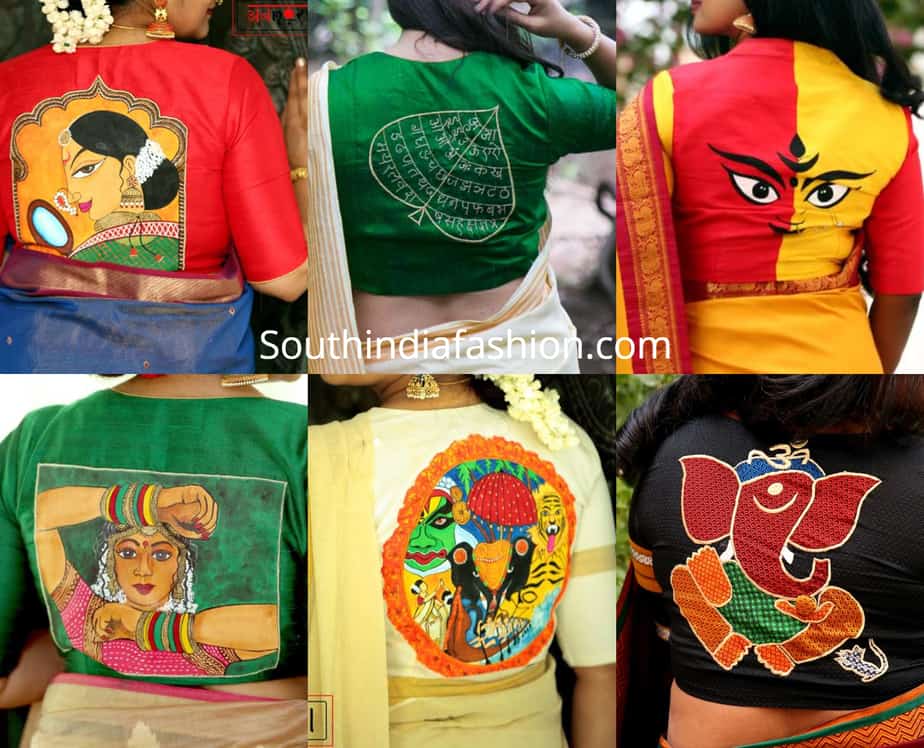 Kashibai Blouse design
This totally different quirky blouse design which is titled kashibai by the designer. This unique blouse has the Maharashtrian nath motif on the back and comes in magenta and blue velvet fabrics.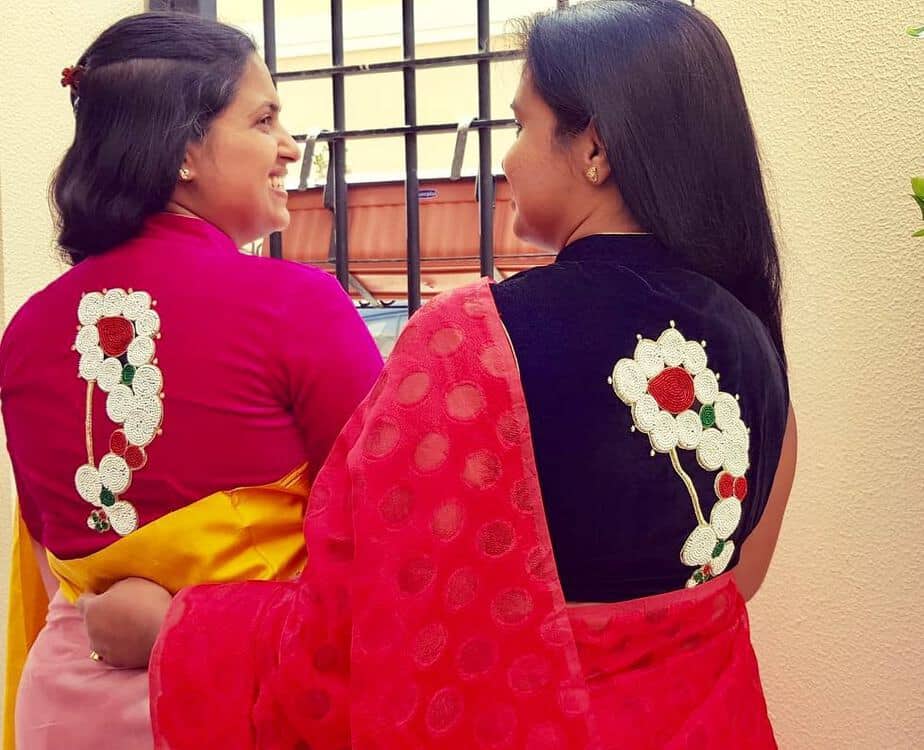 Rang Barse Blouse design
This holi special blouse design is a great pick for the upcoming festive season. Made in pure mulberry silk and tie & dye print, beautiful latkans on which rang barse is written. The blouse latkans are hand painted. The blouse comes in sizes from 34 to 48 and is priced at Rs.4000.
Maang bharo Sajna Blouse design
This deep pink velvet blouse with a maang tikka motif can be paired with a black saree. It can also be paired with a Gadwal, Paithani, Maheshwari, Chanderi, Kasavu, Kanjivaram pattu saree, or even solid colored banarasi saree. This bejeweled blouse is also available in other colors like Black, Red, Green, Yellow, Fuchsia, Violet, Royal Blue & Maroon. the blouse is priced at Rs.5000.
Stree Shakti Blouse design
This statement blouse design inspired by the power of women with hand painted faces of women with a red bindi on the sleeves and latkans. The blouse can be customized in red and black colors also. They also have a matching printed clutch like this saree. The saree & clutches are priced at Rs.4500 and Rs.2500 respectively.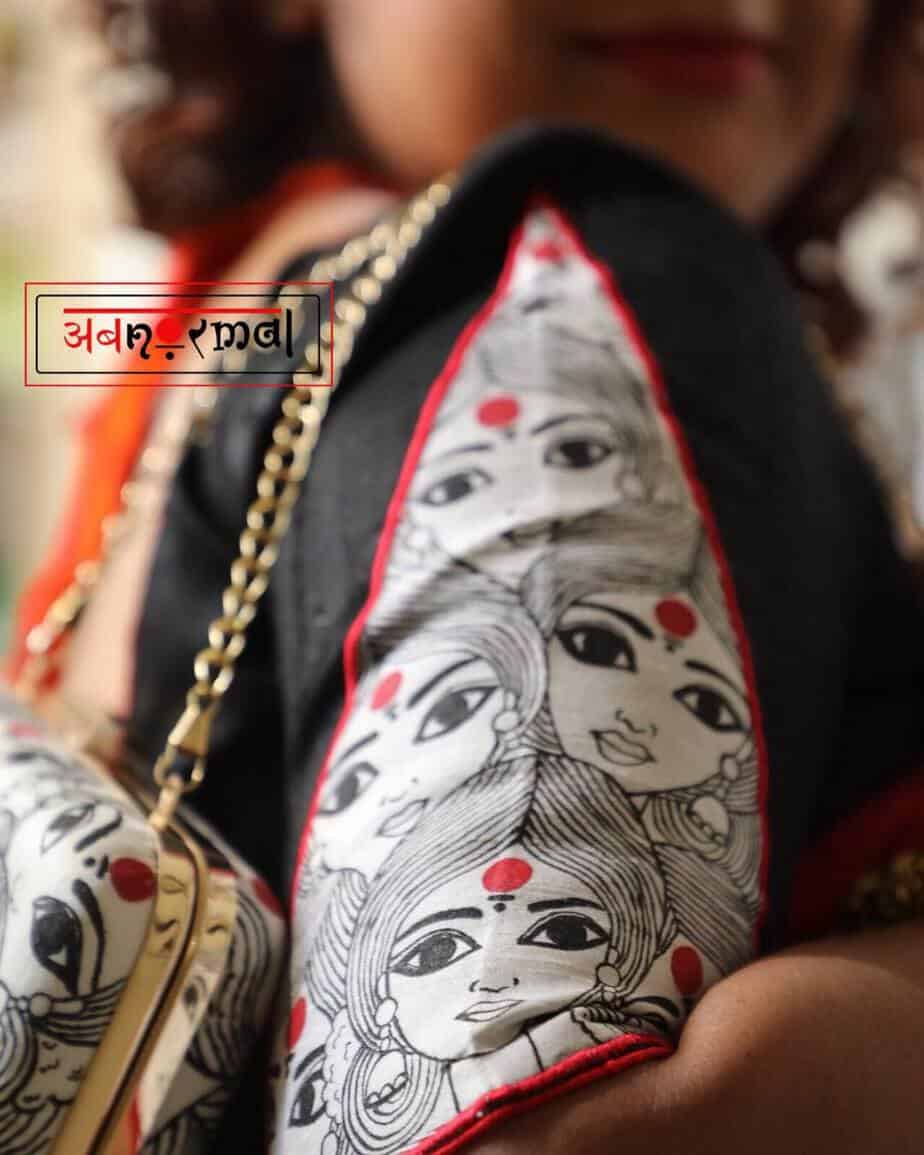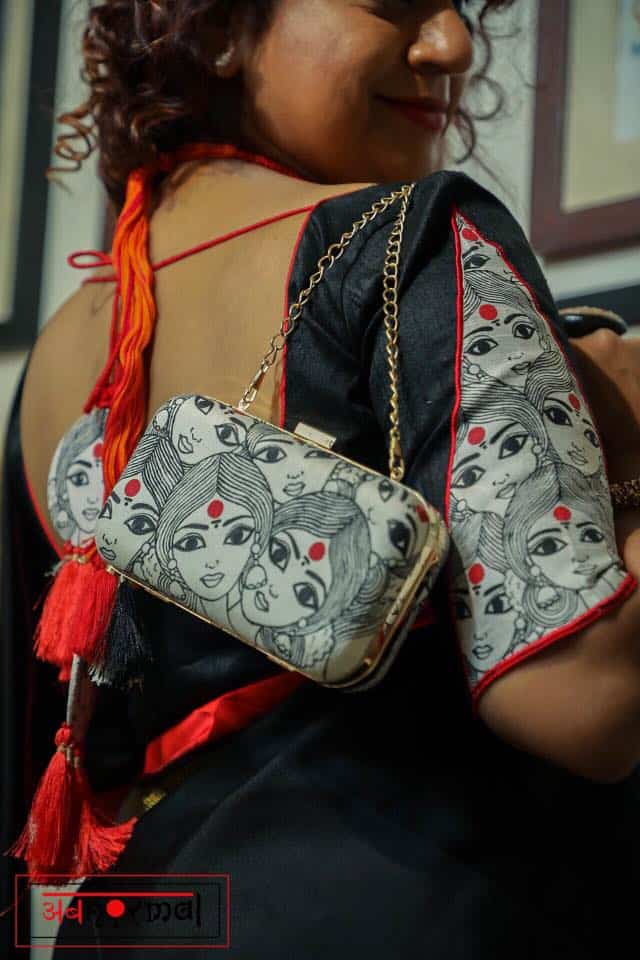 Sri Devi Blouse design
This Pure raw silk blouse in green is one of its own kind. You may have already noticed it has the Bollywood diva Sridevi painted at the back in the iconic mere haatho me nau nau chooriyan pose. This unique blouse by Abnormal is available for Rs.4000 and a similar chaalbaaz movie inspired blouse design for Rs.3000
Audrey Hepburn Blouse design
This Audrey Hepburn embroidered blouse design featuring her as the famous Holly Golightly in Breakfast at Tiffany's. She is wearing her LBD with embroidered jewelry and headband. This Abnormal blouse is also available in all sizes ranging from 34 to 48. Its priced at Rs.4000.
Dainty Pink Blouse
This dainty pink blouse with pearl and floral detailing is perfect for everyday wear. This blouse design is called "Gulaabo" and is made in pure raw silk with handmade roses in pink and white that look almost like a necklace. This Abnormal blouse is priced at Rs.4000.
#flashbackfilmstyle blouse
A typical choli you have come to associate with Rekha. Fitted. High neck. Deep & broad neck in the front. Hand pleated around the neck & sleeves for some drama- says the designer. This choli is priced at Rs.3500 and can be paired with a variety of sarees be it any occasion like- day time, party, corporate events etc.
Kaagaz ki Kashti Blouse design
This cute cotton blouse with a boat print by Abnormal  is yet another creative blouse design.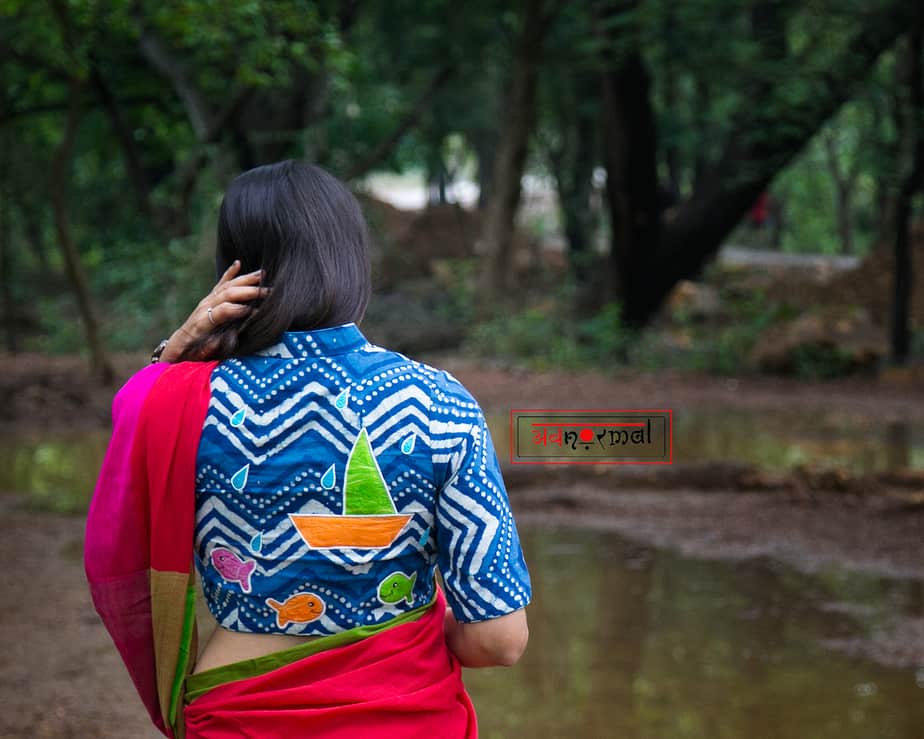 Batik print Cotton blouse
This beautiful blouse with prints containing kites, maanjha, and phirkee is done in the traditional batik print. The fabric is pure cotton and is very comfortable.
Bhanwara Print Yellow blouse design
This utterly cute blouse design in pure raw silk in haldi yellow color is all kinds of goals.
Satlada Print Blouse
This gorgeous blouse with a satlada printed on the blouse back is one of the most beautiful blouses in their collection.
Durga puja inspired blouse design
This festive blouse by Abnormal  featuring the face of Maa Durga is so unique and different.
Auto Riksha blouse design
This creative quirky blouse inspired by the kaali peeli auto rickshaws in Mumbai has a zipper on the front. The contemporary design makes it ideal for fusion wear.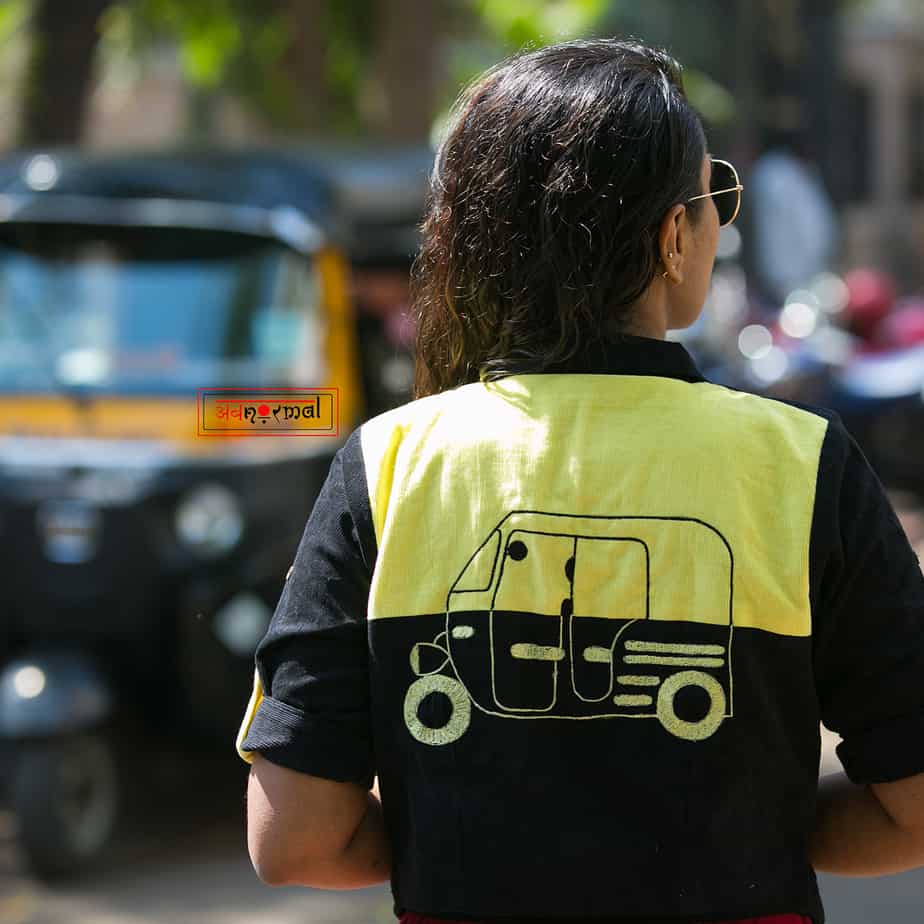 This Quirky blouse design
This black & white checkered statement blouse comes with a message no husband can deny. It is available in all sizes and is priced at Rs.3000.
Kerala Blouse Design
This kerala blouse design fully handpainted on cotton Kasavu is a Pookkalam of Kathakali, Pulikkali, Vallamkali, Thiruvathirakali & a bejewelled temple elephant encircled with marigold flowers. (Price- Rs.4000)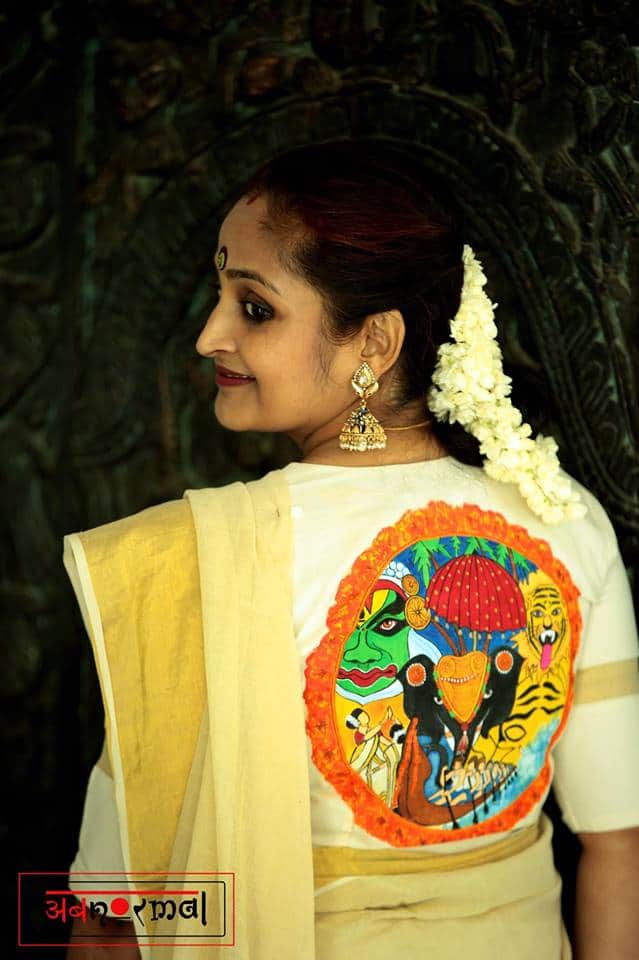 Lord Ganesh Blouse Design
Black blouse with Lord Ganesha appliqued and highlighted with embroidery. This blouse design certainly brings you a lot of compliments. (Price Rs.3,500)
The "Chashme Baddoor" choli
Here's another quirky Handpainted blouse with picture of a woman standing near a window. (Price Rs.4,500)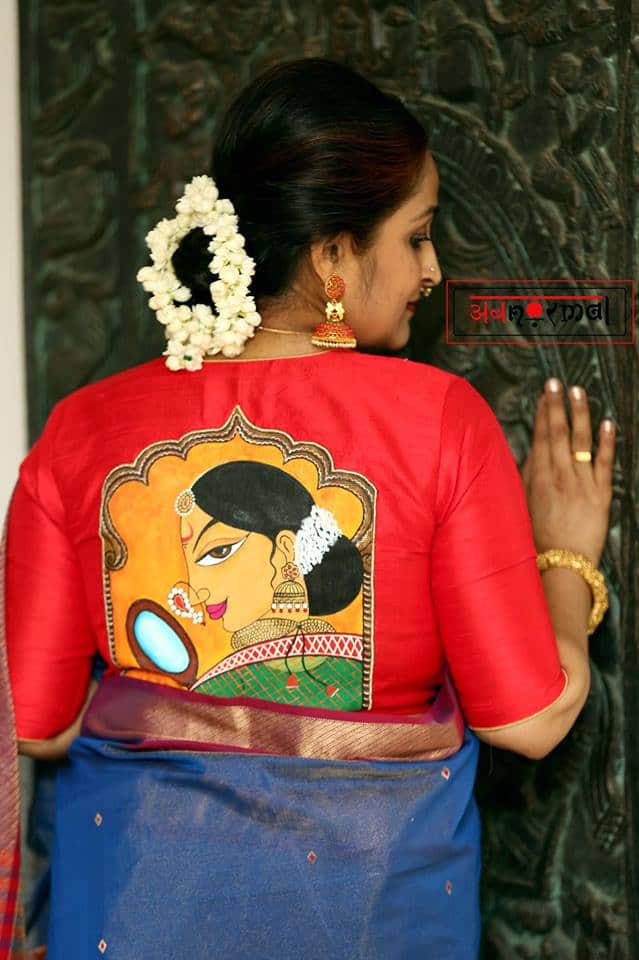 "Varnamala – Swara – Vyanjana" choli
Pure raw silk green blouse design with Hindi alphabets embroidered on on a leaf.
To sum up, these unique and attractive saree blouse designs will surely fetch you compliments. Which blouse design do you like the most? Let us know your favorite blouse design in the comments below..
For inquiries contact them on their Facebook and Instagram pages:
Facebook – https://www.facebook.com/abnormalthenewnormal
Instagram – ab_nor_mal