With the temperature soaring higher day by day, cotton is the go-to fabric which every woman prefers. This versatile fabric keeps you comfortable from day to night and one can experiment with numerous different outfits out of this classic fabric. Sarees being one of the most sought after outfits, we have found a way to amp up your cotton sarees this summer. Yes, what other than simple yet trendy blouse designs can enhance your saree look?! This post if for those working women or simply anyone who love to flaunt cotton sarees as we have rounded out 18 simple and trendy blouse back neck designs for cotton saree blouses.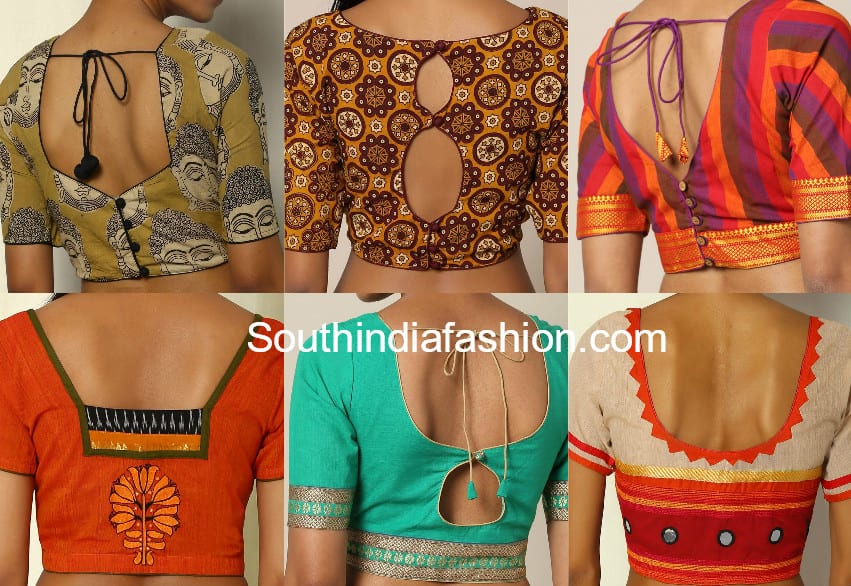 Be it any plain cotton saree or printed saree, our cotton blouse designs catalogue is sure to help you out. So on your next visit to your tailor, make sure you take these designs along.
18 Simple and Trendy Blouse Back Neck Designs For Cotton Saree Blouses: 
1. Cut Out Blouse Back Neck Designs
Experimenting with cut outs on your cotton blouses is one of the simplest and the most trendy designs to flaunt. Styling back necks with cut-outs, tassels or buttons enhance the beauty of your simple cotton blouses.
2. Key Hole Back Neck Design
A key-hole back neck design is the best design if you want to flaunt a modest yet stylish back neck pattern. The high neck style gives you the perfect grip on your shoulders and at the same time help you show-off  sneak peek of your skin.
3. V-Shaped Back Neck With Buttons
A V shaped back neck blouse with buttons or tied-cord gives an instant dressy look. This style is very sophisticated yet trendy and a definite must-try for every cotton saree lover.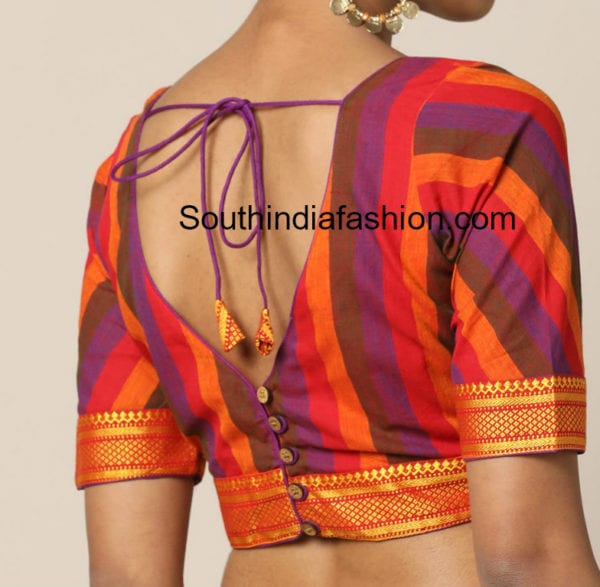 4. Blouse Design With Slit Opening On Back
Never underestimate the power of a slit. A tiny slit opening on the blouse back neck design are an instant attention grabber. Close the slit with a tie-cord or a button.
5. Round Back Neck
A simple round back neck or a round cut-out back neck design looks very elegant and is evergreen. This simple back neck design is suitable to literally every body silhouette.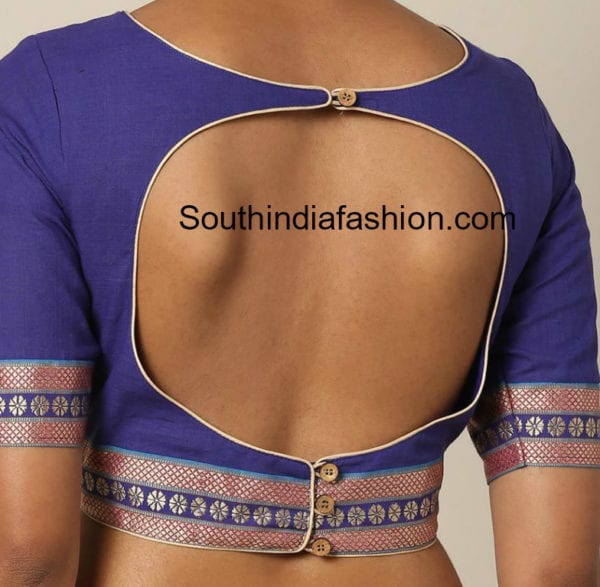 6. Pot Shaped Back Neck Design
A pot shaped back neck design with a tied-cord on the back neck keeps you very comfortable and is a stylish design to flaunt with your cotton sarees. You could again enhance this style with contrast buttons, and patchwork for a dressy look.
7. Simple V-Neck Blouse
A sharp V-neck blouse design never goes out of style. Be it any plain blouse, printed or striped, a V-shaped back neck design is the way to go. You could adorn the V with the piping, buttons, border, lace or even a tie-cord.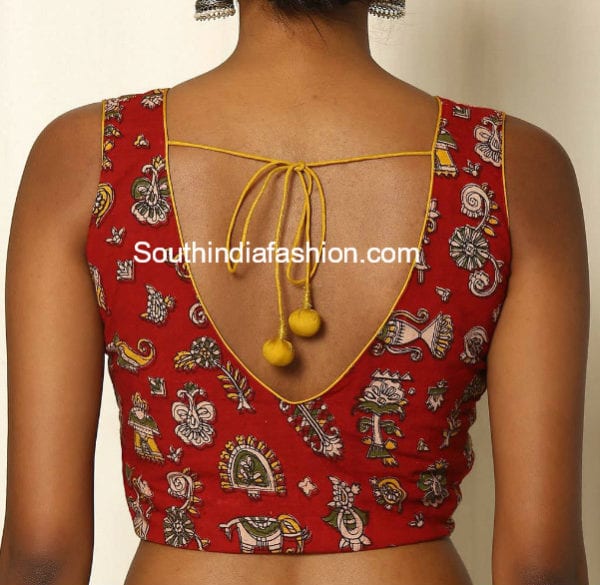 8. Patch Work Blouse Designs
Amp up your cotton blouses with patchwork on the back neck. In today's fashion scene, there are endless different designs to choose from. Square necks, V-necks, round necks and what not with pretty decorative patchwork designs beautifully compliment your ethnic look.
9. Backless Blouse With Tie-up Bow
Beat the summer heat with a stylish backless blouse designs closed with a tie-up bow. This simple style magically adds a bit of a drama to your cotton sarees and look super trendy.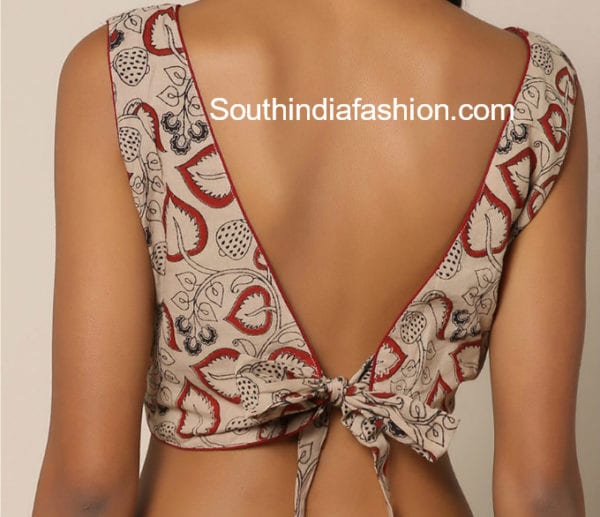 10. Blouse Back Neck With Ruffled Borders
With the ruffles trend ruling the fashion world, we all have to give this style a shot. But if you do not want to make a bold statement and play safe, then try out delicate ruffled border on your back neck blouses.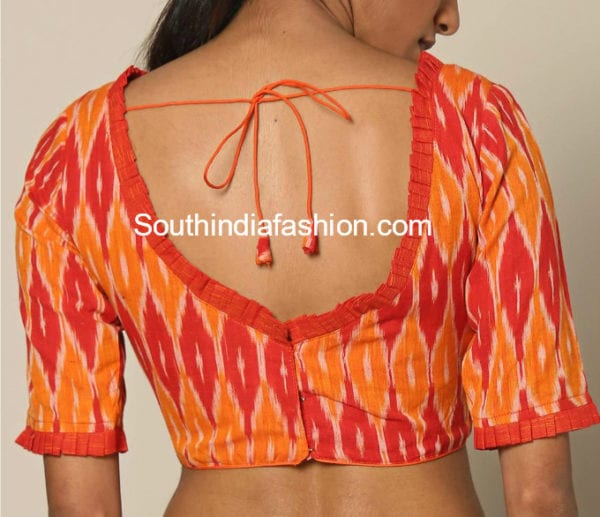 11. Blouse Back Neck With Double Key Holes
Back neck cotton saree blouses with double key holes and button adornments are super modest and trendy. So give your cotton saree blouses a fresh take this summer with these simple yet trendy patterns.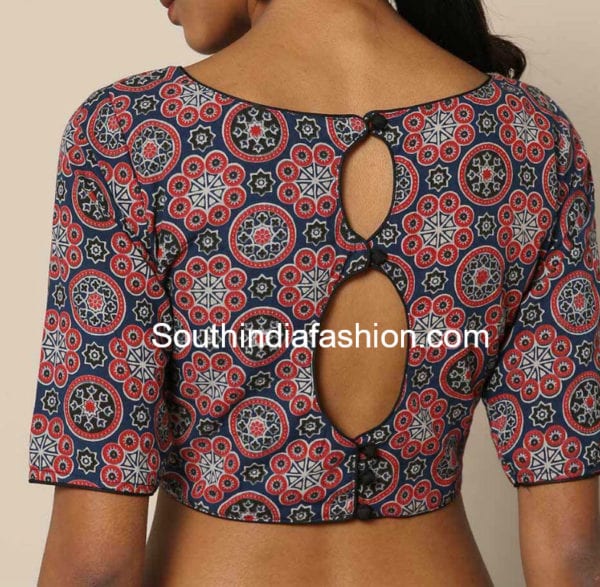 12. High Neck Blouse With Buttons
High neck cotton saree blouses with button designs on the back neck is best suitable for the older aged women or even the young or middle aged women can flaunt them at work for a very modest look.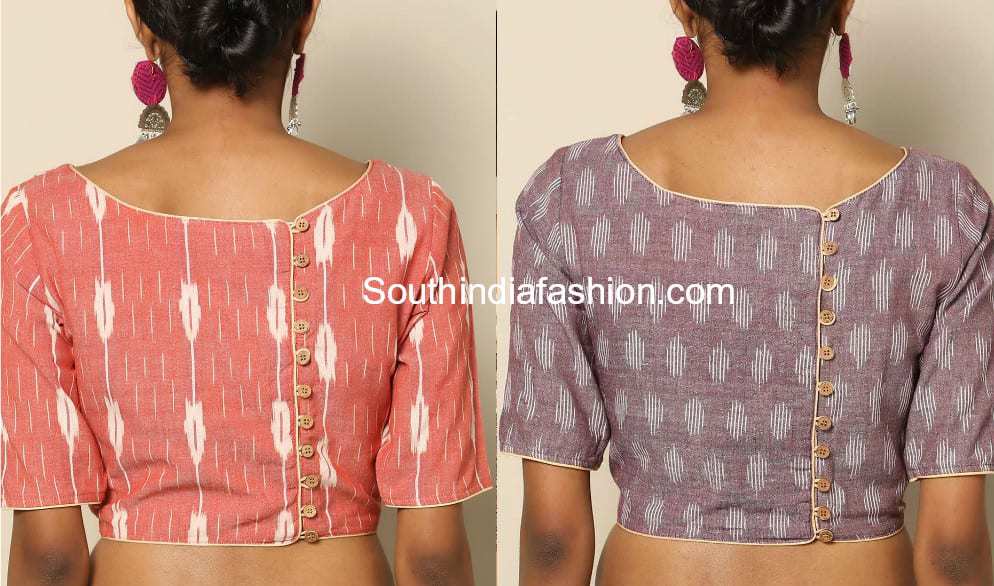 13. Collar Neck Blouse
Cotton blouses with a smart collar give a very western and classy look to your cotton blouse. So if you want to flaunt power dressing in style, then the cotton collar neck blouses are for the win.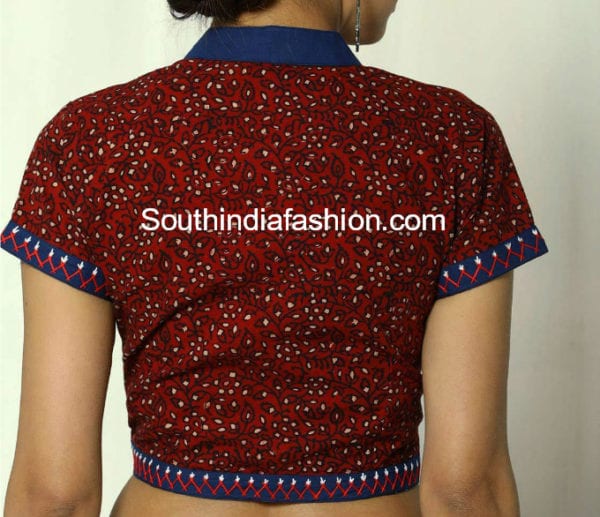 14. Triangle Back Neck Blouse
A chic triangle back neck blouse with a simple tie-cord is a perfect way to jazz up your cotton saree blouse. If you do not want to flaunt a deep neck but still want to rock a stylish pattern, then this pretty triangle back neck blouse is sure to jazz up your saree look.
15. Sleeveless Blouse With U-Neck
A sleeveless cotton blouse with U-neck design is super simple yet stylish at the same time. You could enhance the back neck blouse with borders or simply just leave your blouse plain so you can mix and match with a variety of other sarees.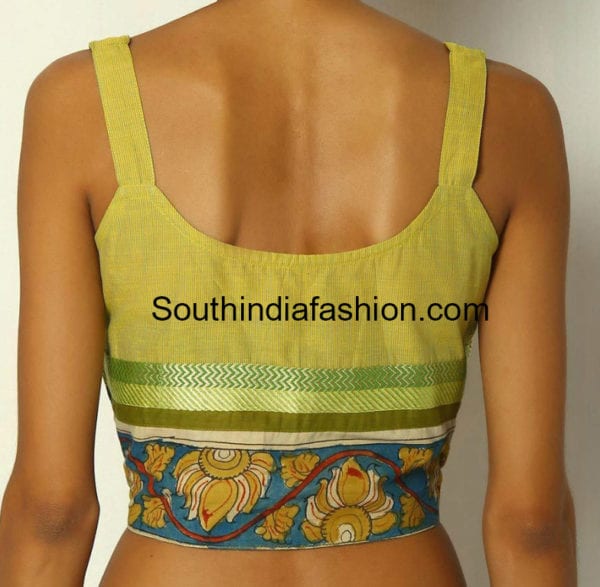 16. V-Neck Blouse With Bow
Want to add some drama with tiny details to your cotton saree blouse? A V-Neck blouse with a bow looks super cute and a perfect option to decorate your back neck saree blouse.
17. Deep Back Neck Blouse
Cotton blouses are so versatile that you can choose to dress up or dress down in them. A deep back neck cotton saree blouse design is simple, easy-to wear and looks trendy at the same time. This pattern works with any saree, any body type and any age.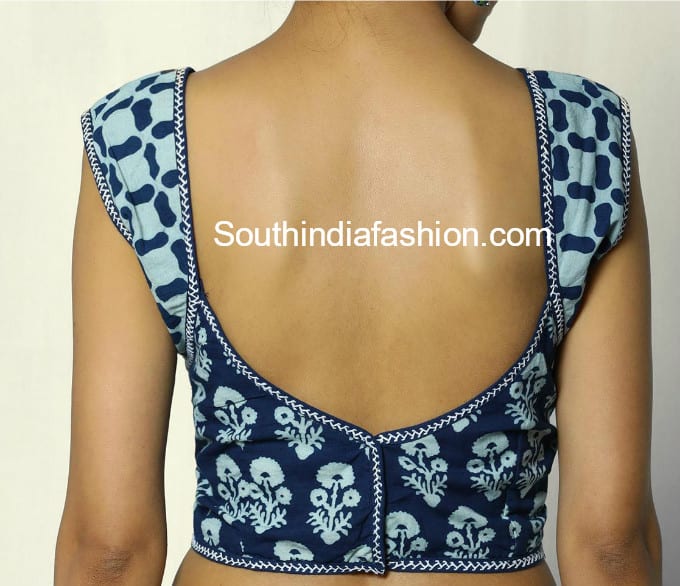 18. U-Neck Blouse
The U-neck blouse design is another versatile style like the V-neck and round neck which every saree lover must have. You could adorn it with a tie-cord, buttons and what not. But even a simple U-neck style is good enough for a classy look.
We all love to invest in simple and trendy blouse designs that remain evergreen and can be mix and matched with numerous different sarees. These blouse styles are easily available online too.
Shop Online HERE!