Sarees are the most ethnic yet elegant attire one can come up with. At the same time not everyone does saree drapes the same way.  Be it the bridal sarees that are done with pleats or the airy chiffon sarees that have a floaty drape. Also cultures and traditions define various draping styles like a Gujarati drape, Maharastrian drape. These cultural drapes are common for most kinds of sarees like silk sarees or designer sarees. Let us  see 12 different saree draping styles that you can try for weddings and other parties.
 Also See: 5 Stylish Saree Drapes of Celebrities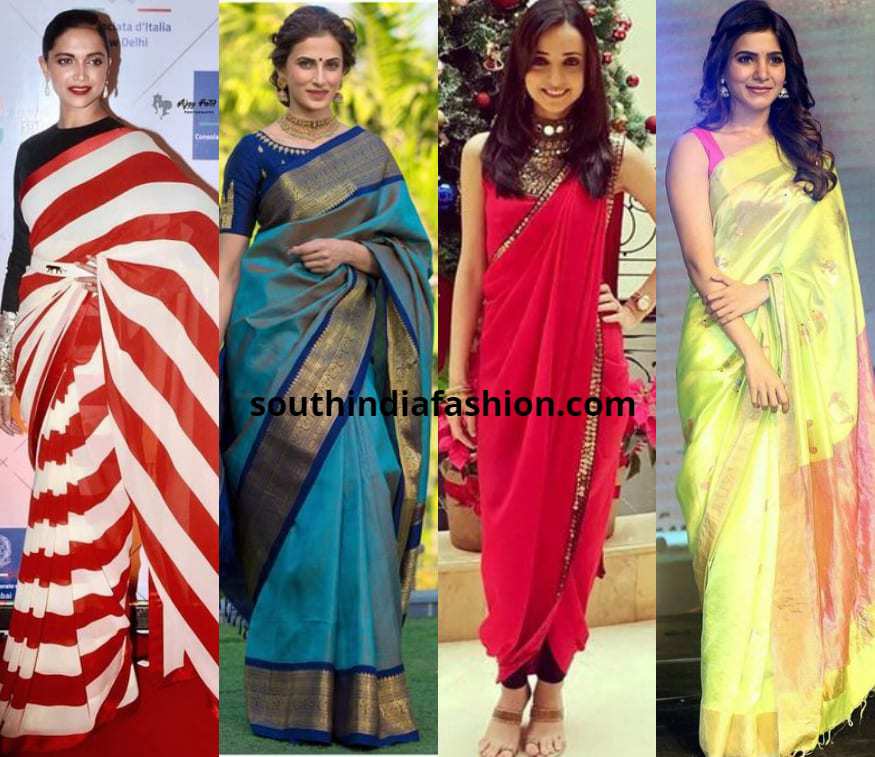 1. Pleated Saree Drape
The pleated saree drape is one of the most common drapes that we see. Be it in bridal Kanjeevaram sarees or the heavy designer sarees pleated drapes work perfectly. The most coveted saree for a pleated drape though are cotton sarees. No one can deny the elegance that pleated cotton sarees with a high neck blouse can give.
2. Floaty Or A Casual Drape
This is the easiest drape to have and to carry off. Pattu sarees, light weight sarees, net sarees basically all kinds of sarees can be draped casually with a pin or brooch securing the pallu. For a wedding guest saree this could be a great choice of drape as you will look casual and comfortable in those heavy sarees. When you drape a saree of thin fabric like chiffon or georgette or net sarees try back open blouses or zipper blouses. Front open blouses do not give a great effect.
3. Gujarati Style Saree Drape
A very popular drape, although traditionally worn by Gujarati women, this Gujarati style drape is a go to choice for many. Bridal sarees have found these to be a favorite with either a short or a long pallu. Our choices for this drape would be Banarasi sarees, Patola sarees, Bhandini sarees, Leharia sarees with a short pallu.
4. Pant Style Saree Drape
A trendy saree drape that is breaking charts is the pant style saree draping. Easy to wear and looks glam. Perfect for reception sarees and cocktail outfits for wedding guests. As a bride this would be a choice as mehendi wear.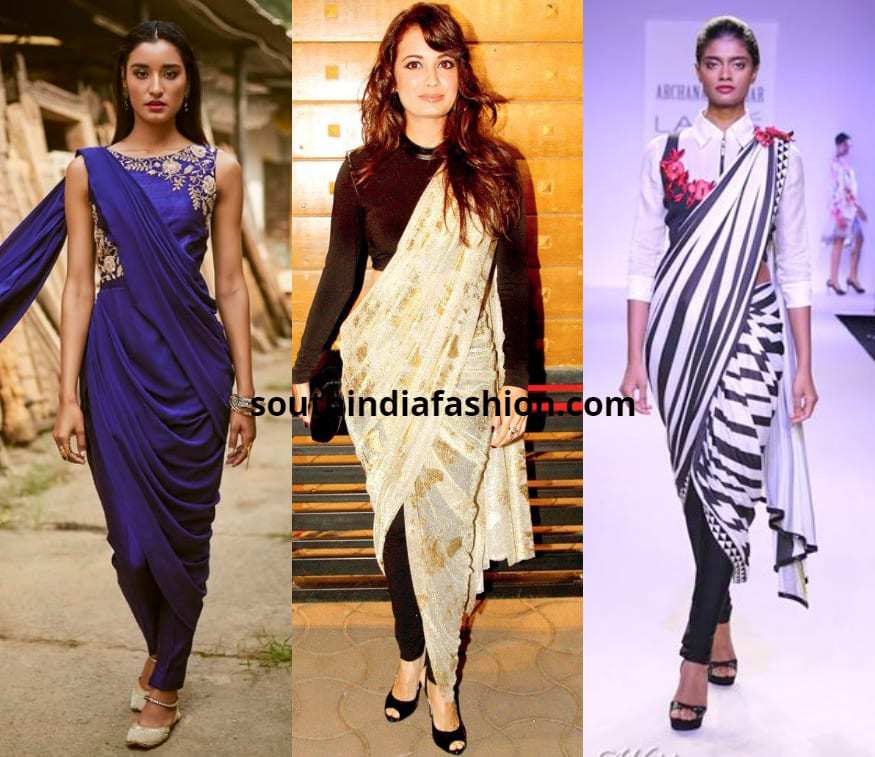 5. Dhoti Style Saree Draping
Dhoti style saree draping is very similar to a pant style saree and is a heavy mix of tradition and modern. Dhoti sarees have been popularized by gorgeous actresses like Samantha, Shilpa Shetty and Sonam Kapoor who have worn and rocked this saree drape.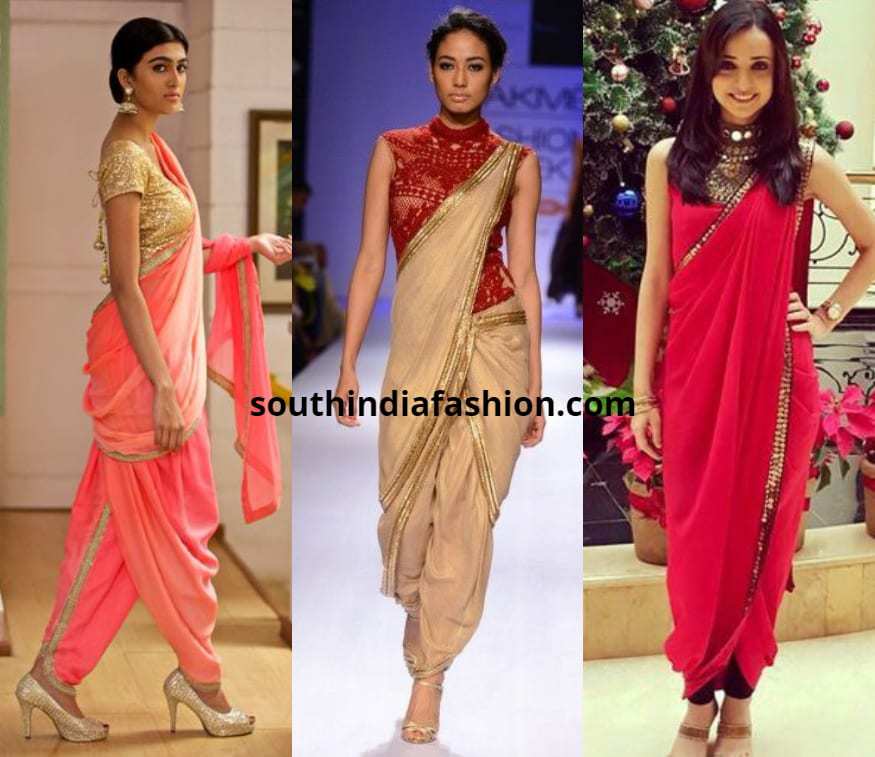 6. Belted Saree
Belted saree drape is perhaps inspired by our traditional waist chain on bridal sarees. Try on a thin belt, broad belt or even a cloth belt. Get inspired by these celebs and choose your style now.
7. Saree On A Skirt
When you can try a saree on pants why not on a skirt or a lehenga? The skirt saree is such an interesting drape. Perfect for bridal sarees, bridesmaid sarees or even wedding guest sarees. It has a saree draped in a unique way over a skirt or a lehenga.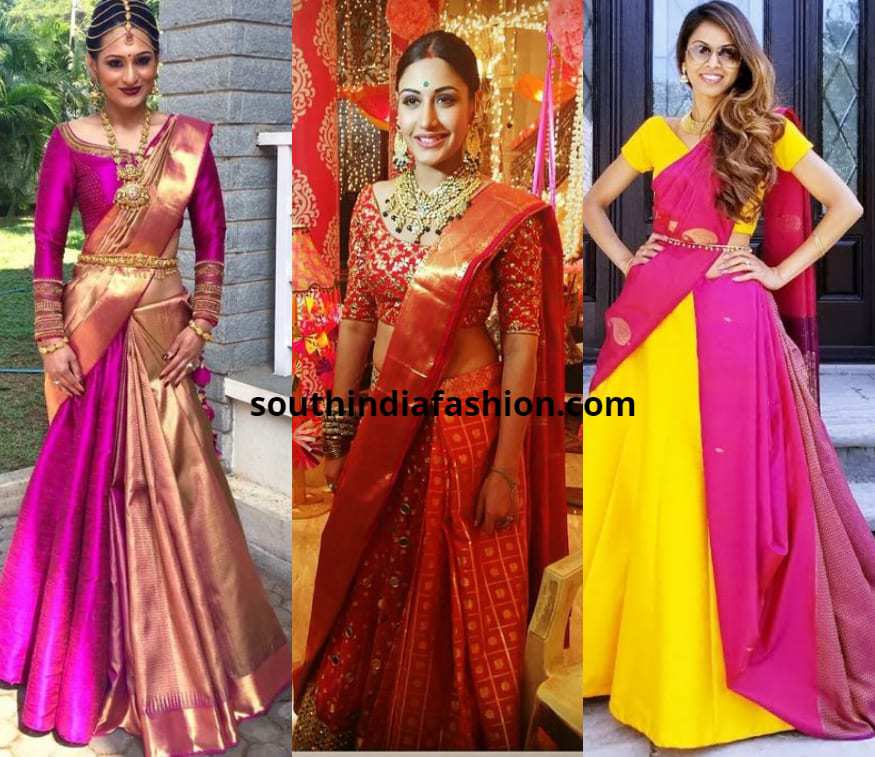 8. Lehenga Style Saree Draping
What if you want to wear your saree like a lehenga? Well, that is possible. With a simple drape of arranging single pleats across your waist line and taking the pallu either the regular way or the Gujarati way you have a fancy lehenga to wear without cutting up your favorite saree!!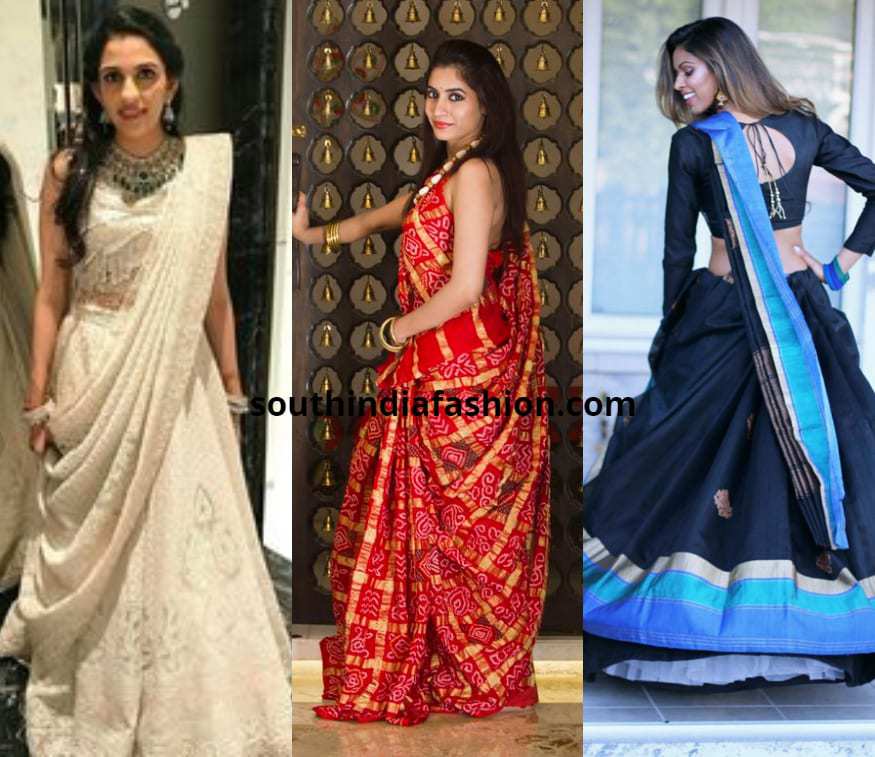 9. Bengali Style Saree Draping
The white and red special sarees are so pretty in that different drape. The way they put the keys on the end of the pallu to finish the Bengali drape is so exotic. You can try it out in their special length saree or even in a regular saree, needless to say Bengal cottons are a great choice for this.
10. Maharastrian Style Saree Drape
Nauvari Sarees are the specialty of Maharastra like the sarees worn by Priyanka and Deepika in the song Pinga from Bajirao Mastani. It is an intricate drape with a longer length saree and looks so beautiful. They pair it with the traditional nosepin which is another must have accessory.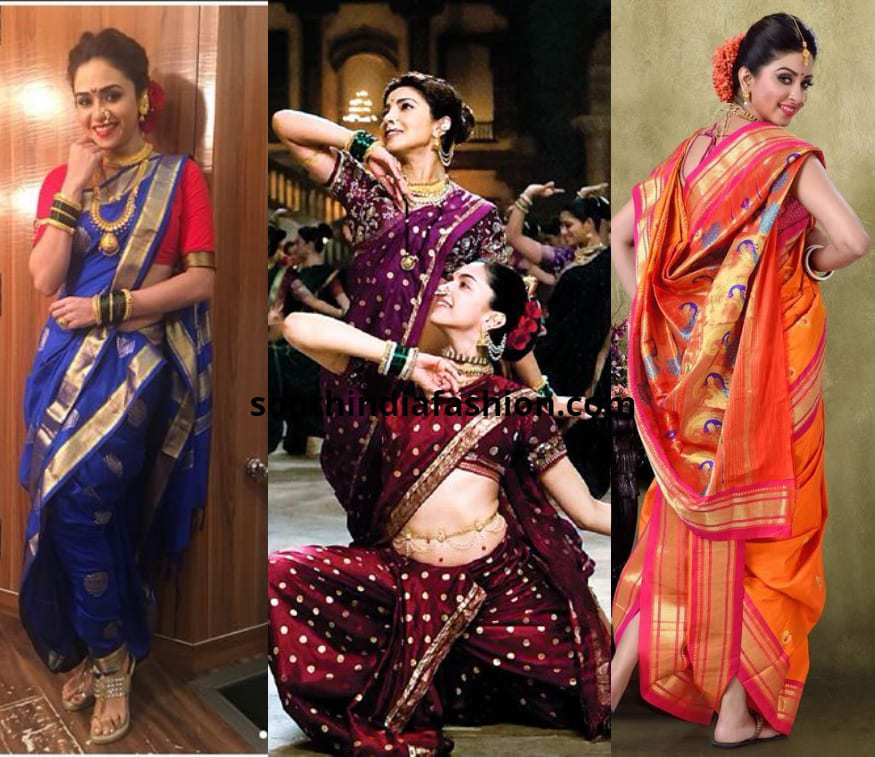 11. Retro Saree Draping Styles
When you are thinking of a retro theme for your pre wedding, make sure your bridesmaids try out this retro saree drape. Looks excellent in georgettes and chiffon sarees with bling in them.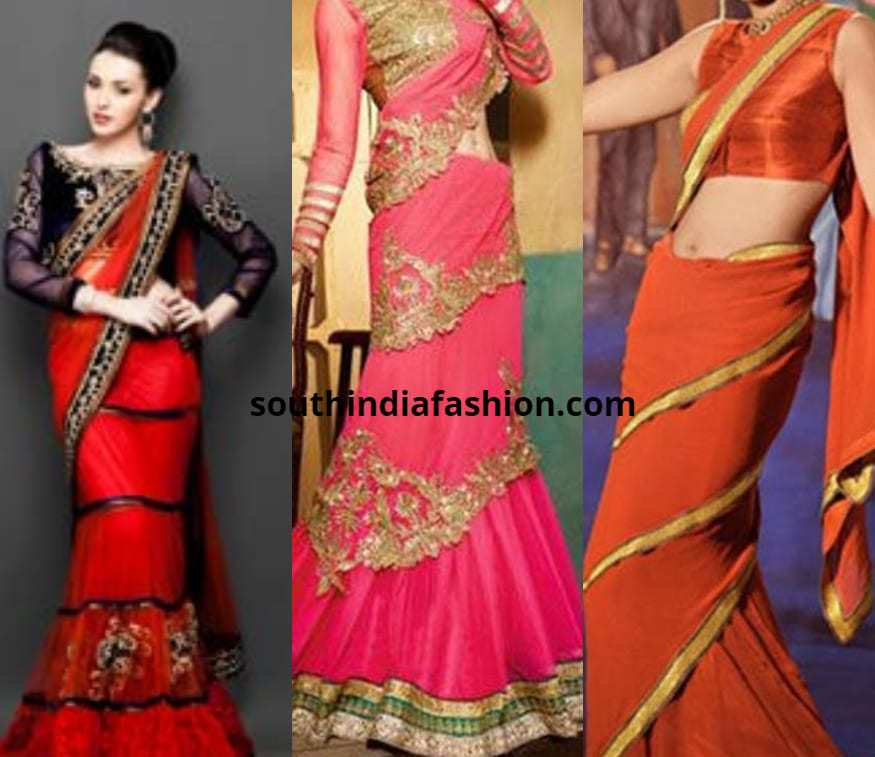 12. Scarf Style Saree Draping 
When you want to wear your saree around your neck, you should just do it as it is quite the trend. You can make it look like a scarf, add some glam to it with a belt and some funky accessories!!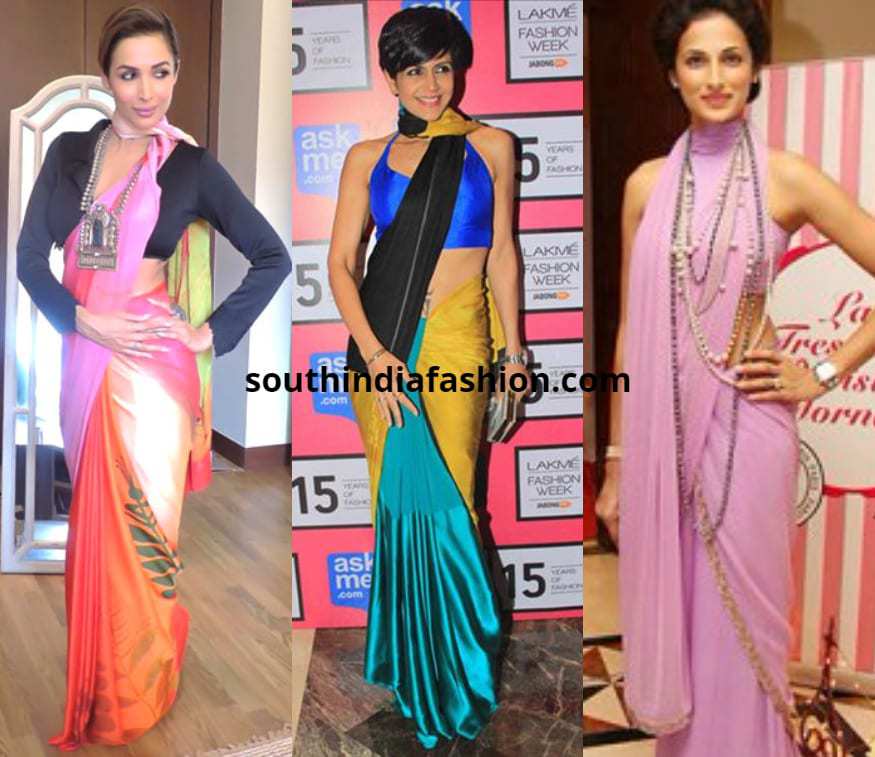 These 12 saree drapes can be tried out using bridal sarees, heavy work sarees, Banarasi sarees, Kanjeevaram sarees, chiffon and all kinds of light weight sarees too. Do let us know your favorite saree draping style!!
ALSO SEE: 6 Amazing Ways To Style Your Sarees
 Tags: latest saree draping styles, saree draping styles for wedding, modern saree draping styles, saree draping styles for party, innovative saree draping styles, saree draping styles for wedding reception, saree draping styles to look slim