South Indian bridal hairstyles are predominantly braids. Especially for the main ceremony the brides tend to go traditional. Now, what kinds of hairstyles are exactly trending right now for the current wedding season is as follows.
1. Braid With Flowers
A Braid is literally a must do hairstyle for the south Indian brides. A lot of them are not a fan of those heavy hairstyles where venis, billas and lot of hair ornaments are added. For all those brides, use fresh flowers like jasmine, lillies or roses to come up with a perfect bridal braid. You can add fresh flowers even in strings or wrap it around your pre done braid. Jasmine works perfectly if you are wearing a Kanjeevaram bridal saree.
2. Short Hair Braids
When we think of south Indian bridal hairstyles, we immediately think of hair extensions for you are expected to have a long braid. That is so not the case right now. Brides with shorter hair opt for cute fish tail braids with small flowers or hair ornaments. It looks cool and perfect for the modern brides.
3. Braid With Venis And Billas
For all you brides who are not flower fans, this braided hairstyle is just for you. Add a few venis (or pre made small crescents of fake flowers done to match your saree) and a string of billas or those hair ornaments for extra bling. You have a wide variety to choose from ranging from antique to temple jewellery style to stone studded. You can pick based on your saree and the prints on your saree.
4.  Braid With Flowers, Venis and Billas
The brides who want a heavy hairstyle, and those who can sure handle it with the heavy saree and jewellery, this would be a perfect choice. Apart from the hair ornaments or billas, you add flowers either fresh ones or flowers that are attached to the billas already matching your saree. When you opt for this braid go for flower colors like pink, red or natural colors and try avoiding colors like blue, green if you do not like OTT hairstyles.
5. Bejewelled Braids
These are nothing but braids covered by an opulent gold or stone studded braid that covers your actual braid. This can be done for all hair lengths and looks very grand. Our pick though is the antique braid choice which would work well with bridal Kanjeevaram sarees.
6. Up Do
An updo is not a common south Indian bridal hairstyle. However, if you are not a braid fan then this would look really nice on you. You can choose to add some nice bling to your up do and also flowers.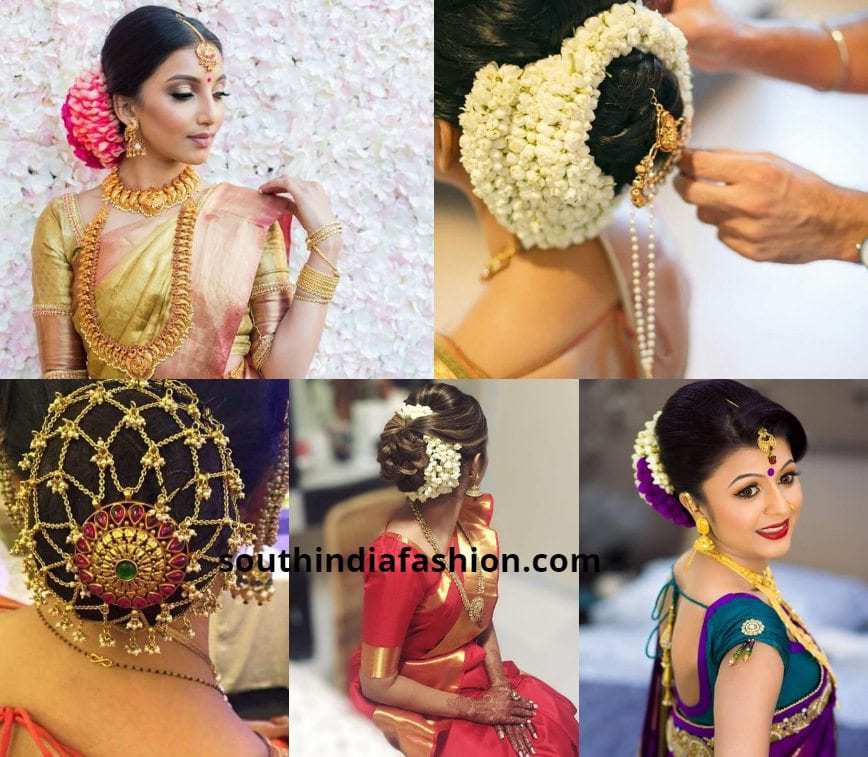 Always remember to try out your hairstyle up front and ensure you can manage it if it gets heavy. Have someone to help you to adjust the braid, flowers or the ornaments on your hair. These South Indian bridal hairstyles are the choice of today's brides and you will look equally fabulous if you try it!!
Pic Courtesy: Pinterest