Yellow Kanjeevaram sarees are a part of almost everyone's wardrobe. They spread a warm cheerful glow and suit almost all skin tones. You can change the look of the saree by pairing it with different color blouses. Here are the five best blouse combinations for yellow sarees that we feel will look awesome.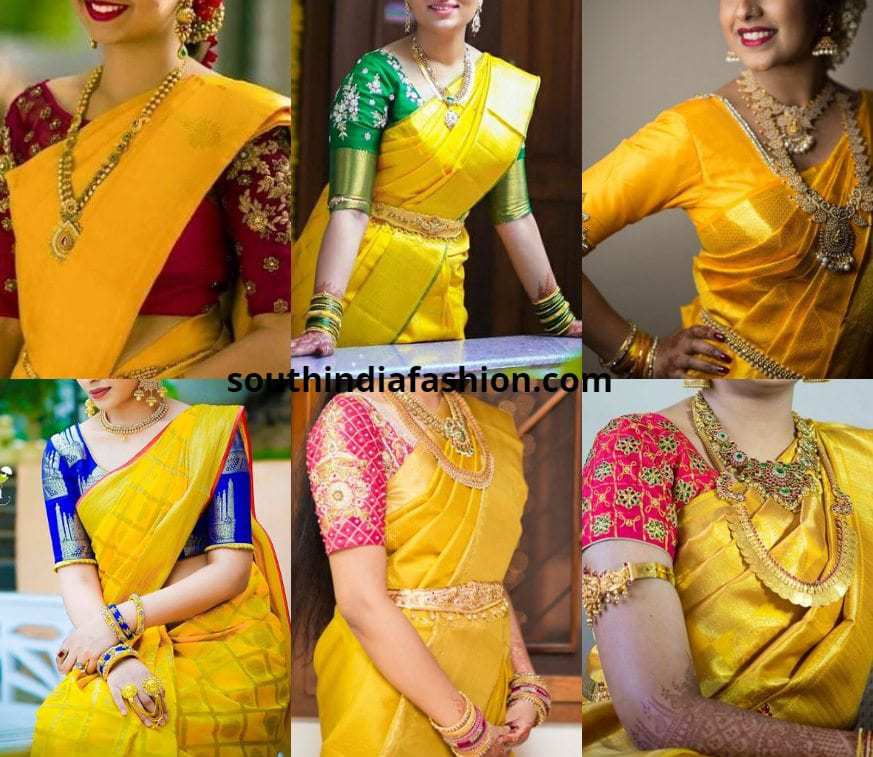 1. Yellow Saree With Yellow Blouse
A yellow Kanjeevaram paired with a yellow blouse is a good combination. It Is not very striking, but you can wear some interesting jewelry and get people to focus on your accessories. Also you can have your blouses made heavy with a lot of maggam work and add bits of color through that.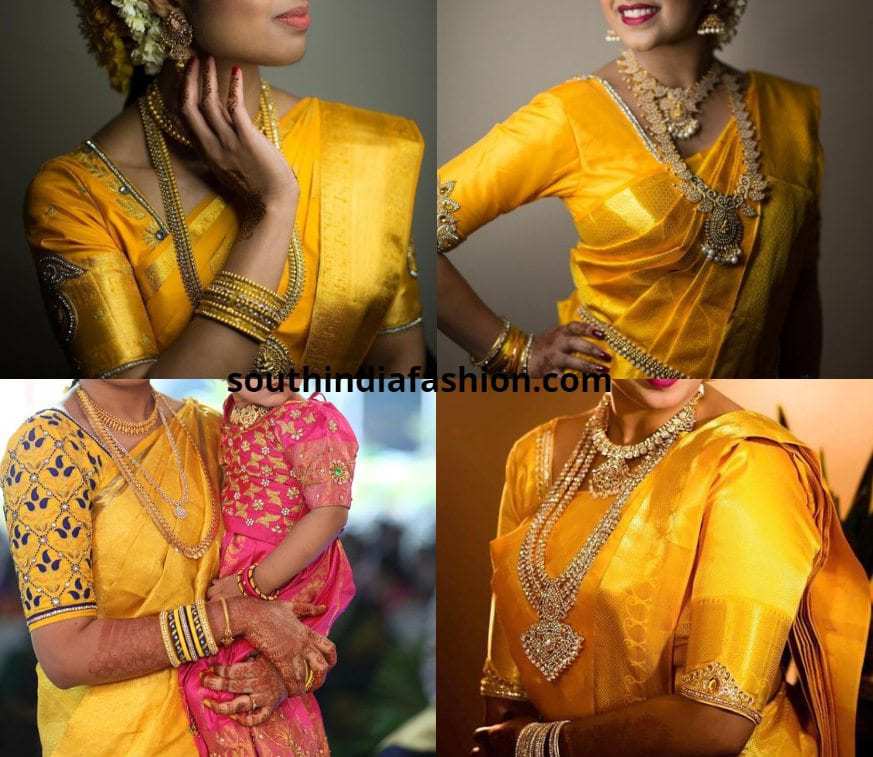 2. Yellow Saree With Red Or Maroon Blouse
One of our favorite blouse combinations, a yellow Kanjeevaram saree with a red or a maroon blouse, be it plain or with embroidery looks extraordinary. It gives that added richness due to the deep colors of the blouse and is a perfect bridal choice.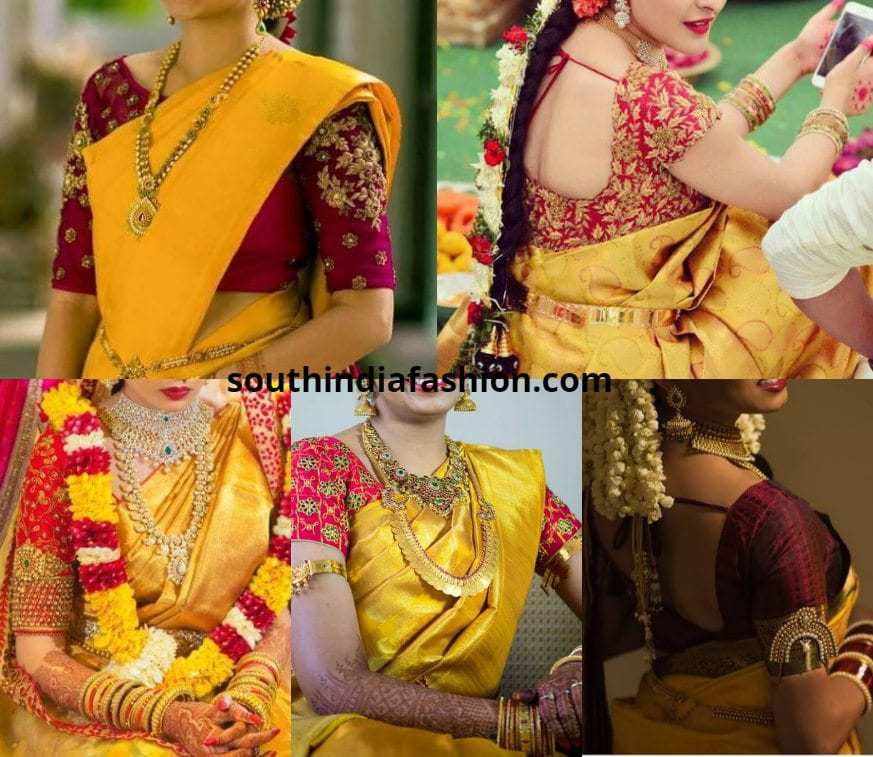 3. Yellow Saree With Pink Blouse
A pink blouse with a yellow Kanjeevaram is very pretty. This is more suited to the brides of today and it takes its spot in every trousseau. You can go with light pink, dark pink or an eternal favorite- hot pink. A lot of heavy work, interesting puff sleeves, this would sure be a hit.
4. Yellow Saree With Blue Blouse
A striking combination, yellow saree with a deep blue blouse is sure a winner. At the same time, a yellow Kanjeevaram paired with a sea blue blouse is equally awesome. It is a unique combo and everyone will love it on you.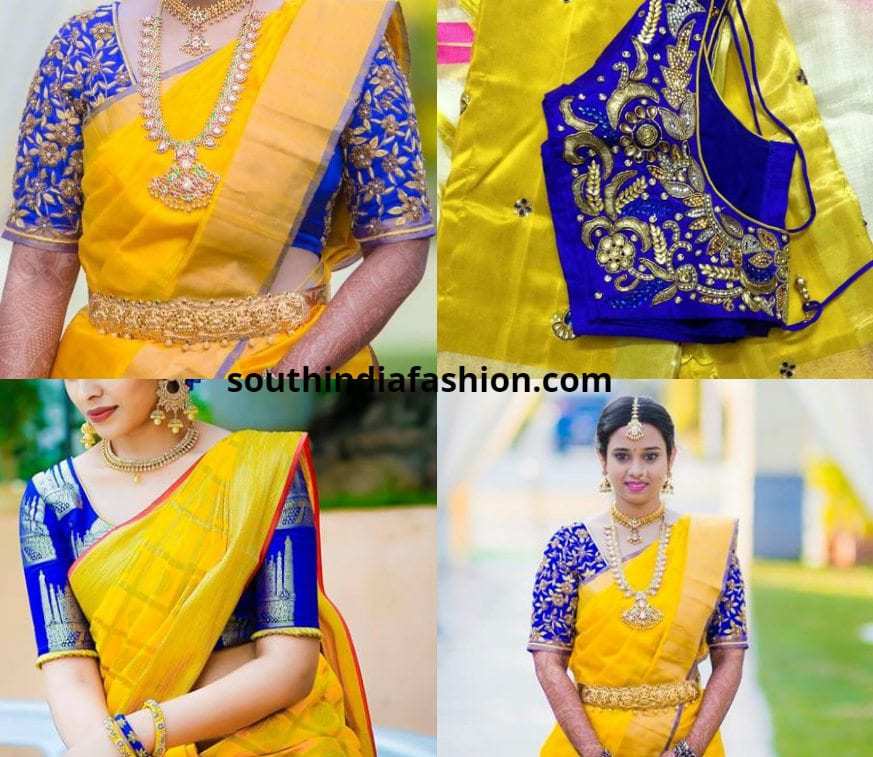 5. Yellow Saree With Green Blouse
A perfect traditional combo, yellow saree with a green blouse is a sure winner. Old is gold cannot be explained better than this combination. This has been a favorite of the yesteryear brides and it has the same pull with the trendy brides of today as well.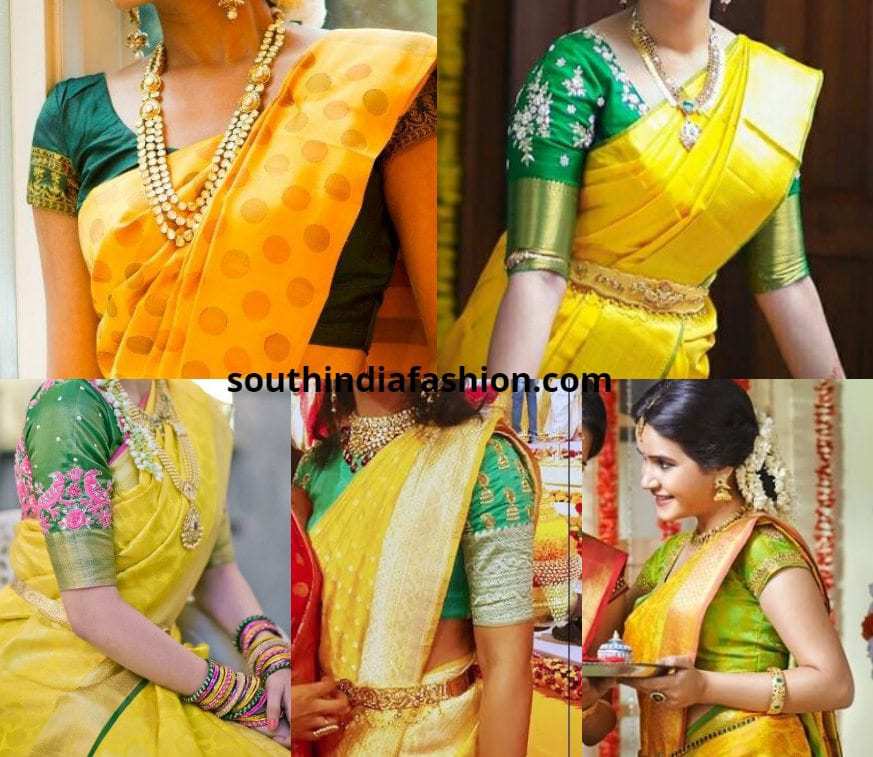 These five best blouse combinations will surely look beautiful with your yellow Kanjeevaram saree. Apart from these options you can try out purple or even deep multi colors with tones of pink, green and blue. You will look beautiful!!