How many of us have that perfect LBD to wear for all the evening events? Well in most cases there is more than one LBD or the little black dress that we call it. Something that can never be a fashion faux pas. So is there like an ethnic equivalent to that? Well why cannot there be? Black designer sarees or rather the BDS as we like to call it, is your answer for the Indian LBD.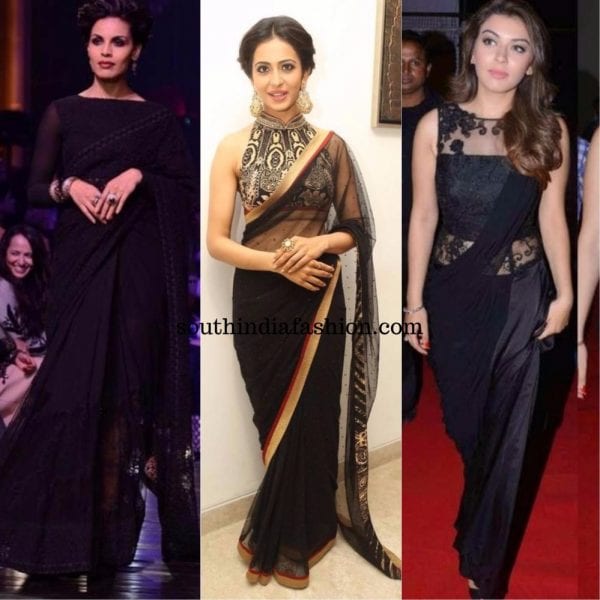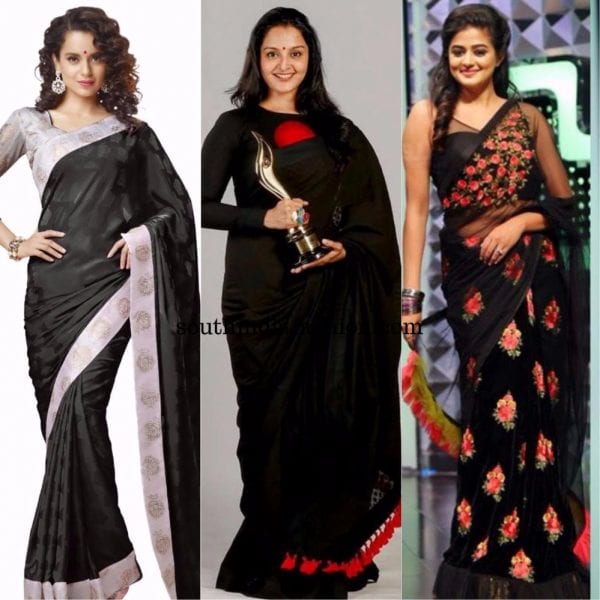 Black designer sarees are a must have. Be it any kind of fabric and any kind of borders black makes one look divine without much effort put in. The best thing is it gives the occasion added charm and class. Beyond the beliefs of not wearing black for auspicious occasions nowadays a black saree wardrobe is on the rise. Black designer sarees are not just for red carpet. If you are wondering what kind of black saree will suit you the best, there are plenty of options. If you like fabrics like tulle/net opt for those kinds of black sarees. They are sassy and make you look like a million bucks. You can choose delicate ones or even sarees with heavy work on them. When you go for tulle sarees take care of choosing a fancy underskirt to add more fun to the saree.
If you are not comfortable with transparent fabrics, opt for sarees that are half velvet and half a soft fabric. Else options like georgette and chiffon work beautifully too. Popular combos include black and gold for bling sarees and black with red or white for feisty sarees. Florals on a black background looks equally cool. The Sabyasachi that Anushka Sharma wore is proof of that!! Black designer sarees are also easy DIY where you can take a bolt of black fabric and attach fancy borders to it. Neon pink and orange are popular options for these!!
Just like how you would have opted for smokey eyes with beautiful lips the same makeup will look great with black designer sarees. With respect to jewelry you can bling it on depending on the occasion. Take care not to go overboard though. You can add a belt to the saree and make it more modern. Also try it out with a crop top.
So ladies the BDS or black designer sarees are as important as your LBDs. So go ahead and pick up a few of them!!