How many of you loved Baahubali 2: the conclusion for not just the grandeur of the war scenes, the precision of the sequences but also for the royal fashion that made us look at Devasena in awe. Well, if you are one of them like us then lets talk about how Anushka Shetty transformed into the strong willed princess Devasena and showed us how princess fashion is in trend now.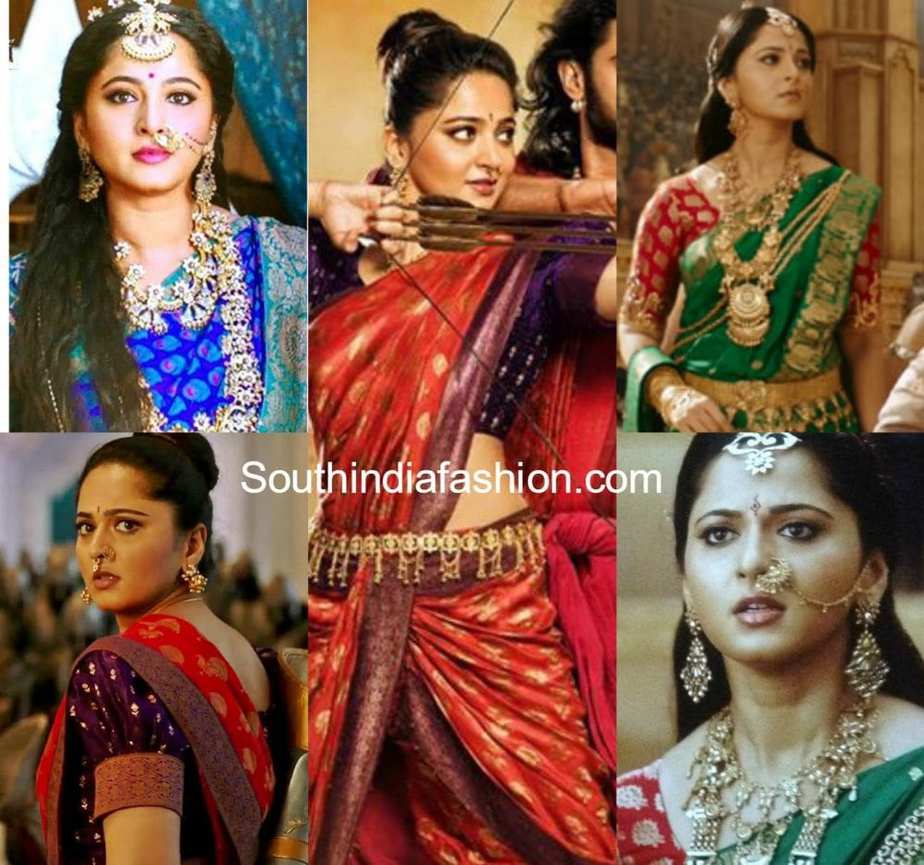 Let us talk about Anushka aka princess Devasena's attire first. When we envision an Indian princess we only think of stone encrusted difficult looking clothes. In Baahubali, Anushka showed that a princess can take saree dressing to a whole new level. Rich handloom fabrics and silk like Banasari and Paithani weaves were dominant. The sarees though rich have a beautiful fall to it making it a dream drape. The stylists have used a contrast combinations to most of Anushka's ensembles and this brings out the richness of both the sarees and the blouses. When you want to make a Baahubali style blouse for your next saree, there are only two obvious choices. A vintage puff sleeve or the regal three quarters sleeve.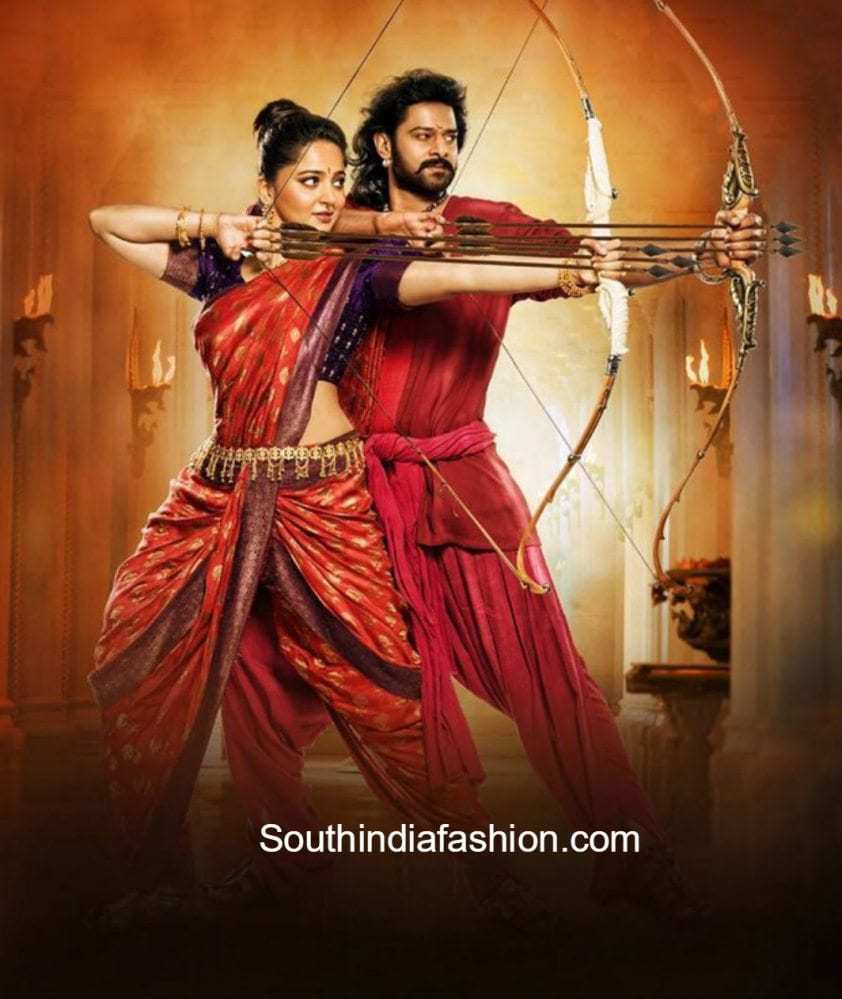 Care has been taken by the team of Prashanti Tipirneni, the costume designer of Anushka in Baahubali to pay great attention to detail. Devasena the young princess is seen in sarees of brighter hues showing the carefree spirit of the younger generation. Also the choice of colors to stand out from the back grounds has been amazing. Each saree is a special 12 yards of fabric that has been woven exclusively to set to the drape.
Every look has been carefully curated. Be it the rich blue saree with the heavy jewelry when princess Devasena goes with Amarendra Baahubali which depicts the richness of her kingdom she comes from.
Now that we are talking about Anushka's sarees in the movie we should obviously be talking about her jewellery. Again emphasis has been given to each character. Anushka being a crown princess has been given feminine looking jewellery which is like how a young girl would want her jewelry to be. For each of her looks jewellery has been given special importance. The hunting scenes has her in simple jewelry while the festive scenes clearly has grand jewelry. The use of yellow gold is way more when compared to stones probably trying to show that down south yellow gold was a favorite when compared to the kundan and polki which was extensively used in the north.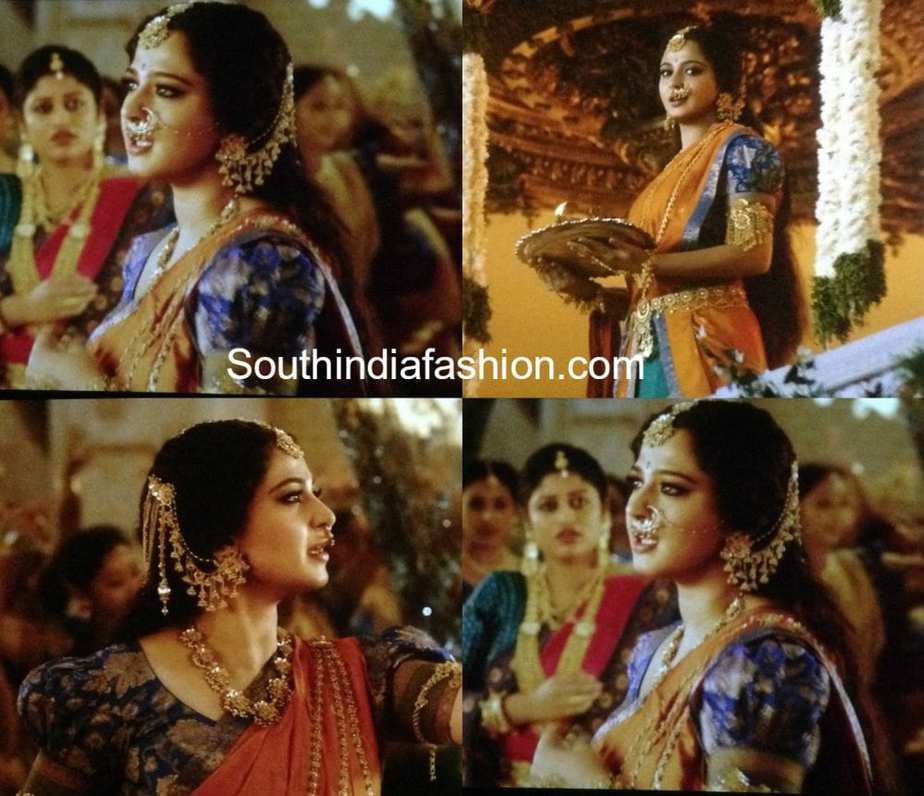 Amarpali the official curator of jewellery for Bahubali 2 says that there were more than 1500 pieces of jewellery exclusively made for the movie. These include waist bands, arm bands, toe rings, heavy neck pieces, jhumkis and dangler earrings and much more. They also say that there are certain pieces that can be deconstructed and worn as an entirely different piece of jewelry. Owning to the vintage time period there has been extensive use of maang tikkas, septum rings and also very fancy ear chains. The pretty pair of ear chains which Anushka wears for a "pooja" totally is an eye catcher.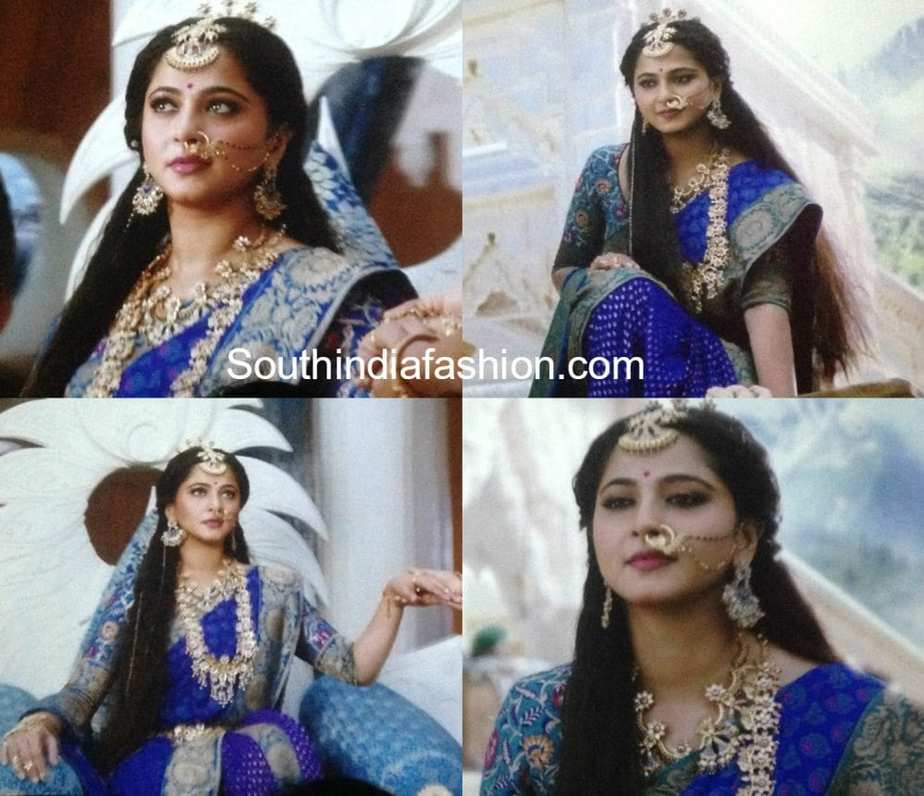 Anushka in her warrior princess avatar does not fail to stun us. She shows us how a princess would have been right from her stance, her talk and the regal posture that she held through. Her bright sarees with the traditional drape, her heavy gold jewellery gives us major goals as whatever she wore is timeless. What is your favorite look of Devasena? Do let us know.