These days modern brides don't like to go OTT when it comes to their bridal jewellery. With so many rituals to attend during the wedding ceremony, the heavy bridal jewellery becomes a big problem for brides. So, if you are also one such bride who don't like wearing heavy jewelry even on your Big Day then don't you worry as here we are suggesting you some minimal bridal jewellery ideas.
Pearl Jewellery
Even if you don't like to be dressed up heavily with jewelry, pearls are something that everyone loves to wear. You can either pick up a simple pearl necklace or you can also choose a layered pearl necklace as it looks quite classy. If you want to add the royal factor to your jewelry then you can wear pearl with gold or diamond necklace or a necklace that have kundan and pearl work.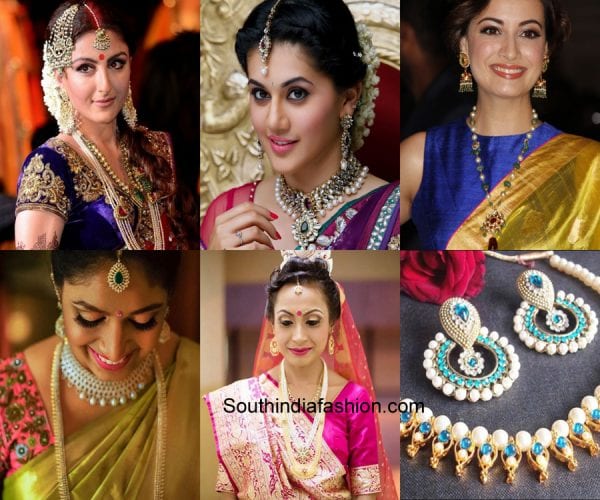 Layered Kundan Necklace
Because the kundan jewelry has a Royal charm, every bride loves to don a kundan necklace as their bridal jewellery. If you pick up a layered kundan necklace then it will make you neck look fuller and then you don't need to add any another piece of jewelry in your neck. Layered kundan necklace gives a clean and finished look to the bride.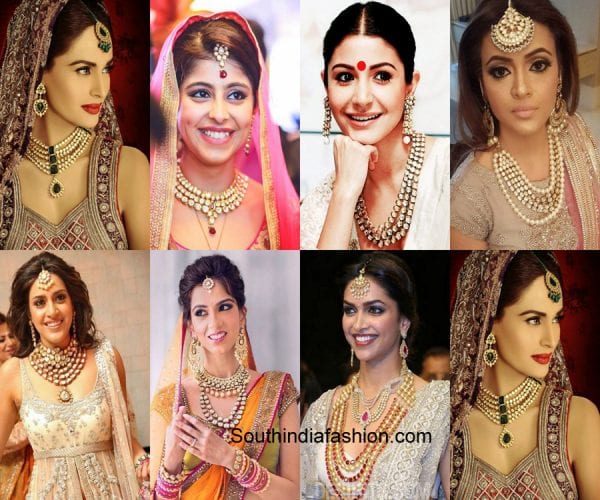 Thin Choker
Usually in weddings the bride wears a broad choker neckpiece but if you want your bridal jewellery to be minimum then you can wear a thin choker. If you are wearing a stunning bridal outfit and you want that everyone's focus should be on your outfit and not your jewelry then go for a thin choker.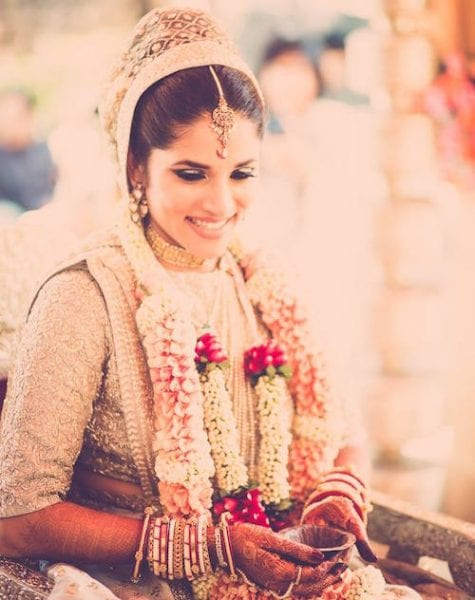 Glitter in Gold
It's not necessary to load yourself entirely with the gold jewellery rather you can just stick to simple gold necklace like temple jewelry. A single gold necklace looks good and also makes you glitter in the wedding with the minimal jewellery.
Matha Patti
You have to wear jewelry in all the wedding functions, be it your sangeet, mehendi or wedding. Especially you can go with light jewellery on your sangeet and mehendi. Try this option of just wearing a matha patti and earrings and no necklace or any other jewellery for sangeet or mehendi.
No Rani Haar
Rani haar in itself is so heavy that you won't like to wear it if you want minimal jewellery on your wedding day. So, rather than going for a rani haar what you can do is opt for a thin choker as suggested above or a short necklace and along with it you can wear a long sleek necklace. This won't even look OTT and infact it will look more classy.
Diamonds
Last but not the least, yes we are talking about diamonds. Every girl love diamonds then why not wear one unique diamond piece on your wedding day. The diamond jewelry won't look too heavy and instead it will give you a very sophisticated look. And yes just forget to ask your would be hubby for a classy solitaire as engagement ring.
We hope this blog post will be of great help for all those brides who want to wear the minimum jewellery on their wedding day.