Indian Weddings are all about fun, dance, party, drinks, finger licking food but the most important is dressing up in proper Indian Ethnic wears. The reason why girls and women love the Indian weddings is just because they get to wear the best Indian outfit, ethnic jewellery, make up and lovely hairstyles.  But what happens most of the time is that girls are easily able to decide what they want to wear, even make up also but what bothers them much is which hairstyle to choose. We are putting an end to your dilemma by suggesting you 11 celebrity inspired hair styles for the next wedding you attend.
Sonam Kapoor Hairstyle: Side Parted Loose Bun
You can copy the same Sonam Kapoor hairstyle , all that you need to do is side part your hairs and tie a messy bun in the center. You can keep this hairstyle with saree and also with lehenga choli.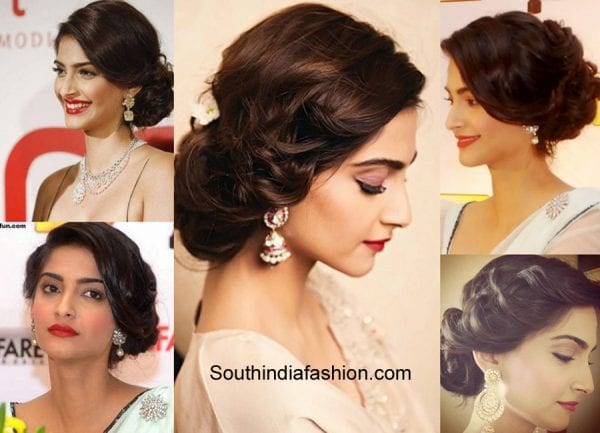 Deepika Padukodne Hairstyle: Half Up Half Down
This Deepika Padukodne hairstyle is very easy to do, just side part or center part your hairs and create a sleek loose braid on each sides or you can simply take few strands of hair from both the sides and then pin them at back and leave all the rest of the hair open. The best thing is that you can create this hairstyle in just 5 minutes and this hairstyle goes along will all type of Indian outfits.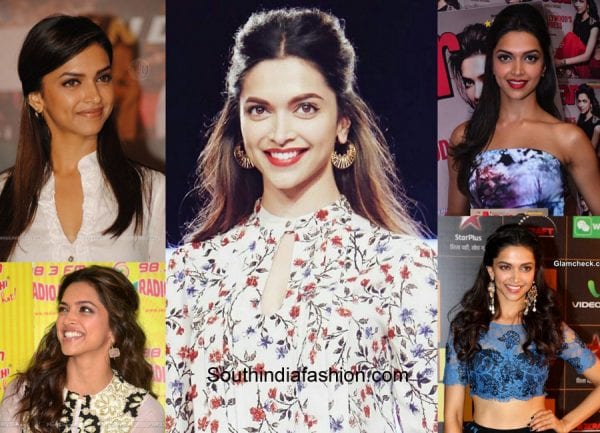 Kareena Kapoor Hairstyle – Simple Bun
Kareen Kapoor has been spotted wearing heavy jewelleries to the wedding ceremonies. However, she has usually set her hair in a simple bun most of the times. This is the kind of celeb hairstyles that many will definitely admire, especially when complemented with the resplendent Indian traditional outfit.
Esha Deol – Middle Parted Bun
Esha Deol's bridal hair setup was also very simple. Even if you are not the bride and just attending a wedding ceremony you could try her bridal bun which she had parted in the middle. To make it look even more amazing, she had left some curls loose hanging by the side of her face over her ears.
Dia Mirza – Half-up Half-down Hairstyle
Dia Mirza looked absolutely stunning with her beautiful hairstyle. If you have long locks just like her, you can curl your hair and clip back half of your hair and leave the rest of the hair open.
Shilpa Shetty – Half Tied
Shilpa Shetty had dressed up pretty elegantly for her wedding reception. She had only half tied her hair into a ponytail. She had the curl extensions that made this celebs inspired hairstyle simply incredible.
Gul Panag – Messy Bun
Gul Panag too chose the bun but it was the messy bun that really suited her personality. Her hair style complemented her red bridal dress really well. But, you don't have to wait for your wedding to get this hairstyle; get it for the next wedding you are attending.
Genelia D'souza – Chignon
Genelia chose to side part her hair and arranged it on the back of her head in the chignon style. This is the style she chose for her Sangeet but this celebs inspired hair style is way too perfect for a wedding ceremony.
Try out these 8 amazing celebs inspired hair styles for the next wedding you attend!!