The regal and magnificent anarkalis need no embellishments to make it better, but when you decide to add jewellery to your attire, it is really important that you wear the right kind, lest it interferes with the gorgeousness of your anarkali. So what kind of jewellery that is best for your anarkali that makes it look all the more spectacular? We've got some jewellery ideas and tips that can help you with just that..,
Ear-rings that can best complement your anarkali suit:
1. Jhumkis
Jhumkis, the traditional jewellery that has made a mighty comeback off late complements an anarkali really adding a touch of ethnic splendour to it. Jhumkis come in a wide range of designs and materials lately and we can pick the ones that best go with our anarkali.
Metallic, gold, diamond and silver jhumkis are the most used. The ones with colored stone drops or pearls can be used to match with the color of our anarkalis.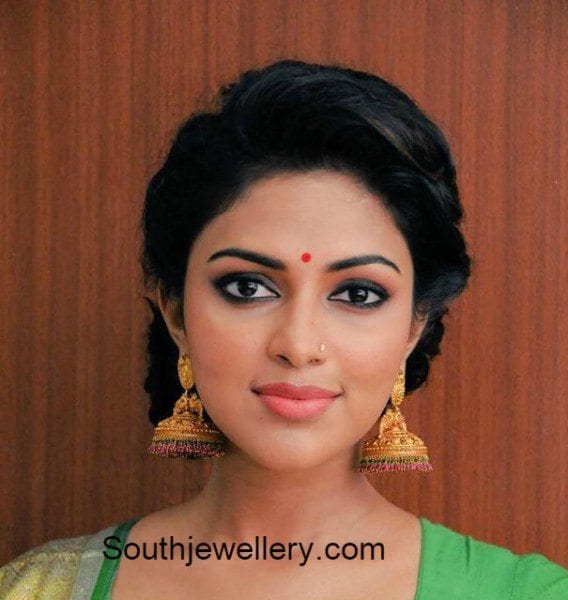 2. Chandbalis
For the elegant anarkalis, it is only the also-elegant chandbalis that can really do complete justice. Carved into beautiful half-moon shape, chandbalis not just look elegant but they also add a very ancient opulence to the whole look thereby accentuating how the anarkali looks.
P.S. Make sure you get yourself a really big pair of chandbalis so that it lives upto your anarkali.
3. Large Hoops
Hoops are one of those kind of ear-rings that just never go out-of-vogue. Wear large hoops with or without design within them to go with your anarkalis. If you're careful enough to add the right kind of make up, it is sure to bring the old world charm back into your attire.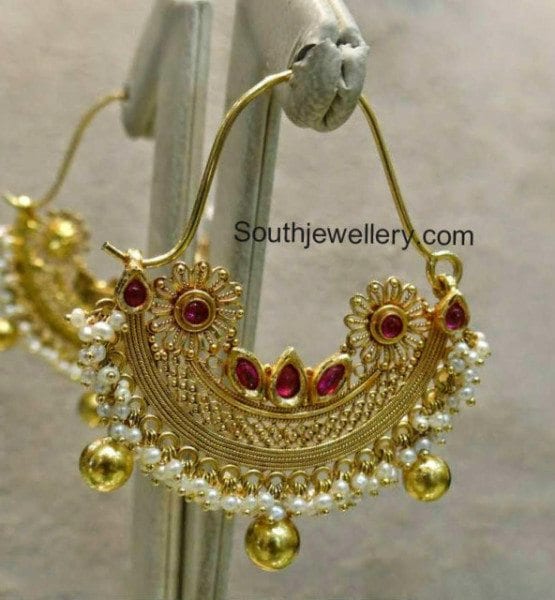 4. Heavy Jadau Earrings
Jadau ear-rings are definitely one of those antique jewellery designs that we can't get enough of. Team them up with an anarkali and they are sure to make it look as regal and gorgeous as it deserves to. Jadau ear-rings come in beautiful patterns lately – some as flowers, some as peacocks and some in the shape of petals. Get the one that suits your anarkali. A drop can make a jadau earring look even better.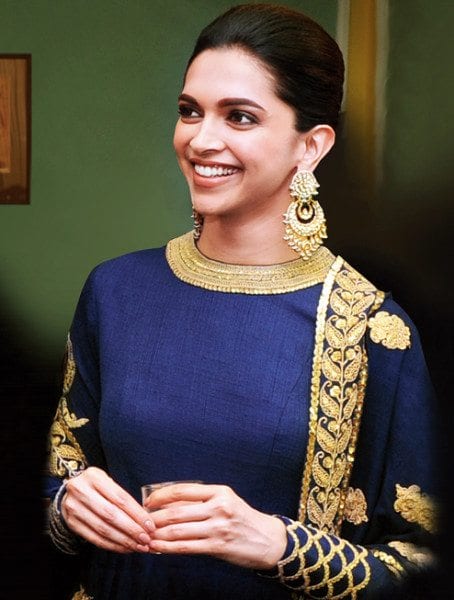 5. Large Coin Earrings
Coin ear-rings which come in the shape of large glittery hanging circles with stones embedded on them have become really popular lately. They go really well with your long and flowy anarkali, if they are really big in size. Dangling drops of stones or pearls that are usually attached to them make them more beautiful.
Necklaces that go with anarkalis:
Anarkalis which have grand and worked upon necks are best when worn without necklaces and with only large statement ear-rings. If you however decide to add a statement necklace to the anarkali, these are the types of necklaces you should opt for.
1. Chokers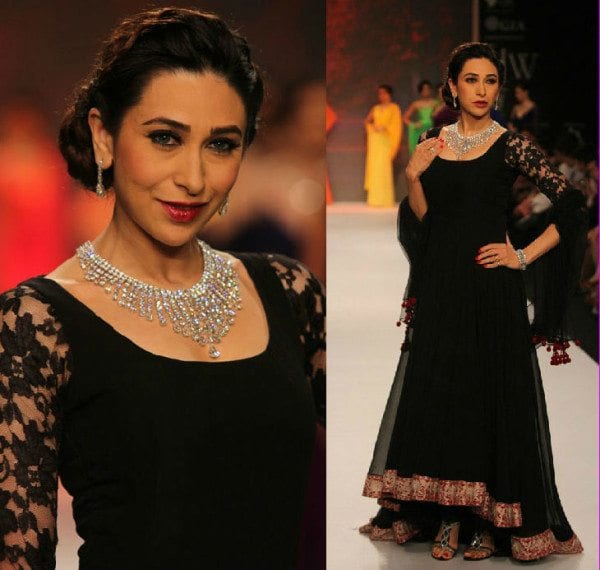 Gorgeous chokers that are made out of jadau jewellery or gold or silver metal go really with anarkalis. Try and get one of those chokers from which a lot of stone drops or pearls are hung, for they add a special oomph to the necklaces.
2. Long statement necklaces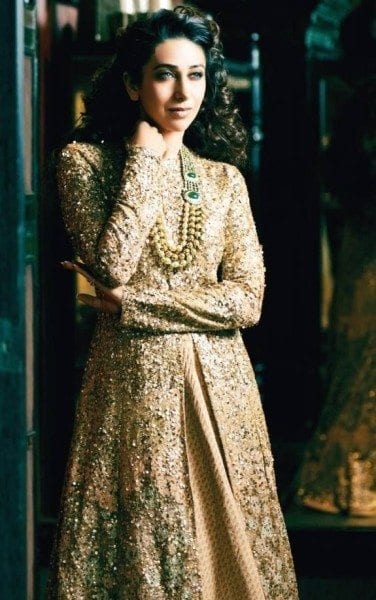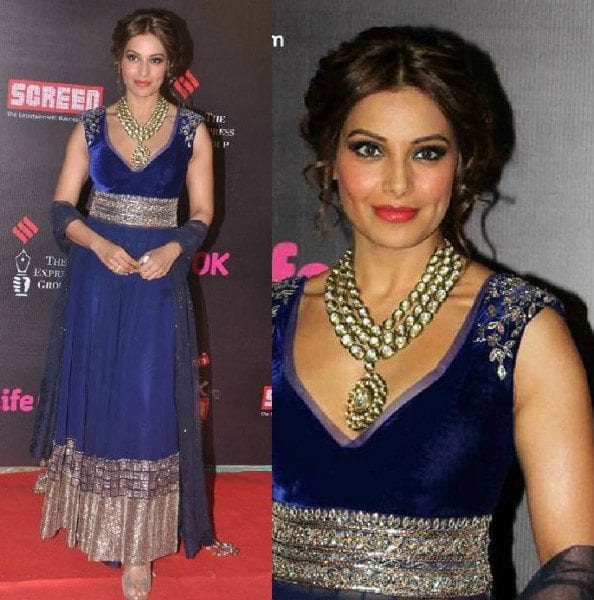 Long heavy statement necklaces, made out of jadau jewellery, pearls or stones that reach nearly to your waist are yet another kind of jewellery that go well with anarkali. However, that would depend on the kind of anarkali that you've chosen for yourself..
3. Traditional Indian Necklaces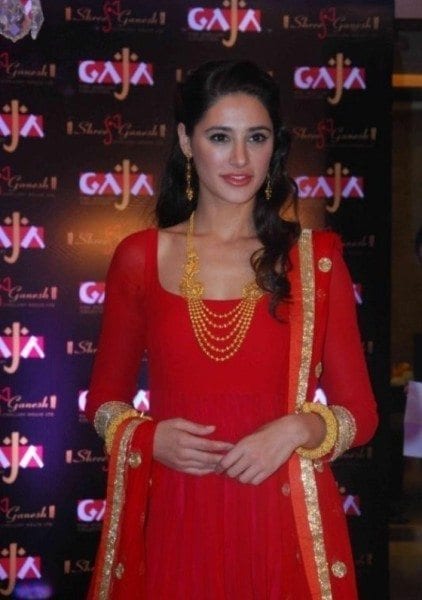 Traditional Indian necklaces like the satladas (which has multiple chains hanging off in the same necklace) go well with anarkalis as well as far as the anarkalis aren't very grand or made of heavy work.
While it is okay to bling up your anarkali with some good amount of jewellery, it is important to wear the jewellery right and keep it minimal as, to be honest – your fabulous anarkali is all the adornment that you need!