Check a wardrobe of a desi girl and you'll find that it will be loaded with a whole lot of kurtis. Such has the popularity of the Kurti come to in the past few years. And it isn't surprising….they are comfy, stylish, ethnic and come in a whole different range of shapes and sizes.
And then, there is this advantage that you can style your Kurtis into many ways. Yes, you read that right…you can use your kurtis in many ways, if only you know how to style them. Let us show 10 different in which you can style those Kurtis of yours…
1. Kurtis with leggings
The norm is to wear you Kurtis with leggings…and that really is the best way to do it. Team up your kurtis with matching leggings and they'll look their simplest and yet their best!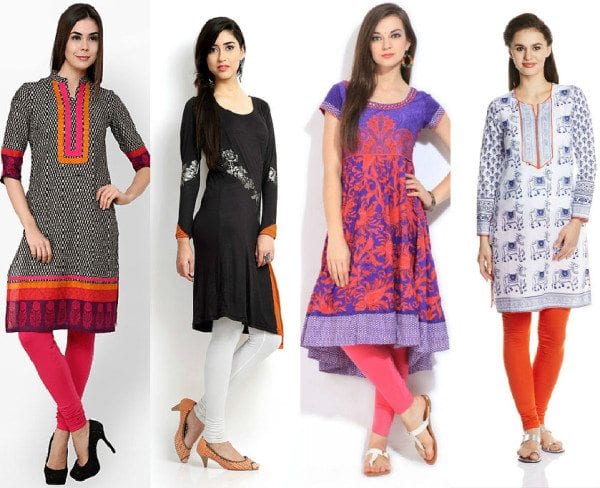 2. Kurtis with Palazzo pants
A novel way to wear your kurtis is to team them up with palazzos. A whole lot of celebs have been pairing up their kurtis with palazzos lately and there's every reason why you should try it too. For one thing, they can make you look very urbane and ethnic at the same time.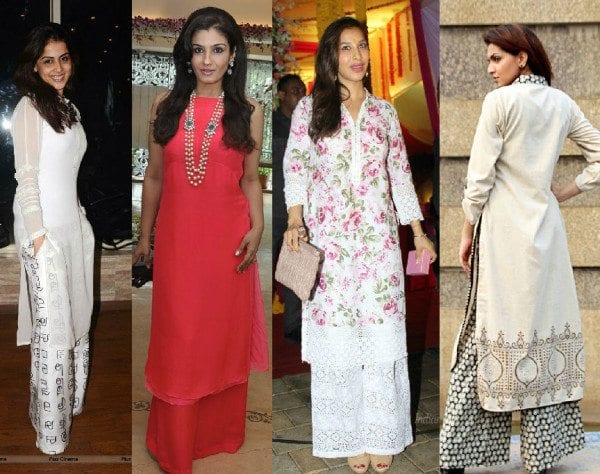 3. Kurtis with jeans or jeggings
Kurtis and jeans have always gone perfectly well with each other and this is one look that can never go wrong. You should however, make sure that your kurti isn't too bright or loud. A plain white or black kurti is what goes best with denims.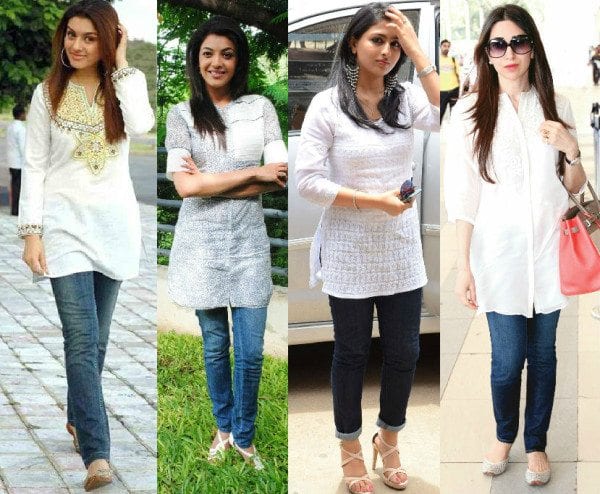 4. Make a dress out of it
There's one thing we got to love about kurtis and that is that they can be transformed into dresses as well – and gorgoeus ones too! All you have to do is pick the right kurti (preferably, ones with defined waist lines) and wear it as a dress. You have to be careful to  team it up with the right footwear, however, or it could go wrong.
5. Kurtis with patialas
Kurtis and patialas – an age-old combo that women of our country have been wearing since a long time now can never go wrong. Patialas bring out the best in kurtis and kurtis, the best in patialas. A white patiala, for instance, can go with pretty much any kurti that's lying in your wardrobe.
6. Kurtis with dhoti pants
A novel way to wear your kurtis is with dhoti pyjamas. Dhoti pyjamas are one recent sartorial inventions that we just can't not fall in love with. They're futuristic and yet, have a very desi touch to them.
Make sure that you choose dhoti pyjamas which are of either the same colour as the kurti or a colour that complements them. Unlike leggings and patialas, you can't just wear white or black dhoti pyjamas under all your outfits if you want to bring out their beautiful best.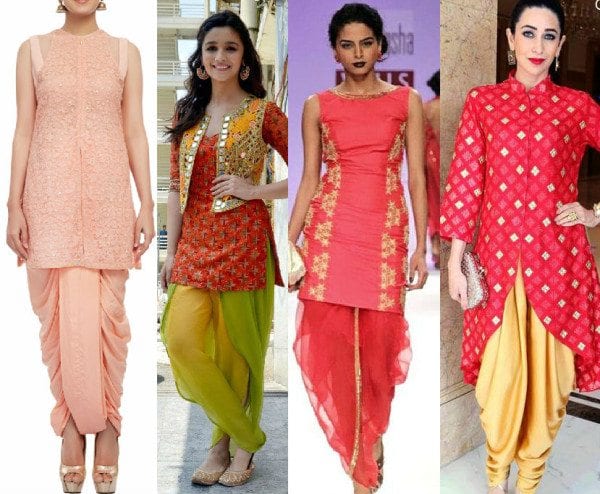 7 . Kurtis with Skirts
Oh yes, you can wear your kurtis with a skirt and we assure you, it won't look odd if you know just how to do it. Here are a few times our celebs pulled off the kurti-skirt look with much elan and see how gorgeous they looked?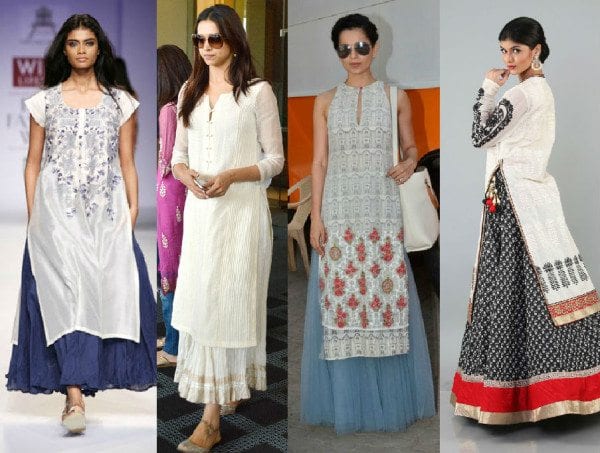 8. Capris go well with short Kurtis
You can wear your kurtis with capris as well. This works best when the kurtis are shorter in length and when the colour of the capris goes well with the kurti. White and black cotton capris go well with some kurtis while some of them will need you to pair them up with the same colour as the kurti.
9. Team them up with your work-wear trousers
When worn with trousers, kurtis look classy and work-ready. The length of the kurti, however, should not be too long when worn with trousers. When teamed with white, light brown or off-white trousers, kurtis look their elegant best.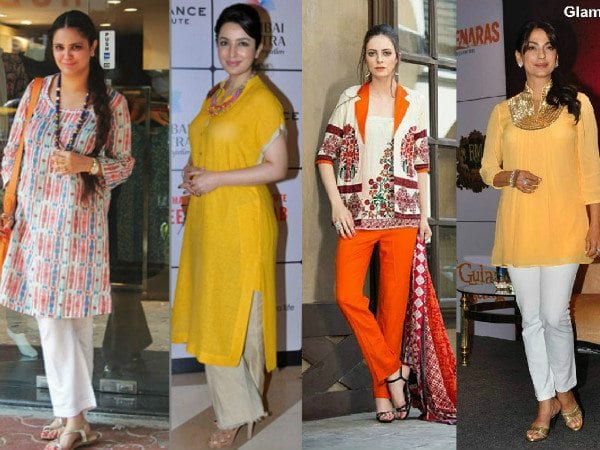 10. Accesorize your kurti with a scarf, vest or a stole
One of the perks of wearing a kurti is that it goes well with just about anything. To add that zing to your kurti, wear a stole, scarf or vest to go with it. If your kurti is plain, accessorize it with bright, embellished and colorful scarfs and vests to make it look blingy and gorgeous.