With the Hyderabad crowd getting more fashion-conscious and indulgent with every passing day, the city has become something of an abode for some of the most popular designers of the country and along with that, a platform for a plethora of young and talented designers to exhibit their finesse. High end designer labels like Sabyasachi, Ritu Kumar and the like have all got their own boutiques in the city.
For when you have that big wedding or event coming up and you know it's time to splurge, here's our guide to 10 of the best high end designer boutiques in Hyderabad.
1. Sabyasachi
What could be more exciting than to have a Sabyasachi showroom in our very own city? Event or no event, wedding or no wedding, we just got to own one of those fabulous creations of his. Located on Road No 10 in Banjara Hills at the very heart of the city, the store once entered is nothing short of paradise for the elite fashionistas of the town. Also, people can't stop raving about the out-of-worldly interiors of the store. Sabyasachi sarees are priced from Rs 50,000 and above and the cost of lehengas start at Rs 2.5 Lakhs.
Address : Plot No-14, Road Number-10, Banjara Hills, Hyderabad, Telangana 500034
Phone : 040-66565156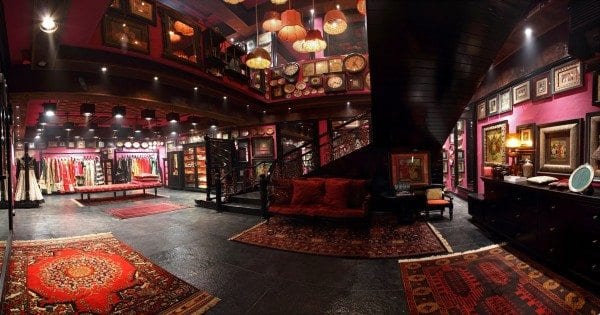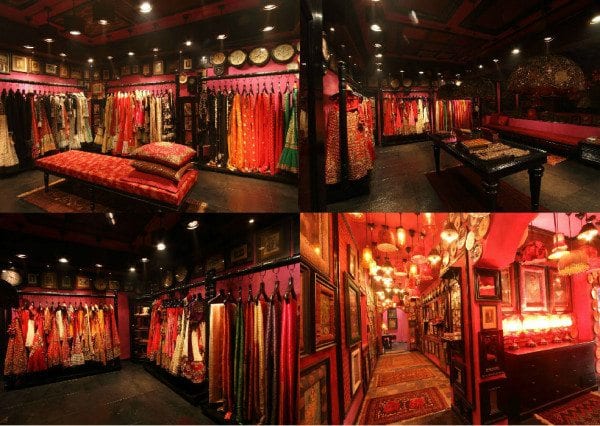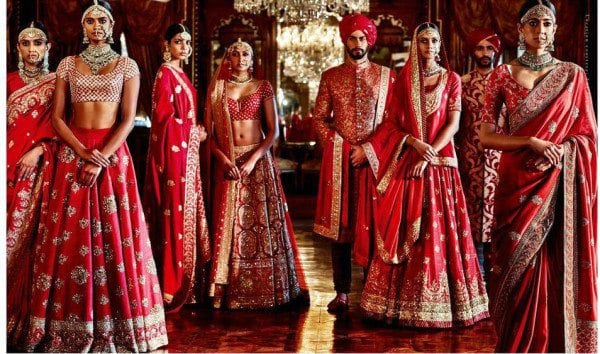 2. Tarun Tahiliani
Tarun Tahiliani's showroom, also located in the Banjara Hills, in a revived old building of the city is a delight to the eye once we step foot in it. The store has a wide and a gorgeous collection of bright and bejeweled clothes for men and women. If luxury, regal clothing is what you're looking for, you've got to make a stop at this one. Tarun Tahiliani sarees are priced from Rs.30,000 and up and lehengas cost 2 to 5 Lakhs.
Address : 8-2-577/1/C, Road No. 7, Banjara Hills, Hyderabad – 500034
Phone : 040-66908088
3. Vikram Phadnis
Brides all over the country dream of getting wed in Vikram Phadnis. And Hyderabad sure is lucky to have a store of this label. Only two years old, Vikram Phadnis' store was launched in Hyderabad by Namrata Shirodkar in the year 2012 and is located in Jubilee Hills right where most of the city's elite reside.
Address : 8-2-581/1, Plot No 26a, Road No. 8, Banjara Hills, Phone : +91-9705555111
Email: [email protected]
4. Elahe
Probably one of the biggest designer stores in Hyderabad, Elahe is a multi-designer boutique where you can find clothes belonging to a host of designer labels like Manish Malhotra, Rohit Bal, Sabyasachi, Anushree Reddy, Pankaj Nidhi, Gaurav Gupta, Kavita Bhartia, Anju Modi, Raw Mango and Anamika Khanna. Located in Banjara hills, the store is huge and has an entire building (built with some beautiful architecture and interiors) to it. Be warned however, of getting lost in this fantastic world of some amazing couture.
Address : Elahe, Milestone 476, Road No. 10, Banjara Hills, Hyderabad, Telangana 500034
Phone : 04023350130
5. Anahita
For those of you with some really deep pockets and an unquenchable thirst for gorgeous clothing, Anahita is one designer store that you just can't miss out on. A house for some of the most beautiful clothing,  jewellery and footwear, Anahita has got a collection of some of the biggest designer labels of the country like Anushree Reddy, Arpita Mehta, Ridhi Mehra, Payal Singhal and Pankaj & Nidhi.
Address : H.No. 8-2-418, Ground Floor, Krishnama House, Road No. 7, Near Meridian School, Next to Ratandeep , Resham Bagh, Banjara Hills, Hyderabad, Telangana 500034
Phone : 040 2335 0101/ 9963284563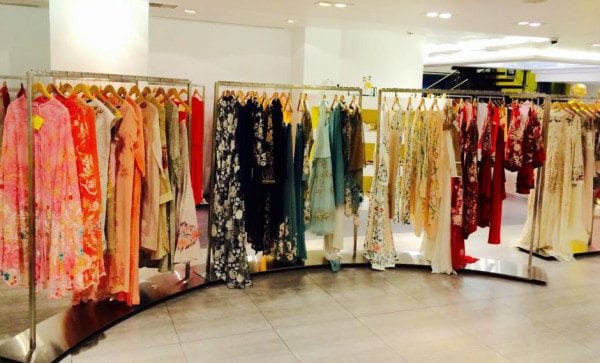 6. Ritu Kumar         
Long and flowy ornate lehengas and sarees that are something of a revival of the royal couture of the ancient times, Ritu Kumar is a designer label that is fit for pampering the princess in you. If you dream of being the princess-bride or dressing up like royalty for no occasion at all, get yourself one of these dreamy creations at one of these three stores in Hyderabad.
Price range of Ritu Kumar sarees: 30k to 3 lakhs; lehengas range from 1 to 5 lakhs.
Address : A store on milestone 476, Road No 10, Banjara Hills, Hyderabad – 500034, Phone : 040- 23350506
A store at G1/14,Lower ground floor, Inorbit mall, Cyberabad, Madhapur, Hyderabad- 500081, Phone Number: 040 42000506/040 42211506
A store at Central Mall, 6-3-673/1-4, Punjagutta Rd, Punjagutta, Hyderabad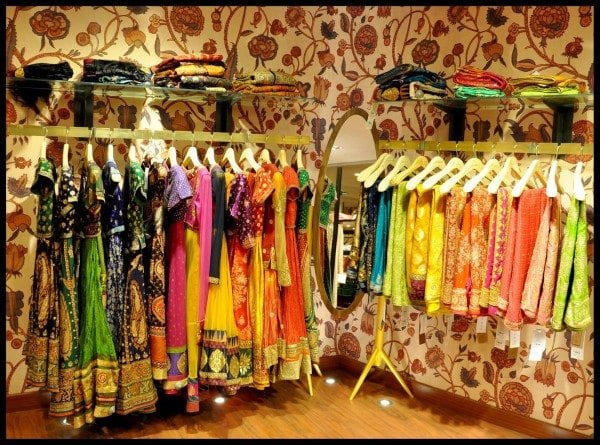 7. Shantanu and Nikhil
Filled with elegant, retro clothing with a contemporary touch to them, Shantanu and Nikhil's outlet in Hyderabad is a one-stop shop for men and women who like to bask in some fine luxury clothing. Located in Jubilee Hills, the store is as much of a work of art as the clothing is. Shantanu & Nikhil sarees prices start at 60k and lehengas are priced around 3 lakhs.
Address: Address : Road No 36, Venkatagiri, Jubilee Hills, Hyderabad – 500033
Email: [email protected]
Ph – 040-65550456
8. Angasutra
Yet another designer store that has a bevy of designer labels like Manish Malhotra, Abu Jani Sandeep Khosla, Surendri, Rohit Bal, Shilpa Reddy, Anamika Khanna along with a whole lot of younger designers' fabulous creations. Angasutra is a luxury designer boutique located in Hyderabad. This newly established boutique has beautiful interiors. A must-visit for the gorgeous collection that it's got.
Address: 8-2-603 Road Number 10,  Gouri Shankar Nagar Colony, Banjara Hills Hyderabad, Telangana 500034
Phone: +91 40 65303100
Email: [email protected]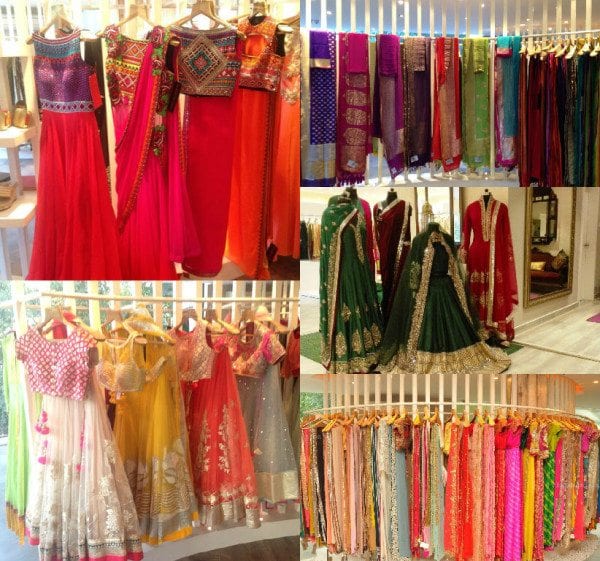 9. Shilpa Reddy Studio
Among all the super-talented designers we've got in the city, Shilpa Reddy is one woman who makes the fashionistas of Hyderabad proud. Her unique designs are the perfect blend of elegance and chic. If you want to get your hands on one of those priceless creations, Shilpa Reddy Studio located in the Jubilee hills is the place you've got to go looking.
Address : Flagship Store, N-Asian, Road no. 36, Jubilee Hills, Hyderabad
Phone:040-23550079
E-mail: [email protected]
10. Almari
Almari is a multi designer boutique located in Hyderabad. It stocks designers like Masaba, Pranthi Reddy, J by Jannat, Archana Rao, Anupama Dayal etc.
Address: 8-2-686/B/1, 1st Floor, Above Oma Home Decor Store, Road No 12, Banjara Hills, Hyderabad. 
Email: [email protected]
Phone: 040 23301919/ 9502234561
11. Satya Paul
Satya Paul is known for its originality and quality of printed fabrics and garments. The designs originate from elements of movement and dynamism, from trees, birds, rain, music, paintings, sculpture and existence itself. They depict the many moods of the day, creating a new sophistication, a harmony, a refinement in the art of living.Playful colors and innovative fabrics enhance the beauty and elegance of the enterprising, sensitive and desiring woman of today. With exemplary design and a distinct take on print fabrications, the brand has created its own niche internationally, reflecting the tastes and aspirations of its wearer.
Satya Paul store in Hyderabad is stocked with Sarees, Anarkalis, Tunics, Kurtis, Dresses, Bridal Wear, Bridal Lehengas, Scarves, Stoles, Shawls, Handbags, Clutches, Wallets.
Address: Shop no. 6, Lower Ground Floor, GVK Mall, Road No. 1 , Banjara Hills, Hyderabad – 500034: Phone: 040-67467809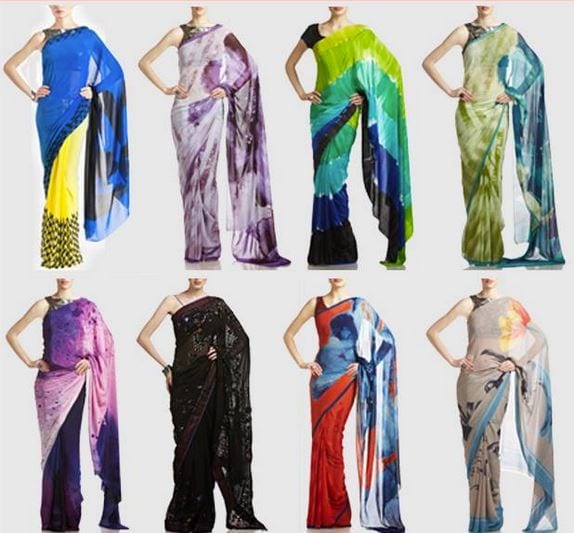 Tags: high end boutiques in hyderabad, top fashion boutiques in hyderabad, multi designer boutiques in hyderabad, multi designer stores, sabyasachi in hyderabad, tarun tahiliani hyderabad, popular designer stores hyderabad, designer boutiques, bridal boutiques, where to buy anushree reddy collections in hyderabad, designer sarees in hyderabad, designer anarkalis in hyderabad, designer salwar kameez, designer blouses shopping, hyderabad saree shops