Cut work embroidered blouse patterns fro silk sarees.
Embroidered blouse with spaghetti straps featuring ruffles on the shoulders.
After those backless blouses, halter necks, spaghetti straps and off shoulder blouse styles, what's really trending these days are cold shoulder saree blouse designs....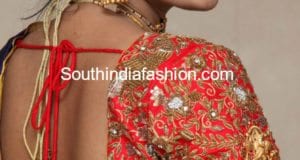 Elbow length sleeves zardosi work blouse embellished with Goddess Lakshmi motifs on the sleeves.
Blouse designs are always so much to do. When it comes to bridal blouse designs it is more than a handful. The right embroidery,...